At first sight, Myiyo seems like a classical paid survey site apart from the slightly strange name (we will get to the meaning of this name shortly).
But is Myiyo actually a good survey site to join that is worth your time or is it a scam site to stay away from?
Let me just reveal right away that it is legit as it is possible to earn as a member – this does, however, not mean it will necessarily be the best use of time for you.
In this Myiyo Review I will share my experiences with you after having tested the site for a while now, so you know what to expect, if you decide to join and can do it with the right expectations.
What is Myiyo and what does the site offer?
Myiyo has existed for more than 10 years now and was created by mo'web research, so it is site that has been around for a while, and has a solid company behind it.
It is based in Germany, but also offers surveys in other parts of the world (later I will get to which parts of the world you can join from).
On the website, Myiyo explains that the company is adhering to Esomar's guidelines and lives up strict demands within the field of market research.
This is very nice and gives credibility and this is very important for a survey site. It does however not necessarily mean that it will offer the right options and opportunities for you.
As all other legit survey sites, Myiyo is free to join and use.
So let's look into what Myiyo offers so you can find out if it will be worth joining or not.
I have made a short video that will give you an inside look and show exactly how it works. You can also read all the details below the video:
Recommended: See the Best Paid Survey Sites in Your Country
Option 1 – Paid surveys:
Myiyo is almost what I would call a classical paid survey site.
With that I mean that the focus is on just paid surveys, and this is how you can mainly earn. Today, many survey sites has a lot of other ways to earn than just paid surveys.
Personally, I like using both sites that are only focused on surveys and reward portals that give a lot of options like for example PrizeRebel and SwagBucks.
The big advantage of a survey site like Myiyo that is mainly just focused on paid surveys is that it is usually very easy to use, and it is quick to get an overview and find out how to use the options on the site.
These types of sites might not have as many daily options as some bigger reward portals, but I still really like using them, because they are so easy to use. For me, the best way to get the most out of paid surveys are to join both types of sites.
Myiyo has a decent amount of paid surveys available, but the exact amount depends on where in the world you live.
Once you are inside the member area, you will right away be able to see if there are any available surveys or not. There will not always be, so you have to check back once in a while.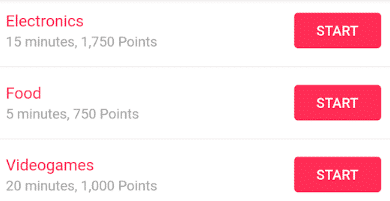 You will be able to easily see how much you will get for each survey and approximately how long it takes so you can choose the surveys that fit you the best.
The first thing you, however, have to do is to fill out your profile with some more data about yourself so Myiyo can match surveys with you.
It takes maybe 15 minutes to fill out the profile but you will get a bonus for this, as I wille xplain below.
Option 2 – Joining bonus:
When you first join Myiyo, there are a couple of ways to get a good start with some free points. You will get your first 100 points just by confirming your email.
When you fill out your profile info, so that you can better be matched with surveys, you will get another 500 points.

So that is great way to get started with a bit of points. It is not worth a lot in cash ( more about the value of points later), but still nice to get a bit compared to the sites where you get nothing for filling out your profile.
Option 3 – Membership levels:
When you join Myiyo, you will have the title as novice. In time, you can get a higher membership level, when you are more active.
When you experience increases, you are supposedly able to have a lower payout threshold, but I have not personally been able to confirm this.
If you have, I would to hear from you in a comment below.
Option 4 – Invite friends:
In addition to paid surveys, there is one other way to make money on Myiyo. You get a link that you can share and invite other people through. If somebody you invite joins Myiyo, you will get 500 points which is equivalent of €0.50.

So it is not a lot you can earn this way unless you know a lot of people that want to join.
But still a nice way to be able to make a little extra. Be aware that you will not get your reward before the person you invite has finished at least one survey.
Recommended: See the Best Paid Survey Sites in Your Country
What's with the weird name?
When I first found Myiyo, I was a little confused by the name. It seemed a bit strange to me, and I did not know how to pronounce it.

But there is actually a meaning behind the name, so as I am thinking that I am not the only one wondering about the name, I will tell you what the meaning is.
The pronunciation is like "my eye oh". The platform was originally named "in your opinion" and the new name Myiyo is an abbreviation of this. Meaning My is put together with the first letter of each word from "In Your Opinion".
How do you get paid?
How you can actually get your earnings out is very important to know before joining any paid survey site.
Every time you do surveys or invite a friend to Myiyo, you earn points, that can then be exchanged into cash later.
1000 points is worth €1, and you will get paid in Euro in most countries. So what it will be worth in your local currency, if you live in a country that does not have Euro, will depend on the current exchange rate.
Once you have earned 20000 points which is equivalent of €20, you can request a payout.
You can get paid through PayPal, which is my favorite way of getting paid from survey sites, because it is so easy, and you can use PayPal for so many things. A really great thing about Myiyo is that it pays the PayPal fee, so there will be no fee for you when cashing out.
In South Africa and Turkey, you can also have the money transferred directly into your bank account.
The last way to get your money is by donating them to charity. Myiyo has a cooperation with the Charity "Three Little Birds" that supports any group in need like for example homeless people and disadvantaged. You can choose to donate any amount of your earnings to this charity.
How much money can you make?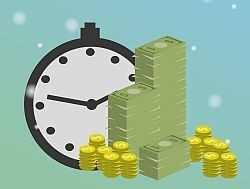 How much money it is possible to make is of course important to know before joining.
It is however very difficult to say as it depends on how many surveys you decide to take, how many of them you qualify for, and also where you live, as the amount of surveys you will be offered depends on this.
Even though Myiyo only offers paid surveys and no other way to earn, it gives you decent opportunities.
If you take as many surveys as possible, you will be able to make a bit of extra money on the side. Not as much as on some sites that offer other ways of earning as well, but it can be a decent extra site to join, and to do the surveys you can, as it offers surveys you cannot take on other platforms.
Just remember that when it comes to paid surveys in general, you will not become rich from doing them. You can make some nice extra money, but I always make sure to make it clear that it will not make you a full-time income.
If you know this, and join with the right expectations, paid surveys are a great opportunity.
Can you use it on mobile?
Being able to take surveys on your phone can be veru convenient this is one of the big advantges of Myiyo, in my opinion. 
You can download the Myiyo app through Google Play or App Store and will then have easy access to the surveys on your phone.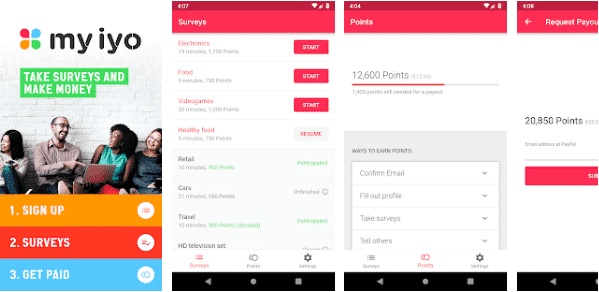 If you do not want to download the app but still want access to surveys on your mobile, you can also just access the website itself as it is mobile optimized.
If you have confirmed your email, you will also receive an email every time there is an available survey. You can then just click the link in the email on your phone.
Who can join?
Myiyo is mainly aimed towards the European market, but there are also some other countries you can join from.
You can see the image below to see in which countries Myiyo is available.

In all the countries, the platform itself as well as they surveys will be in the local language which makes it quite user-friendly.
Final verdict
Myiyo is definitely not a scam, and there is a reliable company behind it.
But let's finish this review by summing up the pros and cons so you get a better overview and see, if it has what you are looking for in a survey site or if you should look for alternative.

Pros:
Easy to use
Decent rewards
Pays out through PayPal and pays the fees

Cons:
Not as many opportunities as some other sites
Payout threshold is a little high
To sum it up, I think Myiyo is a decent survey site.
It does not give as many opportunities as some other sites, as it "only" offers paid surveys, but it has surveys you cannot find anywhere else.
Also, you can get paid through PayPal, which I personally think is great and especially great that Myiyo takes care of the fees that are related to PayPal. The downsides are that it has quite a high payout threshold that can take some patience to reach with the number of available surveys.
But overall Myiyo can be worth considering joining, if you live in one of the available countries.
However, I would recommend also joining other survey sites, to get more opportunities as Myiyo alone does not necessarily give you opportunities every day.
How do you sign up?
It is very easy to sign up if you want to join Myiyo. You just need to fill in your name, email and gender, and then you will receive email to confirm your account.
If you have any questions, comments, or have any experiences with Myiyo yourself, I would love to hear from you in a comment below.