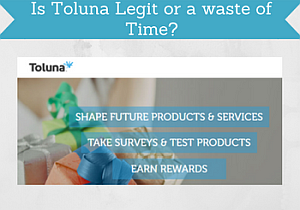 Toluna is a popular paid survey site that is available in many countries. But big and popular is not always a sign of quality.
So is Toluna legit or a waste of time?
I have been a member of Toluna for a long time by now, and if you want to know, what the site is about, if it can make you money, and if it is worth your time, keep reading.
I will answer all these questions and share my experiences and advice to this survey site in my Toluna review below.
What is Toluna, and what does the site offer?
Toluna is first of all a survey site, where you can get paid to do online surveys. It has existed for many years, and in June 2018 the platform changed the name, so now the official name of the platform i Toluna Influencers – most people do however still just call it Toluna. In addition to paid surveys, the site also offers a number of other ways you can earn money. Below I will go over the way you can earn on as a member of Toluna Influencers.
Surveys: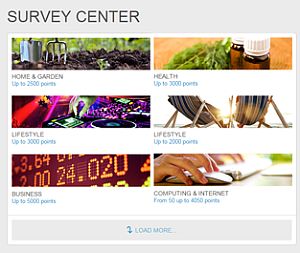 Surveys are the main way to make money on Toluna. There is a good amount of surveys, and mostly you will have access to at least 5-10 a week, but sometimes also more than that. If you do not qualify for a survey (which in my experience does not happen as often on Toluna as on some other survey sites), you will still get 200 points for having attempted the survey.
It is a good idea to login to the site regularly and check if there are any available surveys for you, as you in general will not receive emails when there are new ones. You will once in a while receive an email when there is a new survey, but most often it is then an extra survey that you cannot necessarily see on the platform. So to get the most of of the site, it is good to login regularly.
Test of products:
Toluna offers you to test products. It will not as such be a way to earn money, but if you are selected to test a product, you get to keep it after you have tested it and sent some feedback to Toluna. That way it can be a great way to get to try and get to own new products for free.
On the site, you can see what products you at the moment are able to test, and you can also see the next couple of products that will be available. Usually there is 1 product a week, and a new product every week. You can also see how many of these product that are available to be tested. It is very easy to register for testing these products. Registering does however not guarantee that you will get to test the product, as there are a limited number of each product. To register, you just simply click the "Test" button in the overview (see picture below). The needed number of testers will then be randomly selected.
Sponsored polls:
Sponsored polls are polls about a certain topic that you can get a bit of points to answer. Once you login, you will see if there are any available. They give very small rewards, but also only takes about 10 seconds to do, and they can even be quite interesting to participate in, as you can also see a statistic about other members' answers.
Content creation:
Toluna is not only a survey site, but is also trying to be a community where members can create content and interact. The way you can do this by creating or participating in what is called polls, topic discussions, or battles. Polls is just short polls, and topics or small discussions where people can express their opinion and interact about a certain topic chosen by the creator. Battles are where you can make a little battle between two choices to get peoples' opinion between two things. It could for example be beer vs. wine, Superman vs. Batman, apples vs. oranges etc.
The best content creators will every month receive rewards. The best creators are chosen from those who has the most interactions on their content, who has created the best quality content, and who in general has been the most active on the platform.
Contests:
Toluna offers a number of different contests. The biggest one is the quarterly sweepstake. This is a contest you can enter by buying tickets for it with the points you make from doing surveys. The winning prizes are in general pretty big, and can for example be a new TV, phone etc. Of course, the chance to win in a sweepstake like this is not huge, and whether it is something you want to use your points for, or if you want to get your rewards paid out, is a matter of personal preferences.
Be aware that to be able to participate in these sweepstakes, you have to have a profile image, and be what is called an active member. An active member just means that you have had to participate in or create a poll or topic discussion within the past 3 months.
There are also other kinds of contests on the site, and these can make you extra money and will not cost you anything to participate in. It can for example be a contest to post a photo about a certain topic where a winner is selected, a quick quiz, or other kinds of contests. They can run for a few days or up to a month and can give you some nice extra cash in your account.
Once you have logged in, you can see the newest announcements and see if there are currently any new contests. They will also be announced and explained further on the official blog of Toluna for your specific country, that you can find a link to at the bottom of their website. The exact amount of contests depends on the country you live in – same have daily contest, some weekly, and some monthly.
Blog:
Toluna has an official blog that can be quite interesting to follow, if you are a member of the site. You can find a link to it a the bottom of their website. It is updated with news often, and this is where you can also see new contests, previous winners, new additions to the platform etc. and see more details about all these things.
There is a blog for each country where Toluna is available, so you will only get information on the blog that is relevant and available to you, and in your local language.
Mobile sweepstake:
Each month, there is a mobile sweepstake. This means that if you have registered your mobile number on the site, you will automatically participate in this sweepstake. There are 10 winners every month that will win 100000 points.
As with all other legit paid survey sites, it is free to sign up and participate on the site.
==>Click here to visit Toluna<==
Can I take Toluna surveys on my mobile?
If you like to make a bit of money on the go, it is great to join survey sites with a mobile app. Toluna is one of the sites that has such an app, and you can download it for android or Iphone. It is fairly easy to use, but if you want to use it, I would recommend to first sign up on the website and get familiar with the options here, and then start using the app.
In my opinion, the website still gives the best overview and experience, but the app can be a great addition and a quick way to check up on the options on the site during the day.
How do you get paid?
You will earn points for every survey you do. These points can be exchanged into cash for your PayPal account, different vouchers, entries into Toluna's monthly cash lottery, or used for chances in an instant lottery ticket (called gifties) for yourself or someone else.
As you are earning points and not cash, it can be a bit confusing to figure out exactly how much you get for participating in a survey. But once you have calculated it once, you will know for the future what the points correspond to in your currency. I have calculated that in dollars, $1 is approxiamtely 3000 points. This can vary depending on your country and your currency, so it is a good idea to calculate for yourself as well.
Most surveys will give you between 2000-6000 points. Once you have done a survey, you will not be able to see the points on your account right away. You can usually see them the day after.
How many points you need to get a payout or get a product depends on the country you live in. If you are requesting payment through PayPal, it can take 6-8 weeks in some countries from you have requested the payment until you will get it. That is unfortunately very slow, and the slowest I have seen for any survey site, but I have always received my money. It just takes some patience. Be aware this might be different in other countries, so in your country you might get the money into your account faster.
The instant lottery you can exchange your points for is called "Gifties". It is a kind of virtual gifts that you can buy for a small amount of points (50-300). You can send this giftie to someone else in Toluna's network or to yourself. Each giftie has the chance to be exchanged to a real product represented by the giftie (everything from small gifts, to phones and flights). It is randomly selected by a computer program which gifties will be a winner and will be exchanged to a real product. I have not been able to find info about how often people win, so I do not know how big the chances are of actually winning the product. The person receiving the giftie will straight away know if he/she has won the real product.
Be aware that points can expire. 16 months after you have earned points, they will expire and disappear from your account. 16 months is a pretty long time, and most people will probably also want to cash out as soon as they can. But in case you like to gather as many as possible before cashing out, just remember to not wait too long.
How much time do you have to spend to make money?
It is fairly easy to make enough for a payout or a reward on Toluna. But how quickly you can do it, of course depends on how often you do surveys, and if you use some of the other ways to earn points on the site.
From where I live, I have calculated that usually you will spend around 10-15 min for a survey that gives you 4000 points. In money that will be around $1.5-2. That is definitely ok for a survey site.
You can also create content on Toluna yourself and can get extra points for this. If you manage to make content that will get you a reward, it can be a pretty fast way to make a bit extra, as the polls and questions you can create takes very little time to do. But you will not know before you do it, if you will get rewarded. It will give you between 100-1000 points, if people like or vote for your content – so if you do use this option, be sure to create something that is interesting for people to participate in.
You can also make extra points by inviting friends to join Toluna. Once you are logged in, you can see some buttons under your username, where you can share a link with your friends through social media ot email. You will however only get 500 points (around 15 cents) for each friend that joins, so this is not a way to make very many points.
Just remember, like with any other survey site, you should not calculate an hourly pay and then see if it is worth joining. Doing surveys will not give you a full time income online or an amazing high hourly rate – that also goes for Toluna. But if you chose the right sites, it can give you some nice extra pocket money.
How to use Toluna Influencers?
To give an idea about how to find your way around Toluna and how to use the site, I have made the short guided video tour below.
Can you get support?
How good a support a service or company has, often tells a lot about that company. That is why you will often not find contact information on the scam survey sites.
If you should need any help or technical support, I know from personal experience that Toluna's support is quick at getting back to you. That tells a lot about the trustworthiness of a site.
If you have more general questions or some tips you would like, you are of course also very welcome to leave a comment for me below. I can give you a lot of tips as a user, but in some cases, you might need some support from the official site, and then it is good to know that this is possible.
Who can join?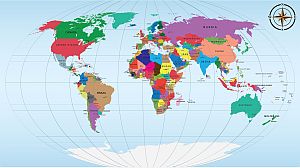 Toluna Influencers is more or less available worldwide, and in the national language in most cases as well. The Toluna blog is also available in most languages. The rewards and the amount of points in relation to time can vary from country to country.
If you are 14 years or older, you can sign up. Be aware that if you are under 18 years old, any rewards might have to be paid out to a guardian or parent.
You will not be able to do surveys, if you are in another country than where you signed up, so you cannot do surveys while travelling.
Final thoughts – Legit and worth it in most countries!
Toluna has both positive and negative aspects as a survey site. Let's sum up the pros and cons:

Pros:
Good amount of available surveys
Fairly easy to use
Pays through PayPal

Cons:
Slow to pay out in some countries
In many ways I really like Toluna Influencers and it has many good sides and opportunities. It does however have one aspect that I find really annoying in some countries. And that is that it can take up to 8 weeks to get paid, once you reach the payout threshold. It is very slow for a survey site and takes some patience, when thinking about some of the top survey sites pay you within a few hours. However, be aware that this might be different in other countries, so you might get your money faster.
If you start using Toluna regularly, you will also start being able to request payments regularly. And then it might be so annoying as the money will also regularly come into your account.
But overall, Toluna is a good and reliable paid survey site, and it is definitely legit, and I have benefited a lot from being a member myself.
How do you sign up for Toluna Influencers?
It is very easy to sign up. You can just click the link below and that will take you to the site, where you have to fill out some basic registration info.
If you want to, you can also register with your Facebook account on the registration page, which will save you from filling out a bit of information. No matter what way you choose, it only takes about 1 minute.
Once you have signed up, you will receive an email confirmation. Be sure to open this and click the link in the email to confirm your account. Once this is done, you can start doing surveys. The first time you log in, it can be a good idea to fill out your profile information. This will give you more chances to get more surveys, and will also right away give you some points for filling it out.
If you have any questions or have any experiences with Toluna yourself, feel free to leave a comment below. I would love to hear your experiences or answer any questions, so I will make sure to get back to you, if you leave a comment.
Toluna
Money/time ratio

Frequency

Usability
Summary
Toluna is one of the big survey sites, and it is a very reliable site. It has decent rewards for your time, frequent surveys, and several other opportunities to make money and also to interact with other users. You can get paid through PayPal or get vouchers. All in all a good site to consider, as long as you are prepared to be patient to wait for the payout processing that is a bit slow in some countries.