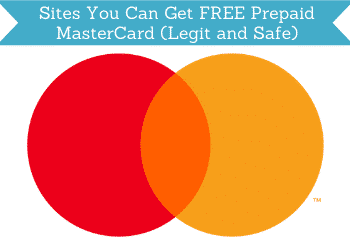 If you want to shop either in physical stores or online, then using prepaid credit or debit cards can be an easy way to do this.
And the best thing is that there are actually FREE ways to get credit or debit cards with money on them.
MasterCard is one of the most popular debit and credit cards, and they can be used in thousands of stores all over the world.
And the great news is that quite a few platforms offer free prepaid MasterCard as rewards in return for doing small online tasks. So, all you have to do is join a site that offers this as a reward.
However, the problem is that not all sites that offer prepaid MasterCard as a reward are worth it, so you can end up wasting a lot of time.
I have tested hundreds of online reward sites, and based on that, I decided to make this article and guide. It will help you easily figure out which sites will be worth it without having to test hundreds of sites yourself.
I will only list legit and safe sites you can join to earn prepaid MasterCards. I have been paid by all of them myself, so I know they actually do pay.
Below, you can find a list of 11 of the best and legit sites where you can get these gift cards completely for free.
Disclosure: Some articles on this website contain affiliate/sponsored links. Click for more info.
How to get free prepaid MasterCard?
Most sites that offer prepaid MasterCard as a reward are called Get-Paid-To (GPT) and survey sites.
To earn the said prepaid card, you will have to complete tasks or answer surveys. The tasks can be social media tasks, watching videos, playing games, downloading apps, and more.
Once thing all of the tasks have in common whether you take surveys or do some of the other tasks is that they are easy to do and you can earn with them no matter your background and experience.
After you've done the tasks, you will receive a reward in the form of currency or points.
You can then use your earnings to redeem prepaid MasterCard or any reward in their catalog for that matter. Yes, that includes cash.
Remember that all the sites that will be listed down are all free to join. So, becoming a member won't cost you a thing.
You just need to invest a bit of your time and effort.
How many can you get?
With these kinds of sites, the number of prepaid MasterCard you can receive will always depend on how active you are on the sites.
It is pretty simple. The more offers, surveys, tasks, and other activities you do, the more rewards you will get. And the more rewards you get, the more you can redeem prepaid MasterCards.
So, theoretically speaking, there is really no limit to how many prepaid MasterCards you can get. It will really just depend on how much time you can spend on these sites.
The type of sites I will be listing will be those sites that offer the best bang for the buck, so to speak. That means the sites listed offer the best time/money ratio.
I recommend, though, that to get the most number of cards, you should join several sites because they all offer different opportunities.
That's why I would recommend you join around 5 to 7 sites if you are new to this type of site.
This is a perfect number to target since it will allow you to earn a good number of prepaid cards without being too overwhelmed by what you have to do.
11 best sites to get prepaid MasterCard
Keep in mind that this list is not the be-all-end-all list of sites you can earn prepaid MasterCard. Instead, it is a list focused on the best sites you can join to earn the said prepaid card.
Most of the sites on this list have good earning potential. I will keep updating this list if there are any new good sites to join, so make sure to bookmark this page.