20/20 Panel is a survey site that claims to reward you with money for completing the surveys they provide.
Now, with so many survey sites out there, it is important to know if this is a good opportunity or not.
So is 20/20 Panel legit or a scam site that is a waste of time?
The answer to that question is that it is NOT a scam. This survey site is as legit as they come. But this doesn't mean that you should sign up right away.
You have to figure out if this site will allow you to earn a decent income. This 20/20 Panel will take a look at the earning opportunities as well as all the other aspects of the site you need to know.
This way, you will be able to decide if this is truly a survey site for you or not.
What is 20/20 Panel and what does it offer?
As I've mentioned above, 20/20 Panel is a survey site that will reward you for sharing your opinion.
They have been around for more than 30 years, which is a testament to their legitimacy. As you know, survey sites won't last long if they are a scam. Sooner or later, they will shut down since no one will continue joining their site or answer their surveys.
20/20 Panel's goal is to provide meaningful information to their clients, which they can achieve by offering surveys to their members in exchange for a small compensation.
Let's take a closer look at how you will be able to earn from this site.
Option 1 – Paid Surveys
The bulk of the income you earn on 20/20 Panel will come from paid surveys.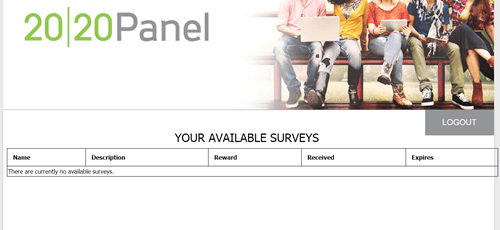 After you complete your registration, you will be able to log in to their member's dashboard to view the available surveys you can take.
You will know right away the reward you will get for completing a survey.
You will also see the expiration date of the survey, which in my opinion, is the most important information provided.
That's because it will allow you to properly prioritize which surveys to take first.
The only information not included in the dashboard that would help you be more efficient is the estimated time to complete the survey.
Most survey sites provide that information. It would've been better if 20/20 Panel also showed it in their dashboard, in my opinion.
Before you can proceed to the survey, you will actually have to answer a pre-qualifying survey. This is done in order for them to determine if you indeed belong to the demographic they are targeting for that specific survey.
If you do not qualify for the survey, you will be told right away after answering the pre-qualifying questions.
If you are qualified though, you have to wait for one of their recruiters to call you and confirm the information you provided.
Afterward, you will then be given a schedule on when to take the survey. It's a bit more complicated compared to other survey sites, but it is how their system works.
As for the reward you get, after completing the survey, you will receive the reward points and it will be reflected in your account balance.
I'll explain more about how you can get paid in a later section of this review.
Option 2 – Paid Studies
20/20 Panel also offers paid studies. This opportunity is a bit more complicated than paid surveys.
If you qualify for a study, you will receive an invite via email. The process will almost be identical to the paid surveys. You will have to answer pre-qualifying questions.
If you qualify, a recruiter will call you and provide you a schedule of when you can do the study.
There are several ways they conduct paid studies. This can be done either through online chat or discussion or in-person studies.
The in-person studies will be an opportunity limited to residents of Charlotte, Nashville, and Miami. That's because they have facilities in those cities where they can conduct the in-person study.
As for the rewards you get, this will be more significant than the paid surveys because it involves more time commitment. But these options will also be a lot more involved and it will not be very often you get access to them.
But if you become a member and get the opportunity, these types of studies can be fun to participate in and will usually be quite decently.
How do you get paid?
Now, on to the next important part of the review. Of course, you will want to know how you get paid as a member of the 20/20 Panel.
For paid surveys, for every survey you complete, you will be awarded a certain number of points. As mentioned previously, you will see exactly how many points you will receive as a reward before you start.
Take note that the points you've accumulated will only be valid for 18 months. Beyond that and it won't be worth anything. So you have to make sure to use the points before that.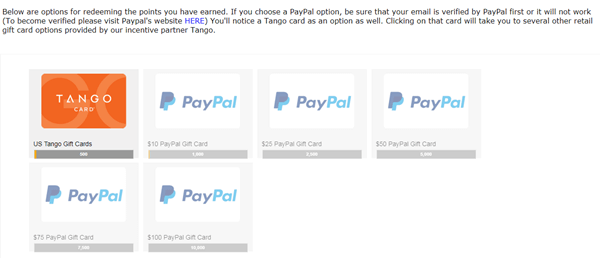 Once you accumulate 500 points (more about the value of this below), you can start redeeming your rewards. You can choose from a Tango or PayPal gift card.
As you can see in the photo above, the minimum reward you can exchange for is a Tango gift card which will cost 500 points. If you are not familiar with Tango gift cards, you can use it to purchase products from retailers that accept it as payment.
The PayPal gift cards are worth more points simply because they are considered more or less, real money since almost all online retailers accept PayPal as a payment method.
If you are looking for sites with better options for PayPal payments though, I suggest you check out the best survey panels that pay through PayPal.
The rewards you get from paid studies, however, are a bit different. They will pay you right away after you complete a paid study.
When you do an online paid study, you can choose how you want to receive the payment. You can either receive a virtual Visa card which will be sent to your email, or you can opt for a physical card which will be sent to your home address.
For in-person studies, after you complete the study, they will pay you with pre-paid MasterCard gift cards.
As for the actual amount you will get, I will discuss that below.
How much money can you make?
Of course, all of the information about 20/20 Panel given above will be meaningless if you can't get a clear picture of the earning potential of the site. That's what we will talk about next.
As you can see, the site uses a point system. So for every survey you complete, you will be rewarded a specific number of points. You can then use the points and exchange them for gift cards.
To give you a clear picture, let's break down the point allocation.
The PayPal $10 gift card costs 1000 points. That means $1 will be equivalent to 100 points. You can then use that information to gauge how much you will earn for each survey you complete.
Of course, everything will be for naught if you don't receive plenty of survey invites. Because let's face it, with survey sites, what will dictate the income you will earn, will be the number of survey invites you receive.
To increase your chances of receiving a survey invite, you have to make sure you keep your profile updated. If your profile is always complete, you will have better chances of receiving survey invites, thereby increasing your earning potential.
Unfortunately, I really can't conclude if the survey invite frequency for this site is low or high since the feedback from members is pretty varied. So I guess, it will really depend on whether your profile will qualify you for more surveys or not.
So overall, there is no guarantee you will get a lot of surveys and you should, in general, not expect as many surveys from 20/20 Panel as you can get from many other survey sites.
Can you use it on mobile?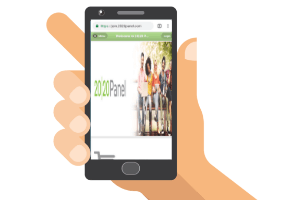 There is no 20/20 Panel app you can download and install on your mobile device.
That means the only way for you to access their site is through a mobile web browser.
When I checked the mobile version of their site, it seems like it is optimized for mobile use because the text is properly aligned so you won't have to scroll left and right or zoom in and out just to read it.
But, some of the images displayed look a bit clunky, which would mean they didn't consider the mobile version when they uploaded the images, or the platform they are using isn't very responsive when it comes to resizing images.
Whichever one it is, it only means there is a lack of website planning. But aside from that, everything looks in order.
You will be able to use the site on your mobile device, which means you can be a bit more efficient in terms of accumulating points since you can work even when you are not at home in front of the computer.
Who can join 20/20 Panel?
There's one important piece of information they forgot to make clear on their website, and that is who is eligible to join their survey panel.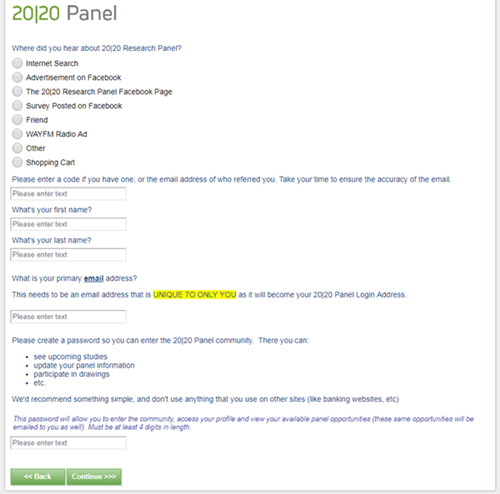 During the registration process, you will be asked several questions in a survey-type manner. There will be one question which will pertain to where you live.
That's where I got the information about who is qualified to join the website. When asked where you live, you will have three options, the US, Canada or others.
There will also be a disclaimer listed that says this panel will only be available for US and Canada residents.
In my opinion, information like this should be available beforehand, so you won't have to waste your time filling up the form, only to find out you are not qualified to join their panel.
Other survey sites in the US and Canadian survey sites usually make this very clear so you will know right when you come to the website.
As for the age requirement, unfortunately, information about that is also not available on their website.
I can only surmise the requirement will be at least 18 years of age, which is the most common age requirement in survey sites even though some also allow members that are younger.
But again, it's things like these that will help you find the true measure of a survey site. Great survey sites tend to have all the necessary information available and accessible right away for their potential members.
So take that with a grain of salt and factor it in when you make a decision.
Can you get support?
Another factor you need to consider when measuring the worth of a site is how they provide support for their members.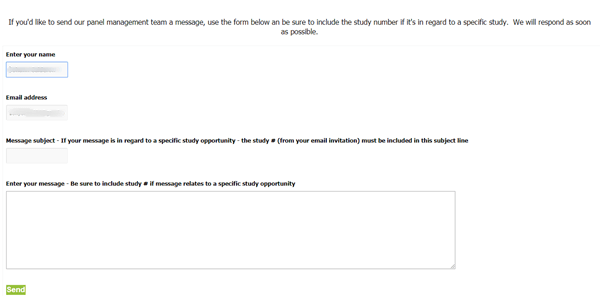 With 20/20 Panel, they do provide a way for you to contact them in case you have any inquiries. You can get to the contact form by clicking the Contact Us tab on the top.
They also have a FAQ section, but in my opinion, it isn't really comprehensive enough.
It covers some of the basic topics, but there are a lot of basic information lacking. Case and point is the information about who is eligible to join the survey panel.
There are plenty of ways to present the necessary information to the public. One of them is to put it in the FAQ section. Unfortunately, it seems they have not covered that.
They do have a Facebook page where you will be able to send them a message. But I'm not sure if they will be able to reply to you in an acceptable amount of time seeing as their site hasn't been active for several months now.
All in all, there is really only just one way for you to contact their support team, which is not ideal, in my opinion.
Final Verdict
20/20 Panel is a legit survey panel that will reward you for completing the surveys and studies they offer.
But their legitimacy isn't really the biggest factor you need to consider when deciding if you want to join their panel or not.
So let's finish this review by summing up its pros and cons so you can get a better overview and evaluate if it is really worth joining or not.

Pros:
Low payment threshold
Paid studies allow you to earn a significant amount of money

Cons:
Lack of avenues to contact the support team
Limited to US and Canadian residents
Site is not user-friendly since not all the necessary information is readily accessible
Overall, even though 20/20 Panel doesn't require a high payment threshold, the earning potential really just pales in comparison to other survey sites, in my opinion.
Plus, the fact that they don't have all the information readily available for interested people is a turn off for me.
In my opinion, when you make a survey site, the first thing you need to consider is, all the relevant and necessary information should be easily accessible.
That way, any interested person can quickly find what they are looking for. If the site hasn't done that, I feel they have already failed.
It can be a decent secondary site to earn from though, especially if you live in the same area as where they offer in-person studies.
But if you are looking for survey sites that will give you access to more regular surveys you can take from anywhere, I recommend you check out the best survey sites in your country instead.
This list will contain plenty of survey sites with higher earning potential, as well as better user experience.
If you have any comments, questions, or have any experiences with 20/20 Panel yourself, I would love to hear from you in a comment below.