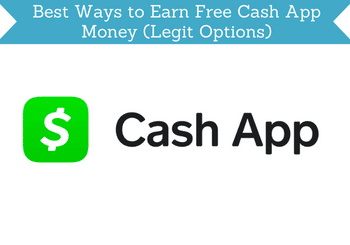 Cash App has become more and more popular.
It's very similar to PayPal, and more and more people use it in the US and the UK. And just like PayPal, you can actually earn free Cash App money.
Just keep reading this guide, and you will learn about legit options to earn money that will be deposited into your Cash App account.
All the options I will include in this guide are legit and free to join. I will include a brief description of each option so you can easily identify which option/s suit you best.
Disclosure: Some articles on this website contain affiliate/sponsored links. Click for more info.
What is Cash App, and why should you use it?
As mentioned above, Cash App is a mobile payment service that will allow you to transfer real money to and from your Cash App account. It is considered an alternative to PayPal, so if you are looking for a payment gateway other than PayPal, this is one great option.
Aside from transferring money, Cash App also offers other features like buying stocks on the stock market. You can also buy crypto like Bitcoin, or you can send or withdraw money from your bank account.
Apart from that, Cash App members also have the option to get a physical Visa debit card they can use to withdraw cash from the ATM. You can also just use the card to pay for any purchase just like how you would do with a regular debit card.
Just take note that you can only transfer money from one account to another if the owner of the account lives in the same country as you. That's the one limitation Cash App.
But the main reason why you should use Cash App, in my opinion, are the other features it offers. The fact that you can buy stocks or Bitcoin makes it a very flexible app. PayPal doesn't offer that kind of flexibility.
But if all you need is a platform where you can send and receive money, PayPal is still the better option, in my opinion.
5 Best ways to earn free Cash App money
Now that you are acquainted with Cash App, it's time we discuss the actual options to earn free Cash App money.
But before we do that, just keep in mind that the Cash App cashout option will not always be offered by the platforms listed below. But I have seen these platforms offer Cash App as a cashout method sometimes, so I can confirm that it is an option, just not all the time.
Now, as I've mentioned earlier, all these options are free and legit, so you just have to sign up as a member, and invest some time to earn. If you want to maximize your earnings, I highly suggest you join multiple sites so that you will gain access to more earning opportunities.
I will keep updating this list if I find new options that are worth it, so make sure to bookmark this page and check on it from time to time for new opportunities.
Also, I have made a video if you prefer to see the list that way, and then you can find more info and joining links below the video: