Want to earn a few bucks with your smartphone? Roamler promises to let you do that by using its mobile app.
But is it legit though? Let me address this question right away. Yes, Roamler is a legit mobile app that will pay you for performing tasks.
This doesn't automatically mean though that you should go ahead and download the app right away. It is best to take full stock of what it can offer so you can decide if it is indeed worth your time or not.
This Roamler review will do exactly that to help you figure out everything the app has to offer. That way, you can make an informed decision on joining the app or not.
So, let's go ahead and take a closer look at what this app is all about.
What is Roamler and what does it offer?
Roamler helps their partner companies by making sure their products are always visible and available in supermarkets, stores, bars, restaurants, etc.
They do this by asking you to fill in short questionnaires, take pictures, act as a mystery shopper and many more tasks.
In short, it is a Get-Paid-To (GPT) mobile app that rewards you for completing tasks.
But how will you be able to earn from this mobile app? Let's examine the earning opportunities it offers.
The earning opportunity – Paid Tasks
Once you've downloaded the app, you will be given access to paid tasks after you finish registering to the app.
Paid tasks are basically small tasks you can do in exchange for rewards. Here's a video explaining how paid tasks work:
Most paid tasks will ask you to act as a mystery shopper or fill out questionnaires.
Most paid tasks will also involve you having to take pictures of products. So, it is important to make sure you don't take blurry pictures.
This is the number 1 reason why paid tasks are being rejected by Roamler.
You see, once you complete the task, you will have to submit it first and have Roamler check it. Once they approve your work, you will then receive the reward.
So, don't expect to receive the reward right away when you finish a task.
Doing paid tasks on a regular basis will also allow you to earn points you can use to level up your account. The higher the level of your account, the more paid tasks you will have access to.
So, it is important to keep doing tasks if your aim is to earn on a regular basis. Most paid tasks also have time allotment. That means you will have to complete the task within the given time frame.
So, make sure to only take on a paid task when you are about to work on it.
How do you get paid?
Every task you complete that is cleared by Roamler will earn you a certain amount of money and some experience points to boot.
You will be able to withdraw your earnings anytime you want via PayPal (which is the most convenient option, in my opinion).
Take note though that each withdrawal will ask for a fee. But when you cash-out with more than 20 pounds in your account, Roamler will pay the transaction fee.
The maximum amount you can withdraw per transaction will be 50 pounds.
If you cash-out an amount of 20 pounds or less, you will be charged with the transaction fee (2%). So, take that into consideration when you decide to withdraw your earnings.
As for the experience points you receive, as mentioned, it will be used to level up your account. And as your account's level increases, you gain access to more paid tasks, which will mean more opportunities to earn.
As you level up your account, you also get invitation codes (I will discuss the purpose of these invitation codes later).
If you are interested in sites that also pay via PayPal, I recommend you check out the top survey sites that pay via PayPal.
How much money can you make?
With a mobile app like this, the amount of money you can earn will mostly depend on how many paid tasks you will have access to.
More paid tasks will mean more earning potential. Of course, as you already know, you will have to submit your work for Roamler's approval before you will be able to earn.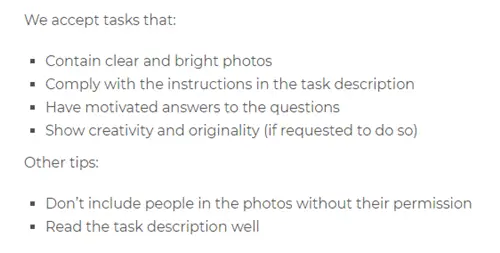 So, if you want to maximize your earning potential, it is important to know the best practices to get your work approved by Roamler.
As shown in the photo above, you have to make sure you submit and clear and bright photos.
Anything else will get your work rejected. You also need to make sure you read the instructions for the task carefully and follow them to the letter.
Aside from that, you just need to provide honest feedback about what you are supposed to do. Once you get used to these practices, you increase your chances of earning from this mobile app.
So overall, you can make a bit of side cash on Roamler but do not expect more than that.
And always make sure to do the tasks properly as your work will otherwise not be approved and you will have wasted your time.
In general, you need to take the time needed into consideration before deciding if it is the right option for you or not – yes, you can earn but since you have to show up at certain shops, it can take quite some time if you do not choose carefully.
Can you use it on mobile?
As you can probably tell, Roamler is supposed to be used on a mobile device. You have to download the mobile app and install it on your mobile device.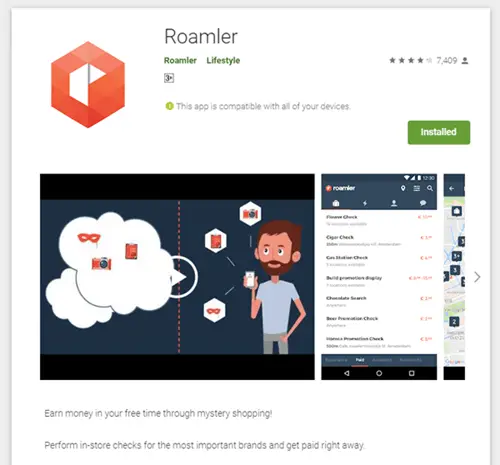 The Roamler app is available for both Android and iOS devices, so compatibility won't really be an issue for the majority of users.
You also have to make sure your mobile device also has an internet connection because logging in to the app will require you to connect to the internet.
In my opinion, Roamler being a mobile app makes it a very viable option to earn because you will be able to earn anywhere and anytime you want.
Who can join Roamler?
Roamler is available to anyone who lives in the UK, the Netherlands, Germany, France, Belgium, Spain, Italy, Sweden, Poland, Turkey, and Chile.
You also have to be at least 18 years of age in order to become a Roamler.
To register as a member, download the app first and install it on your mobile device. Then, the first time you open the app, you have to go through the registration.
You have to allow the app to know your location so that you can determine if you are eligible to join. Then, it will ask you to provide an invitation code.
Invitation codes are directly issued by Roamler and offered to app users as a reward for some of the tasks they perform, and when they reach a new level.
But how do you get the code when you aren't a member of Roamler yet?
Fortunately, Roamlers across Europe have created several online communities that share advice and invitation codes. So, you can join any of those communities and get an invitation code.
In my opinion, this type of registration process though can turn off potential members. That's because this means more work to become a Roamler.
Some people don't want to bother with looking for communities to get an invitation code – and I honestly understand. It should be easy and convenient to join platforms like this, in my opinion.
The bright side is, this ensures Roamler will only have members who will really be dedicated to being a Roamler because they were serious enough to look for invitation codes. So, there's a high chance they will also be committed enough to remain active.
Can you get support?
The first form of support you can get from Roamler will be their FAQ section.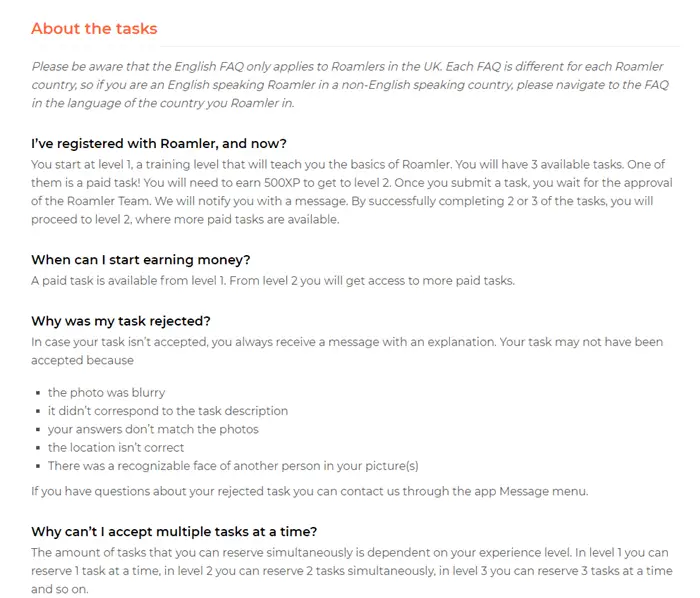 The good thing about their FAQ section is that it covers most of the important and basic topics. So, you will probably learn a lot about the site by reading their FAQ page (I know I did).
But if you want to contact their support team, you will be able to do so using the app. You can find the contact details in the Contact section of the app.
Plus, you can visit their Facebook page and communicate with their support team via that page.
But all the posts of the FB page are in Dutch so it is not really useful for the rest of the world which is a bit strange, in my opinion.
I, therefore, recommend that you use the contact option on their mobile app when you want to talk to their support team.
Overall, in my opinion, they do offer a decent way for you to get support.
Final Verdict
Roamler is a legit GPT mobile app that will allow you to earn by completing paid tasks.
It has some great qualities that warrant it to be a good choice for earning extra cash, but it also has some drawbacks.
Here's a summary of its pros and cons to give you an overview of what the site is all about. Hopefully, it can help you make an informed decision on whether you should become a Roamler or not.

Pros:
Payment via PayPal is available
You can withdraw your earnings anytime you want
The mobile app makes it very convenient to earn

Cons:
Registering as a member is a bit more complicated process
Limited earning opportunities
Can be quite time-consuming
What I like about Roamler is that it is really convenient, and you can even say fun, to earn a few extra bucks. Plus, it also helps that you can withdraw your earnings conveniently (via PayPal).
The only downside to this site, as you can see, is that it is a bit more complicated to register as a member. And it also has limited ways to earn seeing as you can only earn by doing paid tasks.
In addition to this, you also need to consider the time it can take for each task since you have to show up in a certain shop to complete it.
But if you ever get your hands on an invitation code, it can be a fun way to earn a bit of side cash. Just don't expect it to replace the income you can earn from a full-time job.
If you are interested in other mobile apps that will also allow you to earn cash conveniently, I suggest you also check out the top paid survey apps.
The apps on this list all have good earning potential and like Roamler, you will be able to withdraw your earnings conveniently.
If you have any comments, questions, or have any experiences with Roamler yourself, I would love to hear from you in a comment below.