MySoapBox is a survey site that offers to reward you for sharing your opinion.
Just like all survey sites, it asks you to answer the surveys and in exchange, they will supposedly reward you with a specific amount of points.
But is MySoapBox a scam? Let me just answer that right away. No, MySoapBox is definitely a legit site.
The question now is, will it be worth your time and effort?
This MySoapBox review will answer that question and provide you with all the information you will need in order to make an informed decision about joining their platform.
So let's get the ball rolling.
What is MySoapBox and what does it offer?
As mentioned above, MySoapBox is a survey site that offers rewards for answering surveys that they provide.
It has also acquired the former survey site ClickIQ. MySoapBox is owned by Calign, Inc, a market research company that uses a mixed selection of methodologies and techniques to uncover human behaviors.
If you are looking to earn a bit of cash with MySoapBox though, let me stop you right here. You will NOT be able to exchange your rewards for cash like on PrizeRebel, Swagbucks, or other survey sites that offer real money as rewards.
You can only exchange your rewards for gift cards and vouchers of popular retail stores like Amazon, Home Depot, Walmart and the like.
This can also be as good as cash depending on your preferences and we will go more into the payment options later.
In order to earn rewards, you have to participate in one of their earning opportunities. Here's a list of how you can earn rewards from MySoapBox.
Option 1 – Paid Surveys
Most of the points you will accumulate in MySoapBox will come from answering paid surveys.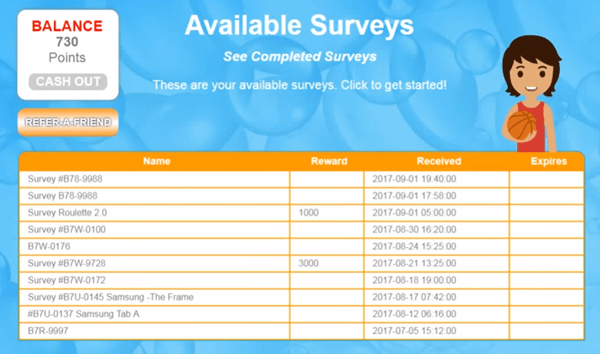 Since it is a survey site, it is only natural that it is the main earning method for the site.
After you've finished registering to MySoapBox, you can log in to their member dashboard and see all the available surveys you can take.
Once you successfully complete a survey, your account will be credited with the reward points that that specific survey offers.
One thing to note about their survey dashboard is that they do display the reward for the surveys available. The problem is, as you can see in the photos, not all surveys have the rewards displayed.
I'm not sure as to why, but in my opinion, if you're gonna display the rewards for each survey available, you might as well make sure that you display the rewards on ALL the surveys.
One good thing about the paid survey option on MySoapBox is that you will be able to answer surveys daily, unlike some sites where you only get to answer 5 to 6 surveys a month. As to why that is, you will understand in the next section.
Option 2 – Survey Roulette
Another way to earn points that you can exchange for rewards in MySoapBox is through their survey roulette.
Not a lot of info is shown on their website about how the roulette works. In fact, their website doesn't really talk much about how you can earn, which is really a shame.
What I can gather from the info I got from the internet is that their survey roulette basically acts as a router so you can get access to other surveys from other survey providers.
Think of it as a gateway to other survey sites so you can answer more surveys and earn more rewards.
What happens is, if you take a survey using their roulette, MySoapBox will reward you with points and not the survey provider that provided the survey.
Survey routers are used on a lot of survey and GPT (get-paid-to) sites and the good thing about them is that it gives you access to quite a lot of surveys.
However, you just have to be aware that with routers it sometimes takes a bit of patience to find the surveys you qualify for depending on where you live.
But overall the roulette on MySoapBox means that you will get access to several more options to take surveys.
Option 3 – Referral Program
Their referral program is pretty straightforward.
The way their referral program works is just like how SurveySavvy structures their referral program.
You will be rewarded with points for every member you invite.
Although it's a nice bit of passive earning, in my opinion, the reward you get will really not allow you to earn a significant amount of points.
Unless you are able to refer 100 friends or more, which will take a significant amount of time, taking surveys will still be the main source of your reward points.
There are really better surveys sites that offer far better referral programs than what MySoapBox offers.
How do you get paid?
As already mentioned above, you will not be able to earn real money with MySoapBox.
You will instead be able to exchange your rewards points (which is the currency that MySoapBox uses) into gift cards or vouchers.

There are plenty of gift cards and vouchers you can choose from, which in my opinion, is the only redeeming quality of MySoapBox.
You do have to keep in mind that you have to reach a payment threshold of 25,000 points before you can request for an initial payment. To get a clear view of what you have to earn to get your rewards, 25,000 points is equivalent of $25.
Their payment threshold is quite unique since you only have to reach it once. After you've exchanged the first 25,000 points, you can just request payment anytime you like.
Of course, you have to reach the required points needed for the reward that you want.
But it is nice that after you have redeemed one reward there is not really a payout threshold – in my opinion, this is a nice way to reward the members that show they want to continue to be active.
As for how you will receive the gift cards and vouchers you've earned, there isn't really any information on their website or anywhere about how you can get it.
I can only surmise that they will just email it to you and you can print and cut it out so you can present it to the store or, they'll just send you codes that you can use online or present to the store depending on the gift card you choose – that is how it usually works anyway.
How much money can you make?
In terms of money you can make, MySoapBox will be able to allow you to earn a decent amount if you consider the gift cards and vouchers as money.
If you are into that, you can actually acquire a decent amount of points every day since you will be able to answer surveys daily between the available paid surveys and the survey roulette that they offer.
To put it into perspective, 1,000 reward points is actually equal to $1. So, the payment threshold of 25,000 points actually allows you to earn $25 in gift cards or vouchers of course.
And you will normally earn around 750 to 1,500 points for each survey that you complete. Plus, after you finish your registration, you will also be awarded 2,000 points.
Think of it as a starter gift for new members.
So, it is fairly easy to accumulate 25,000 points. That is of course if you don't get disqualified for a survey. The good news is, even if you get disqualified, they will still reward you with 10 points.
As for the frequency of survey invitations, there is plenty of feedback saying that you will consistently receive surveys, which is good.
That means you can quickly reach the payment threshold and start receiving rewards.
But then again, the inability to reward you with real money is really the downside of MySoapBox. This is, of course, a matter of personal preferences and if you can find gift cards that you like they can be as good as cash.
If you on the other hand only are looking for survey sites that allow you to earn cash, I recommend you check out the best PayPal survey sites.
Can you use it on mobile?
Based on the information on their website, there was no mention of an app you can download and install so that you can answer surveys on your mobile device.
However, you can still use MySoapBox on a mobile device. You can still log in to the website using a mobile browser.
I took a look at the mobile version of their site and in my opinion, it is well designed and optimized for mobile use. It is also very user-friendly.
When I say optimized for mobile use, that means you can view all the content of the website without having to scroll left or right.
The good thing about this is, if you have spare time while you are traveling, standing in line, or anything else, you can still work on the available paid surveys.
This will allow you to be more efficient and earn points a lot quicker.
Who can join MySoapBox?
The good thing about MySoapBox is it is open for members globally. You don't have to be a resident of the U.S. in order to join.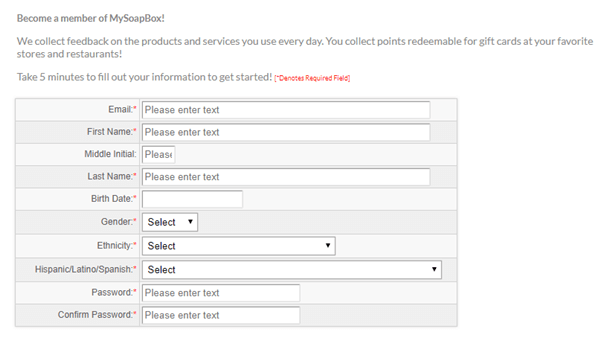 You do have to be at least 13 years of age in order to be eligible for membership. If you reside in one of the countries of the European Union though, you have to be at least 16 years of age in order to join. So keep that in mind.
Again, there isn't really a lot of information about their registration process. As you can see in the picture above, all you have to do is fill up the required fields honestly and you should be good to go.
So the joining process is quite straight forward.
Can you get support?
The support method they provide is basically what you can expect from a survey site.
They have a FAQs section where you can find some of the answers to the issues you might be facing.
If you can't find the solution in the FAQs section, you can always contact them via their contact form.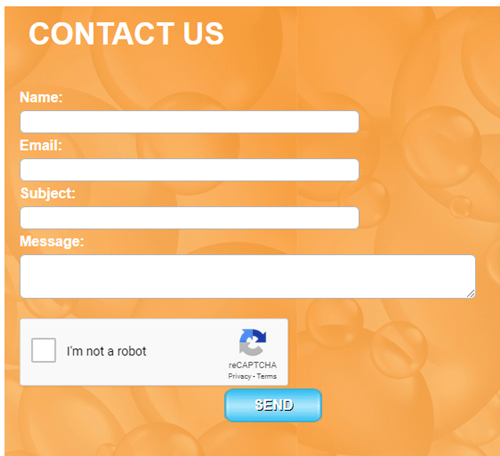 Just fill up the form and hit send. You will receive an email as a reply from them. And I believe, the correspondence will go from there.
A quick look at their social media page shows that they are relatively active with their posts. You can also send them a message on their Facebook page, which is nice.
They typically reply within a day, so that's a good option if you need to contact them.
Final Verdict
MySoapBox is a legit survey site that offers to reward you with gift cards and vouchers in exchange for answering their surveys.
Yes, you read that right. They reward you with gift cards and vouchers. So, if you are looking to earn real money, you won't get that from them.
If you are interested in becoming a member of their website, here are the pros and cons so you can properly make an informed decision.

Pros:
Open to all people worldwide
Lots of gift cards and vouchers to choose from
User-friendly site

Cons:
Initial payment threshold is high but becomes relatively low once you hit it
Doesn't offer cash rewards
Apart from the lack of information on their website, MySoapBox doesn't really have any glaring problems.
If you are into gift cards and coupons, this can be a good secondary site to earn some.
But if you are looking to earn some cash, I recommend you check out the best survey sites in your country.
These sites will allow you to earn real money apart from gift cards and coupons. Your time will be better spent on them if you only want cash. But with the big selection of gift cards on MySoapBox, it is also likely you can find options you like there.
If you have any comments, questions, or have any experiences with MySoapBox yourself, I would love to hear from you in a comment below.