eJury is an online mock jury or focus group that promises to reward you for participating in their activities. If you love watching courtroom drama movies and TV shows, you will probably like this site.
But is eJury legit and really a great way to earn or a scam to stay away from? Let me just answer this question right away. Yes, eJury is a legit site that does what it promises to do.
But this doesn't mean you should sign up as a member right away. It would be best if you first understand what this site has to offer and if it will be worth your time.
This eJury review will tell you everything you need to know about the site, so you can make an informed decision on whether or not joining their panel is really a good idea or not, just like how a juror does.
So, let's start the proceedings, shall we?
What is eJury and what does it offer?
As you can see, eJury is quite a unique site because it focuses more on helping lawyers prepare for a trial by providing them an opportunity to face a mock jury.
This is where you come in. You can sign up to their website and become a potential juror for those mock trials that eJury provides. That way, you can help lawyers prepare for their upcoming trial.
Of course, you will be rewarded for participating in these activities. But in order to fully understand how you can make money off this site, we have to take a closer look at how you can earn.
Here's how you will earn from eJury.
The earning opportunity – Legal Surveys
As you already know, eJury conducts mock trials for lawyers who have signed up for their service.

Once you become a member of their panel, you will be eligible to join mock trials.
As shown in the photo above, the process begins with a lawyer posting a case on eJury. Then, eJury matches the case with members who fit the profile.
If you fit the profile needed for the case, you will receive an invite.
Once you accept the invite, you can then answer the questions of the case. Typically, the questions will include your opinion about the case, as well as your verdict.
So, you will really feel like you are part of the jury when you participate in one of these mock trials because you get to send in your verdict.
The good thing is, there really isn't any right or wrong answer with this. You just tell them what you think about the case and you send in your verdict.
You do need to take note that each case only has a maximum number of 50 verdicts before it closes. Once the verdict reaches that number, you won't be able to get the reward.
So if you want to take part, you have to take the surveys as soon as you can.
The reward you get for each case you successfully submit a verdict to will depend on the length of the case.
It's a pretty straightforward process, which makes it easier for you to earn some money (which I will talk about next).
How do you get paid?
What's good about eJury is, they will pay you real money for participating in one of their cases.

You will receive the payment as soon as you finish the case. As shown in the photo above, you will receive your payment via PayPal.
You also don't have to reach a specific amount before you can get your reward. This makes it much more ideal because the site doesn't have a payment threshold you need to meet.
In my experience, not a lot of sites do this. Usually, survey sites will require you reach a specific number of points or amount before you can withdraw your money. This means you will be able to get your earnings a lot quicker from eJury.
If you are interested in other survey sites that will also allow you to receive your money quickly, I suggest you also check out the fastest paying survey sites.
How much money can you make?
So you know how you will get paid. The next question now is, how much can you actually earn from eJury?

As you can see in the photo above, you stand to earn around $5 to $10 per verdict you submit.
The average time it takes to complete a case and submit your verdict is around 35 minutes. Usually, it will take longer the first time you do a case.
But once you become familiar with the terminologies and the whole process, it becomes a lot easier and faster. Overall, the fact that you can earn as much as $10 for half an hour is actually quite good.
The only other factor you need to consider now in order to figure out the earning potential of this site is, the frequency of the case invites you get.
There is not a lot of information on their website on how often you will be able to qualify for a case.
All they say is, it will depend entirely on the county in which you reside. They say if you live in Tarrant and the Dallas counties, the average number of invites is around once a week.
But based on feedback from members, the number of cases you qualify for will really not be a lot.
Some even say that they haven't even received an invite for a year.
This does make sense since they can, of course, not guarantee there will be any cases in your area consistently.
So don't expect to earn a lot from eJury, especially if you do not live in the regions specified above.
If you are looking for US-based survey sites that will allow you to earn on a more regular basis, I recommend you check out the top survey sites in the US instead.
Can you use it on mobile?
There is no mention on their website about an eJury app you can download on your mobile device so you can work on cases even when you are not sitting in front of a computer.
However, you will be able to access their site from a mobile device using a mobile web browser. And, the mobile version of their site is optimized for mobile use. This means you won't have to scroll left and right or zoom in and out just to read the content.
So, there is a big possibility that you will be able to review cases and submit verdicts on your mobile device conveniently.
This will make it a lot easier for you to make sure you are one of the 50 members who will be accepted as the jurors of the case.
Who can join eJury?
Up until this point, eJury seems like it's a very straightforward site. But it gets quite complicated when it comes to who is able to join this site. This is expected because after all, we are dealing with the law here.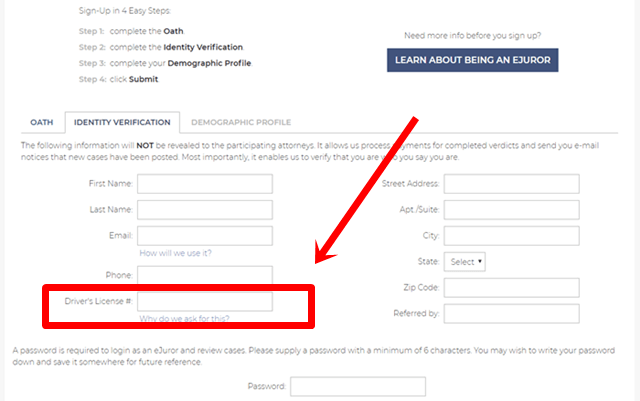 First up, in order to register, you have to be a resident and citizen of the United States. You also have to be at least of legal age, which is 18 years old.
I have heard some questions about whether eJury is also available in the UK, Canada, and Australia. It is NOT – So just want to make it clear that you have to live in the US to sign up.
As you can see in the registration form above, eJury will require that you provide your driver's license number.
They will require this type of information so they can verify your identity. So, if you are not willing to share your driver's license number, then this site is not for you.
During the registration process, before you can get to the registration form shown above, you will have to complete the oath.
The oath will ask you to swear that you are not an actively practicing lawyer, paralegal, or legal assistant.
Also, it will ask you to swear you are not employed by an attorney or a law firm, nor related to a practicing lawyer within the first degree by affinity (marriage) or within the second degree of consanguinity (blood).
The oath will also ask you to swear you will not disclose any information you've acquired from the site to an attorney, paralegal, legal assistant, law firm, insurance adjuster, an insurance company, or anyone associated with them.
These requirements, in my opinion, are pretty standard for anything involving sensitive information. So, if you can't stand by that oath, I suggest you not join the site.
It might seem like a lot, but it really just boils down to you not being related to any work in the legal field and that you do not share sensitive information that will affect the outcome of cases.
Because you have to remember, the cases submitted to eJury are most likely going to be real cases.
Can you get support?
Being able to contact their support team is another way to gauge the true worth of a site. With eJury, they do provide their contact information on their Contact Us page.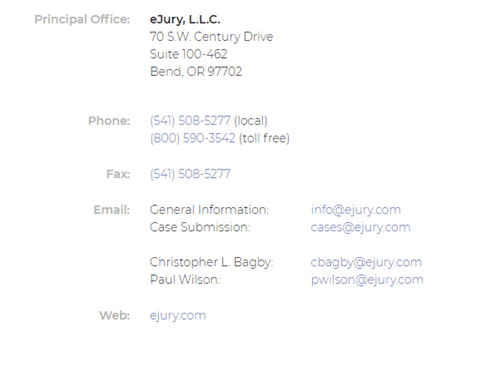 As shown in the photo below, you can contact them in several different ways. You can send them an email or call their toll free number. What I like about their support system is, they provide you with a toll-free number you can call anytime you need help.
Not all sites do this. Plus, you can also send them a postal mail. They do also have an FAQ section, but it doesn't cover a whole lot of topics, just the basic ones.
Overall, their support system is pretty good, which makes you feel at ease because you have several ways of contacting them in case you need help about your account or really just anything about their site.
Final Verdict
eJury is a legit specialized site that sort of acts like a survey site. It does pay you for participating in their activities. But, it does have some limitations.
But let's finish this review with a summary of eJury's pros and cons to give you a better overview before deciding if this site is indeed for you or not.

Pros:
No payment threshold
Pays via PayPal
Pays you real money

Cons:
Has only one earning opportunity
Case invites are very rare which really drops its earning potential
Registration is limited to US citizens and residents and will require you to provide your driver's license number
What I like about eJury is, it is very straightforward in terms of how you can earn and how you will be able to collect your earnings. But, it really has a low earning potential because the case invites aren't really very frequent.
But if you like reading about cases and love criminal law, this can be a good site to join. Just think of the earnings as a bonus.
If you are looking for survey sites that will allow you to earn on a regular basis though, I suggest you check out the top survey sites in your country.
This list will contain a lot of survey sites you can join and all will provide good earning opportunities. Plus, you will be able to find one that will suit your needs no matter where you live.
If you have any comments, questions, or have any experiences with eJury yourself, I would love to hear from you in a comment below.