If you are looking for a way to earn extra cash online, one of the best ways to do that is to join a survey site. That's because earning from this kind of site is very simple. You just answer surveys and accumulate rewards.
But since there are plenty of survey sites around, it can be quite hard figuring out which survey site to join.
If you've been doing your research and encountered a site called Enlighten Panel and you are wondering if you should join this site, then this article will be able to help you.
But before we tackle that issue, the first thing we need to verify is, is this site legit or is it a scam? This is a very important question that needs to be answered right away. So, let me just tell you now. Yes, Enlighten Panel is a legit survey site that will reward you for answering surveys.
The question now is, is this site worth joining? To answer that question, there are a few things we must consider. This Enlighten Panel review will show you all you need to know about the site so you can decide if it is worth joining or not.
What is Enlighten Panel and what does it offer?
As mentioned above, Enlighten Panel is a survey site that will reward you for simply answering surveys.
It is a very straightforward survey site and you will understand why when I discuss its earning opportunity.
And speaking of earning opportunities, we have to take a closer look at how you will be able to earn from this site. This will be the best way to get a glimpse of the site's earning potential. Plus, you will also learn how the site works.
So, here's the earning opportunity Enlighten Panel offers.
The earning opportunity – Paid surveys
There's only one way for you to earn rewards on Enlighten Panel and that is through paid surveys. From time to time, you will be invited to answer a survey to earn rewards.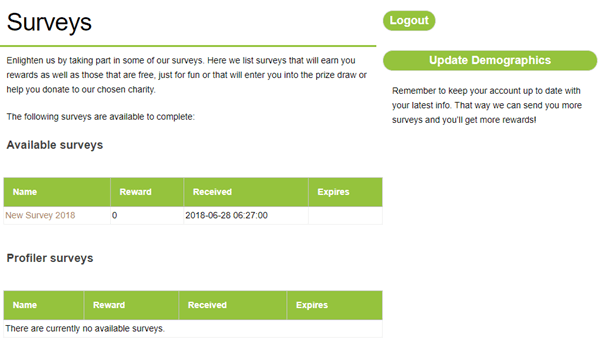 When you log in to the member dashboard (refer to the photo above), you will see their survey section has two parts – the available surveys and profiler surveys.
The available surveys are the surveys you can earn rewards by taking, while the profiler surveys are surveys designed to gather more information about you.
Both types of surveys are important – especially the profiler surveys. The information you provide on profiler surveys is used to qualify you for more surveys in the future. So, if you ever see one in that section, I suggest you answer it right away.
As for the process of answering surveys, it's more or less the same as any other survey site. When you answer a survey, you first have to go through a screening process. This means you have to answer a set of qualification questions.
After you are done with the screening process, if you qualify, you will proceed to the actual survey. If you don't qualify, then you just have to move on to the next survey available (if there's any). Once you complete the actual survey, you will receive the reward.
As shown in the photo above, you will know the reward you will earn for completing the survey beforehand. You will also know when the survey started and when it will expire. This is great information to know because it will help you choose which surveys to prioritize if you are in a hurry.
I recommend you prioritize surveys that you received first because they will likely expire first.
How do you get paid?
If you were hoping to earn cash from this site, then, unfortunately, you will be disappointed. Enlighten Panel will only reward you with gift cards.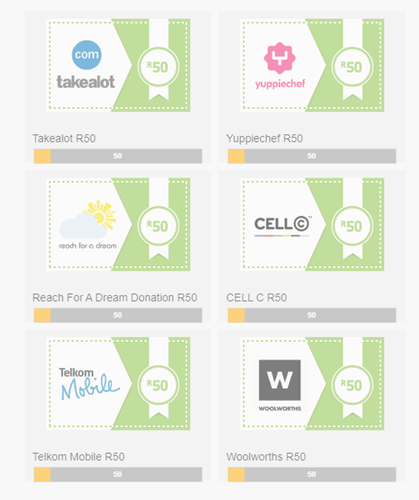 The way their reward system works is that every survey you complete will earn you a certain number of points. You can then exchange the points you've earned for gift cards. Simply choose any gift card you want from their catalog.
You will need to earn at least 50 points (equivalent to 50 Rand) before you can redeem any gift card. You can redeem gift cards anytime you want, but they will only process it every 15th day of the month. The gift card will then delivered to you within 10 working days. So, it's a pretty long wait, in my opinion.
I like that they have a very low threshold. For your information, the currency they are using Rand, which is the currency of South Africa. To give you an idea of the equivalent of 50 Rand, that will be around $3.
If you are interested in more sites with a low payout threshold, I suggest you also check out the fastest paying survey sites.
How much money can you make?
The main drawback of this site is that it only offers one way for you to earn rewards.
It doesn't even have a referral program (which is pretty common with online rewards sites) where you get the chance to earn additional rewards by inviting people to join the site.
So, you will really be at the mercy of the availability of surveys. If there aren't any surveys available, you won't be earning rewards.
And compared to many other survey sites, it can take some patience to get surveys on Enlighten Panel.
And technically speaking, you won't be able to earn cash. Their surveys also don't give very high rewards. So, I would say their site has a low earning potential.
Can you use it on mobile?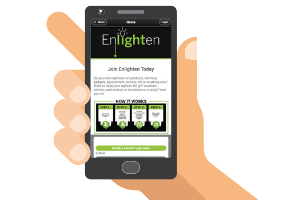 Enlighten Panel doesn't have a mobile app you can download, but you can still access their site from a mobile device using a mobile web browser. And fortunately for you, their site is optimized for mobile use.
This means you will be able to read all the content without having to zoom in. You will also be able to easily navigate the site since the links are big enough for you to tap.
This is a good feature because it will allow you to get to the surveys even when you are not in front of a computer as soon as they are available.
This is another important aspect to consider because most surveys have a set number of respondents allowed. If the maximum number of respondents has been reached, the survey will stop accepting any new respondents.
That's why it is crucial to answer a survey as soon as it becomes available. And being able to answer it conveniently from a mobile device will certainly be a big help.
Who can join Enlighten Panel?
Here's the kicker. Enlighten Panel is only available for people who live in South Africa. You also have to be at least 15 years of age to register as a member.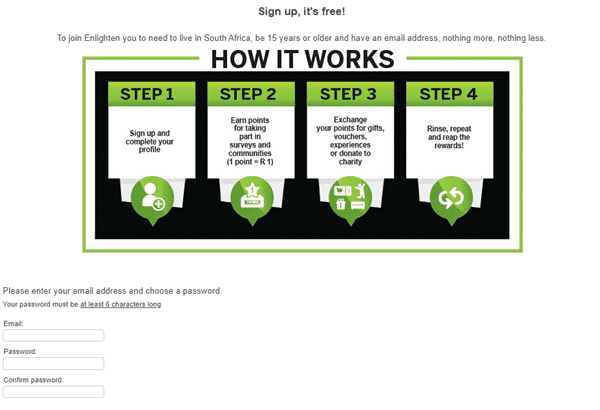 If you are eligible to join, all you have to do is fill out their sign-up form and confirm your membership by clicking on the confirmation link that will be emailed to you. When you first log in to the site, you will have to complete your profile.
Make sure to complete it because you will earn 5 points. So, effectively, you will be receive a 5-point bonus upon signing up.
Now, if you live in South Africa and you are looking for more sites you can join, I would recommend you also check out the top survey sites in South Africa.
Can you get support?
Enlighten Panel does have a FAQ page that discusses the most important topics. So, if you have any questions about the site, you can read that page first.
I also recommend you read it before you sign up so you'll learn how everything works (even though you should have a good idea after reading this review).
If you can't find the answers on their FAQ page, you can always send your inquiry to their support staff by using the contact form provided on their page. You can access their contact form by scrolling all the way down and clicking the Contact Us link.
Overall, I would say they do have a decent support system in place, which is good because you will be able to get help if you in case you experience any issues on the site.
Final Verdict
Enlighten Panel is a legit survey site that will reward you for answering surveys. It's a fairly straightforward survey site with a couple of advantages but it also has certain drawbacks you need to consider before joining.
Let me finish this review with a summary of its pros and cons to give you an overview so you can decide if it is truly worth joining or not.

Pros:
Low payout threshold
Their site is mobile-friendly

Cons:
Limited earning opportunities offered
Doesn't offer cash rewards
Takes quite some time for you to receive your reward
If you live in South Africa and you don't mind only earning gift cards, Enlighten Panel can be an option. That is if you don't mind waiting some time to receive your rewards.
In my opinion, Enlighten Panel doesn't offer too many advantages as a site for you to earn from. There are simply many sites you can join with better earning potential, more flexible payment options, and that doesn't require you to live in South Africa to join.
For a list of good sites you can join, I suggest you check out the top survey and GPT sites in your country instead. The sites on this list offer plenty of earning opportunities and will allow you to earn cash.
Plus, you will definitely find a site you can join regardless of where you live.
If you have any comments, questions, or have any experiences with Enlighten Panel yourself, I would love to hear from you in a comment below.