Crowdology is a survey site that claims to pay you money in exchange for sharing your opinions.
But is Crowdology legit or a scam to stay away from? Let me just tell you right away that Crowdology is a legit survey site.
But this doesn't automatically mean it will be the right fit for you.
This Crowdology review will show you exactly what it offers and what you get as a member so you can easily find out if this site is for you or not.
So let's get on with the review, shall we?
What is Crowdology and what does it offer?
As already mentioned above, Crowdology.com is a survey site that will reward you with money for completing the surveys they offer.
It is one of the newer survey sites out there but has gotten quite a bit of attention.
Crowdology is owned by a company called Savanta, a market research agency that provides a full range of integrated intelligence services on a global scale.
Seeing as it is purely a survey site, you should only have one main way to earn. So let's take a look at a closer look at how you can earn money with this website and how good the options it has are.
Option 1 – Crowdology paid surveys
The main way for you to earn on a survey site is by answering paid surveys.
Crowdology offers surveys for you to answer.

After you finish the registration process, you will now be able to log in to their website. Once you are on the member's dashboard, you will see all the available paid surveys you can take.
Before you are able to answer surveys though, you have to complete your profile. This is what Crowdology will use to qualify you to a certain demographic so they will know what surveys to send you.
The length of the surveys they offer will vary. Some surveys are only 2 minutes long, while others will take around 15 minutes to complete. This is a normal average length for survey sites and nice the surveys are not too long.
One thing you need to keep in mind is that Crowdology reserves the right to withhold the reward if, they see that your survey question responses are untruthful or not sufficiently well considered.
I can see one problem with this type of condition though. It's kind of hard to gauge how truthful an answer to a survey is, especially if it is only being answered over the internet.
This might lead to several issues. So, I checked up on their TrustPilot page and true enough, my suspicions were confirmed.
There was plenty of feedback from members regarding rewards being withheld or taken back. The problem with this is most members claim that they were truthful with the answers they provided, but for some reason, Crowdology thinks it is untruthful or not sufficiently well considered.
Now, when a member contest's the claim, they don't get an answer from their support staff, which can be quite frustrating.
So you know, this is the main issue with the paid surveys that Crowdology offers, which as you can see, can significantly affect the earning possibility from this site.
You also have to remember that some of the surveys available have an expiration date. So answering them as soon as possible is recommended.
Overall, you can, however, make some money by answering the surveys on Crowdology but it might take a bit more patience than on many other sites.
Option 2 – Sweepstakes
Crowdology also holds sweepstakes from time to time. As to how often exactly, unfortunately, they don't provide that information on their website.
Normally, for sweepstakes on survey sites, you will be able to join it as some form of reward for completing a survey or for referring a friend.
Crowdology does, however, not tell much about how it works other than they hold them regularly.
But when looking at the section on the website where they show info about past winners, the last one was 2 years ago as of writing this review so it does not look like it is very often.
When they do hold one, the prizes will also be listed right away, so you'll know what you can win.
But then again, this isn't really a stable method of earning because as you probably already know, it will all rely on chance and they do not have them often.
But it is a nice extra chance, as long as the entry for the sweepstakes is free.
How do you get paid?
The way you earn with Crowdology is quite different from most survey sites. They don't use a point system as most survey sites do.
What Crowdology does is they reward you right away with money for each survey that you complete.
Now, once you reach the threshold of $8 or £4, you can then request to withdraw that money via PayPal.
You can also convert the rewards you've accumulated to Amazon gift cards. I surmise that there is a 1:1 ratio for converting the money you've accumulated into gift cards.
In my opinion, they made this option available for those people who don't have a PayPal account.
That way, they can still claim the rewards they've accumulated without having to force them to sign up for a PayPal account.
So overall some nice reward options and a good low payout threshold.
How much money can you make?
In terms of the possible income you can make from Crowdology, that will really depend on several things.
The first thing you need to consider is, how often do you get a survey invite from them?
You see, with survey sites, everything will stem from the invites that you get. The more invites you get, the more possible income you can acquire.
The problem is, there is plenty of feedback from members saying that the survey invitation frequency is quite low. So don't expect to receive survey invitations daily.
Another thing to consider is also the amount of money you will receive for completing a survey. On their website, they mention you can earn up to $10 per survey. In reality, though, the rewards for each survey completed will only average from $0.50-$2.50.
It's a decent amount considering that most surveys only take 15 minutes to complete at most but if you expect $10 per survey you will likely be disappointed.
Now, the last thing you have to consider is that you will not always qualify for all the survey invitations you receive. So that's going to be a significant factor in the potential income you can earn from Crowdology.
In my opinion, the earning potential of Crowdology simply pales in comparison to let's say, the best survey sites in the US.
There are more earning opportunities and higher survey invite frequency on the sites included in that list.
Can you use it on mobile?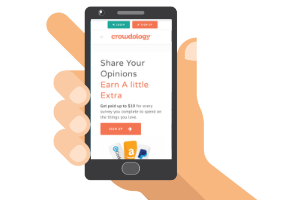 If you are looking for a Crowdology app you can download and install on your mobile device, then, unfortunately, that is not available.
But that doesn't mean you can't use the site on a mobile device anymore.
Their website actually has a mobile version which you can access via a mobile browser.
The mobile version looks like it is optimized for mobile use because you can see all the content properly without having to zoom in or out.
At least, they have that covered. That will allow you to answer surveys as soon as you receive the invite even if you are on the road. That way, you will have a much higher chance of qualifying for it.
Who can join Crowdology?
If you live in the US or UK, you will be eligible to register to their website as long as you are 18 years of age or older.
The residency restriction is clearly evident during the sign-up process.

The site will recognize right away if you don't live in the UK or US. And if you are planning to use a VPN to circumvent that limitation, don't even bother, because their system will detect that and still won't allow you to register.
So in my opinion, they are pretty strict about who can join their site, which only makes sense because those people are their target audience. They are, after all, a UK and US-based research company.
In order to complete the registration, you will need to fill out the form. Afterward, you will be sent an activation email to the email address you provided during the registration.
Just click the link in the email to finalize the registration process.
If you don't live in any of the two regions stated above, I suggest you check out the best survey sites in your country instead.
There are plenty of sites to choose from that actually provide better rewards and better opportunities.
Can you get support?
In all the sites I review, I always place high importance on the support system they have in place.
In Crowdology's case, they do have a contact us page available if you want to talk to them directly or send them a message in case you have any questions or concerns you need to raise.
But it seems as though their contact us page is also limited to residents of the US and UK only. So if you live somewhere else, there's really no way for you to get a hold of them unless you message them on Facebook.
They do have a Facebook page, but it isn't quite active. So I'm not sure if you can expect a reply from them via that platform.
In cases like this, a pretty restrictive way to contact them will actually be a detriment to the service they offer.
Let's say, for example, you live in London, but you went on a vacation to South America. You decide to do a bit of surveys while on your downtime because you've got nothing to do.
You won't be able to do anything, because the site will only allow you to log in if they recognize that you are in the UK or the US (which I guess is they check it via your IP address).
You won't also be able to ask for temporary access since you have no way of contacting them because their contact page also restricts access outside of the US or the UK.
So whichever way, you are stuck. That's why in my opinion, sites should always have a way for their members to always have a way to contact them just in case any concerns arise.
Also, as already mentioned earlier in this review, there are quite a lot of complaints from members that have tried to contact support but do not get an answer or get a superficial answer. So that is not really a good sign, in my opinion.
Final Verdict
Crowdology is definitely a legit survey site that rewards you with real money for completing their surveys.
But it definitely has its problems. So let's finish this review by summing up the pros and cons so you can clearly get an overview before deciding to join or not.

Pros:
Low payment threshold
Cash out via PayPal is available

Cons:
Low survey invite frequency
Very restrictive support system
Plenty of feedback about rewards being withheld or taken back without any explanation
As you can see, Crowdology has quite a bit of a problem. The earning potential is pretty low since the survey invite frequency is very low.
Add that to the fact that there is plenty of feedback from members not being able to receive rewards because, for some reason, Crowdology took it back.
Let me just address this concern a bit. This is actually why many people are wary of survey sites as being a scam because of incidents like this.
It gives the impression that after you've provided all the answers for the survey, they simply do a 360 and tell you that the answers you've provided aren't truthful or doesn't coincide with their target. Then they don't give out the rewards.
In turn, all you are left with is a wasted 15 minutes answering a survey that you won't get rewarded with. So naturally, the reaction of the members will really lean towards the survey site being a scam.
Now I'm not saying that Crowdology does that to avoid paying their members. There is no proof that they are doing that.
All I'm saying is, a bit of explanation as to why the answers they provided aren't qualified will go a long way. That way, you as a member can actually adjust your answering method to avoid that from happening again.
But overall, the underwhelming earning potential that Crowdology offers simply doesn't make it a decent secondary site to earn money from.
I recommend you instead check out the best survey sites in your country for sites that are proven and tested to offer better rewards and opportunities.
If you have any comments, questions, or have any experiences with Crowdology yourself, I would love to hear from you in a comment below.