Paidsurveys.com has a great website name, and it might make you think it is the mother of all paid survey sites.
But is Paidsurveys.com a scam, or will it really give you great opportunities to earn?
Let me reveal right away that I think it is a shame a site with such poor offers has such a great domain name.
But do not just take my word for how poor the opportunities are there – this Paidsurveys.com review will show you what happens when you join, and what the site really offers, so you can see for yourself, if it is worth your time.
What is Paidsurveys.com and what does the site offer?
I have not been able to find any information about who is behind Paidsurveys.com and how long the site has existed (this is in itself a bad sign).
I can however figure out from how it is built, and what it offers that it is created by the same people who have created Panel PayDay and another panel you have maybe seen promoted called SaySo4Profit.
I have reviewed these two sites before, and they offer very much the same – a lot of poor offers and wasted time.
What I can also figure out from the name of Paidsurveys.com is that the site must have existed for a while, since they were able to get this website address. In my opinion it is a shame this site was out early enough to get such a great name that gives you the impression it might be an amazing place to take surveys.
Because this is not at all my experience with the site. So let me show what it really offers, so you can see for yourself.
Unnecessary and promotional sign-up process:
Depending on how you find Paidsurveys.com, you will get to a sign up page, where you have to give your name, email, zip code, birthday, and gender to sign up.
This is quick and a very normal way to sign up for a survey site.
However, on Paidsurveys.com the sign-up process after this is not at all, as it is on regular survey sites. Right after you fill in the sign-up for and click "join", you are taken to a screen with offers.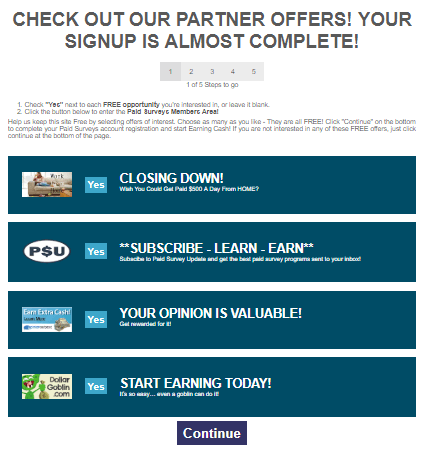 It is quite unusual to get promotional offers, before you even get to the members area. But here you get several of these.
I tried to click some of them out of curiosity, and several of them took me to a completely different offer than what the ad said.
In addition to this, many of the offers had nothing to do with paid surveys, even though the site claims to give you access to the best paying survey sites.
The above screen was just the first of the screens with offers I had to go through to sign up. There are 5 screens with promotional offers, before you are finally told that now all you have to do is to confirm your email address.
I then expected to get to a members area and see the paid surveys they had, but this is not what is happening, as I will explain next.
Unreliable recommendations after you join:
After you join Paidsurveys.com you do not get to an actual members area. You are instead just redirected to their website front page, where you can see the offers they have.
This is however something you can see by just going to the website, and you do not have to sign up for anything to get access to this.
So the whole sign-up process is a way to promote offers to you, so they can earn commissions, and then get your email address, so they can send more offers to you.
You do not get access to anything else by signing up.
And the offers you can find there are in general poor. You can first of all not find very many survey sites. Secondly, the quality of the survey sites they list are varied.
Some of the survey sites they recommend are definitely legit and great places to earn some extra money, but there are also some very poor sites like for example iSurveyWorld, and there are also several offers that have nothing to do with paid surveys.

So what you will get is just a list with a few offers, and many of them are not worth your time at all. You will get very little information about each of the offers, as all you get is a superficial explanation and then a link, and you then have to go to the site itself to sign up there.
Community that is not really a community:
On Paidsurveys.com you will see a community tab in the menu. If you click this, you get a screen where it says you can join their Facebook group to get access to the newest offers, share tips, and have discussions.
This sounds great right?
This however not what you in my experience will get.
The group is first of all not updated very often. When there finally is a post, it is a promotional post with a statement like "who wants to make $10 per survey – inbox us for more details".
The offers they promote here are just as on their website. A lot of poor offers, superficial information, and claims that are just meant for selling.
In addition to this, it is not at all a group for discussions and sharing tips. All they allow is themselves to post these selling statements. If you try to discuss or post yourself, it will not be posted – I know, as I have tried myself.
So it is not at all a community page, but a page meant for promotion.
Poor rating system:
On the site you can click to see a superficial explanation of each of the offers Paidsurveys.com has. Here you can also see a small rating, where it looks like users can rate the sites.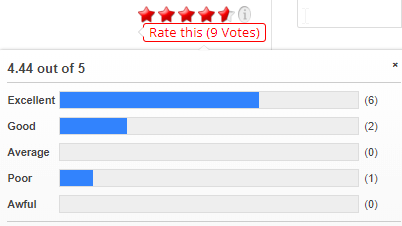 Above you can see the rating for the survey site iSurveyWorld. I have previously reviewed this site, and you get A LOT of spam, if you join this site, and you cannot earn anything on the site itself.
The high rating therefore seemed unlikely to me, and I wanted to try to leave a rating myself – this was not possible!
So there is a rating system, but as a visitor (and even after signing up), you can apparently not leave your own rating. I wonder who then give the ratings?
Either way, I think it is a dirty trick to try to make it look like user ratings, when you in fact cannot leave a rating.
To me this just shows that Paidsurveys.com is not a site that is focused on providing you with quality information and advice, but more focused on just promoting what they get paid to promote.
Joining bonus that is not really a joining bonus:
One last thing I want to mention is the claim you can see on the joining page that says you get a $25 joining bonus opportunity.

You would then maybe think that you will get $25 bonus after joining, but this is not the case. As mentioned, you do not really get access to a members area.
And if you look carefully before joining, lower on the page it explains this bonus opportunity further.

It says that you will NOT get a bonus from Paidsurveys.com. You can potentially get joining bonuses by joining some of the sites they list, and this could then potentially give you $25 joining bonus.
This is a bit sneaky in my opinion. It is definitely true that some sites like for example Swagbucks give a $5 joining bonus.
That some sites do this has however nothing to do with Paidsurveys.com. But they at first sight makes it look like you might get such a high bonus by just joining them – this is not the case.
It is a trick to get you to give your email address, because you think, you will become a member and get a bonus. But in reality this is not what will happen.
How do you get paid?
Let me just make it completely clear, in case I have not done it so far – You will NOT get to a members area on Paidsurveys.com.
The sign up process is just to get your email address.
This also means that you will not be paid by Paidsurveys.com. You can potentially earn on some of the sites they list, if you are lucky to find the good ones. But you will be paid on the sites themselves and NOT by Paidsurveys.com.
Can you use it on mobile?
When doing survey site reviews, I always look into, if you can use the particular site on mobile devices, as this is a great way to earn on the go, and whenever it fits into your schedule.
As I always include this part, I also wanted to include it here. But when it comes to Paidsurveys.com it is however in my opinion irrelevant, if you can use it on mobile or not.
The offers are so poor and the site is a waste of time. So whether you use mobile or desktop, there are many sites that are better to join.
Who can join?
On the sign-up form for Paidsurveys.com, you have to give your zip code. You can only join, if you use a zip code for the USA.
The reason is that they mainly promote offers that are available here. There are however so many great survey sites in the USA, where you get paid and earn on the sites themselves, so if you live here, you can find WAAAY better opportunities.
But as I already showed you, you will not get to a members area, so you can see all the same offers without signing up. So you can also check out all the offers Paidsurveys.com has from other countries – no matter where you live, it will however in my opinion be a waste of time.
Final verdict – legit or scam?
I am definitely not a big fan of Paidsurveys.com. But let's finish this review with summing up the pros and cons, so you can get a better overview of why this is.

Pros:
Free to join
Some of the offers are for good survey sites (very few)

Cons:
Sneaky joining bonus claim
Poor "community" page
No in-depth information
Many poor offers
A lot of promotion in the sign-up process
Unnecessary sign-up process (there is no members area)
Overall, there are a few good offers you can find on Paidsurveys.com. So in that sense I guess it has legit offers. But if you are new to paid surveys, it will be difficult for you to differentiate, and you can end up joining some very poor sites.
Paidsurveys.com in my opinion also uses a lot of sneaky tricks to get you to sign up, and even after you sign up, you will not get any in-depth or valuable information – just promotional links. Therefore, it is a site I think is a complete waste of time, and I do definitely not recommend it.
There are however many great survey sites available in most countries. You can for example check out the list of the best survey sites in your country here. All of these are sites, where you can earn on the actual sites, and earn some nice extra money.
If you have any comments, questions, or have any experiences with Paidsurveys.com yourself, I would love to hear from you in a comment below.