When I first found iSurveyWorld, I was quite positive, as it looks like a great and legit survey site.
However, there are some details you need to know to find out if it will really be worth it.
So is iSurveyWorld a scam or really a great option?
I have tested it thoroughly myself to find out and in this iSurveyWorld review, I will tell you all about what this survey site has to offer, and give you an inside look so you can see what to expect.
Let me just reveal right away that it is not for everyone. This does not mean it can not be the right option for you, but you need to know all the details to find out.
So let's get started.
What is iSurveyWorld and what does the site offer?
There is not much information to be found about iSurveyWorld when you first come to their site.
But it is a platform that has existed since 2013.
I have heard from several people after first publishing this review that they have actually been paid by iSurveyWorld so it is a legit site.
Personally, I have, however, not yet been paid because of the reasons I will explain later.
So it is definitely not a site for everyone so make sure to read all the details to find out if it is for you or not.
So let's go over what iSurveyWorld offers and what you get once you join. I have made a video tutorial that will give you an inside look and show you exactly how it works. You can also read all the details below the video:
Option 1 – Paid surveys:
Paid surveys are supposedly the main way you can make money on iSurveyWorld. Usually, I like sites that mostly offer this, as they often offer a very good user experience and are very easy to use.
iSurveyWorld is definitely also easy to use and it is very simple to see what you can do as soon as you log in.
Right away you can see the available surveys – if there are any.

You will not always get any surveys. So if there are no surveys available to you, do not be surprised.
Also, be aware that not all surveys are actual surveys. Many of the offers you will see will instead be promotional offers where they get paid to get you to sign up for other online opportunities.
How many surveys/offers you will get will depend a lot on the country you live in. So in some countries, you will get regular surveys and in others, you will never get any.
Overall, you should, however, not expect too many surveys from iSurveyWorld.
That is not unnormal on survey sites. I would just wish iSurveyWorld had been more clear about how actually get surveys and who does not. It is a bit annoying joining only to always see an empty list of surveys.
And again, this will really depend on the country you live in. And it is free to join, so if you want to test it in your country to see if you get surveys, it is risk-free.
I have done some more digging and later I will tell you what countries I found out it has the most options in.
Option 2 – List of top survey sites:
One of the things you can find on iSurveyWorld is a list of the top survey sites. At first, I, therefore, thought that the platform was set up mainly to get you to sign up and then refer you to other actually survey sites, and then iSurveyWorld would get paid for this.
I have seen sites like this before and the platform PanelPlace is an example of this.
In general, I think it is a waste of time to join sites like this, as they usually do not provide any valuable information about the sites they recommend. That also is the case for iSurveyWorld, in my opinion.
You just get a list of names they promote but you get no more info to help you decide if they are for you or not.
The list of the top survey sites are names of actual survey sites, and many of them are good sites that I myself use and highly recommend others to join as well: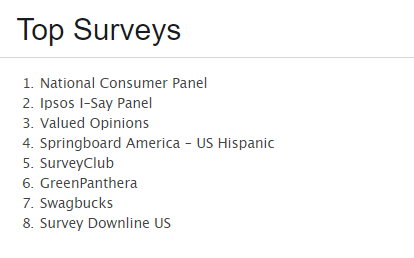 The problem is just that the links will not always work for you.
Again this depends on where you live as the promotional offers they run for these sites only work in some countries.
That is fine, but because they do not provide any more information you have no idea if it will work in your country or not.
So in some cases, you will instead just be redirected back to iSurveyWorld, and others have taken me to a spam offer, where I had to fill out some personal information to get a supposedly high prize of several thousand dollars I just won.
This is not necessarily iSurveyWorld's fault as the companies they promote these offers from might redirect if you are not from certain countries.
But as a user, this can be very confusing and you do not really know which sites might be worth it and which ones will not. Or you will never know if the link will take you to the actual site or somewhere else.
So the links to the survey sites are not useful at all, in my opinion. If you join, you should definitely stick to the paid surveys, in my opinion.
Option 3 – Joining bonus:
One great thing about iSurveyWorld is that you get a joining bonus of $5.
This is a really nice joining bonus, and few survey sites have this size of joining bonuses. One of the few other survey sites with this high a joining bonus is Swagbucks, which is a really good site.
So this is definitely a nice start if you decide to join iSurveyWorld. But to see if it will then be worth it, we need to look into how you can get your earnings out.
How do you get paid?
iSurveyWorld only offers one way you can get paid. That is through PayPal.

I love survey sites that pay through PayPal, and it is, in general, my preferred way of receiving rewards.
So great this option is available on iSurveyWorld, in my opinion.
On iSurveyWorld the payout threshold is $25, which means you have to make this amount before you can get paid.
This is quite a high payout threshold and will take some patience to reach. And in some countries, it will be more or less impossible.
The joining bonus is a great start but you will still be far from the payout threshold so be prepared for it to take some time to reach.
What to be careful of, if you want to join?
If you decide to give iSurveyWorld a try, then there are a couple of things you have to be careful about, in my opinion.
When you are joining, you can fill out your phone number. This is, however, not required and considering the many promotions iSurveyWorld has on its site, I would personally not share it.
So just be aware that it is usually not a requirement so just do not fill out if you are not comfortable with it.
Furthermore, after you sign up, you do not go directly to your iSurveyWorld dashboard. You instead have to go through several screens with "special offers" for you, before you get to the actual member area.
Actually even below the sign-up form, you are already presented to offers they get paid to promote.
And this continues through the sign-up process.
You will have to go through several pages offers where they try to get you to sign up for different sites they promote.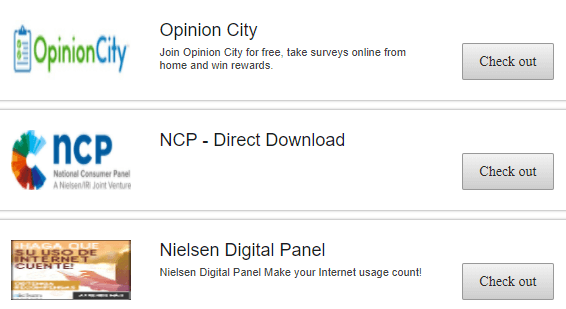 Many of these sites are legit, but in my opinion, they are not critical with what they promote as they seem to just be promoting whatever offers they get paid to promote.
I, for example, saw them promote the platform Opinion City, which I would advise you not to waste your time on. There are some good sites they promote as well but it is just too promotional with no focus on quality, in my opinion.
So if you join, you have to be careful about the offers they promote as they are not all worth it.
Who can join iSurveyWorld?
As mentioned earlier, it is not very clear who can join iSurveyWorld.
In theory, you can join from any country. But there are some countries where you will never get enough surveys to ever get paid.
I have done some digging and found out the countries you get access to the most surveys in are, Argentina, Brazil, Australia, Canada, Spain, UK, and US.
But even if you do live in one of these countries, still be aware of all the promotional offers as many of them will definitely not be worth it. But in these countries, it will eventually be possible for you to reach the payout threshold and get paid.
In other countries, it will likely not really be worth it at all.
Final verdict
iSurveyWorld is not a scam and you can actually earn so it is a legit option. However, it also has some big flaws.
So let's finish this review by summing up the pros and cons so you can get a better overview before deciding if it is for you or not.

Pros:
It is free to join
You get a good joining bonus

Cons:
You get bombarded with offers in the joining process
High payout threshold
Not all offers they promote are of quality
You can earn by taking surveys on iSurveyWorld. But not in all countries and they are not clear about which countries can join before you sign-up.
No matter what, it can take some patience to reach the relatively high payout threshold even though you get a great $5 joining bonus.
The biggest flaw about iSurveyWorld is, however, that you are bombarded with so many promotional offers and even in the survey section it is difficult to spot the surveys from the promotional offers.
I know that is a way for them to make money but it is really bad for the user experience and for this reason, I think you are better off checking out some of the best survey sites in your country instead.
All of the sites on this list give better user-experience and better earning opportunities, in my opinion.
If you have any comments, questions, or have any experiences with iSurveyWorld yourself, I would love to hear from you in a comment below.