VIP Voice is a survey site that offers its members a chance to win big rewards.
Yep, you read that right. This survey site will not give you direct rewards but just a chance. I will expound on that later.
Let me just say right away, VIP Voice is not a scam. The question now is whether or not is it worth your time?
This VIP Voice Review will answer that question and show you exactly what you can expect so you can see if it is really the right option for you or not.
What is VIP Voice and what does it offer?
As mentioned above, VIP Voice is a survey site that will reward its members with chances to win electronic gadgets, cash prizes, and vacation packages.
It is owned by the NPD Group, a market research company that uses prescriptive analytics to help businesses grow. So it has a legit company behind it.
One thing you need to know about this survey site is that it only has one method of earning.
I have made a short video that gives you an inside look and shows you exactly how it works. You can also read all the details below the video:
The earning option – VIP Voice surveys
Yes, you've guessed right. The only way for you to earn rewards with VIP Voice is by taking surveys.
Each survey you take earns you VIP points that you can use to join their sweepstakes or auction.
According to their website, they have around 12 million surveys each year. All of these surveys come from NPD Group's clients.
VIP Voice will match your profile with their available surveys.
The good thing is, if you don't qualify for their survey, they will inform you right away and still reward you with points (albeit a little less than what you would normally earn when you are qualified).
Not all surveys you receive will be about complicated topics. Some surveys are about everyday activities like the food you ate during lunch or about your clothing shopping habits.
You will quickly see all the available surveys you can take when you log in to their site.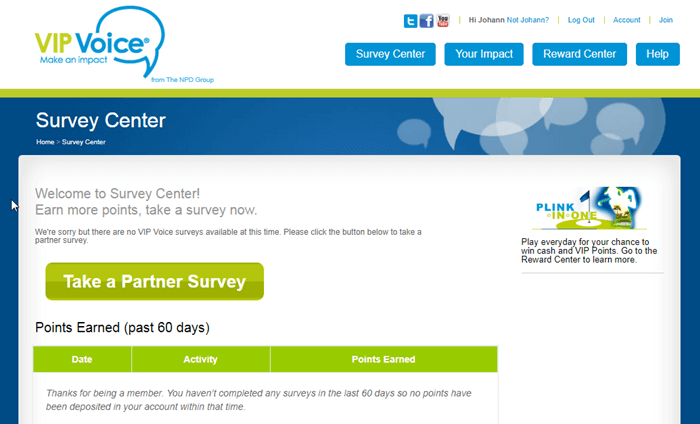 If there are no available surveys, you can click the Take Partner Survey button in the member dashboard and it will lead you to another page for their partner surveys.
You will also be able to see the summary of the points you've accumulated from the surveys you have already completed.
All in all, it is pretty easy to navigate your way through their website, which is pretty nice. Compared to other survey sites, it is much simpler and more straightforward.
The only real issue with VIP Voice is, in my opinion, is their reward system which I will tackle in the next section.
How do you get paid?
The simple answer is, no, you won't get paid. That's the sad truth about VIP Voice.
No matter how many surveys you complete, you won't receive any cash or rewards outright. You will have to join their auction or sweepstakes in order to have the chance to win prizes.
As mentioned above, every time you complete a survey, you will be awarded points.
You can then use these points to join their auction which is called BidLand or their sweepstakes, which is called SweepLand.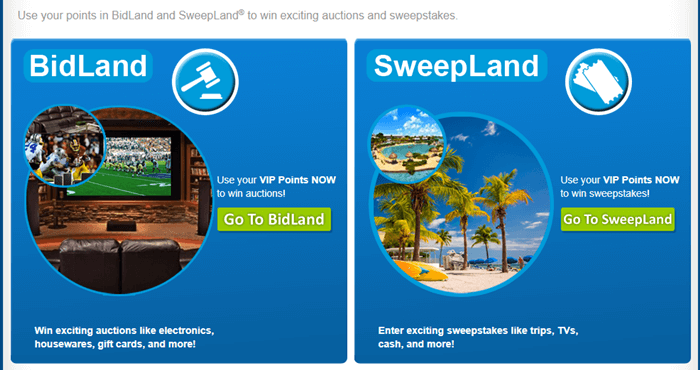 Once you are in the BidLand page, you can choose which items to bid for.
Each item will show the highest bid and the highest bidder. It will also show the remaining time before the item will be awarded to the highest bidder.
If you do not win the bid, you will get the points back into your account so they will not be wasted. But as there are many people that bid, it might take a very long time before you actually end up winning an auction.
And to win an auction, you might have to spend a lot of points. So when you are taking the VIP Voice surveys, you will not really not the value of the survey because you have no idea how many points you will have to end up using to get a reward.
The items listed range from electronic devices, merchandise and gift cards from popular retail and service companies. So there are some pretty good products – the question is just if you will ever manage to get any of them.
If you opt to go for the SweepLand route, you can then choose which sweepstake to join. There are several listed, so you have to choose wisely.
Each sweepstake will have a deadline on when you can enter and from what I gather, they will draw the winner monthly.
The prizes will range from vacation packages, cash, electronic devices, home appliances, and gift cards.
The prizes I admit, are very enticing. But then again, it will all boil down to luck. So in my opinion, it isn't really reliable.
So if you are looking to get steady rewards, VIP Voice is not for you. I recommend you instead check out the best survey sites in your country for better reward options.
How much money can you make?
Again, it's not a question of how much you can make, but whether you can earn at all.
In all honesty, having a reward system that will mostly rely on chances, isn't really a good business model, in my opinion.
Sure you can go with the auction route of acquiring rewards, but honestly, the points needed to bid for those rewards aren't fixed.
So basically, you have to accumulate as many points as you can in order to outbid other members. This means that you can potentially end up getting very poor value for the time spent on the survey compared to other survey sites.
The way they structure the points you receive is through levels. The premise is, the more surveys you complete, the more points you earn per survey.
You actually progress with each survey you complete. Here's how they structure the tiers of their rewards.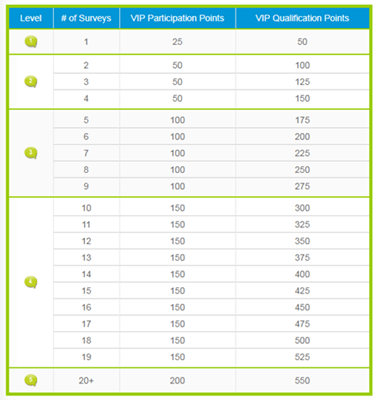 So in theory, if you keep completing surveys, your reward tier will increase.
Once you reach the highest tier, the points you receive per survey you complete and qualify for will be 550. And your participation points (the ones you get disqualified) will be 200.
This is the only incentive you get when you keep taking surveys.
Although the prizes and items you can bid for might look attractive, if you factor in the time it took for you to even qualify for those said prizes and items, in my opinion, isn't really worth it.
You are better off spending your time doing surveys that you can actually get sure rewards.
Can you use it on mobile?
Upon testing, yes you are able to use VIP Voice with your mobile device.
Although it doesn't have a specific app you can use, the website works fine with mobile browsers.
The site is mobile-friendly, which is a good sign. At the very least, they made it available for people who love to do this kind of stuff on their mobile device.
The advantage of using the mobile site is you can quickly check whether someone has already outbid you in the prize you are eyeing. That way, you can adjust your bid and still be the highest bidder.
Who can join VIP Voice?
Based on the registration process, it looks like only US and Canadian residents can join VIP Voice.
I've looked everywhere and there doesn't seem to be any information about whether VIP Voice is available globally.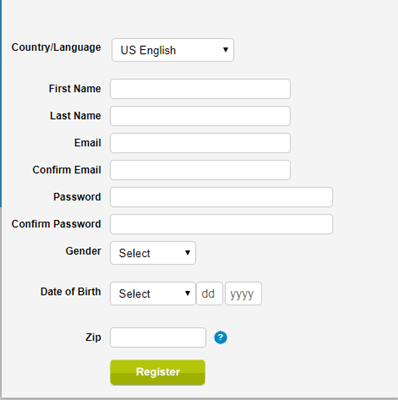 During the registration process, they are pretty stringent on the address you will provide. They have a system in place that will check whether or not the address you have entered is a valid address.
This makes sense because they will use the address you have provided to mail the rewards that you have won. It's also a pretty good way to avoid members from abusing the system.
However, if you live in one of these countries, there are a lot of really good alternatives as it is two countries with some of the best opportunities for taking paid online surveys.
You can, for example, check out the best sites in the USA here or the best survey sites in Canada here.
These sites will all give more opportunities and better reward options, in my opinion.
Can you get support?
Upon closer inspection, VIP Voice does have a helpdesk system that allows you to request for assistance regarding any issues you are experiencing with the site if you decide to become a member.

It somehow reassures you that you will be assisted in case you experience any problems with the site or your account.
All you have to do is log in to the site and click the Contact Us link at the bottom of the page. You will then be redirected to another page with the Helpdesk button.
Keep in mind that you have to disable the pop-up blocker of your browser for the Helpdesk window to appear.
Afterward, you just fill out the form and submit it. I assume that you will also receive an email once they have replied to your request.
I also took a look at their social media pages to check if they engage with their members or people who commented on their posts.
Although their Facebook page is quite active, there is little to no engagement, which leads me to conclude that most of the issues encountered are probably resolved through the helpdesk.
So in case, you should encounter any issues it seems like your best option is to contact them through their support center and not use their Facebook page.
Final Verdict
VIP Voice is a legit survey site that rewards its members with the chance to win prizes.
That's the main issue of this survey site. The fact that the only reward you get for completing surveys is a chance to win prizes is really a letdown, in my opinion.
To further elaborate on my point, let's finish this review with a list of the pros and cons of this site.

Pros:
They will still reward you with points even if you get disqualified from the survey
Their helpdesk system seems pretty reliable

Cons:
No assurance that you get any rewards
Limited ways to earn points
Although VIP Voice isn't a scam, as you can see, it simply doesn't offer a stable way of earning rewards.
Instead of spending time completing surveys to earn points and get a chance to win rewards, you are better off investing your time in joining the best survey sites available in your country, in my opinion.
That way, you are making the most out of your time and effort because you are guaranteed of earning real money and rewards.
If you have any comments, questions, or have any experiences with VIP Voice yourself, I would love to hear from you in a comment below.