SilverClix is a Paid-To-Click (PTC) website that promises to pay you for clicking ads and completing other activities.
But is SilverClix legit or a scam to stay away from?
With so many PTC sites today, you need to make sure it will really be worth your time and effort before you join a site.
So, to answer that question right away, yes, SilverClix is a legit PTC site. But this doesn't automatically mean you should become a member.
You need to figure out if this site is actually worth your time and effort. This SilverClix review will tell you all you need to know about the site, so you can decide if it's a good fit for you or not.
What is SilverClix and what does it offer?
As stated above, SilverClix is a PTC site that will pay you for completing offers and clicking ads.
It's been around for quite some time now (established in 2013), which shows that it is potentially possible to earn as a member.
A site that has been around this long must be doing something, in my opinion. However, it does not mean it will necessarily be a good use of your time.
To be able to get a clear picture of this site's earning potential and if It is worth it, we need to take a closer look at how you will be able to earn from it.
I have made a video walkthrough and tutorial of SilverClix so you can get an inside look and see exactly what it offers. You can also read all the details below the video:
Option 1 – Clicking Ads
As expected, you will be able to earn from clicking ads. This will be the main earning option you have there.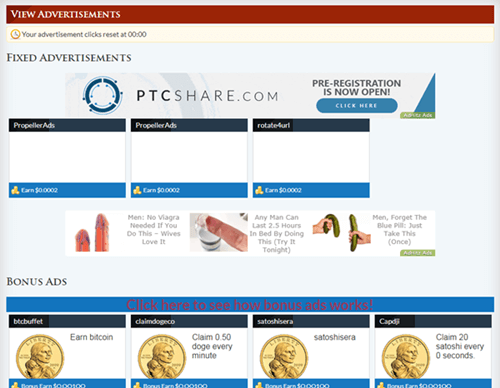 Once you finish the registration process, you will be able to log in to the member dashboard.
To view the ads you can click, just click the Earn Money tab and hit View Ads. You will then see all the ads you can click.
The process is pretty simple. You click an ad and wait for several seconds.
Afterward, you will then be credited with the reward promised.
Usually, the PTC ad will just redirect you to a website and you have to stay on that site for a particular number of seconds to get your reward.
There are 5 types of ads in SilverClix and each one has a different reward range. From what I've noticed, their Bonus ads have higher rewards ($0.001 per ad).
As you can see, the rewards for this are not very high but we will go into more details about the overall income potential later.
Option 2 – Answer Quizzes
You can also earn rewards by answering quizzes on SilverClix.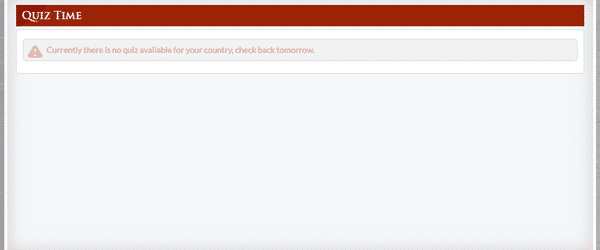 To get to the quizzes section, just click Earn Money again and hit Quizzes. You will see all the available quizzes you can take.
The problem is, the availability of quizzes you can take will depend on the country where you live. Some countries have more quiz opportunities than others (a good example is the United States).
Option 3 – Paid Surveys
Completing surveys will also allow you to earn rewards.

As you can see in the photo above, SilverClix doesn't really have its own surveys. What it does is, it offers surveys from other websites.
When you click a survey offer, it will take you to the site that offers the survey. You will have to go through the registration process first before you can answer surveys.
So, in reality, all it's doing is referring you to a survey site and when you complete a survey, you will then receive the reward that was promised to you (which is usually lower than the actual reward you will get from the site you took the survey from).
If you are already familiar with taking surveys from survey sites, then you will know what to do with this.
If not, then typically, you will have to answer pre-qualifying questions before you can complete the actual survey.
Once you qualify for the survey, you can then proceed to the actual survey. If you don't qualify, you can simply move on to the next survey you can take.
Surveys can, in general, be a good way to earn a bit of side income, but honestly, SilverClix is not the best option for this, in my experience, as it gives very low rewards compared to other sites.
Option 4 – Offer Walls
SilverClix also has offer walls where you can choose which offer to complete in order to earn rewards.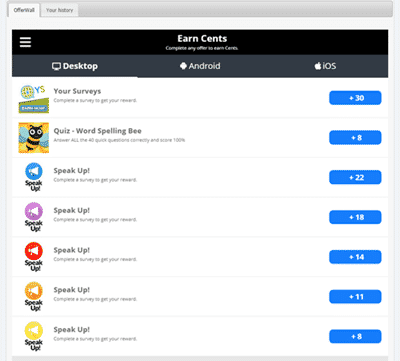 This works more like what you would expect from paid offers in Get-Paid-To sites. When you go to the offer wall, you will see several offers with specific rewards.
Just click which one you like and follow the instructions of the offer to receive the reward. Typically, an offer will ask you to either complete a survey, sign up to a website or answer a quiz.
Whatever the offer is, the main thing you need to keep in mind is, you have to make sure you follow the instructions to the letter to receive the reward.
The offers listed on the offer wall will come from other sites and not from SilverClix.
There are two types of offer walls you can access in SilverClix, the normal offer wall (which can be accessed under the Earn Money tab) and the high paying offers, which has its own tab.
Obviously, the offers in the later have higher rewards. So, you might want to prioritize that first if every you decide to become a member.
Option 5 – SilverGrid
Most PTC sites have some form of grid game you can play. In this case, it is called SilverGrid.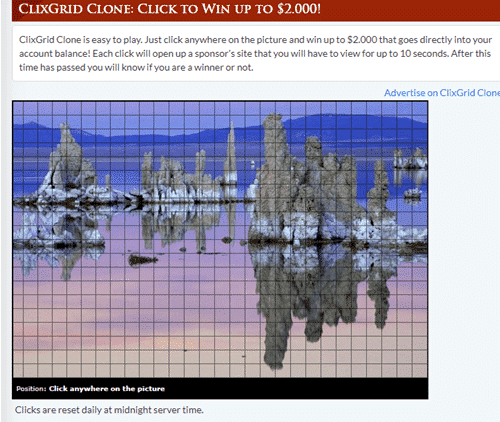 The premise is simple. Just click any grid you want and watch the ad that will be displayed (usually takes up to 10 seconds). Once you finish watching the ad, the grid will open and reveal if you won the $2 prize or not.
You will have 25 chances to open grids. It is not a very effective way to earn, in my opinion. But then again, it really doesn't require much effort.
Option 6 – Flip the Coin
Flip the coin is another way to earn rewards, although this is more of a gamble rather than a sure-fire way of earning rewards.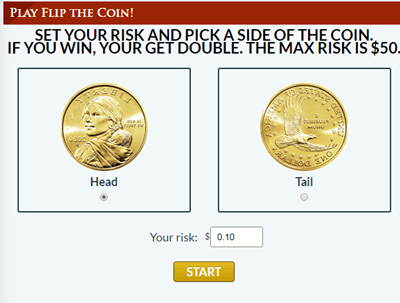 Again, the premise is pretty simple. You just have to choose heads or tails and bet a specific amount. If you guessed right, you will receive the amount you've wagered. If not, you will lose your bet.
It's a pretty simple game but it can be very addictive. That's why you have to exercise restraint with this because remember, you will have to use your earnings to bet.
Option 7 – Paid To Sign Up
Paid to sign up or PTSU for short is also another way for you to earn a bit of money on SilverClix.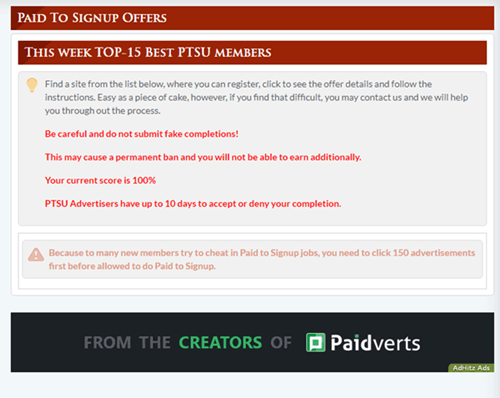 As suggested by the name, all you have to do is sign up to a website to get the reward. You do have to click a total of 150 ads first before you will see any offers.
When doing the offer, you need to make sure you follow the instructions carefully. As soon as you've finished the signup process, you have to submit proof of completion to SilverClix.
Now, I'm not sure how you do that since there aren't any additional instructions on their website. If I were to guess, you'd have to send a screenshot of the proof of completion.
SilverClix will then have to verify with their advertiser if you really completed the signup.
In general PTSU offers can be a good way to earn, but in my experience, they rarely are on PTC sites. Mostly the effort you need to do to earn makes it an inefficient use of time.
You might, once in a while, find an offer like this that is worth it. But make sure to read the conditions before starting as they often are really not worth it.
Option 8 – Referral Program
SilverClix also has a referral program that will allow you to earn additional rewards.

The way their referral program is structured is, you can do it in 2 ways.
You can either get direct referrals, which is the ordinary way of referring a person where you invite someone directly. You can refer a person by embedding your banner ad to your website or giving your referral link to the person you want to invite.
You can get the referral link or the banner code in the banner section of the member dashboard.
Another way to get referrals is to buy or rent one. But why would you want to buy or rent a referral? Well, it's pretty simple.
Buying or renting a referral allows you to earn guaranteed income since the referrals they sell/rent are all active members of their site. You will then earn a percentage of the referral's income.
That's how you can earn from your referrals. You earn a percentage of their income, which, by the way, won't be deducted from their own income. SilverClix will shoulder that.
Personally, I'm not a huge fan of this type of system.
The fact that you have to spend your own money just to earn a bit of income (which, by the way, isn't a 100% guarantee). This just defeats the whole purpose of joining the site.
And before starting to buy and rent referrals, you need to be aware that there is no guarantee how active they will be. And they need to be VERY active for you to even make your money back.
So unless you really know what you are doing, you can end up losing money instead of earning.
How do you get paid?
Right from the start, you will know how you will get paid. When you register as a member, the registration form will ask you to provide either a Perfect Money, Payeer, Bitcoin or AirTM account.
That means SilverClix will be able to pay you using any of the four payment gateways mentioned. One noticeable thing in the available payment methods is PayPal is not one of the options.
PayPal is highly considered as the most convenient method of withdrawing your earnings. So, if you are interested in sites that will allow you to withdraw via PayPal, I suggest you check out the top survey sites that pay via PayPal.
For every activity you complete on SilverClix, you will earn real money (typically $0.001 or less).
Once you've accumulated a total of $3 the first time, you can then request for payment via any of the four payment gateways listed above.
Once you've done your first cashout, the next payment threshold will become much lower ($2 to be exact).
The payment threshold might look like it's very low, but it is actually quite high considering the amount you will receive per activity completed (which I will discuss next).
How much money can you make?
PTC sites generally don't allow you to earn a lot of money.
Here's an article about the difference between PTC, GPT and Survey Sites. Before you decide to become a member, I suggest you read that first to understand why PTC sites usually aren't necessarily the best use of time compared to some of the other free options out there, in my opinion.
As for the question at hand, the amount of money you can make from SilverClix will purely depend on how active you are on the site. As you can see, the reward per ad clicked is really very low.
It will take a lot of time to earn just $1. Although you can argue that it really doesn't too much effort to click an ad, but that is not what is important.
You have to think about the time you spend viewing an ad in order to get the reward. Let me paint a picture. Let's say for example you earn $0.001 per ad you click and you need to spend 10 seconds in order to receive the reward.
So, in order for you to reach $1 by clicking ads, you have to spend almost 3 hours of clicking ads. That's quite a long time.
However, you can speed up your earnings by upgrading your account.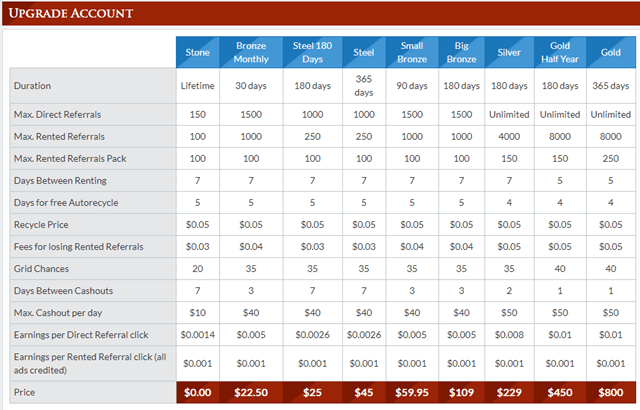 Aside from the basic membership (which doesn't cost anything), you can actually upgrade your account to get certain benefits (refer to the photo above).
The benefits you will get will significantly increase the earning potential. But, keep in mind that you will have to spend money in order to make money.
You will have to build a solid strategy and work their system properly in order to get back the money you've spent for the upgrade.
The good thing though is, you can pay for the upgrade using the earnings you've accumulated. That, at least, makes it possible to avail of the upgrade without having to spend your own money.
Overall though, the earning potential of SilverClix is quite low if you compare it with let's say the top GPT sites today, in my opinion.
Can you use it on mobile?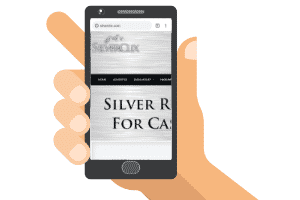 There is no mention on their website about a SilverClix app you can download on your mobile device. That means you will only be able to access their website from a mobile device using a mobile web browser.
The bad thing is, their website is not optimized for mobile use. You will have to scroll left and right just to view all the content. This makes it less convenient to work on the activities offered.
Once you are able to log in to their site though, there are some offers in their offer walls that you can do on your mobile device.
But all in all, the site is best accessed using a computer. So, make sure to factor that in when making your decision.
Who can join SilverClix?
Probably the most redeeming thing about SilverClix is that anyone can join their site. You don't have to live in a specific region in order to sign up and become a member.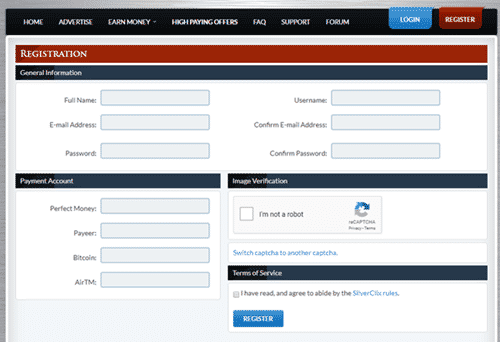 To become a member, just fill out the form shown in the photo above.
You do not need to click a confirmation link in your email to complete the registration. Once you've submitted the form, you are already a member of their site.
You do have to make sure that you are the only member in your household to register as a member since their site only accepts one member per IP address.
There is no age requirement, but you have to keep in mind that you have to have an active account from any of the payment gateways they accept in order to withdraw the earnings you've accumulated.
So, in effect, you have to meet the age requirement of the payment gateway you wish to use to withdraw your earnings.
Can you get support?
Another good thing about SilverClix is how they provide support to their members.

As you can see in the photo above, you can submit a support ticket for any questions you might have for their support team. This system ensures you are able to track the progress of your inquiry easily.
Plus, they have a forum you can refer to for common issues and questions. Not a lot of sites offer this kind of support, so it's really a huge bonus.
This, at least, ensure that you will be able to get answers for questions you might have.
Overall, they have a decent support system in place, so you won't really have to worry if you encounter any issues with your account or if you have any questions you need answers to.
Final Verdict
SilverClix is a legit PTC site that will reward you for clicking ads and completing activities. However, it's not without its drawbacks.
So let's finish this review by summing up its pros and cons so you can get a better overview before to help you decide if it is indeed a good idea to join their website or not.

Pros:
Plenty of earning opportunities
Several payment methods
Relatively low payment threshold
Simple registration process

Cons:
Low earning potential
Payment via PayPal is not available
You have to pay to get real chances of earning
You can end up losing money
As you can see, even though SilverClix has plenty of earning opportunities, the earning potential is really quite low. You have to invest a significant amount of time in order to earn even a small amount.
The time you spend to do so is better spent on other websites that will allow you to earn more, in my opinion.
Plus, if you are not sure of what you are doing, you can end up losing money by investing in their membership upgrade or renting/buying referrals.
So, it can be a bit risky at times especially if you haven't mapped out a solid strategy or you get carried away.
If you are interested in sites that will allow you to earn a decent amount of money without any risk, I suggest you check out the top survey sites in your country instead.
This list has plenty of survey and GPT sites that are all known to provide good earning potential. Plus, the survey sites on this list will not ask you to pay to upgrade to get the best earning opportunities.
If you have any comments, questions, or have any experiences with SilverClix yourself, I would love to hear from you in a comment below.