Surveyz is a site that claims you can earn money by sharing your opinion. Over the years, I have encountered hundreds of sites and apps that offer the same thing, and not all of them are worth joining.
So, the big question now is, is it worth joining Surveyz?
This Surveyz review will give you an in-depth look at what it offers so you will know exactly what to expect from it before you even hit the sign-up button.
Then, you can figure out if it is truly worth joining or not. So, let's go ahead and see what Surveyz is all about, shall we?
What is Surveyz, and what does it offer?
Surveyz is a survey site that will let you earn by answering surveys. It is a legit site since you can really earn from the surveys you answer. However, this fact doesn't necessarily mean it is worth your time.
To find out if you should join Surveyz, you must first understand how it works. And the only way to do that is to take a look at the earning opportunities it offers so you will have a clear picture of how much time and effort is needed to earn from it.
So, here's how to earn from Surveyz.
Option 1 – Paid surveys
One way to earn from Surveyz is to answer surveys. When you log in to the web-based dashboard or mobile app (more on this later), you will immediately see all the available surveys you can answer.
Just like most survey sites, the first thing you need to go through when answering a survey is a qualifying process. When you click on a survey, you'll be asked to answer a few questions first. These questions are designed to identify if you belong to the demographic group the survey is intended for.
If you qualify, you get to answer the actual questions of the survey. Once you finish answering the survey, you will receive the reward promised. If you fail to qualify, you will receive a consolation reward of $0.15.
This is a very generous rate, in my opinion. Most of the survey sites I have tested don't even reward you if you get disqualified, and if they do, you'll only receive around $0.02 to $0.05.
There weren't a lot of surveys available when I tested the site, so don't expect to earn regularly from this site. Surveyz claims you will receive 4 to 6 surveys per week, but the more realistic number would be around two surveys per week, in my experience.
Most surveys will take 5 to 15 minutes to complete, so you don't have to invest a lot of time per survey.
From time to time, though, you'll find surveys that take longer to complete, but you will earn more from them if you manage to complete them.
Option 2 – Referral Program
You can also earn from Surveyz's referral program. The idea is to invite people to join the site by sharing your invite link with them. When they click the link and sign up, they will become your referral.
Your referral needs to meet certain conditions before you will receive the reward (usually when the referral makes its first cashout). When the condition is met, you will receive $10 as a reward. It's a decent rate, in my opinion, but you must make sure the people you invite are really interested in earning from Surveyz.
Otherwise, you won't earn anything from this opportunity.
Recommended: Check Out the Top Survey Sites in Your Country
How do you get paid?
For every survey you complete, you will earn a specific amount. The reward will be credited to your Surveyz account balance.
Once you've earned at least $20 (which is a relatively high threshold, in my opinion), you will be able to withdraw your earnings directly to your bank account.
This is the only payment method Surveyz offers, so you must be willing to connect your bank account to the site to withdraw your earnings.
In the next section, I will explain why doing so is also important. But overall, I would say the payment system of Surveyz is relatively straightforward. I like the fact that it offers a convenient payment system like direct bank transfer.
If you are interested in more sites that offer a convenient payment system, I suggest you also check out the top sites that pay via direct bank transfer.
How much money can you make?
Let me just make it clear that you won't get rich answering surveys from this site. It won't even come close to what you can earn from a full-time job. Most surveys will only pay you around $2 to $5, so it will take a bit of time before you can reach the threshold to withdraw your earnings.
Plus, you must keep in mind that you will not always qualify for surveys, which makes it harder to reach the payout threshold. Plus, as mentioned earlier, there aren't a lot of surveys available, so the opportunities to earn are quite limited, in my experience.
However, the site does say that if you link your bank account to your Surveyz account, you'll increase your chances of receiving survey invites. Plus, you will earn twice the reward for every survey you complete once you've linked your bank account.
This is why I mentioned above that it is important to link your bank account to your Surveyz account because it can increase the earning potential. But overall, I would say the earning potential of Surveyz isn't that great.
You can potentially earn decent money from it, but you have to be patient because there aren't a lot of opportunities to earn.
Can you use it on mobile?
What's good about Surveyz is that it has a mobile app you can download, so you don't need to sit in front of your computer to answer surveys. The app is available for both Android and iOS users, so you won't encounter any compatibility issues.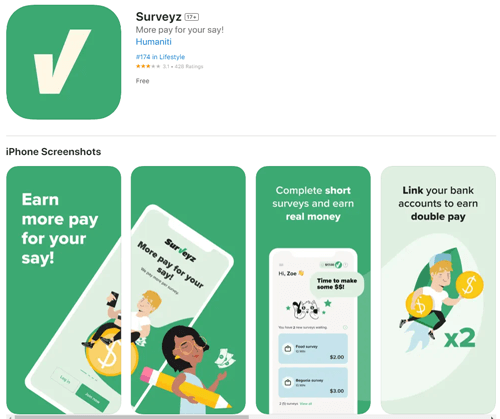 As for the app, it is quite user-friendly, so you will easily get used to navigating it. You also won't encounter any annoying pop-up ads while using it. All the features available in the web-based version of Surveyz are also available in the app.
Who can join Surveyz?
Here's the most important part you need to remember about this survey site. Surveyz is only available for people who live in Australia. If you live somewhere else, this is not for you. It also means that the site is using Australian Dollars as its currency.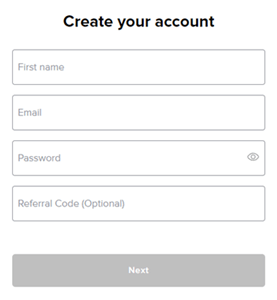 To sign up as a member, you just have to fill out the registration form found on the website. You can also register using the app. The registration process is quite straightforward.
Once you are done signing up, you can log in to the dashboard and start answering surveys. However, as explained earlier, it is best to link your bank account to your Surveyz account first so that you will receive more survey invites and you will double the rewards you will earn.
Can you get support?
If you have any questions about the site or your account, you can check out the FAQ page on the website. It discusses some of the basic topics you need to know about Surveyz. If you can't find the answers you are looking for, you can get in touch with the support department instead.
You can fill out the contact form provided by the website, or you can also use the one inside the app. Overall, I would say the site provides decent support for its members since it offers a convenient way for you to ask for assistance.
Final Verdict
Surveyz is a legit survey site that will reward you for answering surveys. It has a couple of good features, but it also has a few limitations you need to keep in mind.
Let me end this review by summarizing its pros and cons to give you an overview of what it has to offer. This should help you decide if Surveyz is worth it or not.

Pros:
Offers a passive way of earning extra cash
Payment via PayPal is available
Available globally

Cons:
Limited earning opportunities
High payout threshold
The app consumes more battery charge, so you will have to charge your device more than you're used to
You have to install the app manually
In my opinion, Surveyz is not a bad site to earn extra cash from. However, you should head in with the right expectations. It is important to remember that you will not earn a lot from it. It can serve as a decent secondary site to earn from, so if you are eligible to join, you can hit the sign-up button.
But if you are looking for a primary site to earn extra cash from, or if you live somewhere else, I recommend you check out the best survey and GPT sites in your country instead. The sites on this list all have good earning potential, so you will be able to earn a decent amount in no time.
Plus, you will definitely find a site you can join regardless of where you live.
If you have any comments, questions, or have any experiences with Surveyz, I would love to hear from you in a comment below.