LEO or Leger Opinion is a survey panel that promises to pay you for completing survey offers.
When you first visit their website, you will definitely feel like it is a legit survey panel because of their beautifully designed site.
And you are not wrong – LEO Surveys is legit and will actually pay you for completing surveys and other activities.
But is it worth your time though? To answer that question, we need to examine everything about the site. This is where this LEO review comes in.
This review will take a look at everything the survey site has to offer. That way, you can get a clear picture of what this site can do and what you can get from it before deciding if you should join or not.
What is LEO and what does it offer?
LEO or Leger Opinion is one of Canada's most popular survey sites. When it first started, it was called Legerweb, but in 2019, they changed it to Leger Opinion.
There are a couple of ways you can earn rewards from this survey panel. To be able to gauge the earning potential of this site, we have to take a closer look at how you can earn rewards.
So, here are the ways you can earn from LEO.
I have made a short video guide that gives you an inside look and shows exactly how it works. You can also read all the details below the video:
Option 1 – LEO surveys
Since it is a survey site, it is only natural that they offer paid surveys as a way to earn rewards.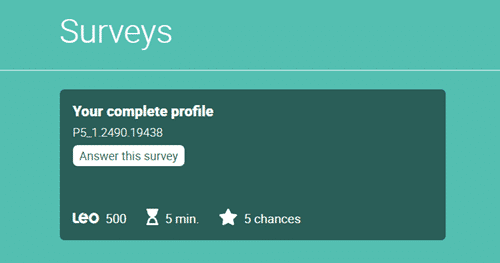 Once you become a member, you will be able to log in to their website and view all the available survey offers. In fact, this will be the first thing you will see when you log in to their site.
Each survey offer will display the corresponding reward (I will talk about this later), the estimated time it takes to complete the survey and bonus rewards you will get.
During your first login, you will immediately see a survey offer.
This survey is actually used to build your profile. The good thing is, you will still be rewarded for completing this survey. So, make sure to complete this offer right away.
In general, their survey offers have a pre-determined number of respondents for each socio-demographic profile.
So, between the moment a survey is posted to your account and the moment you answer it, other panelists may have had time to answer the survey and the quota may have been reached.
This is the main reason why sometimes, you will get a message saying you've been disqualified for the survey or you can't proceed with the survey anymore.
That is why it is important to log in frequently to check if there are survey offers available because they don't guarantee you will receive an email notifying you that there is a survey available.
LEO will usually only send an e-mail when they must reach a respondent quota required for a survey. So, take that into account before you decide to sign up as a member.
Option 2 – Monthly contests
Remember when I said you will receive bonus rewards for completing survey offers? This is where those bonus rewards come in.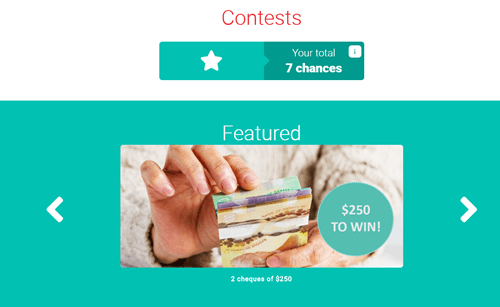 LEO regularly holds monthly contests you can join. You will be able to earn entries to contests when you complete a survey offer.
For example, when you complete the profile survey upon the first login, you will receive 5 chances. These are your entries for the contests. You will have 5 entries you can use to join whichever contest you want.
LEO usually holds more than one contest per month. So, you can focus on one contest or join all, as long as you have enough chances.
You have to use up all these entries every month because it will reset every after the month ends.
So, if you are thinking of piling up entries after several months and using them on just one contest to increase your chances of winning, unfortunately, you won't be able to do that.
The good thing about the prizes of their monthly contests though is, they are quite significant. You can win up cash or checks that are worth a significant amount.
As of the writing of this article, they are, for example, currently holding 2 contests. One contest will award 2 winners with a $500 check. The other contest will award 1 winner of $1000 in cash.
In my opinion, their contests are some of the better contests held by survey sites.
Option 3 – Referral program
You can also refer friends to join their survey panel.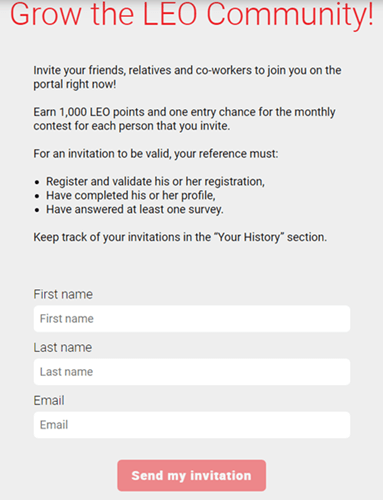 In return, you will earn 1,000 points and one entry chance for the monthly contest for each person you refer.
They do have to complete their profile and answer at least one survey for you to earn the rewards.
It's not a bad system really because it guarantees you will receive something for every referral. You just have to remind them to make sure they complete a survey.
Option 4 – Rate anything (Love, Hate, Rate)
LEO Opinion has an option I have not seen on any other survey site. You can see it in the main menu as "Love, Hate, Rate".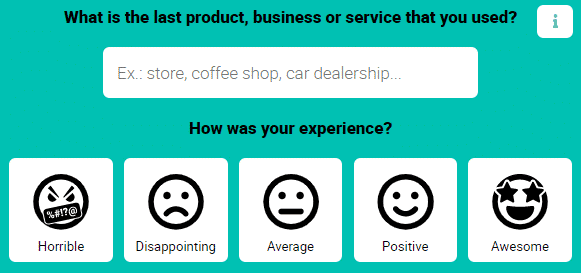 Here you can share your opinion about a company, brand, product or service and you can share it without censorship and in confidentiality.
It can, for example, be to rate the coffee shop where you were yesterday, the store where you bought your last pair of shoes, or the city you recently visited. You can basically rate anything.
Based on feedback LEO receives from you and other members, Leger assigns a rating to businesses, products, brands, events, services, and more.
Just be aware that you do not earn by participating in this but it can be a unique opportunity to have your opinion heard about anything you would like to express your opinion about.
Even though it does not pay it is, in my opinion, quite an interesting feature.
How do you get paid?
LEO uses a point system for their rewards. Every survey you complete, you will be awarded a certain number of points.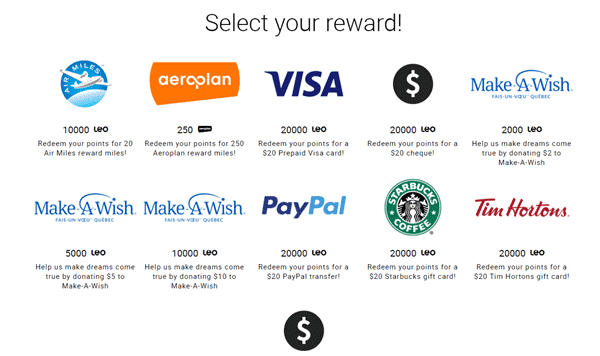 You can then use the points you've accumulated to exchange for rewards you like. As you can see in the photo above, you can redeem your points for Starbucks or Tim Hortons gift cards.
If you prefer to receive real money instead, you can opt to withdraw your earnings via PayPal. You can also choose to receive a prepaid Visa debit card instead. You will need to reach a total of 20,000 points in order to do this, which is relatively high, in my opinion.
You also have the choice to convert your points into reward miles for Aeroplan or Air Miles. Lastly, you can request payment via check from LEO.
The equivalent of 1000 points in your balance is $1. One thing you have to note about their payment system is, you will only be able to redeem the exact value stated in the reward.
For example, if the PayPal reward says $20, that will be the only value you will be able to redeem.
Redemption of rewards on LEO is pretty straightforward.
But, in my opinion, the fact that you can only redeem a certain value for each type of reward makes it less versatile. But I do like that they provide several payment options.
How much money can you make?
To earn more rewards from LEO, you have to complete a lot of survey offers. And in order to do that, you have to receive plenty of survey invites.
The problem is, there is no guarantee you will receive a regular number of survey invites per week. You may receive a few surveys on a quarterly, monthly or weekly basis.
This will all depend on current needs and the number of times your profile matches one of LEO's clients.
And seeing as you will need to accumulate at least 20000 points in order to redeem rewards, it can sometimes take quite some time before you are able to cash out.
Overall, the earning potential from this survey panel is a bit low but if you are lucky in the contests, it can really boost your earnings though.
Can you use it on mobile?
The good news is, you will be able to work on survey offers from your mobile device. So, you don't really have to get in front of a computer to answer a survey.
All you have to do is download the LEO app and install it on your mobile device.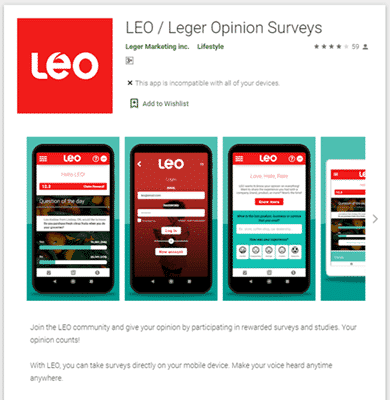 The app can be downloaded from both the Android and iOS App Store. This is an important factor because remember, you are also competing with other members of the panel for survey offers.
This is due to the fact that most survey offers have a pre-determined number of respondents allowed.
If you install the mobile app, you will be able to check your account frequently without having to sit in front of a computer.
This gives you a decent chance of getting to the survey offers quickly.
Who can join LEO?
LEO is a Canada-based survey site. So, naturally, Canadian residents are eligible to become a member of their panel. But, the survey site is also open to US residents.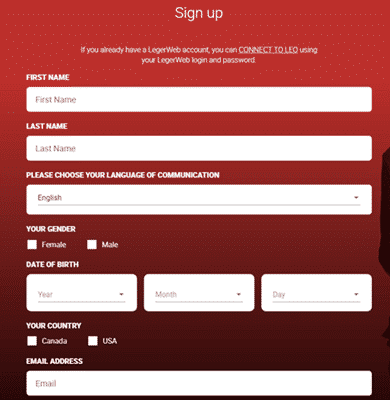 They do not mention on their site the age required in order to participate in their panel. But since they are using PayPal as a payment method, then, you have to be at least 18 years of age in order to register if you hope to withdraw your earnings via PayPal.
To register as a member, simply fill out their registration form. They will then send you a confirmation email. All you have to do is click the confirmation link and your account will be activated.
You can then log in to their site and start answering surveys. Take note that you are only allowed one account on the site.
When they find out you have another account, it will result in the immediate closure of both accounts and you will lose all your accrued rewards.
If you are interested in more survey panels in Canada, I recommend you check out the top survey sites in Canada as well.
If you are looking for more survey sites in the US, you can also check out the top survey sites in the US.
Can you get support?
LEO, in my opinion, has a decent FAQ section that covers most of the basic questions you will encounter on the site.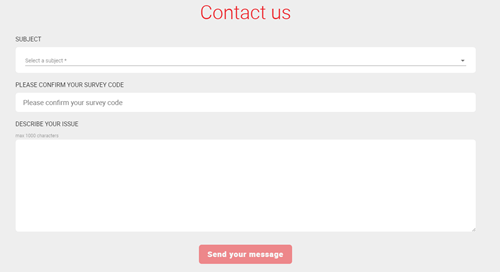 However, if your question was not resolved by their FAQ section, you can get in touch with their support team by sending your question through their contact form.
You will find the link to their contact form on the same page as the FAQ section.
If you want to contact them via their social media pages, they have a Facebook, Twitter and Instagram page you can visit. You can try contacting them on those pages.
However, I would still recommend you use the contact form instead because this is their official way of providing support to you.
Final Verdict
LEO or Leger Opinion is a legit survey site that will pay you for completing their survey offers. It certainly has its merits, but it also has its disadvantages.
But let's finish this review with a summary of LEO's pros and cons so you can get a clear picture of whether or not this is really a good site for you to join or not.

Pros:
User-friendly site
Has a mobile app you can download so you can work on survey offers even when not in front of a computer
Offers several payment methods

Cons:
Fairly high payout threshold
You can only withdraw a specific amount when requesting for payment
Everything about LEO screams professional. From the design of their site to their mobile app, you will really feel like you've joined a legit survey panel.
However, the biggest drawback of this survey panel is that its payout threshold is a bit high so it can sometimes take a bit of patience to reach.
It can be a decent secondary site to earn from if you live in Canada or the US. Just don't expect to earn a lot from it.
If you are looking for survey sites though that will allow you to earn a decent amount in a shorter amount of time, I recommend you check out the top survey sites in your country.
This list has plenty of survey sites with good earning potential and all of them are as user-friendly as LEO. Plus, you will surely find a survey site that will fit your needs regardless of where you live.
How to join LEO?
If you want to give LEO a go, you can join by clicking the button below and you will be taken to their site where you can register.
If you have any comments, questions, or have any experiences with LEO yourself, I would love to hear from you in a comment below.