When you first visit Mindfieldonline.com, it might look like a great way to make extra cash online.
But is MindField Online legit and really a great way to earn, or is it a waste of time?
I am always on the outlook for new ways to earn, so I decided to do a deeper investigation when I came across it to see if it can compete with the many other free online earning methods I have tested over the years.
In this MindField Online review, you will get an inside look, and I will share all the details I found so you can easily see if it is for you or not.
Let me reveal right away that there might be good reasons NOT to join, but that depends on several things. I will show you what I found and then you can see and judge for yourself.
What is MindField Online, and what does it offer?
MindField Online is a survey panel that was launched in 2004 by the research company McMillion Research.
At first sight, I thought the website looked a little outdated and not very appealing. And this has not changed at the time of updating this review, even though it has been several years since I come across it and tested it the first time.
But the look of a survey site is not everything, and I had been asked by some visitors here on PaidFromSurveys.com to review it so I decided to investigate further.
Below I will go over what it offers so you can see if it is interesting to you or not.
Option 1 – MindField Online Surveys
MindField is, first of all, a survey panel. This means the main way to earn on the site is by taking paid surveys.
Some of the surveys are actual MindField Online surveys, and other surveys are from third-party providers where you are taken to other sites to complete the surveys.
It offers a decent amount of surveys, but from what I have been able to find out, there are quite a lot of people that complain about how hard it is to qualify for the surveys.
Below you can see one of the complaints I found online about this issue, and this is by far the only person that mentions this.

Since it is the main way to earn on MindField this makes it difficult to earn enough, and many people seem frustrated about this.
On any survey site, it is normal not to qualify for all surveys – that is just a part of taking paid surveys.
But on MindField, it seems like it might be even more difficult to qualify than on the average survey site.
Option 2 – Focus groups
At times, you might be offered to participate in focus group interviews as a member of MindField Online.
There is no guarantee that you will ever get this offer, but at times they do offer it.
If you are offered to participate in focus group interviews, I recommend considering this.
They usually pay quite well, and focus group interviews can be quite fun to participate in as well.
But since it is not something that you will be offered very often on MindField, it is not something you should expect.
Option 3 – Invite friends to join
There is one extra way you can earn on MindField Online – you can invite your friends to join.

If one of your friends joins because you invite them, you will get $1 the first time they complete a survey.
It is, of course, not a sustainable way to make a lot of extra money, but if you like MindField Online yourself, then why not earn a little extra by inviting others.
Just make sure you actually really like the panel yourself if you want to invite others. Your friends trust your recommendation, so only recommend it if you truly think they will benefit from joining.
It is not worth risking friendships by recommending poor services just to get the chance to earn $1, right?
Option 4 – Sweepstakes
Every time you complete a survey on MindField Online, you will get an entry into their sweepstakes.
The prizes for these sweepstakes will vary, but you can see the current prizes inside the member area.
You also get an entry every time you refer a friend to join, and they become active.
This is a nice extra chance to win money but, of course, not something you can rely on as it is purely based on luck.
Recommended: Check Out the Top Survey Sites in Your Country
How do you get paid?
If you decide to join MindField Online, you need to know how you can get paid.
It actually offers some pretty good payout methods. You can choose to get paid in cash through PayPal, or you can get gift cards to, for example, Amazon or Walmart.
The payout threshold is only $5, which is a fairly low threshold. However, with the limited opportunities on MindField, it can still take some patience to reach.
Therefore, it does not belong to the fastest paying survey sites even though it has a low payout threshold.
Can you use it on mobile?
Being able to take surveys on mobile is a great way to get easy access to earning a bit of extra cash and sharing your opinion when it fits into your schedule.
MindField Online has an app, so it is definitely possible to take surveys on the go here.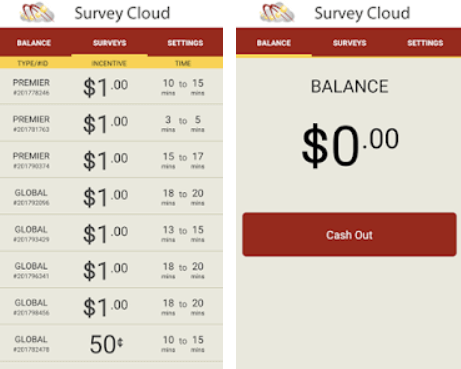 The app used to be called survey Cloud, but they have changed it so it is now called Mindfield Online app, which also makes a lot more sense, in my opinion:-).
You can get the app in Google Play and the App Store.
However, the reviews for these apps are not very good. The negative review I showed earlier is from Google Play.
And the overall ratings are not impressive.
At the time of writing this review, the average rating in the App Store is 1.9 based on 14 reviews, and in Google Play it is 3.6 based on 112 reviews.
So not impressive results.
Who can join MindField Online?
You can only join MindField Online if you live in the US or Canada.
However, at the moment of writing this review, it looks like nobody can join.

This might, however, just be temporary – but it has been like that for quite a long time.
But it is very strange they just post that they do not accept new members at the moment and do not mention any more details about why and when they will accept new members again.
This is just one more example where MindField, in my opinion, does not seem updated and like a panel that is good at communicating with its members or potential members.
Also, in its FAQ section, they write that they are planning to become available in more countries soon. But they have said this for years and the panel has still not expanded, so not something you should expect will necessarily happen soon.
Even if you can join, there are so many great sites in the US and as many really awesome survey options in Canada.
So if you live in one of these two countries, there are so many great alternatives, so it will, in my opinion, not be worth spending time on a site like MindField Online where you are not really sure if they are even keeping it updated.
Can you get support?
MindField Online has several contact options on its website. You can even find a phone number to call, which you do not often see on survey websites.
So it is possible to contact them, and it is nice the contact info is so easily accessible on the website.
I have not tried to contact their support myself, but from what I can see from others, the service from the support is not always very good.

In general, it looks like the support does answer from different testimonials I have seen.
But like the person in the example above, people are often frustrated by the answers, and when looking for further explanations, they often complain they then do not hear back.
This is, of course, not a good sign. But no matter the survey panel, there will always be unsatisfied users. But what, for me, makes this worse is that I have not seen any response from MindField's support for any of the online complaints I found.
Some companies make sure to respond to any complaint quickly and try to sort things out. I have not seen signs like this from MindField Online.
From what I have been able to find out, I am therefore not impressed with the support the platform offers.
Final verdict – legit or scam?
MindField Online is legit as it does offer real ways to get paid, and it is approved by several market research associations.
So it is not a scam – but this does not mean it will be worth it. So let's finish this review with a summary of the pros and cons, so you can get a better overview before deciding if it is for you or not.

Pros:
Free to join
Low payout threshold

Cons:
Difficult to qualify for surveys
Outdated website
Many complaints about poor support
Limited earning opportunities
Overall, from my research about MindField Online, I think it is not really worth the time.
It will take a lot of patience to earn any money there, the site is not updated, and there are many complaints about poor support.
With so many great survey sites out there, there is no need to waste time on sites that do not make it easy to be a member.
Therefore, I would instead recommend you check out the top paying survey sites instead.
All these are user-friendly, give good earning opportunities, and have great payout methods.
If you have any comments, questions, or have any experiences with MindField Online yourself, I would love to hear from you in a comment below.