Points2shop is an online reward portal, where you can earn points in many different ways and exchange these for rewards.
But is Points2shop a scam or a legit site worth joining?
I have joined and tested it thoroughly myself and have compared it with the hundreds of other sites I have tested.
In this Points2shop review, I will share my experiences so you will find out what the site exactly has to offer, how much money you can make, how you use the site, and most importantly – if it is worth joining or a waste of time.
What is Points2shop and what opportunities does it offer?
Points2shop.com used to be a GPT (Get-Paid-To) site where you could earn points and cash by doing a number of different tasks online.
It has existed since 2007 so it has been around for a while. According to the portal itself, it at some point had more than 10 million users, and it has around 250,000 followers on Facebook.
Compared to other online reward portals and survey sites, it is a bit different as it is used to focus on giving you points to shop for free on Amazon, but I will get more into the reward methods later in this review as it also gives other reward options.
However, in march 2021 Points2Shop went through a huge update and moved to a new platform and it is now very different from when I first tested it.
In fact, not it is very simple whereas it used to be quite confusing to use and not very user-friendly compared to many other sites.
So let's go over the ways you can earn points or cash on Points2Shop so you can see if it will be worth it for you or not:
The earning opportunity – Paid surveys:
As mentioned, Points2shop used to offer a lot of different ways to earn. But since the big update, it now only offers one way to earn and that is paid surveys:

You can find a decent number of surveys here but not as many as you used to get access to.
Now it has turned into only offering surveys from the research company and the set-up of the site is very much like the survey panel Triaba (Triaba is just way better, in my opinion).
One thing I like about the surveys is that you right away can see what you get and approximately the time it takes to complete a survey. This makes it easy to prioritize your time.
Just be aware that you will not qualify for all the surveys and sometimes it can take some patience to find the ones you qualify for but it has quite a lot of survey opportunities.
And I am honestly not impressed with what Points2Shop has to offer since the big update and not quite sure I understand why they have changed it so much and removed the earning opportunities it sued to offer like, for example, earning by playing games, paid offers, contests, membership levels, and more.
But on the positive side, it is a lot more user-friendly now, as you can quickly figure out how it works which was quite difficult on the old version of Points2Shop.com.
Recommended: Check Out the Top GPT Sites
How do you get paid?
Whenever you take a survey on Points2shop, you will earn cash you can see in your account – usually, you can see them more or less right away. You can see what you will earn before taking an offer or survey.
The cash can be paid out through PayPal when you have earned around $15. On the old platform, the payout threshold used to be only $1 for PayPal with put Points2Cash among one of the fastest paying survey sites. But that is definitely not the case anymore.
You can use your earnings to get gift cards. But the exact reward options and payout threshold will depend on the country you live in.
Points2Shop used to be specialized in Amazon rewards, so if you like shopping on Amazon, Points2shop used to be a great option.

The name also indicates that it was meant to be a platform for you to earn points you can use to shop.
But since the big update this is no longer the case and the name is not so fitting anymore, in my opinion.
But still teh reward options now are quite good and it is great you can can get paid in cash. It would just be better if it still offered a low payout threshold, in my opinion.
How much money can you make?
How much you can overall make is important to know before joining any survey or GPT site.
It depends on a number of different things. It depends very much on where in the world you live, as different countries will have different opportunities. And it also depends on how much time you are willing to spend on Points2shop.
In general, you will be able to make some extra money on the side, but it will not make you rich or a full-time income.
Compared to other survey and GPT sites I have tested and reviewed, Points2shop no longer give a lot of opportunities. And it can take quite a while longer to make money than on some of my top rated survey sites, as it does not offer a lot of earning opportunities.
But at leat you no longer have to spend a lot of time figuring out how to use Points2Shop as it is a lot more simple to use now than it used to be when it offered many ways to earn.
So the update it went through has both pros and cons.poin
Can you use it on your mobile?
You used to be able to download a Points2shop app.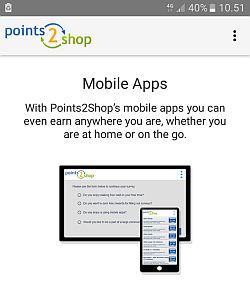 However, since the big update, it no longer has its own app.
You can still use it on your phone as you will get survey invitations via email, so you can just click the invitation links on your phone and use it that way.
Can you get support?
Points2shop does have a support function that you can contact which, in my opinion, is important for any platform.
I have had to contact it myself when I first signed up regarding a sign-up error. I did get a reply, but it took around 4-5 days.
Good to get a reply, but fast support is important for the credibility of any service. From what I can see, other people are saying, the support is in general slow. Not an issue if you are patient, but now you know that you might have to wait a bit for an answer:-)
Which countries can sign up and who can participate?
They are no longer completely clear about who can sign up for Points2Shop.
But in my experience, a panel like this accept members from many different countries. However, the only way to know for sure if it is available in your country is by going to the platform and trying to sign up.
You just need to be aware that there are big differences in the number of surveys available depending on where you live. There are most opportunities in English-speaking countries, but other countries will have opportunities as well.
Final verdict
Points2shop is a legit survey site and it can be a way to earn some extra money online.
But it is definitely not without its flaws, in my opinion, so it might not necessarily be the best option for you.
So let's finish this review by summing up the pros and cons of Points2shop so you can get a better overview before deciding to join or not:

Pros:
You can sign up from many countries
Great rewards (Gift cards and PayPal)
Simple to use

Cons:
Not a lot of earning opportunities
fairly high payout threshold
A lot fewer ways to earn than before the update
Overall, Points2shop can have some earning possibilities and is definitely not a scam.
But it is very different from what it used to be and now it does not give a lot of earning opportunities and the layout threshold is a lot higher than what it used to be.
On a positive note, the panel is now very easy to use as you just sign up and can then get access to paid surveys.
But overall, it is not an impressive survey site and there just are better options, in my opinion. So I would suggest you to check out the best sites in your country instead if you would like to make money on surveys and offers.
That does not mean Points2shop does not have opportunities. But in my opinion, there are many other sites that make it easier to earn money and at the same are a lot more enjoyable to use and you can get a list of these in your country through the link above.
If you have any questions, comments, or have any experiences with Points2shop yourself, feel free to leave a comment below.