Points2shop is an online reward portal, where you can earn points in many differnt ways and exchange these for rewards.
But is Points2shop a scam or a legit site worth joining?
I have joined and tested it thoroughly myself and have compared it with the hundreds of other sites I have tested.
In this Points2shop review, I will share my experiences so you will find out what the site exactly has to offer, how much money you can make, how you use the site, and most importantly – if it is worth joining or a waste of time.
What is Points2shop and what opportunities does it offer?
Points2shop.com is a GPT (Get-Paid-To) site where you can earn points and cash by doing a number of different tasks online.
It has existed since 2007 so it has been around for a while. According to the portal itself, it now has more than 10 million users, and it has around 250,000 followers on Facebook.
The followers on Facebook do not say a lot however, as the Facebook page has very little to do with what the site is actually offering. It is mostly just posts of funny videos and pictures, so many of the followers might just follow because they like this entertaining content.
Compared to other online reward portals and survey sites, it is a bit different as it is focused on giving you points to shop for free on Amazon, but I will get more into the reward methods later in this review as it also gives other reward options.
Let me just reveal right away that it is quite confusing to use not very user-friendly compared to many other sites. That does not necessarily mean that it does not have good opportunities, but that you should expect to spend some time figuring out to navigate and how to use the site if you decide to join.
So let's go over the ways you can earn points or cash on Points2Shop so you can see if it will be worth it for you or not:
Option 1 – Paid surveys:
Points2shop offers a decent amount of different survey opportunities. Depending on where you live, there might be several opportunities a day, or only a couple or in some cases none.

Surveys are one of the main ways to earn on Points2shop. The surveys here pay ok in relation to the time spent compared to other survey sites.
One thing I like about the surveys is that you right away can see what you get and approximately the time it takes to complete a survey. This makes it easy to prioritize your time.
Just be aware that you will not qualify for all the surveys and sometimes it can take some patience to find the ones you qualify for but it has quite a lot of survey opportunities.
Option 2 – Offers:
There are quite a lot of different offers that you can take on Points2shop. They are offered by different providers/portals.
This means that you can see a list of different offers, and then take them through a third-party provider, and then get paid in your Points2shop account.
The offers include extra surveys, signing up for websites, downloading apps, watching videos, etc.

If you have been a member of other GPT sites it is just a regular offer wall. Some offers are really good and some really poor so you just need to make sure to read the conditions for each offer carefully.
If you do this, the offers can be a great way to boost your earnings.
Option 3 – Refer people:
You can earn extra rewards by inviting other people to join the site.
You will, in general, get paid 15% of what you referrals make, but if your referrals are not very active, this percentage might be lower. There is a number of other different rules and percentages regarding the referral program.
As with everything on Points2shop, it is a bit confusing and complicated. So instead of boring you with all the details here, you can read the full details about the referral program on the portal itself, if this is an opportunity that you are interested in.
Option 4 – Games:
You can play games to either win extra points or just play for fun. You can play against other members and will be paired with other people that have the same level of game experience as yourself to make the competition more fair.

Some games cost some points to participate in, but the higher the entrance fee for participating is, the higher the reward will also be if you win. If you like playing online games and are good at it, this can be a great way to increase your earnings.
Option 5 – Contests:
There are different monthly contests that you automatically participate in if you are an active member on Points2shop.
You can, for example, win extra rewards, if you are in the top 10 survey takers in a month, etc. Usually, the prize for a first-place is $15 down to $1 for 10th place.
There are also several other contests. Again, some of them are free and others you have to spend your points on like, for example, the sweepstakes.
Some of the sweepstakes are, however, only available in select countries – and as with most other things on Points2shop it is not really possible to find any clear rules about this.
Below you can see an official video from Points2shop, to see how the site is describing itself:
Membership levels
An extra thing Points2shop offers is membership levels and these can affect your overall options on the platform. There are 8 different membership levels at Points2shop.
You start as a new member and by verifying your account, you get to bronze level. After that comes silver, gold, platinum, elite, diamond and legend.
The levels will give you different bonuses and advantages. To upgrade to a new level, you have to live up to different demands. Some criteria are the earnings you have, number of offers, activity level, number of referrals, etc.
There are many demands and details about the membership levels, and you can see the full details on the website if you decide to become a member.
How do you get paid?
Whenever you take a survey, take an offer, or do anything else on Points2shop, you will earn either points or cash. You can see what you will earn before taking an offer or survey.
The cash can be paid out through PayPal when you have earned $1 so it is a nice low payout threshold. You can also convert your cash into points.
You can use your points to buy any product on Amazon. On Points2shop, you can browse through all the product categories on Amazon, and select the ones you would like to spend your points on.
So if you like shopping on Amazon, Points2shop can be a way to earn some points, so you can do this for free. Depending on which products you buy, the shipping will be free.

It is important to know that you can only have Amazon products shipped, if you live in the US, Canada or the UK. So if you, like me, do not live in one of these countries, you cannot use your points for this. You can instead use them for a virtual visa card, or donate your points to charities.
As a US member, you can also use points to get Amazon Gift Cards. This is only available for the US at the moment. But if you want gift cards there are luckily many other sites that offer Amazon gift cards as a reward no matter where you live.
It is important to know that cash can be converted into points you can use for shopping, but points cannot be converted into cash. So depending on what your preferences are, you have to be aware of this when deciding to go for offers that give points or cash as a reward.
How much money can you make?
How much you can overall make is important to know before joining any GPT sites.
It depends on a number of different things. It depends very much on where in the world you live, as different countries will have different opportunities. And it also depends on how much time you are willing to spend on Points2shop.
In general, you will be able to make some extra money on the side, but it will not make you rich or a full-time income.
Compared to other survey and GPT sites I have tested and reviewed, Points2shop gives a decent amount of opportunities. It can, however, take quite a while longer to make money than on some of my top rated survey sites, as it is very confusing and can be overwhelming.
I have a lot of experience with survey sites and GPT sites and have spent a lot of time on Points2shop, and it is by far the most confusing site I have used.
So to figure out how to use the site, how the reward system work, or for the matter how any aspect of Points2shop work, is a hassle, in my opinion. So if you decide to join, be prepared to spend some time getting to know the platform, and be prepared to spend a lot more time doing this than you would on other sites.
There is however a way that can make Poinst2shop a bit easier to use. That is to use the official mobile app.
Can you use it on your mobile?
Yes, you can download the Points2shop app, and as a member, you will also earn a reward of $0.10 by downloading it.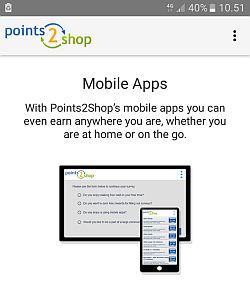 The main reason for downloading the app can be a good idea is of course that you can then easily use Points2shop on the go. But another reason is that it makes the portal a little more user-friendly.
There are fewer distractions and fewer confusions in the app, so it is less overwhelming. For an app, it is however not very nice and not very user-friendly, in my opinion, but compared to using the site itself, it can make it a bit easier, but also limits the possibilities and overview.
If you want to download the Points2shop app, you can do it through Google Play and the App Store.
Can you get support?
Points2shop does have a support function that you can contact which, in my opinion, is important for any platform.
I have had to contact it myself when I first signed up regarding a sign-up error. I did get a reply, but it took around 4-5 days.
Good to get a reply, but fast support is important for the credibility of any service. From what I can see, other people are saying, the support is in general slow. Not an issue if you are patient, but now you know that you might have to wait a bit for an answer:-)
Which countries can sign up and who can participate?
You can sign up no matter where in the world you live. But there are big differences in the number of surveys and offers available depending on where you live. There are most opportunities in English-speaking countries, but other countries will have opportunities as well.
Remember that you can only use your points for Amazon products, if you live in the US, Canada or the UK, as they are only shipped to these countries.
You have to be 18 years old to sign up, or you can sign up when you are 13 years old if you have parents' consent.
Final verdict
Points2shop is a legit survey and GPT site and it can be a way to earn some extra money online.
But it is definitely not without its flaws, in my opinion, so it might not necessarily be the best option for you.
So let's finish this review by summing up the pros and cons of Points2shop so you can get a better overview before deciding to join or not:

Pros:
You can sign up from any country
Many daily possibilities
Great rewards (Amazon and PayPal)

Cons:
Very confusing site
Unnecessarily complicated to use
Only ships Amazon products to the US, Canada & the UK
Slow support service
The Facebook page only posts irrelevant videos and pictures
Overall, Points2shop can have some good earning possibilities and is definitely not a scam.
But it is one of the least user-friendly and most confusing sites, I have tested. Other than that, the use of the points you make is limited, if you do not live in the US, Canada & the UK since you cannot convert points into cash.
Personally, I also think it is a minus that they have a Facebook page that never posts anything relevant to using offers or surveys, but only funny videos and pictures. I understand it is a way to get people to like the page and share, but as a user of the page, it just becomes irrelevant and makes the platform seem unprofessional in my opinion.
Because of these reasons, there are many other sites that are better, in my opinion. So I would suggest you to check out the best sites in your country instead if you would like to make money on surveys and offers.
That does not mean Points2shop does not have opportunities. But in my opinion, there are many other sites that make it easier to earn money and at the same are a lot more enjoyable to use and you can get a list of these in your country through the link above.
If you have any questions, comments, or have any experiences with Points2shop yourself, feel free to leave a comment below.