When I first visited Ayuwage.com I was honestly not sure what it really offers.
I decided to join and see for myself, as I love finding new ways to earn some extra money online.
But is AyuWage a scam or a legit way to earn online?
Well, let me just say that you definitely need to know what you find there as it might NOT be worth it for you.
This AyuWage review will give you an inside look so you can see and judge for yourself.
Important update: AyuWage closed – Best alternatives!
Ayuwage seems to have closed and from what I hear from other members, quite a few people ended up not getting paid before the site closed down.
As you can see in the review below, I initially recommend staying away from it as it was a waste of time, in my opinion. But now it is no longer even possible to join it.
So if you want to earn some extra money online, you need to use other options instead. You can click the link below to see the best free methods in your country:
==>Click to See The Best Free Get-Paid-To Sites in Your Country<==
What is AyuWage and what does the site offer?
AyuWage.com has existed since 2009.
From the look of the site, the design has not been updated since as it is quite old-fashioned and the user-friendliness is not very good compared to many other online rewards portals.
But what is more important is, of course, how you can actually earn on AyuWage.
When you first come to the AyuWage homepage, you can see that it says "progressive earnings paid for internet content surfing".

This is kind of a strange sentence and does not say much about what you can really expect.
So let's look at what is actually offers when you join.
Option 1 – Browse websites
It turns out the main thing AyuWage offers is to browse websites and get paid for visiting them.
You usually have to be on the site for a certain amount of seconds and sometimes you need to click an ad on the website or similar.
In a way, it is similar to PTC sites, where you click ads and get paid a few cents for this for watching a website for 10 seconds.
But it is also quite different as the tasks you have to do are different and it is a little more complicated than the usual PTC site.

There are several categories with similar options. The image above is from the "browse" category.
However, as you might be able to see in the image above, there were no options available for me.
So I tried to look in the "view", "regular", and "explore" category as well.

There were no options available for me there as well.
It says it is just not right now and you should come back soon. I have, however, not been able to find any available options in these categories.
Even if I could find some, I honestly would not use these options to earn.
There are too many requirements you need to do for each task for what you get.
Not that it will take long, but they are different from each category, and if you do not do it correctly, you will get a warning and can end up losing your earnings.
The categories you can see in the image above gives between 2-120 credits per task.
I calculated that is equivalent of between $0.001-$0.06. Really not very high rewards.
Not unusual rewards for a PTC-like site, but still not worth it in my opinion.
And also, the available opportunities are, at least from where I am, VERY limited.
Option 2 – Take paid surveys
You can also find a survey section on AyuWage.
I was happy to see this section, and if you have visited here on PaidFromSurveys.com before, you will know I think it is a great way to have your opinion heard and earn some extra cash at the same time.
However, once I saw the options there, I right away became very disappointed.
The reason for this is that I think it is misleading to call it a survey section as most of the options there have nothing to do with surveys.
Below, you can see an example of what I mean.

The image shows a site they call a survey site. To get a reward here, you need to deposit $10 and then you will get a reward of $3.1350.
That has nothing to do with a paid survey site, and it is really not a very good deal, is it?
Most of the options that are here are this type of offers. Some of them might be worth it, and offer walls can in general at times give some good earnings.
But the offers I saw on AyuWage just were not very good and did not give very high rewards compared to other offer walls I have seen.
I must say that I did see a few actual survey options. They did offer surveys through Speak Up Surveys.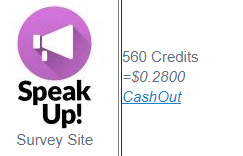 But these also give lower rewards than what I have seen on other survey sites that offer the same surveys.
So I am definitely not impressed with the survey options on AyuWage.
Recommended: See the Top Paying Survey Sites in Your Country Instead
Option 3 – Share on social media
Ayuwage has a section called "share" where you can earn by sharing content on social media.
So how it works is that an advertiser posts a link they want to be shared and the text they want to be shared with it. Then you can share it and will get paid for this.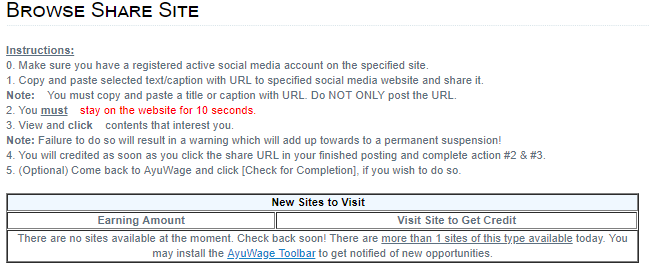 Again, here I did not find any available options for me. But maybe that is just because of my location.
But let me just explain why I would never use this option even it was there.
The reason for this is that I, on my personal social media channels, would have to share a link and a text from an advertiser.
And you can be pretty sure that most of the advertisers that will advertise like this will promote content you might not be interested in sharing with your friends – I know I would not.
If you do this often, you risk your friends will just unfriend you because they see you posting what might be considered spam by some.
This is really not worth it, in my opinion. Especially not considering the reward you will get for it will be between $0.02-$0.04.
Option 4 – Refer other people
You can also earn by inviting other people to join AyuWage. You can find a link you can share under your account settings.
There is not much info about what you will get for this, but from what I could find out, you will get a 10% commission of what people you invite earn.
It might sound appealing, but before starting to share this link, then just think about it!
Is it really something you recommend? If not, the people you invite might get annoyed with you.
However, AyuWage also gives you the option to rent referrals, so this way you would not have to invite people yourself.

You can rent a referral for 100 credits per week.
Just be aware that AyuWage does not guarantee that you will earn by renting referrals.
The referrals you will rent are people that have joined without a referrer. But you will just randomly get referrals assigned when you rent.
They might just have joined and never use the site – if that is the case, you will earn nothing and lose money instead.
So just be aware that if you use this option, you might lose money instead of making money.
How do you get paid?
The earning options on any online reward site are important. But how you can get your earnings out is also very important.
And you, of course, also need to know if Ayuwage is even paying.
On AyuWage, you earn credits when you have activity. 1 credits = $0,0005.
You can then get this credit out or use them to, for example, rent referrals or buy ads on AyuWage.
The way to get them out is through PayPal. You can request a payout once you have earned $5. That is not a high threshold, but with the limited earning opportunities on AyuWage, it can still take some patience.
There are so many great PayPal survey and get-paid-to sites so if you like PayPal as a reward, I would clearly recommend going for other sites instead.
Also, since I first puslished this review, I have received messages from several people saying that Ayuwage did not pay them.
This is definitely a bad sign but I cannot confrim if this will always be the case or if the members I have heard this from have just been unlucky.
I have not tried to cash out from Ayuwage myself as I siply think it is not worth trying to reach the payout threshold on it as it just is not even close to being as good as many other sites.
How much money can you make?
I honestly do not think you should expect to earn very much on AyuWage. And as you can see above, some also claim that you will not even get paid.
Personally, I found very few opportunities, and the ones I found had a lower reward than on many other sites.
Most of all it worried me when I looked at the testimonials they have on AyuWage.com.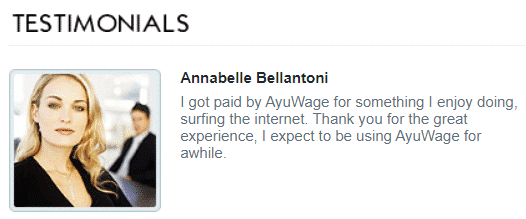 The image above shows one of the testimonials they have on the website. This is supposedly Annabelle Bellantoni that loves using AyuWage.
I, however, did an image search on Google and this exact same picture came up on a lot of other websites as well.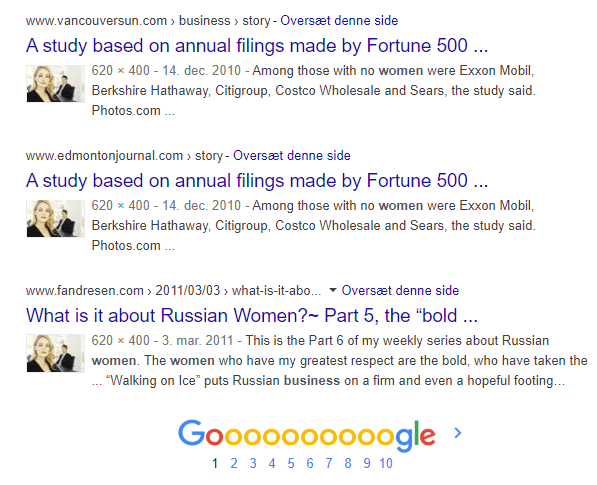 So it seems they are using stock images and fake names for the testimonials as the same happened when I checked the other testimonials they have on the website.
This is a big red flag and when a website uses stock photos as testimonials like this it is NOT a good sign, in my experience. If it really was a great site to earn on, it should not be a problem for them to get real testimonials, right?
So overall the earning potential on AyuWage is not big – there are few opportunities, but even if there were a lot, I would not use this site myself, as the majority of ways to earn it offers are just not very interesting and the use of fake testimonials is also just a deal-breaker, in my opinion.
Can you use it on mobile?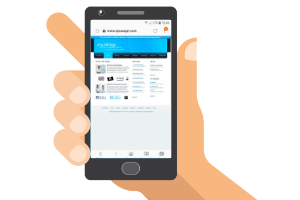 Overall, I do not think the usability of AyuWage is very good. It is not easy to navigate and find your way around, and there is a lot of info that is not easy to find.
The user experience does, however, become even worse on mobile.
In theory, you can use AyuWage on mobile but it is not optimized for it at all and looks terrible on smaller screens.
So if you want to use it on mobile, it will take a lot of scrolling in and out.
Who can join Ayuwage?
A great thing about AyuWage is that you can join no matter where you are from.
But honestly, no matter where you are from, there are in my opinion way better options.
You can, for example, check out the best online survey and get-paid-to sites in your country here. All of these have better opportunities, in my experience.
Can you get support?
There is an FAQ section on AyuWage.com where you can find answers for some questions. It is not very thorough, in my opinion, but you can find some answers here.
If you should need more help, there also is a contact form you can submit and ask a more specific question.
I have no idea how quickly they respond, but now at least you know the option to contact their support is there.
However, when looking at the number of complaints on their Facebook page from people that are unhappy with the platform and no response to them at all, you should probably not expect a fast answer.
And as you can see in the comment section below this review, many people here also complain about not getting any answer from their support.
Final verdict – scam or legit?
From what I can see, AyuWage looks like a site you can earn a little extra money from and it pays out in a legit way.
This does, however, not mean it will be worth it, and I actually do not think it is. But let's finish this review by summing up the pros and cons so you can get a better overview and judge for yourself.

Pros:
Free to join
Available worldwide

Cons:
Few earning opportunities
Low rewards
Most paid surveys there are not really surveys
User-friendliness is poor
Not optimized for mobile
The testimonials are fake
Several complaints about not getting paid and poor support
With so many great online rewards portals out there, I honestly do not see any reason to spend time on AyuWage.
My biggest AyuWage complaints are that it has few opportunities, low rewards, it uses fake testimonials, and it is not completely transparent about what are surveys and what are not. More or less a complete waste of time, in my opinion.
I would clearly encourage you to instead check out the best survey sites in your country.
All these sites give a lot better opportunities, higher rewards, and are easier to use.
If you have any comments, questions, or have any experiences with AyuWage yourself, I would love to hear from you in a comment below.