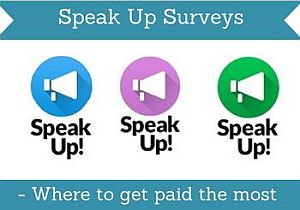 If you are member of paid survey sites, you have probably seen surveys from Speak Up Surveys. What you might not know is that there can be quite a difference in the rewards you get for Speak Up Surveys depending on the platform you take them through.
In this article I will give you an overview of the rewards you will get through different survey sites, so you can find the ones that pay the most for these surveys. Be aware that the highest reward might not necessarily mean that it is the best platform to join, but I will explain more about this later.
What is Speak Up Surveys?
First I want to explain what Speak Up Surveys are in case you do not know it yet.
When you are a member of a survey sites where you can get paid to do surveys, often these sites will also offer you to do surveys through what is called third parties. That means that you will not take that specific survey directly at that survey platform, but you will follow a link and do the survey somewhere else at one of the survey site's partners. After you have done the survey, you will be taken back to the survey site itself and get your reward in your account here.
Let me give you an example to make it clear how it works. Let's say you are a member of ClixSense, which is one of the survey sites that gives you access to partner surveys. Here you see that there is a survey available from Speak Up Surveys. You click the link and a new screen will open where you will take the survey. It is not as such a ClixSense survey, but they offer you to take this survey through one of their partners' sites – in this case Speak Up Surveys. Once you have finished the survey, you will close the screen, and you will get your reward in your ClixSense account.
As a site note, I just want to mention that Speak Up Surveys are not the surveys with the highest rewards, but together with other kinds of surveys, it can add up, and it can therefore be nice to do some of them on the platforms where they are available.
Why do different sites pay different rewards?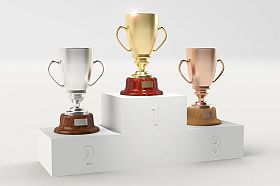 In the case of Speak Up Surveys, they are offered through many different survey sites. But there can be quite a different reward depending on the survey site you are using.
The reason for this is that the survey sites will get paid to send people to the survey, and how big a part of this commission you will then get to do the survey, is up to the survey site. Nothing wrong with that as it is a win-win situation. You get paid and the survey site also needs to make some money, so everybody benefits. But it can be nice to understand how it works, and that it can be worth being aware which sites you take certain surveys to make the most out of it.
Where can you take Speak Up Surveys?
Below you can see an overview of the sites where you can take Speak Up Surveys, and how much you get paid for them at the specific sites. Exactly how much you will get paid for these surveys, and how many that are available can vary from country to country. So the below is more meant to give you an overview and an understanding of the differences there can be from site to site, and is not a complete list of the survey sites that offer Speak Up Surveys.
Also be aware that there are different Speak Up Surveys. They offer 3 different kinds that are in color categories. The color categories are purple, blue and green. They have different rewards and usually the green surveys are the highest paying.
CashCrate:
CashCrate offers the blue and the green Speak Up Surveys. The rewards for the blue are $0.50 and for the green $0.75. This will be the reward, if you take the surveys through the main survey option. If you take the Speak Up Surveys through the offer section, the rewards will in most cases be smaller.
ClixSense:
ClixSense does not offer Speak Up Surveys through the main surveys section on their website. But you can take them through the offer section. Here you can find them through different partners, and I cannot here mention all of them and the exact reward for each, as it depends on the country you live in. But most often, the reward will be between $0.20-$0.70.
PrizeRebel:
Like ClixSense, PrizeRebel has the Speak Up Surveys available through its offer section. Here there can be a big difference in the size of the reward depending on the partner site you take it through. I have seen it ranging from only $0.11 up to $0.70. So click a bit around before taking the Speak Up Surveys here to find the best option.
GreenPanthera:
GreenPanthera usually sends out emails whenever there is an available survey. But you can also find an offer section once you are logged in to your account. Here you can find the Speak Up Surveys. Again, exactly which color and the exact reward will depend on the country you live in. I have only been offered the blue surveys with rewards from $0.15-$0.45.
Superpay.me:
Superpay.me offers all three colors of Speak Up Surveys. The rewards range from $0.40-$0.60 per survey.
Gift Hunter Club:
Gift Hunter Club offers all three colors of Speak Up Surveys. As on most other sites that offers this, the purple will have the lowest rewards and the green ones the highest. The rewards are from around $0.19-$0.55 per survey.
Read more about Gift Hunter Club
Do not only decide based on size of the reward!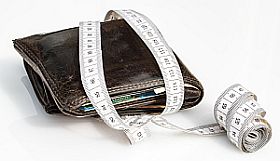 As you can see from the above, Speak Up Surveys can have quite different rewards depending on the survey site you take them through. But do not just decide to only use the one that give the highest rewards for these kinds of surveys. There are other things to consider as well to find the best surveys sites for you.
For example does CashCrate have the highest rewards for Speak Up Surveys, but in general it has most other offers and surveys for English-speaking countries. So if you do not live in an English-speaking country, a site like ClixSense might be a better option.
In this way you have to also look at the overall offers and surveys the different survey site has. And also in which countries they have the most opportunities and how much money you have to earn before you can request a payout, and if the site is offering your preferred way of payment.
You can read all this information about the individual survey sites in my reviews that you can find links to above.
Hope this has given you a good understanding of how Speak Up Surveys work and that the same surveys are offered through different survey sites, and that the rewards can be different. So if you are a member of more survey sites, it can be a good idea to look a bit around on the sites, to get the best rewards.
Feel free to leave a comment below, if you have any questions.