Small Business Knowledge Center (SBKC) is a market research company that promises to pay you for completing their surveys and forwarding junk mail.
If you've come across SBKC in your search for good survey sites, the main thing you might be thinking now is, is Small Business Knowledge Center a scam or really a way to earn?
That's a pretty logical question to ask. Let me just answer that right away. No, SBKC is not a scam. It is a legit site that will deliver what it promises.
But that doesn't mean you should go ahead and sign up as a member right away. I would recommend you still read through this Small Business Knowledge Center review so you can understand the potential of this site.
That way, you can make an informed decision on whether this site is worth joining or not.
So let's go ahead and check all the details.
What is Small Business Knowledge Center and what does it offer?
As mentioned above, SBKC is a market research company that will pay you for completing their surveys. But, it does have a twist. You will also be able to earn rewards simply by forwarding your junk and spam mail to them.

As shown in the photo above, they have two panels: consumer and producers.
But for the purposes of this review, we will take a look at the consumer panel because this is more appropriate for you if you are looking to earn some extra money.
So let's take a closer look at how you can earn from SBKC.
Option 1 – Sending Mails and Emails
Unlike most survey sites, the main income generator of SBKC is through sending mails and emails. Yes, you read that right.
Once you become a member of SBKC, you will be asked to regularly send them direct mail and email communications.
The mail and email communications you will send though will have to be pertaining to any of these:
Insurance
Investments/Annuities
Mortgage and Loans
Banking
Credit Cards
Telecommunication
Travel and Leisure
Department Stores
Appliance/Electronics
Beauty Supplies
Drug Stores/Pharmacies
Food and Beverage
Games
Home Furnishings
Office Supplies
Sporting Goods
Warehouse Clubs and Super Centers
Water Filtration Brands
Apparel
Auto Parts
Convenience
Online Retailers
Formal Wear
Greeting Cards
Jewelry
Home Improvement
Pet Supplies
Technology
Tobacco Brands
As you can see, there are plenty of topics covered by this opportunity. So, if you keep receiving spam e-mails about any of these topics, you can actually turn it into something you can earn from.
All you need to do is forward these emails to consumers@sbkcenter.com and you will earn rewards.
As for postal mails, you will have to request from SBKC. They will then provide you with pre-addressed, pre-paid postage envelopes that you can use to send them your mail.
You don't have to worry if you run out of envelopes because they do replenish these envelopes on a regular basis. So you can send as many as you want. The same goes for forwarding e-mails to them.
What's nice about this type of earning opportunity, in my opinion, is, you can turn those spam emails you keep getting, into money.
Not a lot of sites will allow you to do that. In fact, this is one of the few times I've encountered this type of earning opportunity on a survey site.
Option 2 – Mystery Shopping Surveys
Another way you can earn from SBKC is by completing mystery shopping surveys.

As you can see in the photo above, they will periodically send you mystery shopping survey invites that you can answer and earn rewards.
These surveys work much like how you would expect from a survey site.
Once you complete the survey, you will then receive the reward. They do not mention on their site though if you have to answer pre-qualifying questions before you can proceed to the actual survey.
This is the normal process for most survey sites. So, if they follow the same process, don't expect to always earn from every survey invite you get because you won't always qualify.
Option 3 – Referral Program
They also mention on their site that you can refer friends to SBKC and get something in return. However, they don't make it clear what you get from referring friends and family.
In my opinion, it would have been better if they told you right away what you can get from referring friends.
That would have provided more incentive to keep referring friends to the site.
Anyway, you should not expect to be able to make a lot from this, but if you like the site it can be nice to earn a bit extra by referring others.
How do you get paid?
Now that you know how to earn from Small Business Knowledge Center, the next thing you need to get a clear picture of is how you will be paid.
SBKC uses points as its currency. Every time you send a mail or email, answer a survey and possibly refer a friend, you will earn points.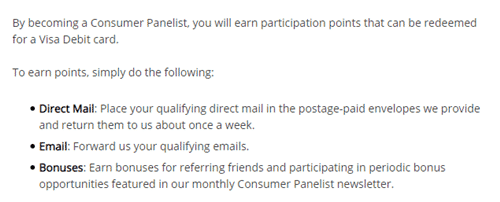 Once you reach 2,000 points, you will then be sent a $20 Visa gift card (as shown in the photo above).
The process is pretty straightforward. The only issue I can see with their reward process is, you won't always know how many points you've already accumulated.
They do send a monthly newsletter updating you about the points you've accumulated. But apart from that, there is no way for you to check your point balance.
This is not as user-friendly as most other sites where you constantly can see the exact earnings you have.
Speaking of newsletters, you will also receive bonus opportunities thru these newsletters that you receive. Based on feedback from members, you will usually receive this email during the 15th day of the month.
If you prefer to receive your rewards via a more convenient method, I suggest you check out the top survey sites that pay through PayPal instead.
How much money can you make?
SBKC is a bit different than other survey sites or online rewards platform because there is actually no limit to how much mail and emails you can send. So, the earning potential for this site is much different.
It will actually depend on how much mail and how many emails you receive that you can forward to them. So, the more mails and emails you receive, the higher the earning potential.

As you can see in the photo above, you can potentially earn $20 in a span of 6 to 10 weeks, which is not bad, in my opinion. But, you can also earn much more than that in the same amount of time answering surveys from other sites.
However, the way you can earn that amount in SBKC is pretty unique.
As I've mentioned, this is one of the few sites I've encountered that will allow you to earn off of your spam emails. So, it can be a nice addition to the survey sites that you are a member of.
However, it does, of course, take a bit of effort as you need to remember to forward your mails or collect the physical post you received an send it back.
Can you use it on mobile?
Seeing as you don't actually have to log in to their website and all you have to do is forward emails, then you will actually be able to use it on a mobile device.
All you need to do is log in to your email client and check your emails. You can then forward qualified emails to them using your mobile device.
As for the surveys you receive from time to time, I can't confirm that these surveys can be answered from your mobile device.
They don't mention anything about it on their website. But in my experience, if you can open the link to the survey from your mobile device, then you should be able to answer it using the said mobile device.
Who can join Small Business Knowledge Center?
SBKC is only open to US residents, although they don't mention it specifically on their website.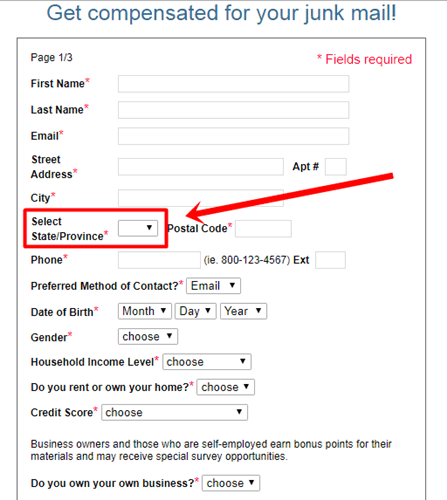 But as you can see in the photo above, the registration form will ask for your postal address and it asks for a state and it doesn't ask for a country.
When you click on the state box, you will only see choices for the states in the US. So, this supports the conclusion that SBKC is only available to US residents.
That also makes sense because remember, they will have to mail your rewards to the postal address you used to register. So, keep that in mind when you register as a member.
They don't mention on their site what the age requirement is in order to join the site.
But when I checked the registration form, the last year available in the date of birth is 2006. So that means, you have to be at least 13 years of age to join their panel.
They do mention on their terms and conditions that if you are below 18 years of age, you have to secure permission from your parents or legal guardian to join the panel.
Can you get support?
If you've noticed, there are actually plenty of relevant information not included on their site.
This will eventually lead to questions and the only way those questions will be answered is if you talk to their support team.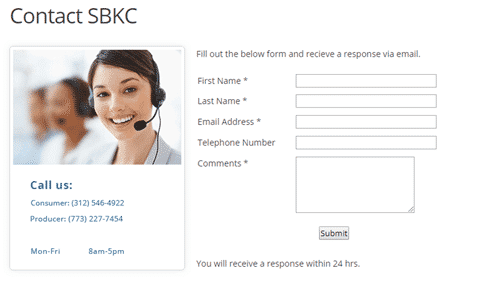 To talk to their support team, you can either use the contact form (shown in the photo above) or call the number provided in the photo.
In my opinion, having a number you can call if in case you need to talk to a support representative makes it easier to resolve issues or get the answers you are looking for.
I also checked their FAQ section but it seems not all of the relevant topics are covered. They seem to have a lack of providing relevant information, which can be useful for people who are planning to sign up as a member.
In my opinion, this is just poor website planning. But hey, at least, they do provide you with a phone number you can call. Just make sure to call during office hours, which is Mondays to Fridays, from 8 am to 5 pm.
I understand some people prefer to have their questions answered through social media platforms, but unfortunately, SBKC doesn't have any social media pages. So, you will either have to use the contact form, send them an email or, call the phone number provided.
Overall though, the fact that they provide a number you can call in case you have any questions or problems about their site, shows they are really serious in providing support to their members.
Final Verdict
Small Business Knowledge Center is a legit market research company that will pay you for sending your junk mail and emails, as well as completing their surveys. But it does have its limitations.
So let's finish this review with a summary of SBKC's pros and cons to help you decide if this site is for you or not.

Pros:
You can earn real money
You can turn your spam emails into an earning opportunity instead of just deleting them

Cons:
Low earning potential
Their website doesn't provide enough relevant information
Survey opportunities are quite limited
So even though SBKC can turn your junk into gold, so to speak, the earning potential of this site is relatively low. It can, however, be a decent supplement to other survey sites you can join since it will pay you real money.
Just don't expect to earn a lot from it, especially from doing the surveys.
If you are looking for survey sites that will allow you to earn on a regular basis, I recommend you check out the top survey sites in your country.
This list has plenty of survey sites you can choose from and all of them will have better earning opportunities than SBKC. Plus, you will be able to find a site for you no matter where you live.
If you have any comments, questions, or have any experiences with Small Business Knowledge Center yourself, I would love to hear from you in a comment below.