iPoll is a survey site that rewards you with cash, gift cards and sweepstakes entries for completing their surveys.
Let me just reveal right away that it definitely is not a scam survey site since it has been around for quite some time now (10 years to be exact).
But longevity isn't really the true measure of whether or not a survey site is good.
This iPoll review will, therefore, give you all the details to help you make an informed decision about joining iPoll or not.
So let's get started.
What is iPoll and what does it offer?
As mentioned above, iPoll is a survey site that offers cash rewards, gift cards, and sweepstakes entries in exchange for completing surveys that they provide.
iPoll used to be called Survey Head but was renamed to what it is now when it was bought by Survey Sampling International (which is now known as Dynata).
What's unique about iPoll is that it encourages you to use their mobile app (hence the name) instead of the regular browser method to complete surveys.
It does, however, allow you to still complete surveys using the regular browser by simply logging in to their site.
There are a couple of ways you can earn money with iPoll.
Option 1 – iPoll surveys
Paid surveys are the bread and butter of iPoll. This is where the bulk of your income will come from. This is natural since they are a survey site primarily.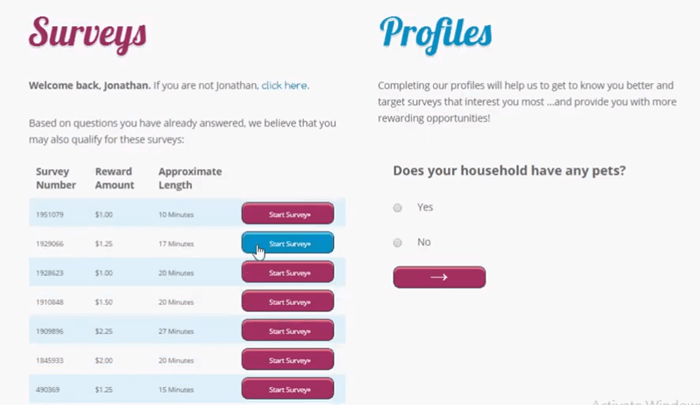 On the flip side, iPoll uses these surveys to gather relevant information for their partner companies. But that is how survey sites work – companies need market research and you can get paid to help with that by sharing your opinion.
Once you log in to their site, you will quickly see all the available surveys you can take. You will also see the reward amount as well as the approximate length of the surveys.
Being able to see the approximate length of each survey is actually quite a good benefit for you. This allows you to better manage your time and maximize your money/time ratio.
Take note though that you need to complete your profile before iPoll can start sending you surveys to take.
That's because iPoll needs that information to properly match you with surveys from their partner companies.
Just be aware that you do not get paid for filling out your profile as you do on some sites but you need to do it to be able to start taking surveys on iPoll.
Option 2 – Badges
Badges are a form of passive income you can get from iPoll. Think of these as your achievement points.
Whenever you reach a certain milestone as a member of iPoll, they award you with a badge. Each badge is worth a certain amount of money. Take note that you can only acquire a type of badge once.
As a new member, you will have a certain set of badges you can gain. The more badges you acquire, the more new badges get unlocked for you to get.
Although the income you receive from badges is minimal, I do like it because it is a form of passive reward that you can get just by staying active on the site.
Option 3 – Missions
This is where iPoll can be fun. With missions, you can earn rewards by simply completing the missions that iPoll provides.
These missions can vary from taking pictures of products, visiting stores or even testing products.
In order to do the missions, you actually have to go out of the house (yes, you read that right!). This survey site actually encourages you to go out of your house to earn rewards.
That's why it is necessary to install their app so that you can maximize your earning potential.
Keep in mind that you have to enable the GPS of your mobile device in order to complete the missions.
You will usually be asked to go to restaurants, major retailers and shops for these missions. Enabling the GPS on your mobile device allows iPoll to confirm that you are indeed in the location where the mission asked you to go.
I haven't actually done any missions, but a lot of members report that you can earn a lot more compared to just taking surveys.
I admit that this form of earning opportunity actually makes iPoll a bit more fun compared to other survey sites.
This is ideal if you are already in the area where the mission is supposed to be. The good thing is, iPoll will also inform you of the estimated time that the mission will be completed.
So you can actually plan around it.
Option 4 – Quarterly Prize Draws
This is a more common earning opportunity for survey sites. Most survey sites always offer some kind of prize draw for their members.
This prize draw offers you a chance to win big prizes. In iPoll's case, you get a chance to win $10,000 every quarter which is a very big prize.
You can get an entry as a reward for completing specific surveys.
But then again, this isn't a reliable income source since it will all rely on luck. So putting your hopes on the quarterly prize draw isn't really a good move.
How do you get paid?
As for its payment options, iPoll offers you to redeem your rewards via PayPal, Amazon gift card or iTunes gift card.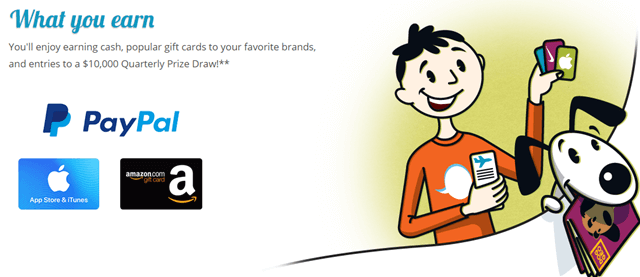 You can choose from a $25 gift card from Amazon or iTunes or you can cash out via PayPal. The minimum payment threshold for iPoll is $50, as stated in their Terms and Conditions.
In my opinion, this is where iPoll takes a downturn. Having a $50 threshold is quite high.
There are better sites that pay via PayPal that have lower thresholds. You can check out the best PayPal sites here.
How much money can you make?
As with all survey sites, don't expect to earn enough from iPoll to be able to quit your job.
This is just how survey sites are. They can make you some nice extra money on the side, but you should do it with the right expectations and not expect it to make you rich.
With the relatively high payment threshold of $50, iPoll isn't as ideal as the best survey sites in your country.
If you are thinking of answering surveys full time for iPoll, then let me just stop you there. That simply isn't possible.
That's because you have to consider the frequency of the surveys being offered to you. It's not like you get 40 surveys that you can answer every day.
Plus, you also have to factor in the survey that you don't qualify for. That is really just unavoidable.
Think about it this way, for every survey that you get disqualified, that is a deduction from the possible income you get. Plus, the money won't be credited to your PayPal account right away.
Normally, it gets credited to your account within 30 days. That's longer than the usual salary period and quite slow compared to the fastest paying survey sites where you can sometimes get paid within just a few hours.
Can you use it on mobile?
As mentioned above, iPoll encourages you to use your mobile device when doing iPoll tasks through their app.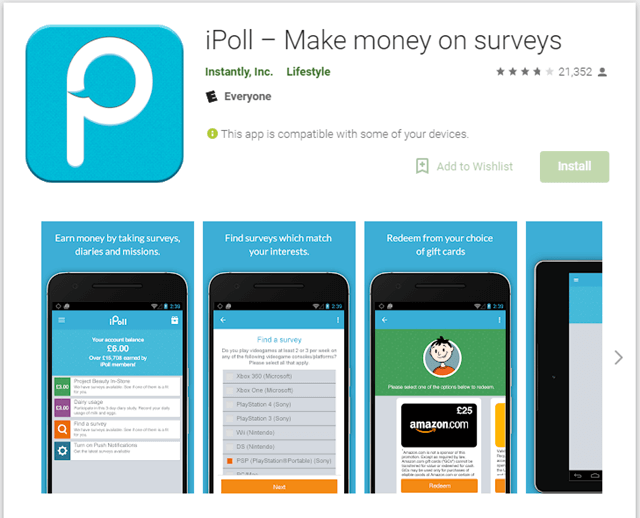 The good thing is, their app is available on both Android and Apple devices. Just download the app, log in and you are ready to go.
And since one of their earning opportunities requires the use of a mobile device, you will really have to download the app at some point in order to maximize your earning potential.
In my opinion, iPoll is really a platform that is best suited if you are always on the go. That way, you can just install the app and take the surveys anytime and anywhere you want.
Of course, you do have to ensure that you have an internet connection on your mobile device.
Who can join iPoll?
You have to at least be 18 years of age in order to join iPoll.
You also have to be a resident in one of the countries included in the photo below.

During the registration process, you have to provide truthful information as iPoll reserves the right to terminate your membership if they find that you provided any fraudulent information.
However, just be aware that in many countries iPoll has shut down. This is very strange as you can still see all the countries listed on their website but when you click to visit you are just told it is closed.
The only countries iPoll is still working in is the US, UK, and Canada.
It used to be open in all the countries you can see above but for some reason, they have not updated this section after they closed all those panels even though it is several years ago at the time of updating this review.
In order to sign up, you can visit their site and sign up from there or download the app and use it to sign up if you live in one of the countries mentioned above.
You can use your Facebook or LinkedIn account to sign up for iPoll. In fact, if you visit their site, there really isn't a sign-up button, just a login.
If you click the login button, it will ask you to log in via Facebook or LinkedIn.
Once iPoll sees that your Facebook or LinkedIn account has not been registered yet, it will ask you whether you want to sign up using any of the platforms.
From there, you just continue with the regular sign up process. A little confusing but now you know how it is done:-)
Can you get support?
The main issue with iPoll is that their site isn't well thought of. Sure it's pretty to look at, but the important things aren't as apparent as they should be, in my opinion.
Case and point is the Contact Us link. It is located way down on the bottom of the website. And once you click on the link, you will then be taken to their contact page.

From there, you will then see a toll free number you can use to contact them, as well as a button that says "Submit A Question" that you can click to (I assume) email them.
It is great that they even have a phone number and the mention they expect to get back to you within 24 hours if you submit a question.
It would just have been great if this info was a little easier to find and if their FAQ section had been more thorough as it is quite superficial.
Final Verdict
iPoll is a survey site that rewards you with cash or gift cards in exchange for taking their surveys.
They are definitely a legit site, but not without problems.
So let's finish this review with a summary of the pros and cons to help you make your decision.

Pros:
Payment via PayPal is available
Available in a lot of countries
Has a fun way to earn rewards

Cons:
Very high payment threshold
Limited support
Low rewards
The main issue with iPoll is that it has a very high payment threshold of $50. That means you have to answer a lot of surveys and do a lot of missions just to accumulate enough reward points to request for payment.
Although completing the missions available can be fun, there isn't really a lot of incentive to invest time in it, in my opinion.
There are just better sites that offer better rewards at a low payment threshold. So, I recommend you check the best survey sites in your country for better opportunities.
If you have any comments, questions, or have any experiences with iPoll yourself, I would love to hear from you in a comment below.