GrabFreeMoney is a newer Get-Paid-To (GPT) site that promises to pay you for completing offers and other activities.
Since it's fairly new GPT site, it is only logical that you be skeptical about joining it.
So, is GrabFreeMoney a scam? Or is it a legit opportunity to earn some money?
Let me just answer this question right away, so we can discuss the other important details of the site. For all intents and purposes, GrabFreeMoney is not a scam. It is a GPT site that does pay you for completing their offers.
But it being a worthwhile site to join is a different matter. To determine if this site is truly worth joining or not, we have to consider several things.
This GrabFreeMoney review will do just that. It will examine everything the site has to offer so you will know if you should join or not.
What is GrabFreeMoney and what does it offer?
As mentioned, GrabFreeMoney is a GPT site that will pay you for completing offers and other activities. It's owned by SEDOC LLC, a US-based game publishing company.
It offers several earning opportunities and in order to truly gauge if this site is worth joining or not, we need to take a closer look at how you will be able to earn from this site.
So, here are the earning opportunities they offer.
Option 1 – Offer Walls
One way for you to earn from GrabFreeMoney is by completing offers in their offer walls.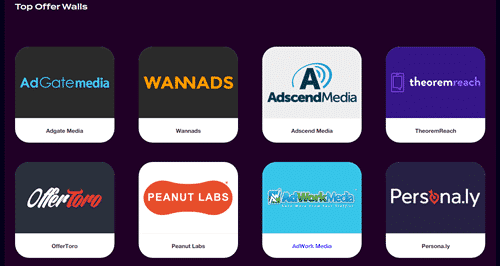 If you aren't familiar with offer walls, they are basically a list of sites that have paid offers. When you click any site, it will open up a new window listing all the paid offers you can do.
Each paid offer will ask you to do something and in return, you will receive a reward once you complete the offer.
Usually, a paid offer from an offer wall will ask you to either answer a survey, sign up to a website, download a mobile app, play a game or answer quizzes.
But regardless of what the paid offer will ask you to do, you have to keep in mind that each offer will have a set of instructions you need to follow.
This is very important. Because if you miss a step, you will wind up not completing the offer. Then, in turn, you won't receive the reward offered. So make sure to double-check the instructions each time you do an offer.
It does give access to quite a lot of paid offers but, in my experience, many of them pay less than on other similar sites.
So you need to also know how the other earning options are as the paid offers are not very efficient to take on GrabFreeMoney.
Option 2 – Play Games
Since GrabFreeMoney is owned by a game publishing company, it only makes sense that one of the earning opportunities they offer is playing games.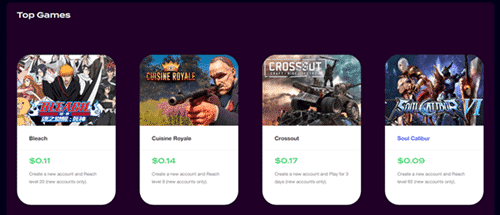 The games offered are all browser-based games, so you won't have to download anything. This, in my opinion, is a better option because it saves time.
In my experience, downloading game installers can take a pretty long time, especially if you don't have a very fast internet connection. This, at least, makes it more convenient for you to do since all you have to do is play on your browser.
Each game offer will have some requirements you need to meet before you will receive the reward. Usually, the requirement will be that you need to reach a certain level or play for a certain amount of time.
It can be a fun way to earn extra cash, but it won't be very efficient.
This is because the rewards you will get from these game offers won't really be anywhere close to significant. It takes a bit of time to meet the requirement needed to complete the offer.
Option 3 – GrabFreeMoney Coupons
You can also earn bonus rewards from coupons that GrabFreeMoney offers.

From time to time, they will post coupon codes on their social media groups and other places on the internet. When you redeem the coupon code, you will receive bonus rewards.
So, if you are planning to join their site, you can follow them on social media as well to get a chance to find these codes. Once you have found a coupon code, you just simply need to paste it in the field on their member dashboard.
However, from what I can see, it is not very often they post these coupons.
At the time of writing this review, I have not yet seen one being posted since the site was launched. And that is getting close to a year at the time of uådating this review.
Hopefully, they will start posting them soon, so it can be worth keeping an eye on. But you should just not expect too much from this though.
Option 4 – Referral Program
You can also earn additional rewards by inviting people to join GrabFreeMoney.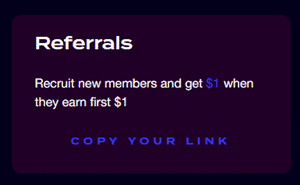 Their referral program is a bit more simple compared to other GPT sites. All you have to do is share your referral link with the person you want to invite.
Once they become a member of the site, you will then receive $1 as a reward once they earn their first $1.
It's fairly straightforward, in my opinion, but it isn't very rewarding.
Option 5 – Link Posting
GrabFreeMoney also offers link posting as a way for you to earn small rewards.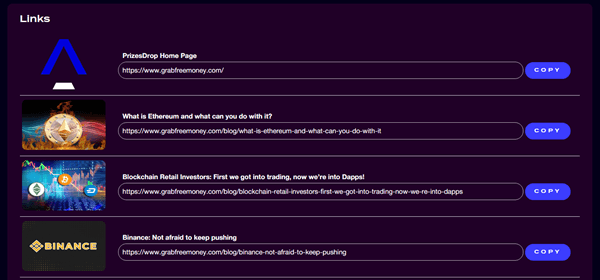 All you have to do is share any of the links they provide to any forum or game-related website. Once they validate that you've posted the link to the site, you will receive a reward ranging from $0.01 to $1.
Unfortunately, there isn't much information about how the reward system for this opportunity works (which is a recurring issue on their site that I will talk about next).
So that means you do not really know how much you will get for the work you do. So if you decide to use this earning method, I would suggest you start by only sharing one or two places and see how much you will earn by doing that and then decide if it will be worth it.
Just be careful when you share these links as many forums, groups, etc., will see this kind of posting as spam and you can end up getting blocked.
How do you get paid?
Every offer you complete on GrabFreeMoney will reward you with a certain amount in $.
You will need to accumulate at least $10 before you can start withdrawing your earnings.

But there is not much other information about the payout options.
The only other information about their payment system is that you can withdraw your money via PayPal, MasterCard, Visa, Skrill, bank transfer or PaySafeCard.
So they payout methods are pretty good but with the rewards you can earn on GrabFreeMoney, it can take some patience to get to the threshold.
How much money can you earn?
As with most GPT sites, the amount of money you can earn from GrabFreeMoney will purely depend on how active you are on the site.
The more offers you complete, the more money you will get. But in terms of earning potential, GrabFreeMoney doesn't really offer a lot, in my experience.
First and foremost, compared to other GPT sites like Swagbucks, they have limited earning opportunities offered. This will significantly affect the earning potential of the site.
Plus, the rewards you get for completing offers aren't really that significant. This means you will have to complete a lot of offers if you ever want to earn a significant amount of money.
So, all in all, GrabFreeMoney really has a low earning potential and pales in comparison to other GPT sites, in my opinion.
Can you use it on mobile?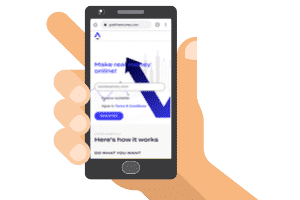 GrabFreeMoney's website is mobile-friendly. You will be able to navigate through the site with relative ease on a mobile device.
The only problem is, I don't really recommend you work on offers on your mobile device since you can only do it by accessing their site via a mobile web browser.
And when you do an offer, it will open up a lot of windows, which can be very troublesome if done on a mobile web browser.
Plus, you really can't work on the game offers because as you can see, the game will require you use a regular browser. So, this is not something you can do on a mobile device. That's why it is best to work on the site on a computer or a laptop.
Who can join GrabFreeMoney?
One good thing going for GrabFreeMoney is that it doesn't have a geographical restriction for joining. This means you can join the site regardless of where you live.

Their registration process is a bit confusing though. As you can see in the photo above, to register, you will have to provide an email address.
Once you click the Register button, you will then be taken directly to their member dashboard, which is quite weird in my opinion.
Usually, you will have to provide login details first before you can finish the registration process.
Although their process looks very simple from the start, you won't be able to log back in afterward because it will ask you to provide a password that you did not get the chance to provide.
It happened to me, but fortunately, I used my Gmail email address. So, I was able to log back in by clicking the Gmail button on the login window. So, in reality, their registration process isn't as seamless as you might think.
If you plan to sign up as a member by using a non-Gmail email address, you will have to set your password as soon as you are logged in to their member dashboard. You can access your account settings on your dashboard by clicking the gear button on the left-hand corner.
Another thing to note about their eligibility is, you have to be at least 18 years of age in order to sign up as a member if you wish to withdraw your earnings via PayPal.
Can you get support?
If you experience any issues with the site or want to ask a question, you can reach their customer support by clicking on the helpdesk button on their member dashboard (the one with the question mark icon).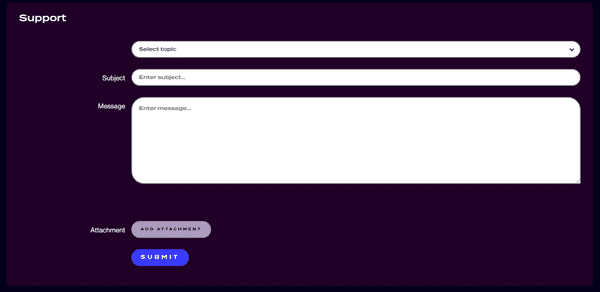 One thing I can say about how they provide support to their members is, it's a bit lacking. In my experience, GPT sites usually have an FAQ section that covers most of the basic questions you will have about the site.
But in this case, they don't have one, which isn't really a good thing.
You will have to resort to sending in your question via their contact form. In my opinion, they can minimize the volume of inquiries by simply providing an FAQ section that covers the most important topics.
But anyway, their support is still decent because they provide a method for you to get in touch with their support team.
Final Verdict
GrabFreeMoney is a legit GPT site that does pay you for completing offers and other activities. But it does have its disadvantages.
So let's finish this review by summing up its pros and cons to give you a clear idea of what the site has to offer before deciding if it is for you or not.

Pros:
Available globally
Offers a convenient payment method

Cons:
Limited earning opportunities
Low earning potential
The site lacks relevant information which significantly affects the user-experience
The main drawback of GrabFreeMoney is that it simply pales in comparison to other GPT sites today in terms of earning potential. There are limited earning opportunities, plus, the rewards you will get for completing offers are relatively low as well.
Their lack of transparency also doesn't help. In my opinion, you are better off spending your time joining other sites with better earning potential.
If you want to earn a decent amount of money, I suggest you check out the top GPT sites instead.
The GPT sites on this list all have good earning potential. Plus, these GPT sites are all transparent on what they have to offer.
If you have any comments, questions, or have any experiences with GrabFreeMoney yourself, I would love to hear from you in a comment below.