OpinionSite is a survey site that has existed for quite a while and it claims to pay you for completing surveys.
But is OpinionSite a scam or really a legit way to earn by sharing your opinions?
This is a logical question that you should ask before joining any survey site. To answer shortly, no OpinionSite is not a scam. It is a legit site that does what it claims to do, and it really pays you for completing their surveys.
But this doesn't necessarily mean this site is a good choice for earning a bit of money.
This OpinionSite review will reveal everything you need to know about the site so you can better gauge if this site is really for you or not.
So without further ado, let's proceed to the review.
What is OpinionSite and what does it offer?
OpinionSite, as mentioned, is a survey site that will pay you for answering the surveys they offer.
It has been around since 1997, which is a testament to its legitimacy. In my opinion, a survey site wouldn't last this long if it was a scam or wasn't doing something right.
OpinionSite.com is owned by Universal Survey, which is a market research company that backs small research panels.
This survey site actually has two panels you can join.
One is the medical professional panel, and the other one is the consumer panel. For the purposes of this review, we will talk about the consumer panel since it is the more common choice and the one that is the easiest to get access to.
To be able to understand the earning potential of this survey site, we have to take a closer look at how you will be able to earn.
That way, you will know what to expect if you decide to become a member. This is also a good way to evaluate if OpinionSite is really worth your time and effort.
The earning opportunity – OpinionSite surveys
The only way for you to earn from OpinionSite is by answering paid surveys.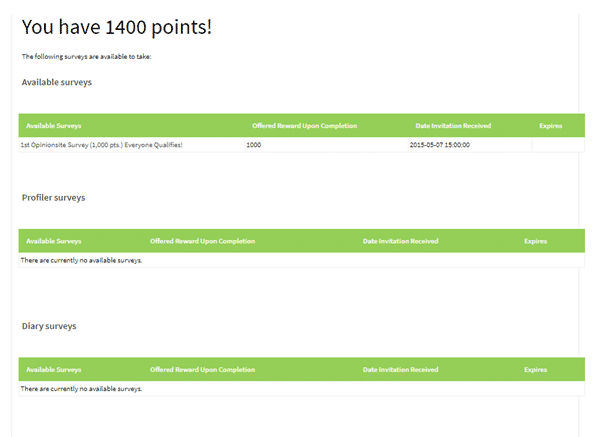 Once you finish registering to their consumer panel, you will be able to log in to their member dashboard (as shown in the photo above) and see all the available surveys you can take.
To earn rewards, you just have to click an available survey and answer all of the questions.
You do have to read the questions properly because from time to time, they will insert a question that checks if you are really reading the content and not just randomly clicking on answers. This is their form of quality check to ensure you are answering honestly.
What's good about the way they present the surveys you can take is, you will immediately see how many points you will get for completing the survey, as well as when the survey will expire.
Most of the good survey sites provide this type of information. This way, it will be easier for you to prioritize which surveys to take if you are strapped on time.
You can expect though that you won't always qualify for the surveys available to you.
As stated in their FAQ section, some surveys they offer are looking for a very specific group of people who meet a very narrow set of demographic or other criteria.
So even though you've already answered several questions and feel like you've earned the reward, but find out later that you are not qualified, don't be surprised.
This is how it works here as OpinionSite needs to make sure to get answers from people that really fit the criteria. The questions you answer at first are actually just pre-qualifying questions and not the actual survey.
If you then qualify, you get to the actual survey. But it will be more difficult to find surveys you qualify for on OpinionSite than on many other sites because they mostly are looking for a very specific demographic group depending on the survey.
As for the reward (which I will discuss next) you will get, it will be credited to your account right away. There is no waiting period before the rewards will be reflected in your account.
How do you get paid?
OpinionSite uses a point system for their rewards. For every survey you complete, you will be awarded points.
Once you reach 14,000 points (which is equivalent to $10), you can then start redeeming them for rewards.
This conversion ratio is not the easiest, but once you know it is fairly easy to figure out what you get for your points.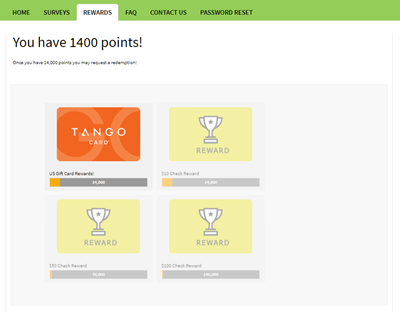 When you earned enough to get a payout OpinionSite has a few different rewards you can choose from.
You can either redeem your points for a Tango gift card, other electronic gift cards, or cash out via check, which will then be mailed to the address you provided during the registration.
If you are not familiar with Tango gift cards, it is an e-gift card you can exchange for a much more specific gift card like an Amazon, Best Buy, iTunes cards and a whole lot more. Think of it as a universal gift card that can be used in various online stores.
If you opt to cash out via check, don't expect to receive it right away. Keep in mind that it will be sent to you via postal mail. So, it will really take several days before you will receive your check.
In my opinion, this is a less convenient method of cashing out your rewards. But if you really need the cash, this is your only choice.
They also mention on their website that depending on the reward requested, it may take as little as 2 weeks or as many as 6-8 weeks.
So, as you can see, even if you choose the Tango gift card, there is no guarantee you will receive the reward right away.
This is expected though because they do have to process the reward you've requested. But in my opinion, 2 weeks is a bit of a long waiting period just to receive a reward.
If you are looking for survey sites that will allow you to cash out your rewards conveniently, I suggest you check out the top survey sites that pay through PayPal instead.
How much money can you make?
It is only natural to ask this question. After all, you are looking for extra income.
In terms of earning potential though, the amount of money you can make from OpinionSite will purely depend on how many survey invites you will get, how many actual surveys you complete and how many points you will get for each survey completed.
There is no mention on their website about how often you will receive survey invites. Based on feedback from other members as well though, the invites don't come very often. This is not surprising. In my experience, you will normally receive one to two invites per week.
That is the average number on many survey sites. So, you really can't expect to get to the payment threshold quickly.
They do mention on their website though that they try their very best to make sure the points you will get per survey completed won't be too low. Plus, you actually get a head start because once you finish registering, you will be awarded 1,400 points right away.
One good thing about OpinionSite though is, according to feedback from members, the disqualification rate for surveys aren't really high. So when you receive an invite, there's a high chance you will be able to receive rewards once you complete it.
Their relatively low payment threshold of $10 though is what makes it a viable choice if you are looking to earn quickly.
If you are interested in more survey sites that will allow you to earn money quickly, you can check out the fastest paying survey sites with low minimum payout.
Can you use it on mobile?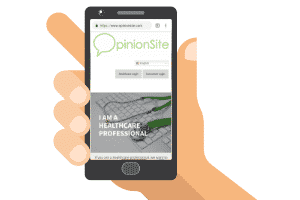 Being able to answer surveys on a mobile device will make you a much more efficient earner. So, it is important to check if you are able to do that with OpinionSite.
Based on the information presented on their website, you won't be able to download an OpinionSite app on your mobile device because they don't have one.
However, you will still be able to log in to their website using a mobile web browser.
The good news is, the mobile version of their website is optimized for mobile use. This means you will be able to read all the content properly without having to scroll left and right or zoom in and out.
When you log in to their member dashboard using a mobile web browser, you will also be able to see all the information properly. So, you can expect to answer the surveys using a mobile device.
This is a good thing because it allows you to complete surveys even when you are not in front of a computer. At least, you will be able to rack up points quicker that way.
Who can join OpinionSite?
Here's where it gets a bit confusing. They mention on the FAQ section of their site that anyone can join their consumer panel.
When you read this info, you automatically think that you will be able to register even when you are not a resident of the US.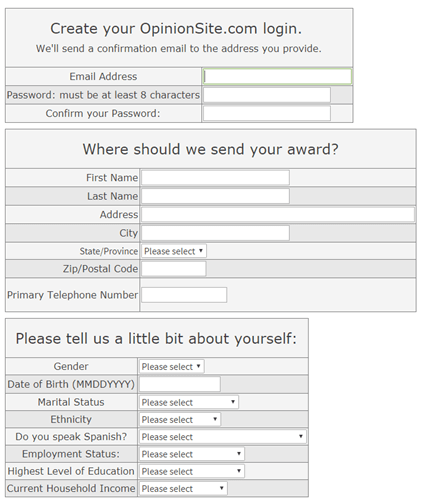 But, as you can see in the photo above, there is no field where you can choose a country. Plus, you will only be able to select states from the US in the state field.
What this means is, OpinionSite is only available to people living in the United States.
This kind of makes sense really, because as you already know when you request a check as payment, they will have to mail it to your address. It would be very impractical for them to mail a check overseas. The logistics can be a nightmare, not to mention the cost.
There is also no mention on their website about an age requirement for joining their consumer panel. Normally though, you will have to be at least 18 years of age to join a survey panel, unless the survey panel deals specifically with kids.
Overall, they should, in my opinion, really make sure they provide the right information on their website so as not to confuse potential members.
Can you get support?
One good way to measure the value of a survey site is to check the support they provide to their members.
And seeing as there seems to be a lack of providing the right information on their website, you will likely eventually have questions that need to be answered.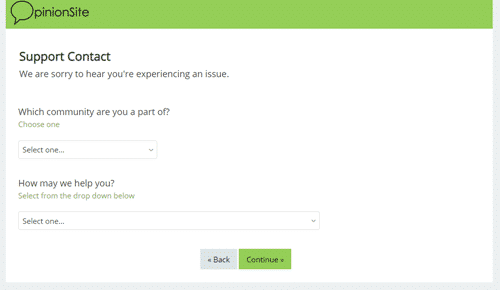 As you already know, they do have an FAQ section, but the information provided is either lacking or not accurate.
However, they also provide a contact page, which, in my opinion, is pretty well designed (as shown in the photo above).
You can use their contact page for any inquiries you have. What's good about their contact page is, you will be presented with several options for the topic you will be asking about. Not a lot of survey sites do this.
This makes the support structure more organized and actually, a lot easier on their end because they will be able to identify the problem a lot quicker. And when that happens, they will be able to help you resolve the issue a lot quicker.
It might seem like a small thing, but it can actually go a long way.
So, overall, they have a good support system in place, so you won't have to worry if ever you encounter any problems or have any questions.
Final Verdict
OpinionSite is a legit survey site that does pay you for answering their paid surveys. It does have its disadvantages though.
So let's finish this review with a summary of its pros and cons so you can better decide if this site is indeed for you or not.

Pros:
You can earn real money
Relatively low payment threshold
Good support system

Cons:
Payment via PayPal is not available
Relatively low earning potential
The website lacks accuracy in the information provided
So, even though you are able to earn real money from their offers, OpinionSite's earning potential pales in comparison to the best survey sites out there.
But, it can be a decent secondary site to earn from. Just don't expect to earn a lot from it. And, don't expect to receive your rewards quickly.
If you are interested in survey sites that will allow you to receive payments more conveniently and a lot faster, I suggest you check out the top survey sites in your country instead.
Most of the survey sites on this list will allow you to withdraw your earnings via PayPal.
Plus, they are all known to have good earning potential. Best of all, you will be able to find a site that will fit your needs regardless of where you live.
If you have any comments, questions, or have any experiences with OpinionSite yourself, I would love to hear from you in a comment below.