Joining a survey site is one of the easiest ways to earn extra cash online. You just have to answer a couple of surveys a day and you'll earn rewards.
But before you join a survey site, it is very important you join a legit site. Now, if you've encountered Octopus Group in your search for survey sites to join, you might be wondering if it is legit.
Let me address this issue right away so we can talk about other important details about the site. Yes, Octopus Group is a legit survey site that does pay you for answering surveys. In fact, it boasts that it is one of the highest paying survey sites in Australia.
This Octopus Group review will see if they put their money where their mouth is. It will reveal all the untold details you need to know about the site so you can decide if it is really worth joining or not.
What is Octopus Group and what does it offer?
Octopus Group promises to pay you for answering surveys. It is based in Australia and is exclusive to Australian and New Zealand residents. So, if you live outside of Australia or New Zealand, this site is not for you.
Here's a short video explaining a bit more about what the site offers:
They promise to provide a minimum survey rate of 28 cents/min for qualified and completed surveys.
That's a good rate, in my opinion. But in order to truly comprehend the earning potential of this survey site, we have to take a closer look at the earning opportunities it offers.
So, here's how you can earn from Octopus Group.
Option 1 – Paid surveys
The main method of earning from this site is by answering surveys. Once you join Octopus Group, you will be notified when you have been selected to participate in an online survey.
You will receive notifications via their app (I will talk about their app later) or email. You can also log into the website to view your available survey.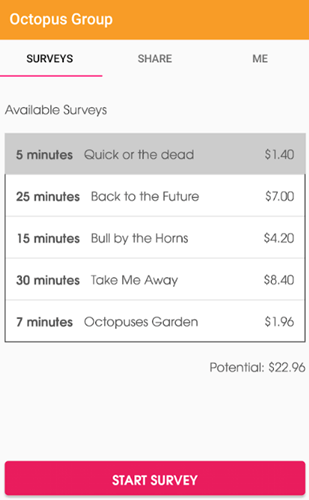 Every survey offer will tell you how long it will take to finish the survey and how much you earn when you complete it. If you've been a member of survey sites before, you'll know that answering surveys involve several steps.
When you click on a survey, it will first ask you several qualifying questions. This is done to determine if you belong to the demographic the survey is targeting. You don't really have a choice because this is the nature of every survey site.
If you qualify, then you get to answer the real survey. When you complete the survey, you will receive the reward promised. However, if you fail to qualify, you will still receive $0.20 as a sort of compensation for your time.
That, in my opinion, is a pretty good deal because you will still get something out of every survey.
Think of it this way, even if you don't qualify for a survey, you will still earn $1 for every five surveys you don't qualify for.
There aren't a lot of survey sites that compensate you for not qualifying for a survey.
However, one thing you need to be aware of when it comes to the Octopus Group surveys is that they are not just for this platform. You can take the exact same survey on many other Australian survey sites.
So if you are a member of several other sites and are happy with them, joining Octopus Group does not make much sense since it will then not give you access to more surveys.
Option 2 – Referral program
Another way to earn from Octopus Group is by inviting people to join the site.
Again, this type of earning opportunity is very common on online rewards sites. Here's a short video explaining what their referral program is all about:
The way their referral program works is, you will get $1 for every person you invite and successfully becomes a member of the site.
You can then earn $1 for every survey they complete up to 19 times. So, in total, you can earn $20 for every person you refer.
That's actually a pretty significant amount especially if the person you invited will remain active on the site.
You just need to be aware that even though this reward is pretty good, there is no guarantee you will get that much per friend. It all depends on how active your friend is and how many surveys he/she can even qualify for.
Overall, it is definitely a decent referral program but one thing it is missing compared to referral programs on a site like, for example, PrizeRebel, is that you will keep earning as long as your friend stays active.
When inviting people to join the site, you can just share your invite link on social media pages or you can give them your invite code.
So, make sure to remind them that they have to input your invite code during registration to ensure they become your referral.
How do you get paid?
Octopus Group doesn't use a point system, unlike some other survey sites.
In fact, they decided against using a point system because they feel that it hides the true value of your rewards – I actually agree with this and prefer when it is transparent and clear what you get right away.
So, they just reward you with cash right away. And if you don't want cash, you have the option to redeem gift cards instead.
When you reach their $20 threshold, you will be able to withdraw it directly to your savings account.
You just go to the redemptions section (which will only be available if you have more than $20 in your account). Then, enter the amount you wish to transfer to your bank account, your bank account details (bsb, account number) and press submit.
If all is successfully validated, you will be required to validate your request by sending an SMS from your registered mobile number.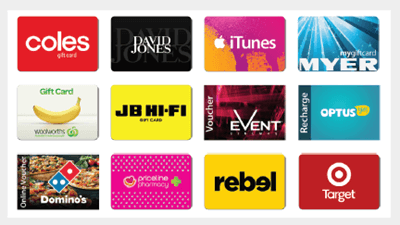 If you wish to redeem gift cards instead, there are plenty of gift cards to choose from. Just choose which gift card you want to redeem and select the value. Once the order has been processed, you will receive an email with a link to transfer your voucher into a store voucher.
All you have to do is choose the voucher you want to redeem and you will receive the e-voucher. You can then spend it online, bring it up on your phone, or print it out to show in stores.
I do like the fact that they offer cash rewards but it would have also been much more convenient if they offered payment via Paypal. That's because, in my opinion, this is the most convenient payment option available today.
And if you are interested in sites that pay via PayPal, I recommend you check out the top sites that pay via PayPal.
Overall, the payout methods and conditions on Octopus Group are definitely good. The only thing is that I wish the payout threshold had been a little lower.
But since they pay quite decently per survey, it still should not take too long to reach.
How much money can you make?
As you already know, Octopus Group has a relatively high payout threshold of $20. But it's not really very hard to reach because the site pays well.
So, they do put their money where their mouth is. In fact, it is one of the higher paying survey sites I've encountered. And as you already know, you will still receive a small compensation even if you don't qualify for a survey.
That actually matters a lot because if you think about it, even if you don't qualify for let's say five surveys, you will still earn $1.
You will typically earn around $1 to $10 for every survey you complete. That's a pretty significant amount. So, overall, I would say that you can earn a decent amount of money from this site especially if you qualify for a lot of surveys.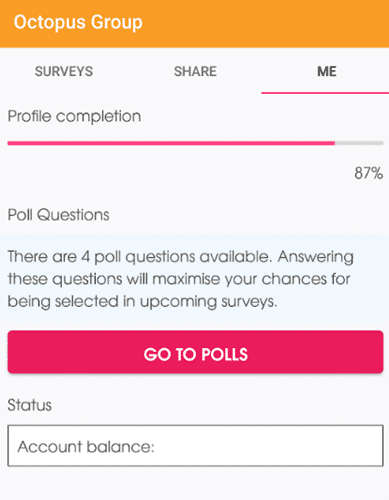 One more thing you can do to ensure that you maximize your earnings from this site is to answer all the polls they have.
Their polls will actually help you qualify for more surveys in the future. So, if you see a poll, make sure to answer it as soon as possible.
Can you use it on mobile?
As hinted in the earlier part of this review, Octopus Group has a mobile app you can use so you can answer surveys even when you are not in front of your computer.
The app is available for download on both Android and iOS app stores.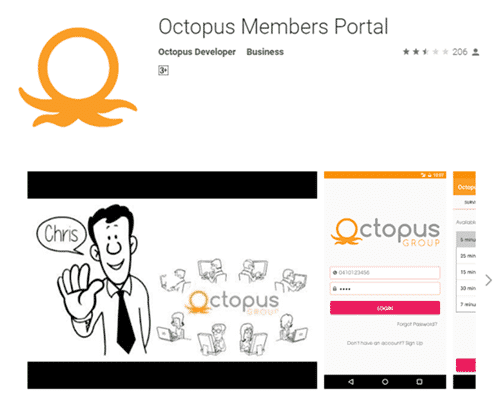 The good thing about their app is it is very user-friendly. They have designed the user interface really well because you won't have any problems navigating through the site even during the beginning. So, it does increase the usability of this app a lot.
And one more thing about the app, if you want to receive notifications for new surveys, you need to make sure the app is running.
So, if you close it, you won't receive any notifications, which is quite convenient because you won't be bothered with pesky notifications.
Who can join Octopus Group?
As explained earlier, Octopus Group is specific to Australia and New Zealand residents. So, if you don't live in any of the two countries mentioned, this site will be of no value to you.
If you are interested in more Australian survey sites, I recommend you check out the top survey sites in Australia and you can also check out the best sites in New Zealand here.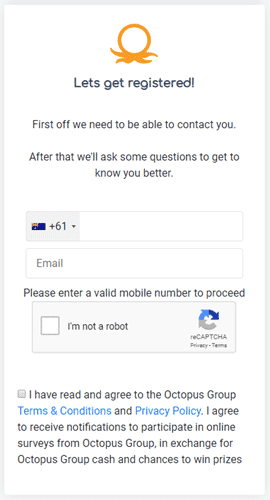 To register as a member, you simply have to fill out their registration form (refer to the image above).
Once you've done that, they will then email a verification link you need to click. Once you've clicked the verification link, you will then be asked to complete your profile.
During this process, they will send you an SMS to complete your registration. So, you will need your mobile phone with you during this time. You will need to click on the link provided in the SMS to confirm you are who you say you are.
Take note that you also have to be at least 18 years of age in order to become a member of Octopus Group.
Can you get support?
What impresses me the most about Octopus Group is how they provide support for their members. You can clearly tell that they make sure their members have access to all the information they need.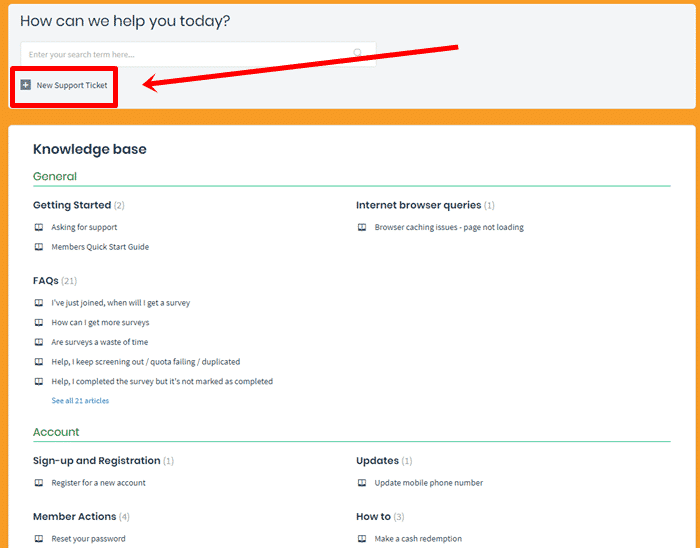 They have a comprehensive FAQ page that discusses most of the basic topics you need to know about the site. Aside from that, you have access to their Knowledge Base, which is a repository of the more common issues you will encounter on the site.
And if you can't resolve the issue you are experiencing, you can always submit a support ticket to request help from their support team.
I have been in contact with the support team myself with some questions and got quick replies.
So, overall, I would say that they do offer great support for their members.
Final Verdict
Octopus Group is a legit survey site that pays you for answering their surveys and inviting other people to join the site. It offers good features and a couple of limitations as well.
Let's finish this review by summarizing its pros and cons to help you decide if you should become a member or not.

Pros:
Their site and app are user-friendly
They pay well for each survey
You will receive a small compensation even if you don't qualify for a survey
Provides good ways to receive support

Cons:
Limited earning opportunities
High payout threshold
Payment via PayPal not available
Offers the same surveys as other sites
As you can see, Octopus Group is a great site to join if you want to earn extra cash. That is, of course, if you are eligible to join.
It pays well and it is very easy to use. Those are the main strengths of the site.
There are just a couple of minor drawbacks. One is it has a relatively high payout threshold. But as discussed, it pays fairly well per survey so it will not take too long to reach.
The other drawback is it doesn't offer payment via PayPal. You will still be able to receive cash through direct bank transfer though. So whether this is a problem or not really depends on personal preferences.
So, if you live in New Zealand or Australia, it can be worth checking out. You just need to be aware that it offers the same surveys as many other sites, so if you are already a happy member of other survey sites it might not be worth it.
You can also check out the top survey sites in your country if you want ideas for other great options no matter which country you live in.
The sites on this list also have good earning potential and offer plenty of earning opportunities.
If you have any comments, questions, or have any experiences with Octopus Group yourself, I would love to hear from you in a comment below.