Get-Paid.com, as the name implies, is a Get-Paid-To (GPT) site that promises to pay you for doing different online micro-tasks.
With all the GPT sites available today, you need to be wise about picking a site to join. You don't want to waste your time joining a site that won't allow you to spend your time efficiently.
So is Get-Paid.com legit and really a way to earn some extra cash online?
I'm going to answer this question right away. Yes, Get-Paid.com is a legit GPT site that does pay you for completing offers and other activities.
But is it worth joining? This Get-Paid.com review will show you what you need to know so you know exactly what to expect and can decide if it is worth investing your time into or not.
So, let's go right ahead and take a closer look at what this site can offer.
What is Get-Paid.com and what does it offer?
Get-Paid.com, as mentioned, is a GPT site that offers you the chance to earn by completing certain activities.
It has been around since 2005. That's quite a long time, in my opinion. This is a testament to its legitimacy.
Get-Paid.com offers several ways you can earn cash. Let's take a closer look at how you will be able to earn money from this site. This way, you can get a clear picture of its earning potential.
Option 1 – Paid Offers
As with all GPT sites, you will be able to earn by completing paid offers.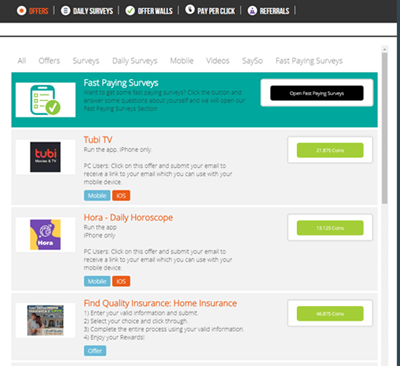 When you log in to their website, which you can do after you finish the registration process, you will be able to view all the available offers you can do by clicking on the Offers tab.
You will then see a list of offers you can do. Just pick one and click the Visit Offer button. You will then see the instructions for the offer.
Make sure you follow the instructions carefully to ensure you will earn the reward.
Most offers will either ask you to sign up to a website, play a game, answer a survey or quiz or install a software. These were the most common offers I saw on their site.
After you complete the offer, you will then receive the reward, which can then be used to redeem items or cash (I will discuss this later).
You also be able to find other paid offers when you go to the offerwalls section of their site.
So overall, Get-paid.com has quite a lot of paid offers. If you choose wisely, it can be a great way to boost your earnings as some of the offers definitely can be worth it.
Option 2 – Paid Surveys
You will also be able to earn rewards by completing surveys. This is another common opportunity you will see on GPT sites.
Get-Paid.com doesn't have its own surveys. They only act as a survey router. So, the surveys you will need to complete will be surveys from other sites.
This is not necessarily a bad thing, but you just need to know how it works.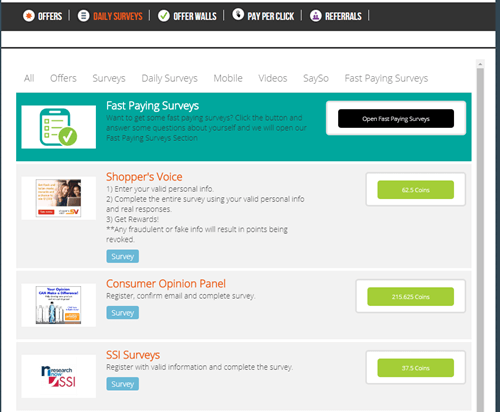 The survey offers will vary since they will all come from different sites. Some survey offers will ask you to provide your personal information before you can complete the survey. Other survey offers will ask you to register to the site first and then take a survey.
But regardless of what the offer wants you to do, the bottom line will be, you have to complete the survey before you will receive the reward.
And when it comes to survey offers, you won't always get to qualify for a survey. The process typically asks you several qualifying questions. If you qualify, you can then complete the actual survey.
If you don't qualify, you can simply move on to the next offer.
I must say that on Get-paid.com, I have, however, not found that many survey opportunities compared to many other GPT sites.
This might be because of the country I live in as the number of surveys will depend on this, so just be aware of this.
But you definitely can earn by taking surveys here, you just need to know that in some countries there will be fewer opportunities.
Option 3 – Business Cards
This earning opportunity is a bit unique. Basically, the premise is, you will have to input business card items like phone numbers, addresses and names of companies.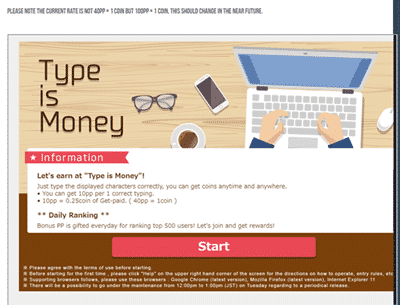 There is an app inside their member dashboard called Type Is Money (shown in the photo above). This is where you can enter the business card items.
There will be a tutorial before you can begin doing this opportunity. So, don't worry if you are not familiar with this because the tutorial will guide you to the whole process.
The important thing here is, you will be able to earn rewards when you get correct answers in Type is Money.
It will take some time before you can get the rewards, but in my opinion, this can be a fun way to earn some rewards and it is something I have not seen on any other GPT site.
But you will only get 10 PP (as they call it) for each correct task. This is the equaivalent of around $0.002 – so you would have to do around 500 correct tasks just to earn $1. So it is definitely not the most effective way to earn on Get-Paid.com
Option 4 – Pay Per Click
This earning opportunity is a lot similar to what you will encounter on Paid-To-Click sites.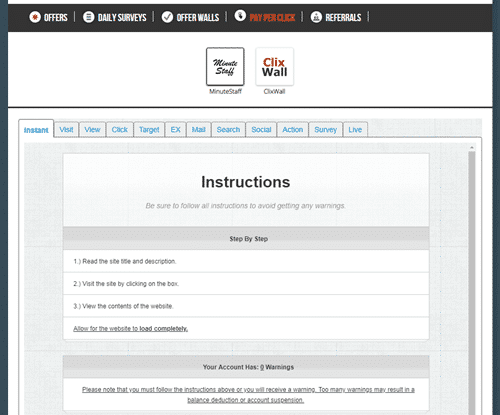 The only difference is, as you can see in the photo above, each offer will have a specific set of instructions, whereas, on Paid-To-Click sites, you simply have to click on ads to get the rewards.
But usually, you will be asked to visit a website and read the title and description. When doing this type of offer, you have to make sure you follow the instructions to the letter. Otherwise, you will receive a warning.
And when you've accumulated too many warnings, it may result in a balance deduction or account suspension. So, be careful when doing this earning opportunity.
It does not take long to do these tasks, but it is definitely not the fastest way to earn due to low rewards. So just be aware of this and do not expect to earn too much with the PPC option.
Option 5 – Referral Program
Another way to earn additional rewards is to invite people to join Get-Paid.com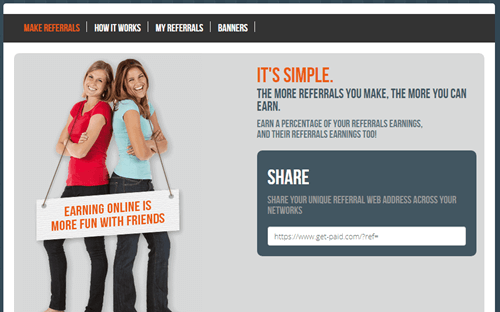 You can invite people to join the site in four ways. You can either post your invite link on your social media page, share your referral link, send an email invitation, or publish a referral banner on your site or blog.
You can then stand to earn up to 30% of your referral's earnings depending on your level on the site (I will discuss this later). You will also earn a certain percentage of your referral's referral.
The commission you will get from your referrals will not be deducted from their earnings. But instead, Get-Paid.com will pay it. So, your referrals won't have to worry their earnings will be deducted.
In my opinion, this is a good form of passive income, especially since you will get a boost on your commission the longer you become active on the site.
Of course, it will all depend on how active your referrals will be on the site.
Option 6 – Win Coins
This isn't really an earning opportunity per se since there is no guarantee you will earn from their contests and sweepstakes.
But, it is worth mentioning because the prizes are quite significant.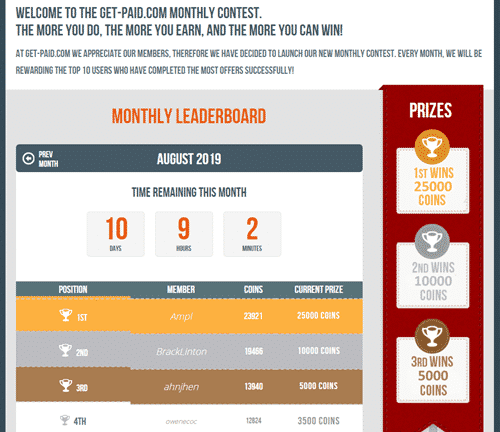 Get-Paid.com holds a monthly contest, as shown in the photo above. Basically, every member can join the contest. In order to win, you have to place among the top 10 earners of the site in a month.
So let's say for the month of June, you are the top earner on Get-Paid.com, you will win 25000 coins (which is the currency they use). The winner will be determined every after the end of the month.
It's a nice goal to set your eyes on, in my opinion. Because it can serve as motivation to keep earning on the site.
As for the sweepstakes, you can enter the monthly sweepstakes by purchasing an entry (which is worth 5 coins).
The winner for the month will be declared during the beginning of the next calendar month (which is usually during the first week).
The prize for their monthly sweepstakes is 10,000 coins. Only 1 winner will be declared each month so the chances of winning are not big. But if you are lucky, it can be a nice extra reward.
How do you get paid?
For each offer you complete on Get-Paid.com, you will receive coins as a reward. This is the currency they use.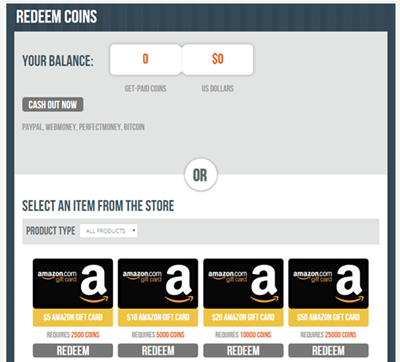 You can then use the coins you've accumulated to redeem a gift card or cash out via PayPal, WebMoney, PerfectMoney or Bitcoin.
To put it into perspective, 500 coins is worth $1. And what I like about Get-Paid.com's payment system is the payment threshold you need to reach is only $1 if you live in Australia, Canada or the US.
If you aren't a resident of those three countries, the minimum payment is even lower at $0.5. Whichever the case may be, the threshold is still quite low, which is good.
That means you can withdraw your earnings rather quickly. They also have a wide selection of gift cards you can choose from if you want to go that route.
Overall, I really like how they set up their payment system.
How much money can you make?
Of course, everything will be useless if you will not be able to earn a decent amount of money from the site.
With Get-Paid.com, the amount you will earn will actually depend on how active you are on the site. The good thing is, there are ways to boost your earnings.
As mentioned, every time you earn coins on Get-Paid.com, you will also earn experience that will help you level up on the platform. There are 9 levels in total.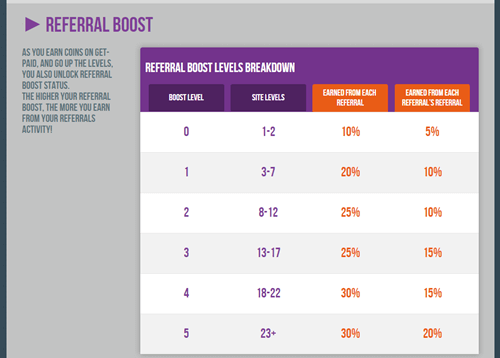 When you reach the level requirement (shown in the photo above), you will be able to unlock a referral boost. This basically increases the commission you will get from your referral and your referral's referral.
So, you will be able to earn more as time goes by, which is pretty nice, in my opinion. This can significantly boost your earnings, provided of course, your referrals remain active on the site.
Overall, this GPT has decent earning potential if you just choose the tasks you do carefully – and the best thing is, you will be able to withdraw your earnings pretty quickly.
If you like sites that allow you to withdraw your earnings quickly, I also advise you to check out the fastest paying survey sites. The sites on this list also all have low minimum payout requirements.
Can you use it on mobile?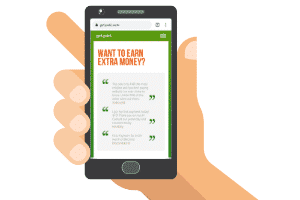 Get-Paid.com doesn't mention any app you can download on your mobile device so you can work on offers even when you are not in front of your computer.
However, you will be able to access their website on a mobile device using a mobile web browser. Plus, you will be able to view all the content without having zoom in or scroll left and right.
That is the good thing about a site that is optimized for mobile use. You will be able to conveniently navigate through the site and even work on offers.
This also helps you become a more efficient earner because you don't need to sit in front of the computer to earn rewards.
You can simply do offers while you are traveling, standing in line or during your lunch break. You get the drift.
Who can join Get-Paid.com?
Another thing I like about Get-Paid.com is, there seems to be no region restriction in terms who can join.
Although they do not specifically mention this on their website, it is already implied, because they won't ask you for your address during registration.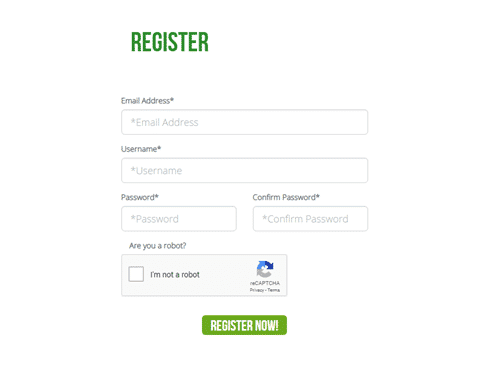 To register as a member, you simply need to fill out the form shown in the photo above. You can also sign up using your Facebook account, which is pretty nice, in my opinion.
Once you complete the registration form, you just have to confirm your membership by clicking the activation link in the email that will be sent to you. After you do that, you can start completing offers.
Can you get support?
Get-Paid.com also provides decent support for their members. They have an FAQ section that covers most of the common topics about the site.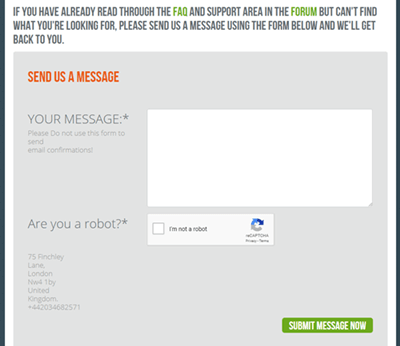 You can also use their contact form if you have questions that were not answered by their FAQ section.
If you are not willing to wait for their reply, you can try looking for the answer in their forum. There are plenty of topics discussed in their forum.
They also have a Facebook and Twitter page you can visit. Their Facebook page is much more active than their Twitter page. So, if you want to contact them, I suggest you try their Facebook page.
However, even though their FB page post very often, it is not really relevant to paid offers or surveys but more just inspirational quotes.
A bit strange, in my opinion, but it might still be a way to contact them even though I would suggest using their contact form.
But all in all, they offer decent ways for you to get support, which is a good sign. That means they put an effort to make sure you get the best experience possible when using their site.
Final Verdict
Get-Paid.com is a legit GPT site that will pay you for completing the offers they provide. It has several good qualities and some flaws as well.
So let's finish this review with a summary of its pros and cons to give you a better overview before deciding if it is for you or not.

Pros:
Has several earning opportunities
Offers several payment methods
Low payment threshold
Open to all countries

Cons:
Relatively low earning potential
Some earning opportunities are a bit complicated
Not as user-friendly as many other GPT sites
As you can see, in general, Get-Paid.com is a decent site to become a member of. It has several earning opportunities and convenient payment methods.
The only thing I can say is, you will have to invest a significant amount of time in order to earn a significant amount of money but you definitely can earn some extra cash here.
You will also have to be careful when doing some of the offers (specifically the Pay Per Click ones) because it can lead to balance deduction or worse, account suspension, when not done properly.
Overall, even though it is a decent site, there just are many better GPT sites that will help you earn more effectively, in my experience.
The sites on this list are all known to have good earning potential and in most cases a lot better than Get-Paid.com.
If you have any comments, questions, or have any experiences with Get-Paid.com yourself, I would love to hear from you in a comment below.