Joining an online rewards site can be an easy way to earn extra cash. This is, of course, only if you join a legit one.
adBTC is one of the online rewards sites that promises to reward you for completing small online tasks.
But is adBTC legit and one of the good options, or a scam to stay away from?
That is important to know before joining any online rewards portal, and there are plenty of factors you need to consider when deciding whether to join a GPT (Get-Paid-To) site or not.
This adBTC review will examine all those factors and give you an inside look so you can easily decide if you should register as a member or not.
What is adBTC and what does it offer?
adBTC.top, as mentioned above, is a GPT (Get-Paid-To) site that will reward you mostly for visiting other sites. The BTC, in its name, stands for Bitcoin.
There are a few different sites with the same name, but just different website addresses – the one this review is about is adbtc.top.
And as you can probably guess, you will mainly be able to earn Bitcoins from this site even though it has also introduced one more payout method since I first tested the site (more about this later).
To be able to truly gauge the earning potential of adBTC, we first have to examine how you will be able to earn from this site. So, here are the ways you can earn from adBTC.
Option 1 – Surf ads
The surf ads opportunity might sound like what you would encounter on a Paid-To-Click site. But it is actually slightly different.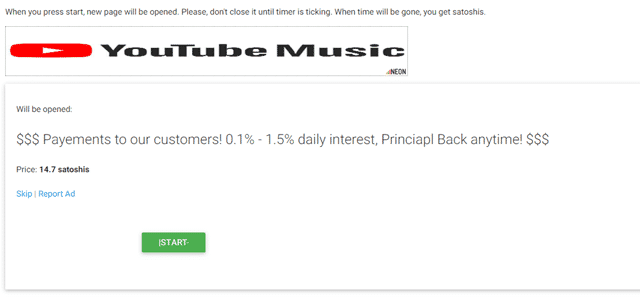 What happens is, when you decide to surf ads, you have to go to the surf ads section and start viewing ads. When you click the start button, a new window will appear, displaying the ad.
There will then be a countdown on the previous window indicating when you can stop viewing the ad.
Once the countdown is done, you can close the window and then click the start button for the next ad.
You can keep doing this until there are no more ads to view. The dashboard will also inform you of how many ads are left and how many rewards you can still earn.
It's ok to view other windows while the countdown is running as long as the window for the ad isn't closed.
You won't earn much from this earning opportunity, but it doesn't take too much effort, which is nice, in my opinion.
Option 2 – Active window surfing
This earning opportunity is similar to surfing ads, with one slight difference.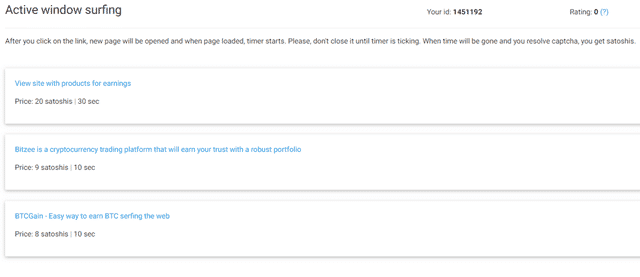 When you surf ads, you can view other windows without stopping the timer. With active window surfing, the timer will stop if you go to another window or tab, hence the name.
To earn the reward, you have to stay on the tab or window until the timer finishes. You also have to complete a captcha to earn the reward for each offer.
Option 3 – Auto surfing
By far, this is the most convenient earning opportunity they offer.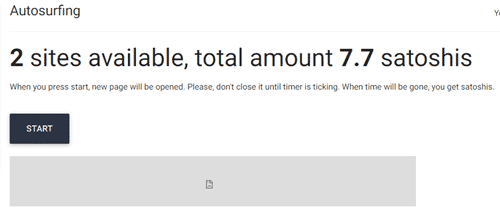 All you have to do is click the start button and wait for it to finish. What happens is, it will open up a new window displaying the site you need to visit. There will still be a timer running.
But as the name suggests, it will proceed automatically to the next site once the timer for the current site finishes. You don't have to click anything else. All you have to do is wait for it to finish.
And the good thing is that you can browse other windows or tabs while all of that is happening.
Again, even though this might seem like a very easy way to earn, you need to be aware that it is NOT a fast way to earn as the rewards are very small.
Option 4 – Referral program
You will also be able to invite people to join the site and become a member. And in return, you will earn a percentage of what they will earn from the site.

For every person you invite to become a member of adBTC, you stand to earn 10% of their surfing earnings. Of course, adBTC will shoulder that and not your referral.
To invite a person, all you have to do is share your referral link with them, or you can embed your referral banner to your website (if you have any).
There is no guarantee you will earn from referring people to the site because it will all depend on whether your referral will continue to be active on the site or not.
However, it is a nice bonus to have since it doesn't really take too much effort to do. But it is still not as easy as it might sound, as you need to invite A LOT of friends to earn anything of real value.
Recommended: Check Out The Top GPT Sites
How do you get paid?
For every site you visit or ad you click, you will earn what is called "satoshis". This is the currency they are using on their site.
If you are not familiar with satoshis, it is actually the smallest unit of the bitcoin currency. As of the writing of this article, $1 is equivalent to around 13,300 satoshis.
You can withdraw the satoshis you've earned via Faucethub, a bitcoin micropayment platform. Or you can choose to send it to your bitcoin address.
Alternatively, you can also get paid into your Payeer account.
You also have the choice to convert it to your advertising balance. Your advertising balance can be used to pay for advertising fees on the site.
Yes, you do have the option to advertise your own site and links on adBTC. But that is a whole different story.
I will not go further into the advertising aspect here but if you are interested in this option just make sure you are aware that most people are not really interested in looking at the site you promote there – they just want to get paid to visit it.
So it is not easy to get anything out of the advertising option there, in my opinion.
But back to the payout methods – You do not need to accumulate a certain number of satoshis to withdraw it. You can withdraw your earnings anytime you want.
Of course, you have to make sure you withdraw enough satoshis so you will still receive something because Faucethub and other Bitcoin payment platforms do charge a certain fee for processing every transaction.
So, I don't recommend you withdraw your earnings right away because you might end up not receiving anything. I suggest you withdraw when you've reached a significant amount.
How much money can you make?
As you can see, you will be earning Bitcoins instead of real money. But for some, this can be considered real money as well.
However, don't expect to earn much from adBTC. To put it into perspective, $1 is worth around 13,000 satoshis. Each ad you click or site you visit will allow you to earn around 10 to 40 satoshis.
That's how little it pays. Although you can argue that you don't really need to do a whole lot to earn, the point is that you will have to visit hundreds of these sites just to earn $1.
And considering that each site you visit will require a certain amount of time, it will take a long time to earn a decent amount from this site.
So, overall, adBTC really presents low earning potential. You will have to invest a lot of time to earn a significant amount.
If you are looking for the best sites to earn Bitcoins, I suggest you check out the top survey sites to earn Bitcoins.
Can you use it on mobile?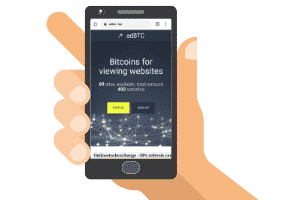 adBTC doesn't have a standalone mobile app you can download, so you can work on the site even when you are not in front of the computer.
However, you will be able to access the site with your mobile device using a mobile web browser.
The good thing is that their site is mobile-friendly. So you won't really have a hard time navigating through the site. Plus, when you are doing the earning opportunities of adBTC, it doesn't open up as many windows as PTC sites do.
So, it is certainly doable to work on the site on your mobile device, in my opinion. This is one of the better qualities of the site because it allows you to become a much more efficient earner.
Who can join adBTC?
adBTC is available globally. You will be able to register as a member regardless of where you live.
You do have to be at least 18 years old or older to participate (due to most Bitcoin exchanges mandate a minimum age of 18).

To register as a member, all you need to do is provide your email address, password, and most importantly, your Bitcoin address. If you don't have one, then you need to get one first before you can register as a member.
As you can see, this site is not for everybody because if you have no plans of having a Bitcoin account, then there's no point really in joining this site.
It would be a bit impractical to create a Bitcoin account in a Bitcoin micropayment platform just to join this site, in my opinion.
Can you get support?
adBTC doesn't have a contact form you can use to send in your inquiry.
However, you will be able to email them support@adbtc.top if you have any questions about the site or if you are experiencing any issues with the site.
They have an FAQ section but it doesn't cover a lot of the common topics you will encounter on the site.
Overall, even though they do offer a way for you to contact their support team, they could stand to benefit more by putting more effort into how they provide support for their members, in my opinion.
Final Verdict
adBTC is a GPT site that does pay you in Bitcoins for surfing sites and ads. It has some merits but it also has its limitations.
So let's finish this review with a list of its pros and cons to give you an overview of what the site has to offer so you can better decide if you should register or not.

Pros:
Earning opportunities are easy to do
Simple registration process (if you have a Bitcoin account)

Cons:
Low rewards
Limited payment methods available
Limited ways of getting support
The only merit of adBTC is that it isn't hard to earn rewards from it. Earning is very easy. The problem is, they don't pay you much.
It will take quite a lot of time just to accumulate a significant amount of money.
Plus, the fact that it only pays in Bitcoins makes it a less versatile GPT site. There are simply better choices to earn a few extra bucks.
But if you don't mind earning in Bitcoins, it can be a decent site to join because the earning opportunities are quite straightforward and not complicated.
But if you are looking to earn a decent amount of extra money, I recommend you check out the top survey and GPT sites in your country instead.
The sites on this list offer several payment methods, and they all have good earning potential. Plus, you will surely find a site that is a good fit for you regardless of where you live.
If you have any comments, questions, or have any experiences with adBTC yourself, I would love to hear from you in a comment below.