Nothing beats the convenience of earning extra money from survey sites. They are relatively simple to use and doesn't require too much of your time. Of course, it will only become profitable for you if you join a good survey site.
But you won't actually know if a survey site is good or not without testing it or finding more in-depth info about it. This article will help you learn all you need to know about a site called Hawaii Panel before joining it.
Hawaii Panel is a survey site that promises to pay you for answering surveys. But is it a legit survey site though? And if it is, is it worth joining or not? The good thing about Hawaii Panel is it is definitely a legit survey site. It does pay you for answering surveys.
But this alone doesn't really tell you if the site offers a good way for you to earn extra money. To figure out if the site offers a good way to earn extra cash, we have to check out a few things first.
This Hawaii Panel review will give you an inside look to see what the site has to offer so you can decide if it is worth joining or not. So, let's get cracking.
What is Hawaii Panel and what does it offer?
Hawaii Panel is a very simple survey site that pays you for answering their surveys. I say simple because this survey site has no frills.
You answer surveys and you get paid. That's about it. From time to time, they also offer other opportunities.
Now, to accurately get a picture of how well you can earn from this site, we have to take a closer look at the earning opportunities it offers. So, here's how you can earn from Hawaii Panel.
Option 1 – Paid surveys
As mentioned, the main earning opportunity this site offers is paid surveys. The unique thing about the surveys you will receive is, it will all be about Hawaii or any product/service that impacts Hawaii.
So, if you are a resident of Hawaii, this is one way to have your opinion heard.
When you become a member, you will receive invites for surveys via email. You can also log in to the site and view available surveys. Each survey will have a corresponding reward which you will get once it is completed.
When you take a survey, you will first have to answer a set of qualifying questions so they can determine if you belong to the demographic the survey is intended for. If you qualify, you will proceed to the actual survey. If you don't qualify, then the process ends with you not getting anything.
Option 2 – Research projects
They don't elaborate much on this earning opportunity but we do know you will be able to participate in focus groups. From time to time, the site holds focus groups online or in-person.

When you register to the site, you will be asked if you are interested in joining focus groups (refer to the photo above). If you choose "Yes", you will have to provide your phone number because that will be how they will contact you for focus group opportunities.
For in-person focus groups or interviews, it is usually done in a specific location. In Hawaii Panel's case, it will be done in their office which is located in Honolulu.
In my experience, usually, the only people invited to participate in these opportunities are those who live near their facility.
So, if you don't live in Honolulu, don't expect to get invited to participate in in-person focus groups, which is unfortunate because focus groups usually pay a significant amount, in my experience.
Option 3 – Referral program
You can also invite other people to join the site and earn additional rewards.
Their referral program is also relatively simple. When the person you invite successfully registers to the site, both you and your referral will receive 100 points each.

That's it. There are no other conditions you need to meet to receive the bonus points. You can invite them by sending them an email using the invite tool on their website.
The site will then automatically generate an invite email once you provide the email address of the person you want to invite.
That's how simple their referral program is.
How do you get paid?
Every online survey you complete will earn you a certain number of points. You can then exchange the points for specific rewards if you reach the threshold.
If you want to redeem cash, you will need to earn 500 points which is equivalent to $5. You can then withdraw it via PayPal.
If you opt to redeem Amazon gift cards instead, you will need 1000 points. That will allow you to redeem an Amazon gift card worth $10.
For iTunes gift cards, it costs more at 2500 points and it is worth $25. But overall, I do like the fact that they offer PayPal as a payment option because, in my opinion, it is the most convenient payment method around.
If you are interested in more sites that pay via PayPal, I suggest you check out the top sites that pay via PayPal.
How much money can you make?
The amount of money you can make from a survey site will mostly depend on how many surveys you can complete on it. If you are able to complete a lot of surveys, then you will naturally earn more.
But unfortunately, you really can't expect to earn a lot from Hawaii Panel. You will usually only receive around one survey per quarter. So, that's four surveys per year. And each survey will reward you around 25 to 100 points.
If you are lucky, you will receive 500 points for a survey, which in my experience, rarely ever happens. That's why I would say the earning potential of this survey site is very low.
The real value this site provides is helping shape your community by sharing your opinion about things that can affect your area. That's about the only reason I can think of to warrant joining this survey site.
If you are in it for the money, the only way you can earn a significant amount from this site is if you get invited to participate in focus groups or interviews.
But if you want to earn online, then your time will be better spent joining other sites that offer better earning potential.
Can you use it on mobile?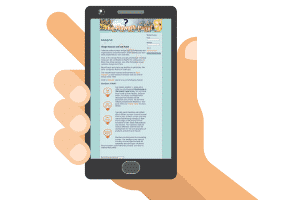 Hawaii Panel doesn't have a mobile app you can download but you will be able to access their site from a mobile device using a web browser.
You will have to keep on zooming in though to read the content properly because their site is not optimized for mobile use.
And in my opinion, due to the type of earning opportunities the site offers, there's really no need to use your mobile device. Surveys are few and far between so you won't really find yourself needing to log in to the site that often.
Who can join Hawaii Panel?
As the name suggests, Hawaii Panel is only available for residents of Hawaii. If you live somewhere else, then this site is not for you.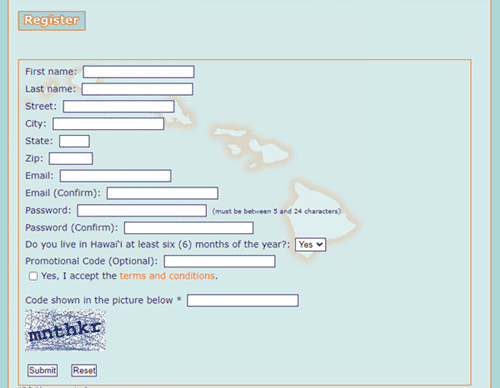 To register as a member, you have to be at least 14 years of age or older. But if you want to get paid via PayPal, you need to be at least 18 years old or older. The registration form will gather your basic information.
Once you've submitted it, you will then be sent a confirmation email and you will have to click on the activation link to complete your registration.
Once you do that, you will have to answer several profile questions including whether or not you are willing to participate in research projects.
Once you've finished the profile questions, you can log in to the site and check if there are available surveys to answer.
Can you get support?
Their site has an FAQ page that discusses the most important topics you need to know about the site, even the technical aspects. So, if you have any questions, I suggest you check out their FAQ page first before attempting to contact their support team.
If you still can't find what you are looking for, then you can send their support team an email or use the contact form provided on their site.
You can also choose to call them on the phone number they provided on their contact page.
Overall, I would say that Hawaii Panel has got the support covered. It offers a convenient way for you go get in touch with them.
Final Verdict
Hawaii Panel is a legit survey site that definitely pays you for answering surveys. It has a couple of good qualities but it is also pretty limited in several ways.
Let me end this review with a summary of its pros and cons to give you a better overview of what the site has to offer so you can decide if you should join or not.

Pros:
Low payout threshold
Offers payment via PayPal
Cons:

Limited earning opportunities offered
Very low earning potential
If you are looking to earn extra cash online and you live in Hawaii, I will be blunt with you. Hawaii Panel is not the best site to join. The only real value I can see that this site offers is you will be able to help shape your community when you participate in their surveys.
So, if your goal is helping your community, then you should join Hawaii Panel. But if you just want to earn extra cash, then you are better off joining other survey sites with better earning potential.
That's because they don't have a lot of surveys to offer so you reaching their low threshold will take a lot of time. For a list of higher-paying sites, I recommend you check out the top survey sites in your country instead.
The sites on this list all offer several earning opportunities you can do on a regular basis. Plus, you will be able to find a site you can join regardless of where you live.
If you have any comments, questions, or have any experiences with Hawaii Panel yourself, I would love to hear from you in a comment below.