IRI Shopper Panel is one of the more unique online rewards sites you can join.
If you are interested in joining this panel, the first thing on your mind is to verify if it's legit or not. So, is IRI Shopper Panel legit or a scam?
Let me just tell you right away that IRI Shopper Panel is a legit panel that will reward you for completing certain activities.
But is it worth your time though? This IRI Shopper Panel review will show you everything you need to know about the site so you can determine if it is indeed worth signing up for or not.
So, let's go ahead and take a closer look at this online rewards site.
Disclosure: Some articles on this website contain affiliate/sponsored links. Click for more info.
What is IRI Shopper Panel and what does it offer?
IRI Shopper Panel is quite unique because it is a shopping panel where you can use their app to earn rewards.
You will be able to earn rewards simply by doing your regular shopping.
Now, let's check out how you will be able to earn from this app so you can get a clear picture of its earning potential and if it will be worth it.
The earning opportunity – Scan Barcodes
Earning rewards on IRI Shopper Panel is pretty simple. You don't have to answer any surveys or complete offers.
Here's a video of how the app works. It's not as detailed but it perfectly illustrates how you will be able to earn rewards from IRI Shopper Panel and then I will explain the details below:
As you can see, all you have to do is download their mobile app (I will discuss this later) and install it on your mobile phone.
Alternatively, you can choose to receive a handheld scanner to use but, in my opinion, using the app is a lot more convenient than remembering to carry a handheld scanner around when you go shopping.
You likely have your mobile (and thereby the IRI Shopper app) on you most of the time which means you will be able to participate more often which gives you better earning opportunities.
Once you've installed the app, you can then begin earning rewards. When you go shopping or do your grocery shopping, all you have to do is open the app and scan the barcodes of the products you will be buying.
You can do this no matter what type of shops you go to so no matter your shopping habits, you will be able to participate.
The app uses your mobile phone's camera to scan the barcode, so it's pretty easy. You can also do this, for products you've bought from online stores.
Just scan the barcode using the app once you receive your package and then hit the Transmit button to send the data to their servers.
This data will then be gathered anonymously and combined with data from all the other IRI Shopper Panel members and used as market research to help manufacturers and retailers to improve their products.
You will then receive a certain number of points every week that they receive purchasing data from you. So, if you want to earn points on a regular basis, make sure you scan at least on a weekly basis.
Other than that, there are no demands for how often you have to scan to participate. But the more you participate, the more you will earn (more about this later).
How do you get paid?
As mentioned, IRI Shopper Panel will award you with reward points every week you scan barcodes.
Aside from the points awarded, you will also be able to earn entries into a variety of monthly prize draws where you can win gift cards.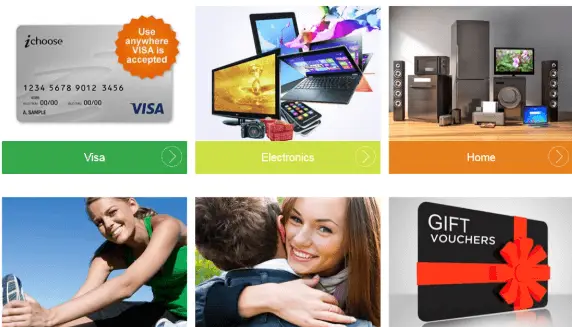 You can then use the points you've accumulated to redeem rewards (shown in the photo above). You can choose to get paid in gift cards, products, or cash by getting a Prepaid Visa card.
There is no mention on their site about a specific threshold you need to reach in order to redeem rewards.
So it all depends on the reward you choose to get – but I have seen rewards starting at around $25 so usually, this is what you as a minimum need to earn to be able to get your earnings out.
Gift cards usually take 15 business days to be processed and sent out. All other gifts take 4 weeks. So the processing is not the fastest but if you order the gift cards it does not take too long.
What I like about this app is, you basically get rewarded for doing something you usually do, which is to shop. You don't have to make any drastic changes. Just shop like you normally do and get rewarded in return.
How much money can you earn?
If you were expecting to earn real money from IRI Shopper Panel, you will be disappointed. The closest thing to real money you can earn on this app is gift cards.
Although for some, this can be as good as real money too, especially if you opt to exchange your points for iChoose Visa Giftcards, which can be used to pay for online purchases.
The rewards you can redeem are also quite useful (cash, iPads, activity trackers, and various gift cards), in my opinion.
For the contests, you will have the chance to win $50 and $100 gift cards. So, it's quite a significant amount, as well.
The number of points you will receive per week will usually depend on how many barcodes you've scanned and sent. Basically, the more barcodes you scan, the more points you will earn.
So, if you shop on a weekly basis, you will receive more points. Plus, they will award you with a $20 Flexi gift card bonus for scanning barcodes for 6 consecutive weeks. That's a good bonus, in my opinion.
Can you use it on mobile?
The answer to this question is YES! In fact, you can more or less only use it on mobile unless you choose to use the handheld scanner.
As you already know, scanning barcodes will involve using the camera of your mobile phone.
You do have to make sure your mobile phone or tablet has a stable internet connection because you will need it to transmit the data you've collected (barcodes) to their servers.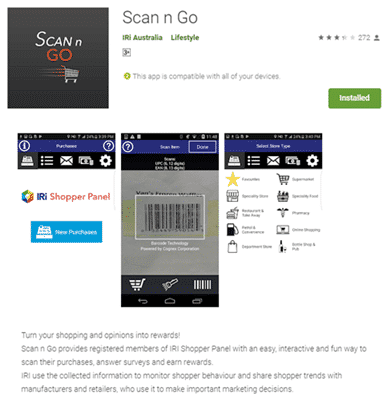 The mobile app you will have to download is called Scan N Go. You can download it from the PlayStore or Apple App Store. The app doesn't work on HTC and Windows phones.
For iOS devices, your device must have a camera and should be running on iOS8.3 or above. For Android devices, it should also have a camera and should be running on OS5.0 or above.
Navigating through the mobile app is also pretty simple because it has an intuitive user interface, in my opinion.
So, before you register and become a member, make sure you have an Android or iOS mobile device with an internet connection.
Who can join IRI Shopper Panel?
This mobile app is only available for residents of Australia. If you live outside of Australia, becoming a member is pretty useless. That's the first and foremost requirement.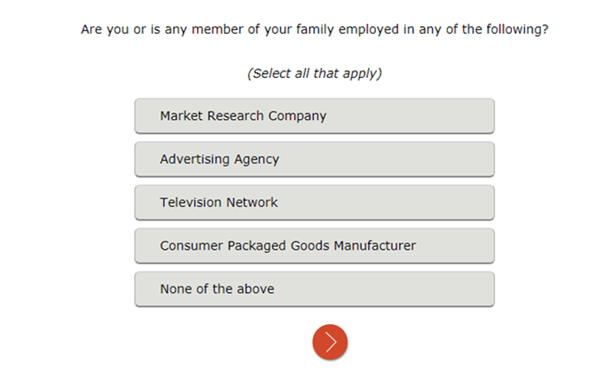 When you register to the site, you will have to answer a survey. It's a relatively short survey which will take at most, 10 minutes to complete. Make sure to answer the survey honestly.
After you've finished the survey, you will receive a confirmation email containing your login details. All you have to do next is to download the mobile app and install it on your mobile device.
You also have to be at least 18 years old to join their panel.
Can you get support?
IRI Shopper Panel's website has an FAQ section you can use for basic questions.
However, if you want to contact their support team via their website, you will be able to do so using their contact form.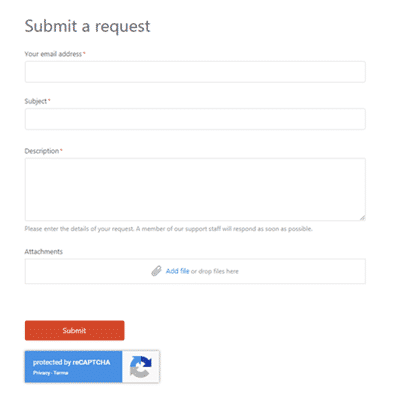 It's hard to find the link to their contact form though. You will have to click on the small question mark icon on the upper right-hand corner of their site to get to the support section of their site.
Once you are on the support page, you can submit a request, and then you will be redirected to the contact form (shown in the photo above).
You can also visit their Facebook page and try to get a hold of their support team from there. Their page is pretty active, but I would suggest you still use their contact form if you have any questions.
Final Verdict
IRI Shopper Panel is a legit online rewards site that will reward you for scanning barcodes. It's a pretty fun app to use and earn rewards. However, it does have its drawbacks.
So let's finish this review with a summary of its pros and cons to better help you decide if it is indeed a good fit for you or not.

Pros:
Very easy way of earning rewards
Mobile app is user-friendly
Great selection of rewards

Cons:
Payment processing is a bit slow
It takes a bit of patience to earn
IRI Shopper Panel is a good online rewards site to join as long as you live in Australia. It will allow you to earn cool rewards simply by doing what you normally do, which is to shop.
But if you live outside of Australia, I would suggest you check out the top survey apps instead.
You will be able to find an app that you can use regardless of where you live. Plus, all the apps have decent earning potential.
How to join IRI Shopper Panel?
As already mentioned, it is quite easy and fast to register. You just click the button below that will take you to the registration form.
Once you have confirmed your email, you need to answer the registration survey and then you will be able to get started within a few minutes.
If you have any comments, questions, or have any experiences IRI Shopper Panel yourself, I would love to hear from you in a comment below.