Cashew is an app that claims you can earn money by answering fun surveys. Over the years, I have tested hundreds of survey apps, so I know that not all of them are worth your time.
So, the question now is, is it legit or a scam? And if it is legit, is it worth it?
All these questions will be answered by this Cashew app review. It will reveal all the details you need to know about Cashew so you will know what to expect before you even install this app.
Then you will be able to identify if this app is really worth your time or not. So let's go ahead and take a look at Cashew, shall we?
What is Cashew, and what does it offer?
Cashew is a survey app that will let you earn by answering surveys. It is indeed a legit app since you will really be able to earn money from the surveys you complete. However, this doesn't automatically mean the app is worth using.
To figure out if you should download and install it, you must first understand how the app works. The only way to do that is to examine the earning opportunities it offers so you will have a clear idea of how much time and effort is needed to earn from it.
So here's how to earn from Cashew.
Option 1 – Paid Surveys
The primary way to earn from Cashew is by answering surveys. When you log in to the app, you will immediately see all the available surveys you can answer. Just take note that these surveys will come from their partner survey providers, and they don't really have their own surveys.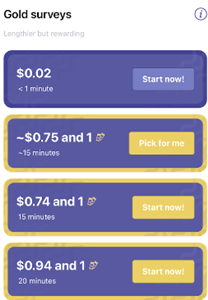 To start earning, just pick a survey you want to answer and press it. You'll then be taken to the qualifying step, where you'll have to answer a set of qualifying questions. Survey sites and apps do this to make sure the answers they will get are really relevant.
If you qualify, you get to answer the actual survey questions. If you fail to qualify, you just have to move on to the next available survey. If you are able to complete the survey, you will receive the reward promised, which will be a certain amount. It will be credited to your Cashew account balance.
Later, I will discuss how you will get paid. While I was testing the app, there were a decent number of surveys available. However, you must also keep in mind that you will not always qualify for the surveys offered, so this doesn't automatically mean you'll be able to earn a good amount from this app. Later, I will also talk about Cashew's earning potential.
Option 2 – Missions
Another way you can earn is by completing missions. These missions are categorized into Daily, Weekly, Monthly, and Lifetime.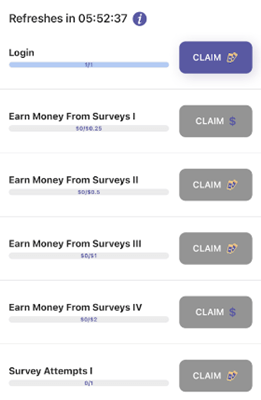 Most missions will ask you to answer a certain number of surveys, which is what you are supposed to do if you join this app, so you don't really have to do anything special to earn from this opportunity. You just have to be an active member.
You can consider the rewards you will earn from this opportunity as a bonus.
Option 3 – Referral Program
Lastly, you can earn rewards through Cashew's referral program. All you have to do is invite other people to sign up as a member of the app.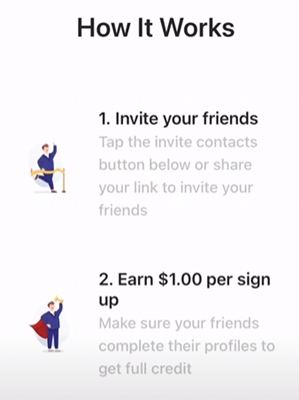 You can do so by sharing your invite link with the person you want to invite. When they click the link, install the app, and sign up as a member, they will become your referral. However, they must complete their profile first for you to receive the reward, which will be $1.
It's a simple requirement to meet, so you will be able to easily earn from this opportunity. You can also help your referrals earn more since the program has a feature that will allow you to boost the earnings of your referrals.
But overall, it's not really a great opportunity to earn from, in my opinion, and later, you will understand why.
Recommended: Check Out the Best Survey Apps
How do you get paid?
As explained above, you will earn a certain amount from the earning opportunities Cashew offers, and they will be credited to your Cashew account balance. But how can you withdraw your earnings then?
Well, once you've earned at least $5, you'll be able to withdraw your earnings via PayPal, Venmo, or Cash App. For PayPal withdrawals, expect to receive your earnings within 5 to 10 minutes, which is quite a fast turnaround.
For the other payment options, it will take around one to three business days. Overall, I would say the payment system of Cashew is relatively simple. I like the fact that it offers a convenient payment method like PayPal.
If you are interested in more apps and sites that provide a convenient payment method, I recommend you also check out the top sites that pay via PayPal.
How much money can you make?
The amount you can earn from Cashew will depend on how many surveys you can complete. As mentioned earlier, it offers a decent number of surveys at any given time. However, you have to remember that you will not always qualify for every survey you attempt to answer.
Plus, each survey will only usually pay you around $0.20 to $0.50 when completed. This is a low rate, in my opinion, so you will have to answer a lot of surveys just to reach the threshold to withdraw your earnings.
As for its referral program, the reward is actually quite generous, in my opinion, but the problem is that personally, this isn't really an app that I'd be willing to promote to my friends. And the reason for that is because of the low earning potential this app offers.
You will have to invest a significant amount of time just to earn a decent amount from it. Your time will be better spent on apps or sites that will let you earn efficiently.
Can you use it on a desktop?
Cashew is a mobile-only app, so you will definitely need to use a mobile device to earn from it. Fortunately, the app is available for both Android and iOS users.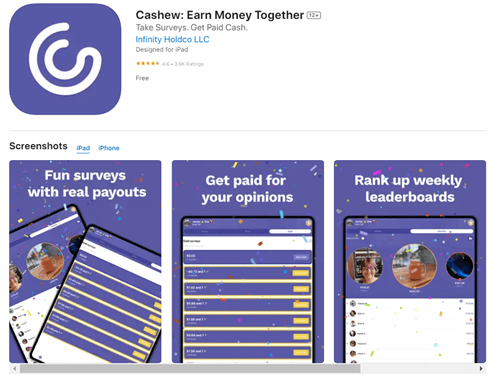 It is relatively user-friendly, so you will easily get used to it. You also won't encounter any annoying pop-up ads while using it, which is a good thing. The overall user experience it offers is quite decent, in my opinion, which is all you can ask for from a survey app.
Who can join Cashew?
Cashew is only available in the US, so if you live somewhere else, then this app is not for you. You also have to be at least 13 years old to sign up as a member.
To become a member of Cashew, you must first install the app. Then, when you open the app for the first time, it will take you to the registration step. Just follow the instructions on how to sign up to become a member.
Once you are done with the registration, you can log in to the app and complete your profile. For this, you will have to answer a survey which will also reward you, albeit quite a small amount. When you are done with this profile survey, you will be able to start answering surveys to earn.
Can you get support?
If you have any questions about the app or your account, you can check out the FAQ section of the app's website. You can also check out the Help section inside the app.
If you can't find the answers you are looking for, you can open the app and go to the Feedback & Support section to submit your inquiry. Overall, I would say the app does provide the minimum required support to its members since it offers a convenient way for you to ask for assistance.
Final Thoughts
Cashew is a legit survey app that will let you earn by answering surveys. It has a couple of decent features, but it also has a few limitations you need to consider.
Let me wrap up this review by summarizing its pros and cons to give you an overview of what it has to offer. Then you can decide if it is truly worth it or not.

Pros:
Offers payment via PayPal
The app is user-friendly

Cons:
Low rewards
Limited earning opportunities offered
In my opinion, Cashew is not an app that is worth your time. Its earning potential is simply too low. It will take you quite a bit of time to earn a decent amount from it.
You are better off investing your time in apps or sites that pay well. That way, you'll be able to earn efficiently.
For a list of sites and apps that have higher earning potential, I recommend you check out the top survey and GPT sites in your country instead. The sites and apps on this list all have good earning potential so you don't have to invest a lot of time to earn a decent amount.
Plus, you will definitely be able to find a site you can join regardless of where you live.
If you have any comments, questions, or experiences with Cashew, I would love to hear from you in a comment below.