SquishyCash is a Get-Paid-To (GPT) site that promises to pay you for doing different online micro-tasks.
But is SquishyCash legit or a scam to stay away from?
With so many GPT sites out there, you have to make sure you choose the right one to join in order to maximize your time.
And let me just reveal right away that it definitely is a legit GPT site that does what it promises. But this doesn't mean becoming a member is a good idea.
You must first get a clear picture of what this site has to offer before you can decide. This SquishyCash review will help you do that.
You will learn all the details so you will know exactly what to expect and can easily find out if it will be worth your time.
So, let's proceed, shall we?
What is SquishyCash and what does it offer?
SquishyCash.com, as mentioned above, is a GPT site that will pay you for completing offers, among other things.
It has been around for more than 14 years, which is a testament to its legitimacy.
However, to be able to properly understand if it will be worth it, we have to take a closer look at how you will be able to earn from this site.
I have made a video that gives you an inside look and shows the earning opportunities of SquishyCash and exactly how it works. You can also read all the details below the video.
Click to Check Out The Best GPT Sites
Option 1 – Paid Offers
One of the main ways to earn on SquishyCash is by completing paid offers.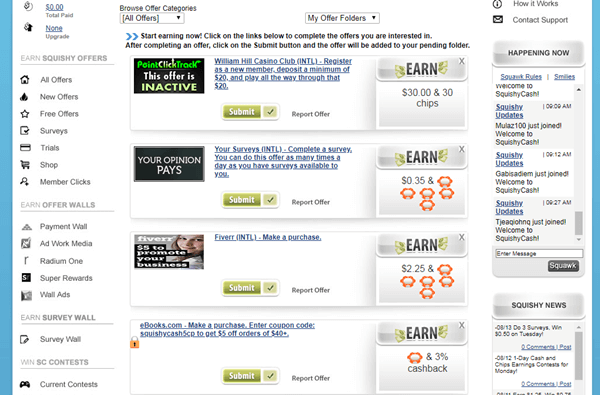 Once you finish the registration process, you can log in to their member's dashboard and view all the available offers.
These paid offers will ask you to do various things. Usually, it will ask you to sign up to a website and complete a specific requirement. Other times, it will ask you to make a purchase.
Once you complete the offer, you will receive the reward promised (which will be displayed right beside the offer).
The offers available every day will vary and so will the rewards. Typically, the more things you need to do to complete the offer, the higher the reward you will get.
The most important thing to remember when doing paid offers is, you have to make sure you follow the instructions to the letter. This way, you will receive the reward promised.
The good thing about paid offers is, there will always be offers you can do every day. This ensures that you get to accumulate rewards every day.
Some offers on SquishyCash have quite good rewards and it can be a great way to boost your earnings.
Just make sure to look carefully before taking any of these offers as not all of them will be worth it but the offer section can definitely be worth checking out.
However, it does not really have any special offers you can not find on other GPT sites also.
Option 2 – Paid Surveys
You can also complete surveys in order to earn more rewards.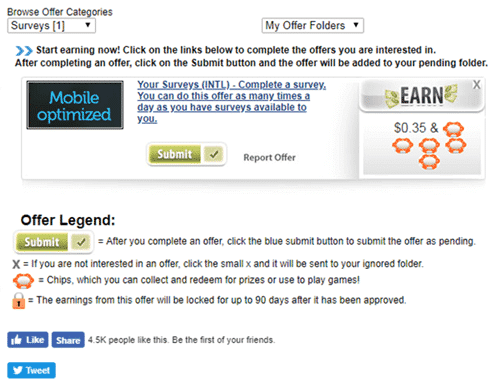 You can see all the available surveys you can take once you log in to the dashboard. The paid surveys they offer won't come from them. Instead, it will come from other sites.
So, in reality, they only act as a survey router. They don't actually make their own surveys. This does not make it a bad option and many GPT sites do it this way. I just mentioned this so you understand how it works.
When you click on a survey, it will redirect you to a different survey site.
Then, you just take any survey available on the site. Once you complete a survey, you will then receive the reward promised into your SquishyCash account.
Some of the offers can be done more than once, as long as there are available surveys on the site you were redirected to.
The reward you get from doing these surveys though is not among the highest ones I have seen.
Option 3 – Trial Offers
Another way to earn rewards is by doing trial offers. The premise to this earning opportunity is, you have to sign up for the trial and complete it before you will earn the reward promised.
Keep in mind that some trial offers will ask you to provide your credit card information.
Normally, what happens is, when you sign up for the trial, you won't necessarily have to pay using your credit card. But you do have to provide your credit card information.
Now, this is the most important thing. You have to take note of when the trial offer expires. Because what happens is, if you exceed the trial period, the website will automatically deduct the fee to your credit card.
Of course, if you decline the offer before the trial period expires, you can avoid paying for the fee. This is how it works with free trial offers. Complete the trial before the trial period ends and receive the reward.
When you sign up for the trial, you will get to try products and services during the trial period.
You are not obligated to keep the trial past the trial end date. When you complete the offers, you will earn daily, weekly, and monthly contest bonuses on top of your offer earnings.
So it can be a nice way to earn some fairly easy money, but you just have to make sure to cancel before it will turn into a paid subscription.
Option 4 – Cashback Offers
You will also be able to earn rewards by shopping online. SquishyCash offers cashback rewards if you shop from one of their partner sites.
All you have to do is make a purchase by clicking the link in the Shopping wall. Once you complete the purchase, you will then receive the reward promised by SquishyCash.
You do have to shell out your own money in order to receive rewards. So, in effect, you won't really be earning. Instead, you are only able to save a few dollars.
This is a good opportunity if you frequently shop online. But if you don't, then you won't find this opportunity rewarding.
If you are interested in sites like this though, you can check out the top cashback websites instead. The sites on this list give better cashback options than SquishyCash, in my opinion.
Option 5 – Clicks
This type of earning opportunity is usually found in Paid-To-Click (PTC) sites.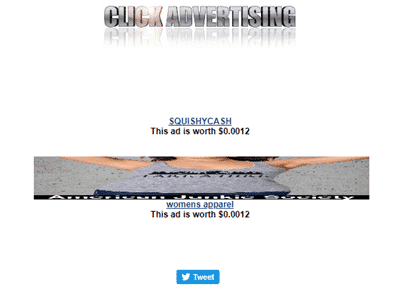 SquishyCash also allows you to earn small rewards by clicking on ads. If you are already familiar with how PTC sites work, this will be quite easy for you.
All you have to do is click an ad offer and view it for several seconds. Once it tells you that you've completed the offer, you can then close the window.
You won't receive a lot from doing these offers, but then again, it only requires minimal effort.
Option 6 – Contests
You can join contests to have a chance at winning significant rewards.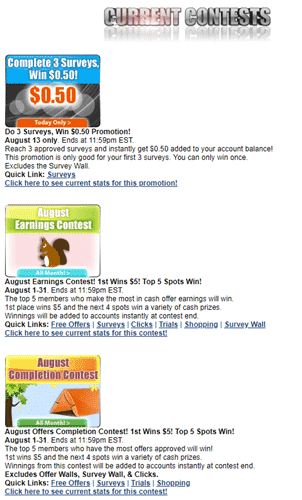 As you can see in the photo above, most of the contests will revolve around the activities you can do on the website.
Most of the contests will pit you with other members of SquishyCash, while some will just ask you to complete a specific set of tasks.
It's not really a reliable way to earn. You can think of it as a bonus for doing what you are supposed to be doing on the website in the first place.
Option 7 – Referral Program
SquishyCash also allows you to refer friends to their website and in return, you will receive rewards.
You can refer people in 2 different ways. You can either share your referral link or you can embed your referral banner on your website (if you have one) so that each person who clicks the banner and signs up on SquishyCash will become your referral.
You will instantly earn $1 for every referral you make if they become active. Plus, you stand to earn 25% of your direct referral's earnings.
If your referral also makes a referral, you can earn from their earnings as well. You get to earn a percentage of their income up to 5 levels down.
Take note that the percentage you will earn will not be deducted from your referral's income. SquishyCash will shoulder that amount.
In my opinion, this is a pretty good referral program system. It allows you to have passive income, which is pretty nice.
Click to Check Out The Best GPT Sites
How do you get paid?
Now that you know how to earn from SquishyCash, the next thing you need to be aware of is how you will get paid.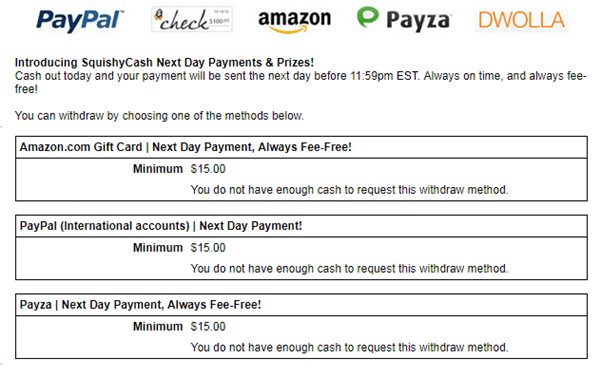 As shown in the photo above, there are several ways you can get paid.
Most of the offers you can do on the site will reward you with a specific amount in dollars. Once you reach $15 (which is relatively low but it could be lower) in your balance, you can then request for payment.
You can withdraw your earnings either via PayPal or Payza. You can also choose to convert your earnings into Amazon gift cards.
What I like about their payment system is, when you request your payment today, they guarantee you will receive it the next day before 11:59 pm EST.
And, there won't be fees incurred, unlike some of the other GPT sites where they charge you with a transaction fee.
Overall, they have a good payment system…
If you are looking for sites that will allow you to earn rather quickly, I suggest you check out the fastest paying survey sites.
How much money can you make?
The answer to this question will solely depend on how active you are on the site. Of course, the more offers you complete, the more earnings you will accumulate.
The good thing about SquishyCash is, there will more or less always be offers you can do. So, you are guaranteed to earn, even if just a bit, every day.
Plus, if you have plenty of referrals and they are pretty active, you can get to the payment threshold quite quickly.
Some of their offers will also reward you with chips, which you can use to convert into cash, which further hastens the process of reaching the $15 threshold. To put it into perspective, 1 chip is equivalent to $0.01.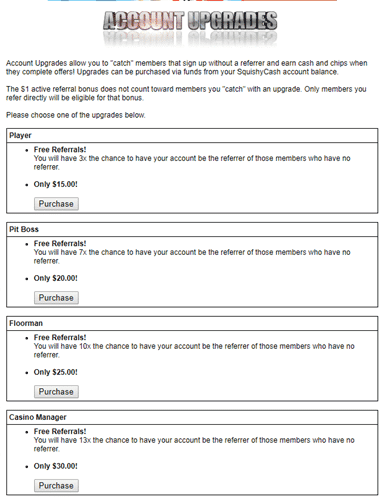 They also have a membership upgrade that will allow you to enjoy a couple of benefits.
The logic is pretty simple. If you avail of the upgrade, you will be able to "catch" (which is the term they use) members that sign up without being referred.
They will then become your referral, which, as you already know, will allow you to earn a percentage of their income.
There are 6 upgrades to choose from and each upgrade will allow you to have more chances of "catching" new members.
The more chances of "catching" new members, the more expensive the upgrade is.
The good thing about this upgrade is, you can only pay for it using your account balance on SquishyCash. You won't really be forced to spend your own money.
Overall, SquishyCash has decent earning potential, but you have to be careful when purchasing the membership upgrade. Because it isn't a guarantee that you will earn more money.
Also, it does not really offer anything special and the design of the website is very old-fashioned which definitely affects the usability.
It is simply just not as pleasant to use as the more modern sites, in my opinion. And I have been testing it on and off for several years and they have done nothing to improve this, which is not a great sign.
Can you use it on mobile?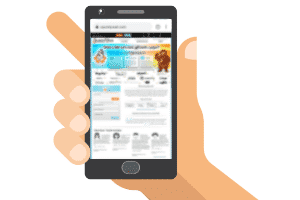 There is no mention on their website about a SquishyCash app you can download on your mobile device.
So, the only way for you to work on offers on your mobile device is by accessing their website using a mobile web browser.
The problem is, the mobile version of their website is not optimized for mobile use. This means you won't be able to read all the content without having to zoom in.
In my opinion, their website is a bit outdated because usually, most of the GPT sites today are already optimized for mobile use since they understand that more and more people are preferring to work on offers on their mobile devices.
So, if you are hoping to work on offers on your mobile device, you will be disappointed with this site. It's not impossible though, but it is pretty inconvenient.
If you want to work on offers, I suggest you do it on a computer.
Who can join SquishyCash?
What I like about SquishyCash is that anyone can join it regardless of where YOU live.
It is important to note though that the availability of offers will vary from country to country.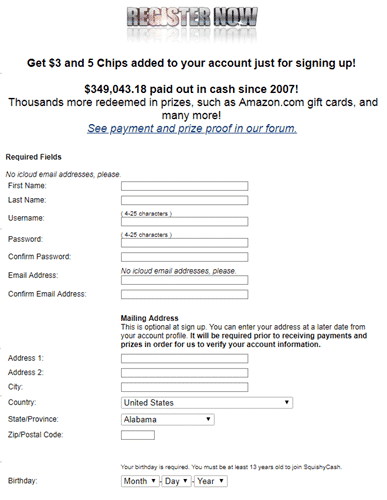 Their registration process is pretty simple. You simply fill out the form shown in the photo above and you are good to go.
They don't mention any age requirement, but since they are using PayPal and Payza as their payment gateway, you have to meet the age requirement of those sites to receive your payment.
They also mention during the registration process that only one account per household is allowed.
So, if you have other members in your household who are also interested in becoming a member, you have to decide which one will join.
Also, once you complete the registration, you will receive a sign-up bonus worth $3 and 5 chips, which is pretty nice.
Can you get support?
Another thing I like about SquishyCash is the way they handle support.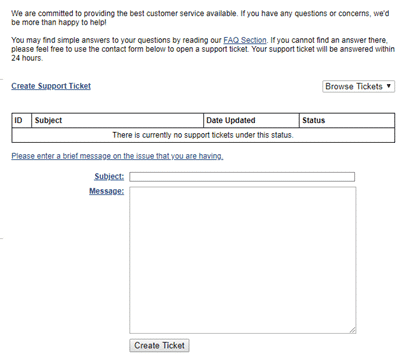 You will be able to create a support ticket, which, in my opinion, is a better system because it allows you to track the progress of the question you sent.
They also have a pretty detailed FAQ section that deals with the most common questions you will encounter on the site.
Plus, they have a forum you can participate in. It is a very useful tool because it can help you resolve issues you are encountering on the site without having to resort to sending a support ticket.
Another thing worth mentioning is, they have a Facebook and Twitter page you can visit and both are pretty active. So, if you prefer to contact them through those platforms, you can do so.
Overall, they have a pretty great support system in place, which is good because it shows they really care about their members.
Final Verdict
SquishyCash is a legit GPT site that will pay you for completing their offers and other activities. It is a decent GPT site but it does have its flaws.
Here's a summary of its pros and cons to help you decide if it is indeed a good fit for you or not.

Pros:
Several earning opportunities offered
Payment via PayPal is available
Anyone can join

Cons:
Payment threshold could be lower
Site is not optimized for mobile use
Very old-fashioned design of website
As you can see, SquishyCash can be a way to earn a bit extra.
However, the payment threshold could be lower and you will most likely have to work on offers on a computer. The main issue this site has, in my opinion, is that is just not very user-friendly compared to many other GPT sites because the design is so outdated.
Therefore, I would instead recommend you check out the top GPT sites here.
The GPT sites on this list are all known to provide good earning potential. Plus, you will be able to find sites that will allow you to work on offers on a mobile device conveniently.
If you have any comments, questions, or have any experiences with SquishyCash yourself, I would love to hear from you in a comment below.