Hagen Sinclair is a survey site that claims to reward you with money for completing surveys.
But is Hagen Sinclair legit and really a way to get paid to share your opinion or a scam to stay away from?
To save time, let me just tell you right away, yes, Hagen Sinclair is a legit survey site.
Now, of course, this doesn't automatically mean you should sign up right away. You have to figure out if becoming a member is actually worth it or not.
This Hagen Sinclair review will tell you what you need to know and exactly what you get so you can decide if this survey site is for you or not.
What is Hagen Sinclair and what does it offer?
Hagen Sinclair, as mentioned, is a survey site that will reward you with money for completing the surveys they offer.
This market research company has been around since 2001. Its longevity is proof that it is a legit site that delivers what it promises.
They are a straightforward market research company. So you can expect only one way for you to earn from them.
So let's take a closer look at how you can earn from Hagen Sinclair.
The earning opportunity – Paid Surveys
As I've mentioned, they are a pretty straightforward survey site. After you finish the registration process, you will be eligible to answer the surveys.
What's unique about Hagen Sinclair is, it doesn't have a member dashboard. Normally, survey sites have a dashboard where you log in and then view all the available surveys.
They don't do that. They simply email the surveys you are qualified to take. The downside with this system is, you will have to check your email from time to time if there are available surveys you can take.
If you don't like receiving emails like this, then, unfortunately, this site isn't for you.
From time to time, they may also call you to do surveys over the phone. So don't be surprised if you receive a call from them.
Also, on their Facebook page, they regularly offer you to apply for in-home surveys and more if you live in certain areas.
Normally, with this kind of system though, you have to make sure you answer the survey as soon as possible because the surveys will have a limited number of respondents.
If you've answered the survey but the maximum number of respondents has been reached, you won't receive the reward.
As for the reward you will get, there is no specific information on their website about it. But according to feedback from members, each survey will reward you with a substantial amount.
You will also know right from the start how much you will be receiving for completing the survey.
One thing to note about the surveys they offer, the topics will be mostly varied. It can cover surveys about technology, finance, cars, and even medicine. So, answering the surveys won't be as boring as you might think.
How do you get paid?
The next important thing you need to know about Hagen Sinclair is how you get paid.
The whole purpose of joining a survey site is to earn a bit of income while having your opinion heard. So let's talk about how you will be paid once you complete a survey.
According to their website, the incentives you earn from answering their surveys will range from $45 to $500. Yes, you read that right. As I've mentioned, the rewards are pretty substantial.
But the reward you will receive from a survey will actually depend on the time commitment and level of expertise that it calls for.
So let's say you are a doctor. You will then be qualified to receive a survey about medicine, which will then reward you more if let's say you were just an ordinary consumer.
That's because you have more expertise on the subject matter. So before you go thinking you can earn a lot of money with this site, just keep that in mind first.
The payment will be made by check, store gift cards, Visa or American Express cash cards, gift certificates and/or charitable donations once the survey is completed.
This means there will be no minimum amount required before you can request for payment.
You will receive payment for every survey you complete. In my opinion, this is the simplest and easiest way you can earn from a survey site.
How much money can you make?
In order to determine if this is really a good site to join or not, you have to clearly see the earning potential.
Unfortunately, with Hagen Sinclair, even though the rewards for each survey is quite substantial, the survey invitations are few and far between.
This isn't surprising. The way their system works is they really give emphasis to the qualification of the respondent. So, they make sure they filter properly every qualified respondent.
This is also the reason why most members' feedback with Hagen Sinclair is the survey invites are quite low. You would be lucky to receive one survey invite per month.
The number of invitations you get will usually vary depending on which city you live in. If you live in a larger city, there are more chances of you receiving survey invites.
Aside from the survey invites you receive via email, Hagen Sinclair also posts earning opportunities via their Facebook page as mentioned earlier.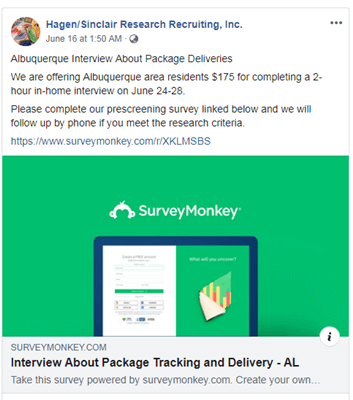 From time to time, they post opportunities for you to earn money just like what is shown in the photo above.
The opportunities will range from an in-person interview, phone interview, focus groups, online journals, and several other methods.
Regardless of what type of opportunity is offered, if you qualify for that offer, I recommend you take advantage of it.
The rewards offered from these opportunities will range from $100 to $200. That's a pretty good amount in my opinion.
All in all, though, don't expect to earn a lot from answering surveys they offer since the survey invites frequency will be pretty low.
If you are looking for a survey site that will allow you to earn a pretty stable and decent income, I recommend you check out the top survey sites in the US.
Can you use it on mobile?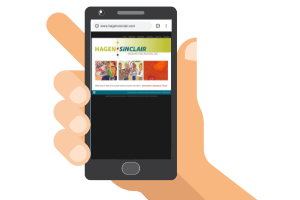 As to whether or not you will be able to answer surveys on your mobile device, the answer will actually depend on the survey invite you will receive.
Seeing as the site doesn't really have a member dashboard where you can log in and take the surveys, the opportunities to answer the surveys on a mobile device will rely on the invite you receive.
If the survey invite will allow you to take the survey on a mobile device, then you can do that.
Normally though, if it is an online survey, you will also be able to answer it using your mobile device.
The only problem is, the survey might not be optimized for mobile use. That means you may have to scroll left and right or zoom in to view the content properly.
Who can join Hagen Sinclair?
Hagen Sinclair is only limited to residents of the US. So if you live outside the US, this is not the site for you.
You also have to be at least, 18 years of age in order to join their panel.
The fact that it is only limited to US residents makes it a very limited survey panel.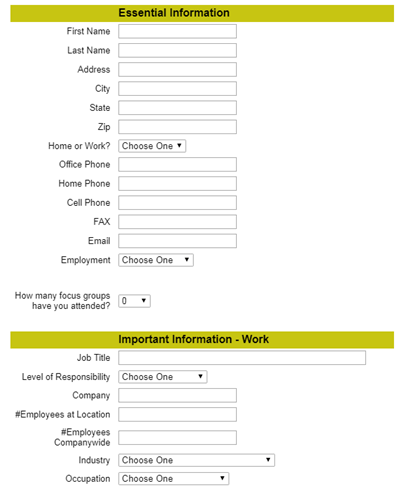 If you live in the US, all you have to do is fill up the registration form in order to join the panel. To get to the registration form, just click the Participate tab and click the link on the left that says Online Form.
You will then be redirected to the registration form. You have to fill up all the fields under the Essential Information as well as the Important Information.
Keep in mind that you have to provide as much information as you can since they will be using this to qualify you for the surveys they offer.
If you want to cancel your participation in their panel, you can contact them through their Contact Us page.
Can you get support?
Speaking of their Contact Us page, the only way for you to get support is through their contact page.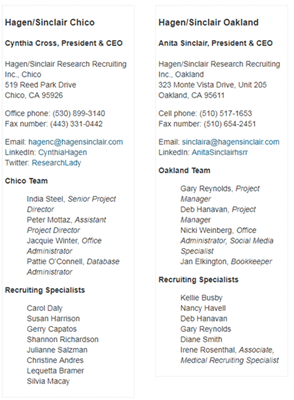 If you were expecting some sort of contact form you can use to contact them, then you will be disappointed.
As shown in the photo above, you will only be given contact details of their President and CEO of both branches, which don't really help a lot.
So I checked their Facebook page to see if you are able to contact them through that platform. The good news is, you can message them through their Facebook page. They typically reply within a few hours.
But overall though, it seems they have a very limited avenue for support, which isn't a good sign.
Final Verdict
Hagen Sinclair is a legit survey site that promises to pay you a significant amount of money for completing the surveys they offer.
But that doesn't automatically mean you should sign up and become a member of their panel. Here's a summary of its pros and cons to help you decide whether or not this site is for you.

Pros:
High reward for each survey completed
No payment threshold required

Cons:
Low survey invite frequency
Lack of avenues to contact support
So even though Hagen Sinclair rewards you substantially for each survey you complete, the low invite frequency simply doesn't make it a site that offers high earning potential.
It is also a site limited to US residents only. So if you live outside the US, you won't be able to join.
The additional opportunities offered on their Facebook page does offer substantial rewards too, but again, they are limited to specific cities in the US.
If you are looking for survey sites that will allow you to earn a decent and stable income and with a continuous number of available surveys, I suggest you instead check out the best survey sites in your country.
You will surely find survey sites for you there, no matter where you live.
If you have any comments, questions, or have any experiences with Hagen Sinclair yourself, I would love to hear from you in a comment below.