Using a mobile app to earn extra cash can be very convenient as you can earn anytime and anywhere. Now, the question is, which app should you download? There's an app called VoxPopMe that promises to pay you for your opinion.
But is VoxPopMe legit or just a scam? Let's address this issue right away so we can move forward and discuss more about the app.
Yes, VoxPopMe is a legit app that will pay you for sharing your opinions. However, this doesn't really say anything about whether this app is worth using or not. To figure out if it is worth it or not, we have to take a look several other things first.
This VoxPopMe app review will give you a detailed look at what the app has to offer so you can decide if you should go ahead and download this app or not.
What is VoxPopMe and what does it offer?
VoxPopMe is actually a survey app but it's not the usual survey app you will encounter. To be more specific, it is a video survey app. Yes, you read that right. You actually have to make a video when answering surveys.
Here's a short video explaining what the app is all about.
Now, let's take a closer look at the earning opportunities this app offers so you can understand how good or bad its earning potential is. So, here's how you can earn from this app.
Option 1 – Questions
Their surveys are actually called "Questions". That's because they are really just questions you have to answer by making a video. That means you will have to talk about a certain topic in front of a camera (on your mobile device).
If that is not something you are comfortable with, then unfortunately, this app is not for you because this is really the only way to earn from this app.
So, you have to be comfortable making videos before you decide to join this app.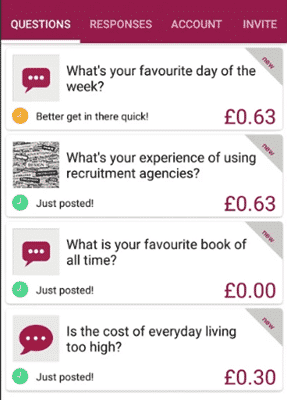 When you log in to the app, you will immediately see all the questions you can answer. Each question will show the corresponding reward you will earn when you successfully complete it.
Now, when you see an available question, I suggest you answer it right away because it is a first-come-first-serve basis. That means if the question has reached the maximum number of respondents, it will be closed and you won't be able to submit your answer anymore.
So, getting to the questions first is really one of the most important things you need to do to maximize your earnings from this app. When you click on a question, it will show you the Question Details page where you will see the things you need to do to complete it.
Usually, it will give you the instructions on what you need to do as well as the time limit for your video.
This is another important thing to keep in mind when answering these questions. Most of them will have a time limit for the video you are asked to make.
Some questions will ask you to make a 15 second video, while others will ask you to make a 1-minute video. It all depends really on the question you are about to answer. Here's a sample video from some of their members.
As you can see, you do not need any fancy set up or extra equipment. The videos you need to record are very basic.
To start making a video, you have to click the record button found on the Question Details page. Once you've finished making the video, you will have to upload it. As soon as it is done uploading, then it is up for review.
The VoxPopMe team will have to check your work and see if it meets their standards. Once they approve your video, you will receive the reward promised (I will talk about the rewards later). That's how the whole process goes.
Option 2 – Referral program
VoxPopMe also has a relatively straightforward referral program in place. If you are new to this, it's basically just a way for you to earn additional rewards by inviting other people to join the platform.
So, when the people you invite sign up, they will become your referral. But before you will earn the £1 reward bonus, they have to submit one video first. In other words, they have to answer one question.
That's why you need to make sure the people you invite are really interested in earning from this app.
To invite people, just share your invite link with them – it can be found in the Invite section of the app.
How do you get paid?
Every question you answer will earn you a specific amount depending on the country you live in. So, you will know right away how much you've earned by just checking your balance.
Unlike some other survey apps/sites where they use a points-system, this is a more convenient system, in my opinion.
That's because you don't have to mentally convert the points you've earned. As for withdrawing your earnings, you can only do so when you've reached the payout threshold. The payout threshold will vary depending on the country you live in.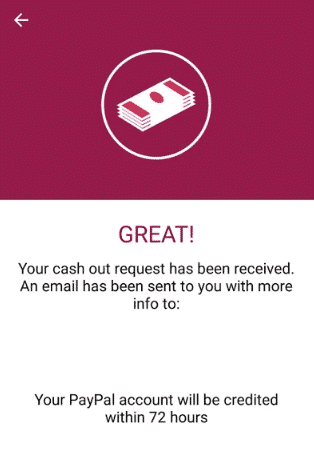 For example, if you live in the UK, the threshold is £10. But if you live in the US, the threshold is $15.
As shown in the photo above, the payment will be made via PayPal and it can take up to 72 hours (sometimes even longer in my experience) before it will be credited to your PayPal account.
I like the fact that they pay via PayPal because it is a very convenient payment method, in my opinion. The threshold is slightly high though considering the earning opportunities. So, it might take a while before you can request for a cashout.
If you are looking for sites with a low payout threshold, I suggest you check out the fastest paying survey sites.
How much money can you make?
I won't lie – with a survey app like this, since there are very limited earning opportunities offered, you will really be at the mercy of the availability of questions.
And since most questions will only reward you with $1 at most, it will really take quite some time to reach the payout threshold.
Plus, as I've mentioned earlier, you have to factor in how fast you are able to get to the questions. That's why earning from this app can be a bit challenging.
One of the main ways to increase your earnings from this app is by checking the app from time to time to see if there are available questions you can answer.
So, all things considered, I would say this app doesn't have a very good earning potential. Plus, you will have to regularly check if there are available questions. So, it's a bit of a commitment, in my opinion.
However, it can be a fun and different way tp get paid to share your opinions so as an extra option it can still be worth considering.
Who can join VoxPopMe?
Aside from the earning potential, one major limitation of this app is that it is only available in four different countries. They don't state this clearly on their site, but you will get the idea of where this app is available if you try to check their terms and privacy page.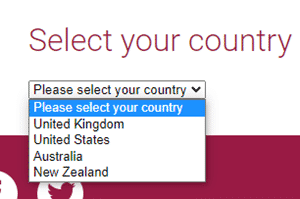 As you can see in the photo above, this app is only available in the US, UK, Australia and New Zealand.
So, if you don't live in any of the countries listed above, then this app is not for you. If you do though, then becoming a member is really very easy.
All you have to do is download the app and install it. During the initial login attempt, it will ask you to sign up either by using your Facebook account or providing your own email address.
If you are going to use your own email address though, I would suggest you use the same one for your PayPal account so you won't have to backtrack the payment settings later.
Can you get support?
If you have any questions about the app or your account, I would suggest you check out their Support page first. It has plenty of frequently asked questions you can check.
If their FAQ page can't answer your questions, then you can submit a support request through their help desk.
You can access their help desk from the app or you can go to their website and log in to their help desk from there. Either way, you will be able to submit a support ticket for your inquiry. Overall, I would say they provide decent support for their members.
Final Verdict
VoxPopMe is a legit survey app that will pay you for answering questions. It certainly has a couple of good features to offer but it also has some limitations you need to accept if you decide to join.
Let's end this review with a summary of its pros and cons to help you decide if this app is for you or not.

Pros:
Offers a simple way to earn extra cash
Their app is user-friendly
Pays via PayPal

Cons:
Limited earning opportunities offered
Low rewards
Relatively high payout threshold
If you are looking for an interesting way to earn, VoxPopMe is a decent option. It's certainly quite different from most other survey apps because you have to provide your answers in the form of a video.
So, if you are not comfortable talking in front of a camera, then this app isn't for you. If you are though, then this can definitely be a decent secondary source of extra income. Just set your expectations properly because you won't be able to earn a lot from this app.
Plus, you will need a lot of patience to reach the threshold. If you are looking for better and faster ways to earn, I would instead suggest you check out the top survey sites in your country.
The sites on this list offer multiple earning opportunities and all of them have good earning potential. Plus, you will be able to find a site you can join regardless of where you are in the world.
If you have any comments, questions, or have any experiences with the VoxPopMe App yourself, I would love to hear from you in a comment below.