One of the most reliable ways to earn extra cash online is to join a survey panel. The reason why I say this is, survey panels/sites will allow you to earn extra cash without exerting a lot of effort and investing a lot of time. However, this will only be true if you join a good survey site/panel.
Now, if you've been searching for a survey site to join, you might have encountered a site called Kaboodle MR. So, you might be wondering if this site is legit or a scam. This is a valid question to ask and it's the right first question to ask. After all, you want to make sure you join a survey site that will really pay you.
This is where this Kaboodle MR review comes in. It will check the legitimacy of the site. Aside from that, it will give you a full guided tour so you will know all about what the site has to offer so you'll be able to figure out if it is worth it or not.
What is Kaboodle MR and what does it offer?
Kaboodle MR is a research panel that includes paid surveys as a way for you to earn rewards. And yes, it is a legit site since it will really pay you for participating in their research activities.
And the first thing we need to talk about is how you will be able to earn from this site. That way, you will have a clear understanding of how it works and if it will be worth your time. So, here's how to earn from Kaboodle MR.
The earning opportunity – Market research activities
The only way to earn from Kaboodle MR is to participate in the research activities they offer. Here's a list of the kind of activities that you can participate in:
Focus groups
Interviews (in person or over the phone)
Product testing
Mystery shopping tasks
Paid surveys
As you can see, there are five types of activities you can participate in. I will explain how each activity works.
It will all start with an email. You will receive an invitation to participate in a research activity via email. In that email, you will see the kind of activity you are invited to. You will also see how much you will earn for completing the activity and how you will get paid (I will discuss their payment methods later).
For focus groups, there are two types you can participate in. You can do the online focus groups where you can just join a video call with other members of the group. The other type is the in-person focus group where you will have to go to their office during the scheduled session.
If you haven't tried focus groups before, it's basically a group discussion where you will be discussing a certain topic and you will be asked to provide your feedback or opinion. This kind of market research is one of the fastest ways to get a lot of feedback for a specific product or service for companies.
Another kind of market research they conduct is interviews. This kind of market research activity is more of a survey being conducted either in-person or over the phone. You will be asked to provide your opinion on products and services. It's relatively straightforward as well. You will just have to coordinate with Kaboodle MR regarding the schedule.
Product testing activities, on the other hand, are a more hands-on type of activity. If you get invited to participate in product testing, you will be sent a product via mail. Then, you will be given a form you need to fill out. This form will ask you to provide feedback regarding the product you are testing. Sometimes, you will also be asked to make a video talking about the product. It will all depend on what Kaboodle MR will ask you to do.
Mystery shopping tasks can be quite an interesting way to conduct market research. In case you haven't tried this one yet, the way it works is, you will be asked to visit a store/shop. Then, you'll have to pose as a customer all the while taking notes.
The goal here is to provide feedback that companies can use to improve their products and services. On your end, you have to make sure the store will not be able to recognize that you are a mystery shopper because if they do recognize you, you won't be able to provide honest feedback because the behavior of the staff will definitely change. It can be a fun and interesting way to assess a product that is actually on the shelves of stores.
Lastly, you can participate in paid surveys. Normally, when you receive a survey invite, the link to the survey will be included in the email. All you have to do is click the link to get to the actual survey. Once you complete the survey, Kaboodle MR will verify your answers, and if everything checks out, they will send the reward.
Recommended: Check Out the Top Survey Sites in Your Country
How do you get paid?
The good thing about Kaboodle MR is, you don't actually have to reach a payout threshold in order to withdraw your earnings. Every time you complete a market research activity, you will receive the payment either immediately or after a couple of days.
As to how they will pay, activities like focus groups or in-person interviews will pay in cash. Since most of these activities will be done in their office, you will immediately receive the cash upon completion.
Other research activities will pay you in high street gift cards. That means the gift cards that will be awarded to you will come from popular establishments in your area.
Overall, their payment system is relatively straightforward and convenient. If you are looking for more sites that use a convenient payment method, I would recommend you also check out the top sites that pay via direct bank transfer.
How much money can you make?
The amount you can earn from Kaboodle MR will mostly depend on how often you get invited to participate in their market research activities. This is the main determining factor of how much you can earn from the site and unfortunately, you don't have any control over it.
The site is rather generous with the rewards they offer because you will usually earn around £10 – £15 for activities that don't eat up a lot of time. For in-person research activities, it will usually reward you with £50 or more.
So, if you get invited to research activities frequently, you can potentially earn a significant amount. However, based on my experience, you'll be lucky to be invited once a month on this kind of site. It just doesn't offer a lot of opportunities for you to earn.
That's why I would say the earning potential of this site isn't that good. Sure, the site pays wells, but the opportunities are few and far between, so you still can't rely on it as a stable source of extra cash.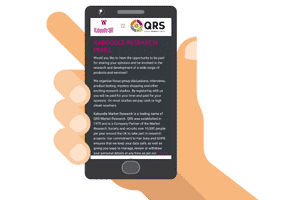 Can you use it on mobile?
The answer to this question will mostly depend on the activity you will be doing. The site doesn't have a member dashboard you can log in to. Everything will be done via email. And the only activity I can think of where you can use a mobile device is if you will be asked to answer an online survey.
In this case, you can open the survey on your mobile device as long as you can access your emails from it (which shouldn't be a problem). But apart from that, you will mostly have to do all the activities without the use of a mobile device.
Who can join Kaboodle MR?
Kaboodle MR is only available in the UK. So, if you live somewhere else, this site is not for you. You also have to be at least 18 years of age to join their panel. To register, simply fill out the registration form found on their website.

Once you are done with the registration form, you will just have to wait for any suitable activities (refer to the photo above). So, you can't really expect to start earning immediately once you join their panel.
If you are looking for sites where you can earn immediately, I would recommend you check out the top survey sites in the UK instead.
Can you get support?
Their website barely has any information regarding the earning opportunities it offers. It doesn't even have a FAQ page. So, if you have any questions about their website or even your account, you will have to contact their support team.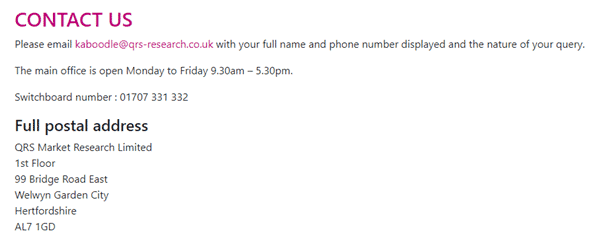 To do that, you can email them at kaboodle@qrs-research.co.uk or you can also call them at the number provided on their Contact Us page. You can only call during office hours which will be every Monday to Friday 9:30 am – 5:30 pm.
Overall, while their site lacks a lot of relevant information, I would say they still have a decent support system in place for their members since you have a couple of ways to get in touch with their support team. And I do like the fact that there's a number you can call if you really need to speak to a representative immediately.
Final Verdict
Kaboodle MR is a legit market research site that will pay you to participate in their market research activities. It has a couple of good features but it has some drawbacks you need to think about.
Let me conclude this review by summarizing its pros and cons so you can see an overview of what the site has to offer. Then you can decide if this site is really worth it or not.

Pros:
The site offers decent rewards
Cash rewards are available

Cons:
Limited earning opportunities offered
The main drawback of Kaboodle MR, in my opinion, is you can't really rely on it to be a source of steady income. That's because their earning opportunities are few and far between. If there aren't any projects available, you won't earn anything.
But it can serve as a good secondary site to join if you are eligible because it pays a decent amount. Just don't expect to earn a lot from it though.
Now, if you are looking for ways to earn extra cash on a regular basis, I would recommend you check out the top survey and GPT sites in your country instead. The sites on this list all have good earning potential and there will be earning opportunities available regularly.
Plus, you will definitely find a site you can join regardless of where you live.
If you have any comments, questions, or have any experiences with Kaboodle MR yourself, I would love to hear from you in a comment below.