Panel Opinion is a survey site that pledges to pay you for completing their surveys. It is a pretty simple survey site to work with.
But is Panel Opinion a scam or really legit? I consider this as the first priority to know because it is important to know you are joining a legit survey panel.
You need to make sure you are joining a legit panel so that you won't waste your time answering surveys you won't get paid for.
So, to answer this question – Panel Opinion is not a scam. It is a legit survey panel that will pay you for completing survey offers.
But is it worth your time? That's a different story. This Panel Opinion review will address that question and more.
After reading this review, you will be able to decide if you should become a member or not.
What is Panel Opinion and what does it offer?
PanelOpinion.co.uk is a UK-based survey panel that is owned by the MIS Group, a market research company that specializes in providing quality information to their clients.
As mentioned, this survey panel is pretty straightforward. You will be able to earn easily. But in order to understand the true earning potential of this survey site, we have to take a closer look at how you will be able to earn from it.
So, here are its earning opportunities.
Option 1 – Paid surveys
When you become a member of their survey panel, you will be able to log in to their member dashboard and answer surveys.
During your first log in to the site, you will be offered a mandatory profile survey. You will have to take this survey because this will become Panel Opinion's basis for qualifying you for future survey offers.
This mandatory survey will offer a small reward after completion. It's a good sign because, at the very least, you will be compensated for spending some time completing your profile.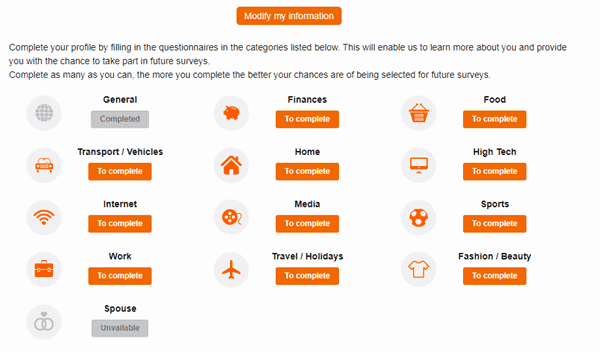 However, the process of building your profile doesn't stop there. As you can see in the photo above, you have to complete more parts of your profile.
You have to do this in order to increase your chances of receiving survey invites.
If you skip this, there's a good chance you won't receive any survey offers. So, make sure to spend a bit of time to complete your profile.
Once you've completed your profile, you will then begin to receive survey offers. You will know right away how long it takes to complete the survey (a rough estimate) and the reward you will get for completing the survey.
When you answer a survey offer, you will have to first have to answer several profiling questions. This is to make sure you belong to the target demographic of the survey.
If you qualify, you get to answer the actual survey and earn the reward promised once it is completed (I will talk about the rewards later).
If you don't qualify, some survey offers will give a small compensation for your time. But, this won't always be the case. Some offers don't offer any compensation at all if you don't qualify. So, it's a case by case basis.
Option 2 – Referral program
They offer a referral program, but it is a bit different from most of the referral programs you see on survey sites.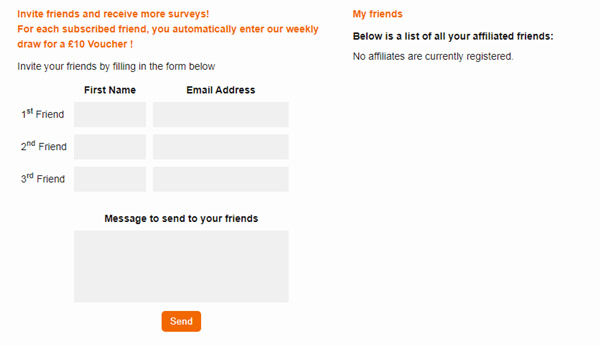 Usually, you will earn something for referring a person to register as a member of a survey panel. But with Panel Opinion, you will instead earn an entry to their weekly raffle.
The raffle will award £10 to the winner. However, they do not mention how many winners will be awarded each week.
To invite people to join Panel Opinion's survey panel, just provide their first name and email address as well as a short message. You can invite up to three people at a time.
For every person who subscribes and becomes a member of their panel, you will gain one entry to their weekly raffle.
In my opinion, this type of referral program doesn't really motivate members to invite people to join the panel simply because you won't be guaranteed to earn something.
It will all be based on luck on whether or not you win the weekly raffle. But hey, if you are willing to try, who knows? You might get lucky and win the prize.
But even if you are lucky, the prize is not that big.
How do you get paid?
For every survey you complete, you will be awarded a specific amount which will be credited to your Panel Opinion account balance.
The currency they will be using will be in Sterling Pounds since they are based in the UK.

Once you reach the payout threshold of £10, you will be able to request payment in three different ways.
You can choose to withdraw your earnings via a direct bank transfer (BACS) or you can also request a check in the post, which will arrive within 15 days.
You can also choose to withdraw your earnings via PayPal. In my opinion, it is good that they offer three different ways for you to receive payment. This, at least, makes the survey panel a bit more versatile in terms of handling payment.
Personally, I prefer survey sites that pay via PayPal as it is very convenient but the other methods Panel Opinion offers are definitely also great options.
How much money can you make?
In order to earn a significant amount of money from survey panels, you have to receive plenty of survey invites. This increases your chances of qualifying for surveys.
The more surveys you qualify for, the more surveys you will be able to complete. Of course, it will all depend on how well a survey panel will pay you for each survey you complete.
The availability of surveys on Panel Opinion will vary from member to member. But there are plenty of members saying you will be able to reach the payout threshold rather quickly.
From what I can tell, the availability of survey offers will mostly depend on where you are located (I will talk about this at a later section).
But overall, this site has a decent earning potential mainly because some of the survey offers will still compensate you even if you don't qualify for it.
Can you use it on mobile?
Probably what I like most about Panel Opinion is, they have a mobile app you can download to your mobile device so you can answer surveys even when you are not sitting in front of the computer.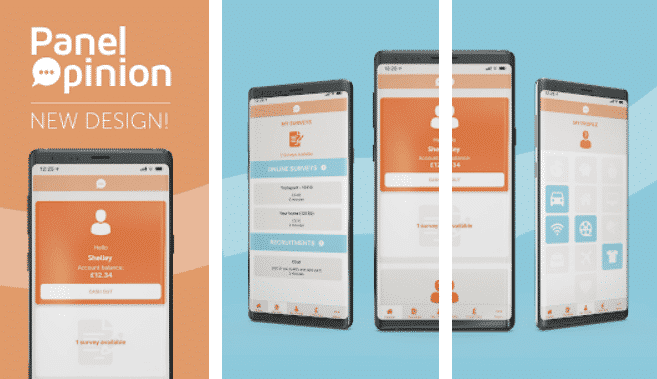 This makes it much more convenient to earn rewards since you can answer surveys anytime and anywhere (as long as your mobile device has an internet connection of course).
Their mobile app is available for both Android and iOS users. So, it's pretty versatile in terms of usability.
I always give props to survey panels that provide a mobile app (if it is a proper app) because it shows they really care about providing the best user experience possible for their members.
If you are interested in other survey panels that have mobile apps, you can check out the best paid survey apps.
Who can join Panel Opinion?
When you first come to PanelOpinion.co.uk it is not completely clear who can join. But the address of the website gives you a good hint.
They do not mention this specifically on their site, but it is quite apparent when you register as a member.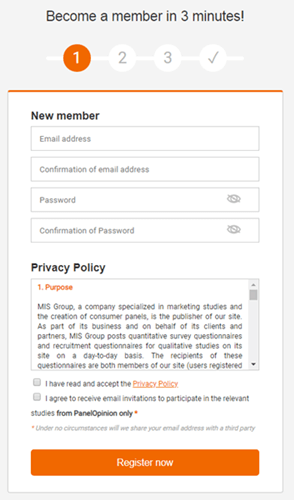 During the registration process, you need a UK phone to be able to confirm your membership.
So it is only available if you live in the UK. But if you go to the site and come from Europe or the US, you will be asked if you want to join their panel in those countries as they have partner panels there.
But to join Panel Opinion itself, you need to live in the UK and use your UK phone number when you sign up. With so many great UK survey sites, it is not one of the best options here, but it definitely still has its advantages but I will go more into this in the conclusion of this review.
They do not mention on their site about the minimum age required in order to join. However, since they are using PayPal as a payment gateway, then it is safe to assume that you have to be at least 18 years of age in order to register.
Can you get support?
If you need assistance or if you have any questions you want to ask their support team, you can refer to their FAQ section for answers.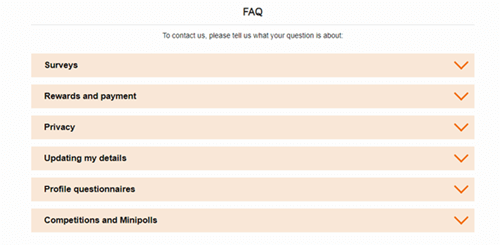 If your question or issue is not resolved with the help of their FAQ section, you will be able to send in your inquiry via their contact form.
You will find a link to their contact form at the end of each question in their FAQ section.
They also have a Facebook page you can visit and you have the option to send your message through that platform. However, there is no guarantee you will receive a reply right away.
So, if you have any urgent issues that need to addressed I would recommend you use their contact form instead.
They seem to be pretty responsive since I can see they also reply to comments of members in their TrustPilot page which is a good sign that shows they have an active support team.
Final Verdict
Panel Opinion is a legit survey panel that will allow you to earn a bit of extra cash for completing survey offers. However, it does have its limitations.
So let's finish this review with a summary of Panel Opinion's pros and cons to help you decide if you should join or not.

Pros:
User-friendly site and app
Payment options are quite convenient

Cons:
Earning potential is relatively low
Referral program doesn't guarantee you will earn something
Completing your profile will take some time
In my opinion, this survey panel would have been a great one if its earning potential was a bit higher. As it is right now, there are still quite a lot of survey sites that have better earning potential than Panel Opinion, in my experience.
It would have been better if their referral program (which can be a decent supplement to what you will earn from surveys if done right) would guarantee you will earn something for every referral you make, in my opinion.
But don't get me wrong, Panel Opinion is a decent survey panel to join. Just don't expect to earn a lot from it. Their site and app are user-friendly, which is a huge plus.
If you are looking for survey sites that have better earning potential though, I would suggest you check out the top survey sites in your country.
This list has plenty of survey sites that are also user-friendly. Plus, you will be able to find one that will fit your needs no matter where you live.
If you have any comments, questions, or have any experiences with Panel Opinion yourself, I would love to hear from you in a comment below.