Shopper's Voice is an online rewards platform that is quite different from other survey and Get-Paid-To (GPT) sites. In fact, it doesn't really classify as any of the two.
They claim to reward you with vouchers and coupons by simply registering to their website.
This sounds too good to be true. So naturally, you have to ask, is Shopper's Voice a scam?
Let me just tell you right away, Shopper's Voice is a legit online rewards platform. But it can be a bit confusing to find out exactly what you get and it definitely has its drawbacks you need to be aware of.
Even though it doesn't act like an ordinary survey site, it does pop up when you do a Google search of survey sites. That's why I've decided to make a review about it.
Before you sign up to become a member, I recommend you read through this Shopper's Voice review first so you will know exactly what to expect.
That way, you can make an informed decision on whether it is a good site to join or not.
What is Shopper's Voice and what does it offer?
As mentioned above, Shopper's Voice isn't really a survey site or a GPT site. And when you first come to the site it can be a bit confusing to see exactly what you get out of joining.
They say they help brands and other businesses find out more about the wants and needs of their consumers.
They are supposedly able to do this by gathering opinions, preferences, and insights from shoppers like you who become a member of their site.
But in order to fully understand what this site really is all about and what you get out of joining, we need to take a closer look at how you are able to earn rewards from it.
What happens when you join?
In theory, you do not have to do much to get access to start earning rewards from Shopper's Voice – all you have to do is sign up and become a member.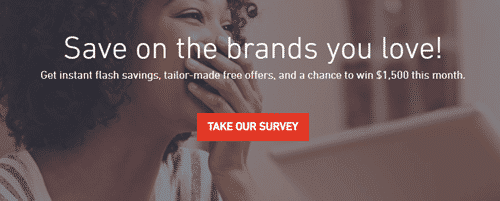 In order to become a member, you actually have to click the Take Our Survey Button as shown in the photo above.
Once you click the button, you will then be redirected to a survey page. This is the only survey you will have to take for the rest of the year.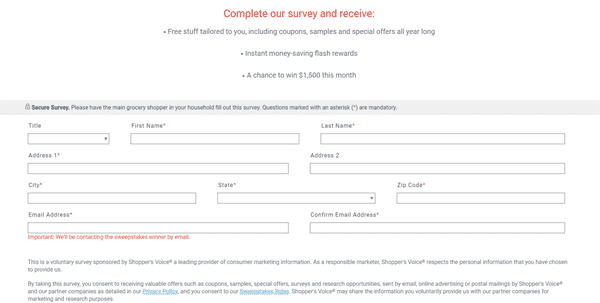 It's a pretty long survey and will consist of a lot of questions about which brands you use, as well as health conditions of members of your household.
You have to go through this survey because this is your one and only chance to input the information.
Think of this survey as your member profile. The next time you get to update this is after a year. So make sure every question is answered honestly as this will factor in the rewards you will get.
Once you have completed this survey, you are supposed to start receiving coupons and offers based on the information you provided.
However, this is when it becomes very different from other reward sites because you never get access to a members area.
Once you have completed the survey all you get is a screen showing a couple of coupons you can get access to. And then after this, Shopper's Voice will start sending emails with promotional offers to you.
Some of the offers will be coupons or promotional offers, and I have also seen emails where they promote survey sites like, for example, Survey Junkie.
So what you really sign up for is actually just their email list where you will allow them to send promotional offers to you. This is very important to understand so you signup with the right expectations.
So you will NOT as such be able to earn on Shopper's Voice. However, there is one chance you get of actually earning on Shopper's Voice which I will explain below.
How do you get paid?
So let me just make it completely clear that if you were expecting to earn money from this site, then you will be disappointed as I already explained above.
The only way for you to earn cash from this website is if you win the sweepstakes.
It will be held monthly and based on the information provided on their website, you will only be able to join once and that is during the month you registered.
As stated on their homepage, you will be eligible for the $1,500 monthly sweepstakes on the month you joined Shopper's Voice. They have three winners of $500 each month.
Aside from that, the only other rewards you can get from this site is the coupons and vouchers they will send you once you complete the registration survey.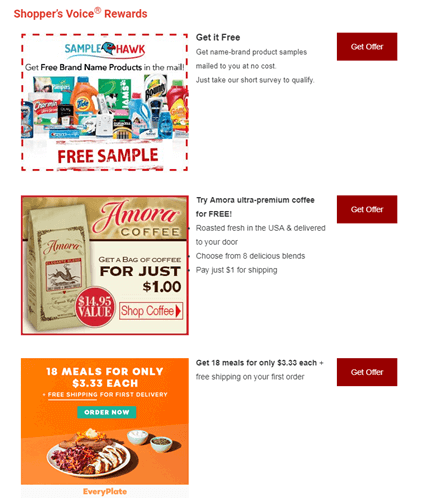 The coupons and vouchers you will get will be based on the answers you provided in the survey.
For example, if you indicated in the survey you have a dog, you will receive vouchers for pet-related products.
You can use these vouchers to save money on your next purchase. Before you can claim some of the vouchers though, you have to do something, like answer a short survey.
This doesn't apply to all the vouchers offered though. So just make sure you read the offer carefully before you click the get offer button.
Once you become a member of Shopper's Voice, you will receive ongoing promotional offers either by email or postal mail in the form of what they call high-value, money-saving coupons, free samples, and other relevant information.
So it is basically a newsletter that will send you offers you sign up for – if you like the coupons and promotional offers they have, it might be worth it.
But, in my opinion, calling it high-value offers is quite exaggerated and the platform definitely has its limitations as we will go over next.
How much money can you make?
As I've mentioned, you won't be able to earn actual money from Shopper's Voice, that is unless of course, you win the sweepstakes, which is a big IF.
Some of the offers they will send to you can help you save a bit of money but you can actually get access to their coupons on their website without signing up through their main menu.
Some of them can be good and worth it and some of them will not.
But most importantly you need to know that if you are looking for a survey site that will allow you to earn a decent income on a regular basis Shopper's Voice is NOT it, and I then suggest you check out the link below instead.
Can you use it on mobile?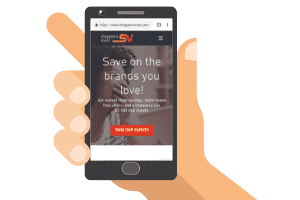 As to whether you can use this on your mobile device, there is no mention on their website about a Shopper's Voice app you can download and install in your mobile device.
But in my opinion, you don't really need one since you can't actually earn rewards.
You can, however, access their website using a mobile browser if you want to check the website or take the welcome survey there. The mobile version of their site is optimized for mobile use.
That means you can view all the content without having to scroll left or right or zoom in and out.
So at least, they have that covered.
Who can join Shopper's Voice?
If you live in the United States or Canada, you will be eligible to register as a member. You also have to be at least 21 years of age in order to sign up.
As I've mentioned above, the sign-up process isn't as apparent as you might expect.
Normally, you would expect a site to have a Join Now or Register button in the homepage, but with Shopper's Voice, you have to click the Take Our Survey button to begin the registration process.
Keep in mind that only one member per household is allowed to sign up for Shopper's Voice.
Can you get support?
Shopper's Voice does provide a FAQs section for common questions you might have.
In case you have questions not answered by their FAQs section, you can use the contact form provided on their Contact Us page.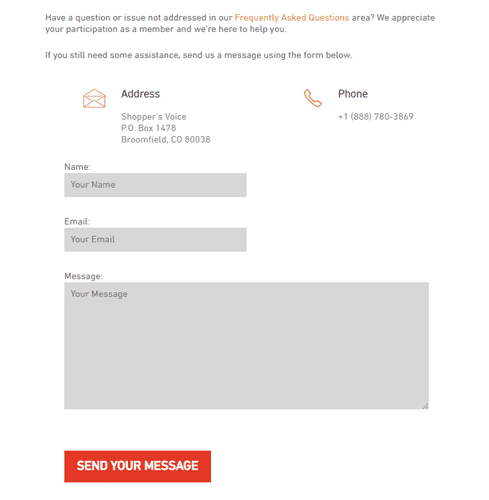 As you can see in the photo above, they have also provided a number you can call if you really need to speak to them.
This is a good sign because it shows there are real people behind the company.
But since all you sign up for is really just an email list so they can send promotional offers to you, it will probably not be necessary to contact them.
Final Verdict
Shopper's Voice is quite different from regular online rewards sites.
Even though it isn't structured as a survey site or GPT site, you might still get something out of it depending on your preferences.
To help you make a decision on whether this site is for you or not, let's finish this review with a summary of its pros and cons.

Pros:
Only promote legit offers
The prize for sweepstakes is actually higher than most other online rewards sites

Cons:
Registration is limited to US and Canada residents
Limited reward opportunities
No cash rewards available
Long registration process
You basically just sign up for an email list
Shopper's Voice might be the right site for you if you do not mind getting their promotional offers. Because that is basically what you sign up for.
There is no members area and no way to actually earn on the website itself. Your only chance of earning directly from Shoppers Voice is IF you are lucky enough to win the monthly sweepstake.
For these reasons, it is not really a site I am impressed with and I do not think it is clear enough what you actually sign up for before you give your email and start taking a long survey.
So if you sign up for it, you just need to do it with the right expectations and only if you are interested in receiving their promotional offers.
If you are looking for survey sites that will allow you to earn real money on a regular basis and not limited to US and Canadian residents, I recommend you check out the top survey sites in your country instead.
This list will have plenty of sites that reward you with cash or better offers. Plus, there should be a site you can choose from regardless of where you live.
If you have any comments, questions, or have any experiences with Shopper's Voice yourself, I would love to hear from you in a comment below.