PanelPolls is a survey site that promises to pay you for answering their surveys and other offers.
But is PanelPolls legit and really a way to earn or a scam to stay away from?
Let me just answer that right away. Yes, PanelPolls is a legit survey site. But this doesn't mean you should go ahead and sign up immediately.
First, you need to know if it will even be worth your time. This PanelPolls review will help you find out about just that.
This review will give you all the details so you will know exactly what to expect. That way, you can make an informed decision on whether this site is for you or not.
What is PanelPolls and what does it offer?
As mentioned, PanelPolls is a survey site that does pay you for completing their surveys and other offers.
They claim their surveys cover a range of fun and interesting topics, which is good in my opinion. That at least ensures you won't get bored while you grind on the surveys they offer.
But to truly understand what this site has to offer, we have to take a closer look at how you will be able to earn from this site.
So let's do that, shall we?
Option 1 – Paid Surveys
Since it is a survey site, you can expect the bulk of the rewards you will get will be from completing paid surveys.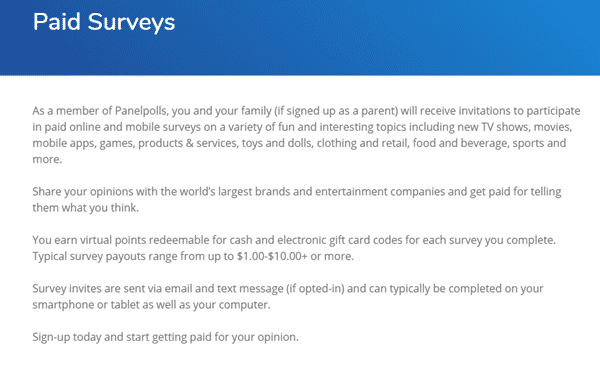 As you can see in the photo above, once you become a member of PanelPolls, you will start receiving survey invites.
When you complete a survey, you will then be rewarded with points. You can then redeem the points you've accumulated for different rewards (which I will discuss later).
You will know if there are surveys available because they will notify you via email or text message (if you opted-in to this).
You will also be able to see all the available surveys you can take when you log in to their member dashboard.
Normally, what happens is, when you decide to answer a survey, you will have to go through a pre-qualification test.
You will have to answer several questions so that the survey site will be able to determine if you belong to the demographic the survey is targeting. If you qualify, you will then proceed with the actual survey.
However, if you don't qualify, you will be notified right away so you won't have to waste your time answering the survey and find out in the end, you didn't qualify.
But overall it is quite simple to take a survey and once you are a member and are inside you will easily see what to do.
Option 2 – Focus Groups and Personal Projects
Another way for you to earn rewards from PanelPolls is by joining focus groups or personal projects.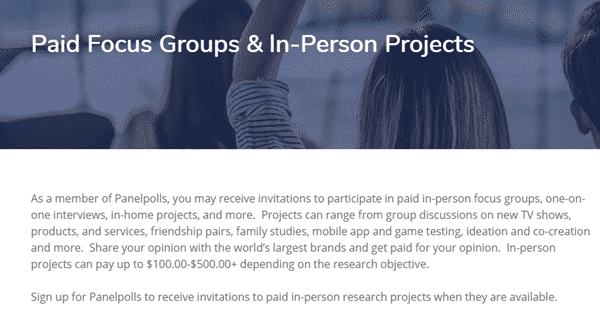 As shown in the photo above, from time to time, you will also receive an invite to join a focus group or to a personal project.
Most of the discussions done in these focus groups and personal projects are about the newest TV shows, products, services and a lot more.
They claim you will be able to earn $100 to $500 per personal project or focus group you join, which, in my opinion, is quite a significant amount of money.
Of course, the reward will mostly depend on how much work needs to be done.
The logic is, the more work you need to do, the higher the reward.
In my experience though, this type of opportunity doesn't come very often. So, if you receive an invite for this, make sure you take advantage of it.
Option 3 – Paid Online Communities
Just like focus groups, PanelPolls will sometimes invite you to join an online community.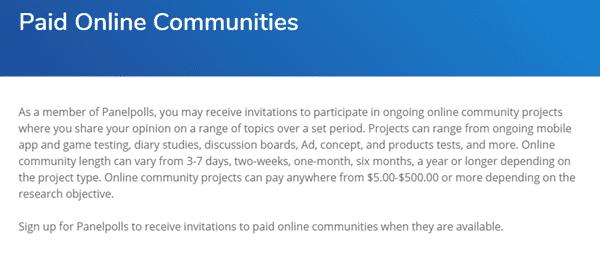 As shown in the photo above, you will also receive an invitation to join online community projects from time to time. You will be asked to share your opinion about products, services or test mobile apps and games.
As it says in the photo, this can last 3-7 days, two-weeks, one-month, six months, a year or longer depending on the project type.
I'm just not sure though when you will receive the reward promised. Because if it takes six months before you can receive the reward, that would not be good, in my opinion.
The reward for this kind of opportunity though is also quite significant just like the focus groups. But again, in my experience, this won't be available quite often. So, better take advantage of it when you get an invite.
Option 4 – Paid TV Show Testing Projects
This offer is quite unique because this is the first time I've encountered any survey site that has this kind of offer.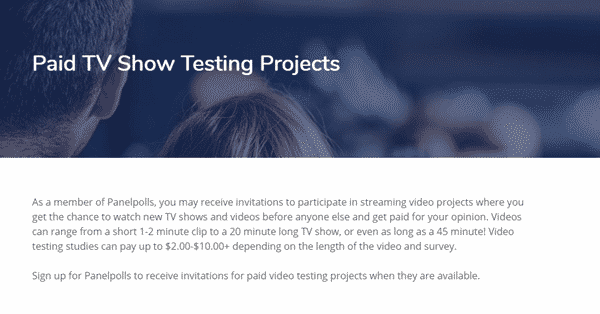 As shown in the photo above, you get to watch TV shows or videos before anyone else.
That alone can be considered a reward itself. After you've watched the TV show or video, you then have to share your opinion about it.
Then, PanelPolls will reward you for doing so. The rewards you get aren't as significant as joining focus groups or online communities, but it is actually quite a good way to earn since you won't be bored.
Option 5 – Paid Mobile App and Game Testing
You also get the chance to test games and mobile apps. In return, PanelPolls will reward you once you complete the testing.
They mention that this type of opportunity though can last up to more than a month.
So make sure to read the conditions first before you do it because it can certainly be a huge commitment in terms of time allocation.
But overall, this is a fun earning opportunity that also rewards you significantly (just not as significant as focus groups or online communities).
Option 6 – Kids Projects
What's unique about PanelPolls is they also have opportunities for kids.
There are paid surveys and other activities about new TV shows, toys and dolls, games, trends, sports, music and a lot more that your kids can do.
Of course, it should be the parents who will sign up for them. They also have to provide participation consent for their kids first before their kid can do these offers.
If you are wondering how this is done, the invitations for the offers will be sent to the parents. That way, the parents can filter which offer their child can do.
It's a pretty good way, in my opinion, because it allows your kids to also participate on the site and earn rewards. At least, they can have a taste of what it feels like to earn something.
How do you get paid?
Now that you know what type of offers PanelPolls has, the next thing you need to know is how you will be paid.
PanelPolls, as mentioned above, uses points as its currency. After you complete an offer, you will then be awarded a specific number of points. You have the choice to either exchange your points for a check they will mail to you or for an electronic gift card called Reward Link which is powered by Tango card.
The earnings on a Reward Link card can then be used for more than 100 retail brands or charities. You can use it to redeem several differnt kinds of eGift cards. So it is a pretty flexible payout method.
For Reward Link, you have to reach a minimum of 10,000 points (worth $10) before you can start redeeming for one. As for checks, the payment threshold is a bit higher at 20,000 points.
When you redeem a check, it will be sent to your address via postal mail. So, expect it will take quite some time.
If you are looking for survey sites that will allow you to get your reward quickly, I recommend you check out the legit survey sites that pay via PayPal.
The sites listed here will allow you to redeem your rewards in cash through your PayPal account which is one reward methods PanelPolls is missing, in my opinion.
How much money can you make?
When it comes to survey sites, the amount of money you will be able to earn will depend on how many invites you receive and how many offers you actually complete.
In PanelPolls' case, they do not provide a guarantee that you will receive survey invites regularly. So, it will depend on your profile.
The good news is, the rewards you get from their offers are slightly higher than most of the survey sites today.
Based on feedback from many members, the average money they can earn from PanelPolls per month is around $15, which isn't bad, but it's not good either.
The real money though in this site is from joining focus groups and online communities. These are the top earning opportunities on this website.
But in my experience, these are seldom available. And if it is, you won't necessarily get the highest reward from it.
Overall though, you will be able to earn decent money from this survey site.
Can you use it on mobile?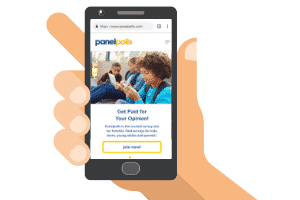 There is no mention in their site about a PanelPolls app you can download and install on your mobile device so you can work on offers even when you are not in front of your computer.
However, they do mention you are able to complete their surveys on your smartphone or tablet as well as your computer.
So, that's a huge plus. This makes it more efficient for you to earn rewards because you can complete them on your mobile device.
The mobile version of their website is also optimized for mobile use. That means you don't have to scroll left and right or zoom in and out just to read the content.
This makes it much more convenient for you to answer surveys on your mobile device.
Who can join PanelPolls?
What makes PanelPolls unique is that almost anyone who lives in the US can join, even kids.
According to their site, to become a member, the kid has to be between 2-17 years of age and must get their parents' consent.
What happens is, the parent will actually become the member and will receive all notifications first and must review and approve their child's participation for each activity.
If you are 18 years of age and above, you don't need the consent from your parents.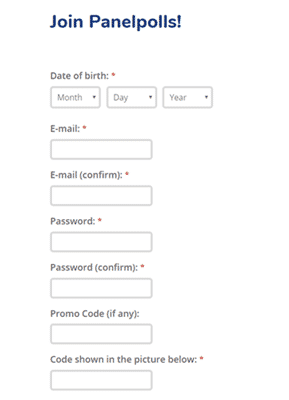 However, they only accept young adults between 18-34 and parents of children ages 0-17.
So there are quite a lot of restrictions to sign up compared to most other sites.
To sign up as a member, just fill up the registration form (shown above). Afterward, PanelPolls will ask you one qualifying question.
Once you've finished answering the question, you will know right away if you are eligible to join.
More than one member of a household can join this panel. This is quite unique because normally, with survey sites, only one member per household is allowed to join.
PanelPolls is a bit different. In fact, they even recommend other members of your household join their panel as well.
In my opinion, this is one of the more unique survey sites today simply because kids are also allowed to participate. The problem though is, based on feedback from members, it's a bit hard to join the site.
They don't always accept new members. So if you've tried registering, don't be surprised if they won't accept your application. You can just go back and register some other time.
This is the only issue I can see with the way they handle their registration.
Normally, if survey sites are not accepting any new members, they will make an announcement that will be easily visible. That way, potential members will know right away the status of their website. But it is not so clear on PanelPolls.
If you are looking for survey sites in the US who are always accepting new members, I suggest you check out the top survey sites in the US instead.
Can you get support?
I always use a survey site's support as a measuring stick to see if it is really worth it or not. And with PanelPolls, you do get the basic FAQ section as well as a contact form.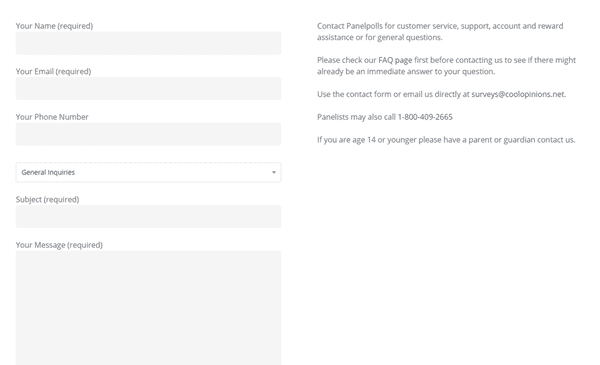 Their FAQ section isn't as comprehensive as it should be in my opinion. The good thing is, they do have a contact form you can use for questions you might have that weren't answered by their FAQ section.
But aside from that, if you are already a member of their panel, you can also call the phone number they've provided if you really want to get a hold of them quickly.
I always applaud sites that provide a phone number for you to call. That shows they are serious in providing support for their members.
I checked their social media pages because I understand some people prefer to contact sites like this through their social media page.
They do have a Facebook page that you can message. It's not very active, so I can't guarantee you will receive a reply right away.
But it is an option though, which in my opinion, is a welcome addition to the form of support they offer.
Final Verdict
PanelPolls is a legit survey site that does reward you for completing their surveys and other offers. But it does have its issues.
So let's finish this review with a summary of its pros and cons to further help you with your decision on whether this site is for you or not.

Pros:
Plenty of earning opportunities
Relatively high rewards for their paid offers
Relatively low payment threshold

Cons:
Payment via PayPal is not available
Membership is limited to certain groups of people in the US
They aren't always accepting new members
As you can see, even though the earning opportunities of PanelPolls is promising, the main problem though is it is tough to become a member.
First, the site is only for US residents and they are quite strict with the demographic groups they are looking for. Then, it doesn't always accept new members.
If you happen to be able to sign up and become a member, it can be a decent secondary site to earn money from. Just don't expect it to replace the income you earn from your full-time job.
If you live outside the US or do not fit into one of the groups they accept and are looking for good survey sites though, I suggest you check out the top survey sites in your country.
This list has plenty of survey sites you can choose from regardless of where you live and are always accepting new members.
Plus, they will all allow you to earn a decent amount of money, which is all you can hope for.
If you have any comments, questions, or have any experiences with PanelPolls yourself, I would love to hear from you in a comment below.