Clear Voice Surveys is a site that says you can get paid to share your opinion.
But is Clear Voice Surveys legit worth joining or a scam site to stay away from?
I have joined and tested the site myself. In this Clear Voice Surveys review, I will show you exactly what it offers and let me also reveal right away that it, in my opinion, might NOT be worth joining.
But before starting, let´s first get it clear that Clear Voice Surveys is a legit site and not one of the scam sites. And the options the site offers might fit you better than me and therefore be worth joining for you.
This is my experience and opinion based on the hundreds of survey sites I have tested, and I hope by giving detailed insights into my experience with the site, you will easily be able to see whether it is a site that seems like a good option for you or not.
What is Clear Voice Surveys and what does the site offer?
Clear Voice Surveys is a paid survey site that has existed since 2006, so it has been around for a while.
Even though the name reveals that it is mostly a paid survey site, it also offers other ways to earn.
I have already revealed that the options are not that great, in my opinion. But before getting to the main reasons for this, let's first go over the details about what the site has to offer, so you will be able to see how that fits you and judge for yourself.
I have created a video that gives you an inside look so you can see exactly how it look inside Clear Voice Surveys. You can also read all the details below the video:
Option 1 – Paid Clear Voice surveys:
Clear Voice Surveys is, first of all, a paid survey site, and this is the main way to make money here.
How many surveys you will get access to can vary a lot from country to country. In my experience, it is, however, not as many surveys as on my favorite survey sites. Also, the rewards are not very high compared to other sites.
In fact, the times I have checked the site I have mostly not had any surveys available. Again, this can be different from country to country but this is my experience. And from what I have heard from others, many do not have a lot of available surveys.
To qualify for more surveys, you are encouraged to fill out profile information.
This is very normal on survey sites, and it is a way for the sites to better match appropriate surveys for you.
On Clear Voice Surveys, it is, however, A LOT of profile info you have to fill out. At the same time, you also do not get any bonus payment by filling it out, as you do on some sites.
You have to fill out several small profiles about different topics (see image above). They do not take too long each, and you do not have to fill them all out at the same time.
But overall it will probably take you around 30 minutes and can be quite boring. Especially because you do not get any bonus for it.
Option 2 – Sweepstakes:
Clear Voice Surveys has 3 sweepstakes, you can participate in and get the chances to win cash prizes.
You can earn entries into these sweeps by participating actively on the platform. There is a daily sweepstake, a weekly, and a monthly. The rewards for these are actually pretty good. In the daily sweep, you can win $100, the weekly $250, and in the monthly $1000.
There is a timer that constantly counts down to when the winner will be selected. It is a nice extra chance to win some money if you are using Clear Voice Surveys anyways.
There is, however, not a lot of information about exactly how you get extra entries into the sweeps other than you have to be active. That is a general issue on the platform – not a lot of in-depth information about how it works.
Option 3 – Polls:
You can participate in polls on Cleal Voice Surveys. These are very short and usually takes less than 30 seconds. I do however not see much point in participating in these polls.
You will not get any rewards for participating, but some of them can, of course, be fun to do to see what other people answer, as you will be able to see the statistics of the answers after you answer yourself.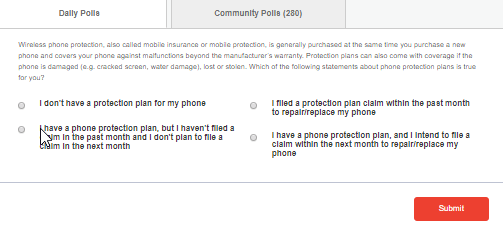 You can also create polls yourself or vote on polls created by other members.
Again, this is not something that will earn you anything. It can still be fun, but it can also easily become a distraction.
Personally, I think this feature is pointless as a member. It seems mostly as a way to get you to answer small polls for companies without having to pay you for it.
And the way to get you to do this is by trying to make it fun by allowing you to make polls yourself. Other sites like for example Toluna and TimeBucks also have the option to create and answer polls yourself. But here you will at least get rewards for it.
Option 4 – Invite friends:
You can earn a little extra by inviting friends to join Clear Voice Surveys. Inviting friends can, in general, be a good way to make a little extra on survey sites, but on Clear Voice, the options are not very good, in my opinion.
You can invite friends by sending an email with an invitation link. If your friend then decides to join, you will get $0.50 when he/she has completed their first survey.
That in itself sounds fine, but the earning opportunities are very limited because you can only get paid for referring up to 10 friends.
A bit strange to have a limit like this. A site like PrizeRebel, for example, does not have a limit on how many friends you can invite, and also a lot better rewards if they do join.
In addition to earning $0.50 on Clear Voice Surveys by inviting a friend, you will also get entries into the sweepstakes after referring 5 friends. Again there is not much info.
You are just told you will get entries but not how many. Another example of the lack of information it is possible to find on Clear Voice Siúrveys.
Option 5 – Supposed opportunities to test products:
You are supposedly able to get access to testing products and getting paid for this on Clear Voice Surveys. When you have logged in, you can however not find any information about this, and there is also no information about this in the FAQ section.
It is only something that is mentioned in the official presentation video of Clear Voice Surveys (see below). So maybe you will once in a while be offered this, but it is not something that you should expect to be offered often.
Below you can see the official presentation video of Clear Voice Surveys to see how the site presents itself. It is also here you can see the information about the chance to test products:
How do you get paid on Clear Voice Surveys?
Good reward options are a very important factor for any survey site. Without having a good way to get your earnings paid out, a survey site is not worth much.
How good the reward options are on Clear Voice Surveys depends on the country you live in. The payout methods on Clear Voice Surveys have changed a bit over the years and since I first reviewed.
The options have never been great, in my opinion. But now they have made them even more limited. According to their FAQ section, the only reward they are now offering is Amazon gift card codes for the US, UK, and Canada.
You can request a payout when you have earned $10.
This really is a limited selection compared to many other survey sites. And there are also so many great sites that offer Amazon gift cards as rewards that just, in general, offer better opportunities.
So even though you can potentially get some gift cards as a member of Clear Voice Surveys it is definitely not the most effective way to get them, in my experience.
Can you use it on mobile?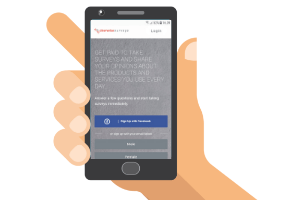 When testing a survey site, I always check, if it is possible to use it on a mobile phone, or if there is an app available.
The reason for this is that taking surveys on a mobile phone can be an easy way to do it, when you have a few extra minutes during the day.
I, therefore, prefer survey sites where this is an option.
It is possible to use Clear Voice Surveys on a mobile phone. It has a responsive website that makes it easy to use when you are on the go. So that is nice – unfortunately, the limited options on the site does not make it possible to make much money on the go.
Who can join?
As long as you are at least 13 years old, you can join Clear Voice Surveys no matter where in the world you live. There can, however, be big differences in the amount of surveys available depending on the country you live in.
From the reward options, it seems that the site is mostly interested in having members from the US, Canada, and the UK. In these countries, you will even have your rewards in your local currency.
So even though you can join no matter where you live, there will be very limited options in some countries. And even if you live in the US, Canada, or the UK, there are, in my opinion, better survey opportunities in your country.
If you decide to join, you need to be aware that they will close your account if you have not taken any surveys for 60 days. So do not level your earnings in your account too long without keeping active as you then risk losing them.
6 Reasons NOT to join Clear Voice Surveys
When I do reviews, I usually finish by making a pro and con list.
But as the headline of this review gives away, I do not really think Clear Voice Surveys is worth joining – at least not for most people. I have decided to clearly list the reasons for this below to give you a better overview:
Poor payout methods:
The payout selection is just simply too limited. The options have never been good on Clear Voice Surveys but them have now made them even more limited and there is, for example, no way get your money out in cash.
Too much profile info to fill out:
Filling out profile info is a part of many survey sites. But on Clear Voice Surveys, it just takes too long, and it also does not give you any rewards.
If it then would end up giving you a lot of available surveys after filling out the profile info, it might be worth it. In my experience, this is however not the case here.
Poor earning possibilities:
The earning possibilities in relation to the time spent are just too poor on Clear Voice Surveys compared to many other sites.
Not a lot of in-depth information:
Clear Voice Surveys, in general, has poor instructions and lacks information about how the site works.
There is, for example, no clear instructions or in-depth information about how the "invite-a-friend" program works, how to earn tickets for the sweeps, or how to get access to testing products.
You have to do a lot of digging to find information about this, and that is not very user-friendly.
Pointless polls:
The polls seem like a waste of time to me. You can answer a lot of questions that are used for market research and is valuable to the companies posting them, but you will not get paid for them.
Poor "invite-a-friend" program:
The option to invite friends is not really a good one. It has very limited possibilities, and it is one of the worst "invite-a-friend" programs, I have seen on survey sites. Not the absolute worst, but close.
Reasons you might want to join anyway
It should be pretty clear by now, why I think you should strongly consider joining other survey sites instead of Clear Voice Surveys.
To be fair, I do, however, still want to mention a few good things about Clear Voice Surveys.
It is a legit site, and for some, it might still be a site worth joining, so I think it deserves to have a few good aspects highlighted as well:
Big sweep prizes:
The sweeps on Clear Voice Surveys have high rewards even though there is not a lot of information about how to get entries to them. But if you are lucky, it can give you some really nice winnings.
Fairly easy to use:
Despite the low amount of in-depth instructions and info on the site, Clear Voice Surveys is a site that is fairly easy to use.
Reasonable payout threshold:
It is great that the payout threshold is only $10. That is a reasonable payout threshold for a survey site.
Final verdict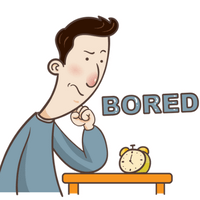 In conclusion, Clear Voice Surveys is NOT a site I recommend joining.
Yes, it does have some good sides and it is legit. But the cons outweigh the pros for me.
If you want to make money on paid surveys, there are a lot of other sites that will give you better and more opportunities, and your time is better spent on those.
If you have any questions or comments or have any experiences with Clear Voice Surveys yourself, I would love to hear from you in a comment below.