Panelbase is a survey site that supposedly offers you financial rewards for completing surveys.
When you register to their website, you get the chance to participate in several of their research studies.
But is Panelbase.net a scam or a real opportunity to earn?
Let me just say right away that Panelbase is a legit survey site. But is it then worth investing your time in?
This Panelbase review will answer that question and more. After reading this review, you will know exactly what to expect and can make an informed decision about whether it is a good idea or not to sign up for Panelbase or not.
What is Panelbase and what does it offer?
Panelbase is a UK-based survey site that offers cash rewards for completing surveys.
They are a division of Dipsticks Research Limited, which is a market research agency that started its operation way back in 1997.
Panelbase on the other hand, started in 2005, which is actually quite impressive, considering that most survey sites don't last that long.
The surveys they offer are mostly targeted to the UK audience but more about this later.
Let's first look at how you can earn as a member. Panelbase offers two ways for you to earn your rewards.
Option 1 – Panelbase surveys
The main method to earn rewards in Panelbase is by completing paid surveys.
Once you finish registering to the site, you can then log in to the dashboard. You can see all the available surveys you can complete once you click the Surveys button.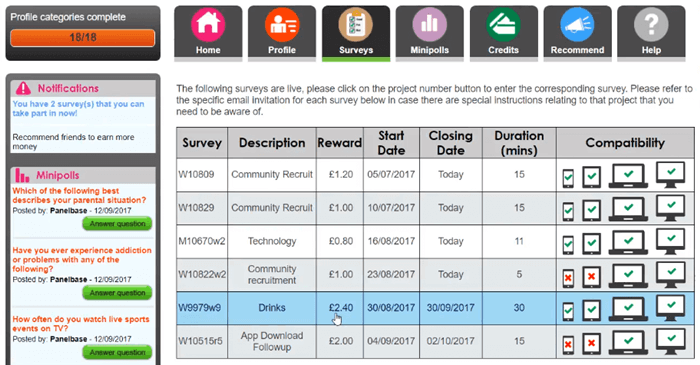 As you can see in the photo above, it will display the deadline of the survey, the reward you get when you complete it, the estimated time it takes to complete the survey, as well as its device compatibility.
The device compatibility will show you whether the device is only available on a smartphone, tablet, laptop, or desktop.
That's some pretty neat additional information most survey sites don't actually provide.
In order to qualify for more surveys, you do have to fill out your profile with all the information needed. It's a lengthy process and you won't get rewarded for filling it up, but Panelbase needs it to properly match you with their surveys.
The average time it takes to complete a survey is around 10-15 minutes. That's a pretty decent time and a quite normal average time for a survey site.
So overall Panelbase offers some decent survey opportunities.
Option 2 – Minipolls
Another way to earn rewards on Panelbase is through their minipolls.
This works just like how Branded Surveys does their polls. The only difference is, with Branded Surveys, you only get one poll you can answer per day, whereas with Panelbase, you can answer several polls every day.
To view all the available minipolls, simply click the Minipolls tab in the member dashboard.
Keep in mind that the minipolls don't offer as high rewards as the paid surveys. But in my opinion, it is actually a good addition since it doesn't take a lot of time to complete.
In fact, some would argue that it is a much better method of earning rewards since you don't actually have to qualify in order to get the full reward unlike a paid survey (more on that later). You just have to answer it and you get the reward.
Option 3 – Monthly Prize Draw
Speaking of not qualifying for the survey, every time you get disqualified for a survey that you started taking, you will still get something out of it.
Panelbase will reward you with entry to their monthly draw. This is actually a pretty common compensation method for survey sites.
Panelbase holds a monthly prize draw with prizes that range from £1 to £50. The number of winners per prize category will vary.
For the top prize of £50, two winners will be drawn per month.
Of course, this is not a reliable way of earning rewards. Think of this as a way to sweeten the deal and as a consolation prize if you do not qualify for surveys which can otherwise be frustrating at times.
Option 4 – Referral program
The referral program of Panelbase is pretty straight forward.
I always like sites that have some form of referral program since it becomes some sort of passive income if you know people that might be interested in joining you can invite.
But in Panelbase's case, their referral program isn't really a very reliable method of earning money.
Unlike the SurveySavvy's referral program, Panelbase will only reward you with £0.20 for each friend you invite.
That's a pretty low amount. Plus, you won't get to earn a percentage of your referral's income, which is a pretty common arrangement in most referral programs.
So in my opinion, their referral program is pretty weak in terms of income generation.
How do you get paid?
Here's the important part. Once you keep completing surveys, your rewards will naturally pile up.
The good thing about Panelbase is that it has a relatively low payment threshold of £10. So when your reward reaches £10, you can now request for payment.
Panelbase actually has two ways you can request for payment.
The first method is by way of direct bank transfer through BACS.
If you don't have a clue what BACS is, here's a short video you can watch. It is not the most exciting video but it does a good job at explaining what it is and is very short:
What's good about a direct bank transfer cash out is that you can avoid PayPal fees, which can be pretty significant when it piles up.
The other method is to request payment via voucher options. You can exchange the reward you've accumulated to its equivalent in vouchers.
The vouchers will be sent to the address you provided by postal mail.
How much money can you make?
When it comes to earning money with a survey site, you can't expect to make a full-time income.
This is the norm for all survey sites. So don't be alarmed.
Usually, you will get between £0.25 and £10 per survey but you need to be aware that usually, it will be towards the lower end and very rarely you will get a survey for more than £5 even though it can happen.
So it can take some patience to earn on Panelbase depending on how lucky you are with the surveys you get.
You also have to consider the frequency of the available surveys and that you will not always qualify for the survey that you have completed.
The best way to increase your chances of qualifying for a survey is to ensure that you take the survey as soon as it is available.

Another important thing to remember is that if your account becomes inactive for 12 months, every reward you have earned will be forfeited.
Logging back in after 12 months won't cause you to get back the accumulated rewards.
Overall, there is not much money to be made with Panelbase, but it can serve as a decent secondary site to earn from.
But there are better options out there, in my opinion.
Can you use it on mobile?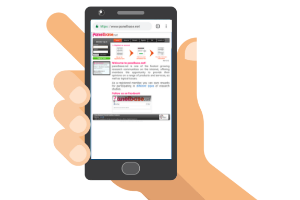 When you look at the available surveys in your dashboard, it will indicate whether the survey will be available for mobile devices or desktops and laptops.
That means you can use the site on a mobile device which is great as you can then easily get access when it fits you.
I searched their website and even Google Play for an app, but unfortunately, they don't have one.
So, you can only access their site on a mobile device using a mobile browser.
When I checked their website on a mobile browser, you will be able to log in via the mobile browser.
The mobile site seems responsive, but unfortunately, it is not optimized for mobile use.
You can tell if a site is optimized for mobile use by simply looking at its mobile version.
The tabs on the mobile version of their site are too small. It's like the website was just compressed to fit the screen of a mobile device.
That makes it harder for you to press the tabs without having to zoom in. So you can use Panelbase on mobile but it does not give a very good experience, in my opinion.
Who can join Panelbase?
Upon checking their website, it looks like you have to be at least aged 16 years or older and have access to the Internet, a landline or mobile phone in order to become a member.
And as you can probably tell, you can only sign up if you are a resident of the U.K. This is mainly due to the fact that the research they are doing only caters to U.K. based companies.
They do, however, state in their FAQs that if they continue to grow, they will extend research opportunities into new territories like USA, Canada, and Europe in the future.
But it has said that on the website for a few years by now so you probably should not expect it to open in more countries soon.
So if you don't reside in the U.K., I suggest you check out the best survey sites in your country instead.
Can you get support?
When I checked their website, they do use Zendesk as their primary support platform for their members.
If you aren't familiar with Zendesk, it is a kind of platform that allows you to create a ticket for an inquiry or issue that you are experiencing.
Your correspondence with them will mostly be with the ticket you have submitted. You do have to log in to their site in order to access the Zendesk helpdesk.

The good thing about Panelbase is that they provide you with several different ways to contact them. You can use the phone number provided, as well as their physical address in case you want to mail them.
A quick look on their Trustpilot page also shows that they do engage with the people commenting. That shows that they make an effort to communicate with their members.
Their social media pages are also active as of this writing. You can also send a message via their Facebook page. So they've got those covered.
Final Verdict
Panelbase is a UK-based survey site that rewards you with real money for completing their surveys.
They have been in the business for more than 10 years now, which shows that they are really a legit survey site.
To help you with your decision on whether joining is a good idea or not, let's finish this review by summing up the pros and cons.

Pros:
Has several earning opportunities
The website is easy to navigate
Low payout threshold
Has a direct bank transfer option for cash out

Cons:
Fairly low rewards offered
Not a lot of available surveys
In my opinion, Panelbase is a decent secondary site to earn money. That is if you live in the U.K.
Their website is easy to navigate on, which is a huge bonus. Plus, the ability to request payment via direct bank transfer makes it more convenient for you to get your money.
Their low rewards for each survey completed is what hurt them. If they only had a higher reward for the surveys completed, they could be a good site for U.K. residents to earn a bit of extra money.
I would, however, highly recommend that you check out the best survey sites in the U.K. for better opportunities.
If you have any comments, questions, or have any experiences with Panelbase yourself, I would love to hear from you in a comment below.