The problem with online reward sites, if you are new to it, is it's hard to determine which sites are worth joining. That's why you need to do proper research.
So, if you've been searching for survey sites you can join and have encountered a site called Zippy Opinion, you must be wondering if Zippy Opinion is legit?
Let me address that question right away so we can talk more about the site. Yes, Zippy Opinion is a legit survey site. You will get paid for answering surveys and doing other activities on the site.
Now, to figure out whether this site is worth joining or not, we have to take a look at a few things first. This Zippy Opinion review will examine all the site has to offer so you'll know what to expect if you join this site.
In the end, I'll also give a rating of this site so you can get an idea of whether this survey site is really worth joining or not.
What is Zippy Opinion and what does it offer?
Zippy Opinion is a platform where you can participate in consumer research from organizations of global repute. It is a site where you can share your opinions about products and earn rewards in exchange.
Now that you know what it is all about, we have to take a closer look at the earning opportunities it offers so you can get a clear picture of how well you can earn from this survey site.
So, here are the earning opportunities it offers.
I have amde a shrt video tutorial that shows exactly how it works. You can also read all teh details below the video:
Option 1 – Paid surveys
The main method of earning on this site is through paid surveys.
When you become a member of this panel you will be given access to their member dashboard (refer to photo below) where you can find all the surveys you can answer.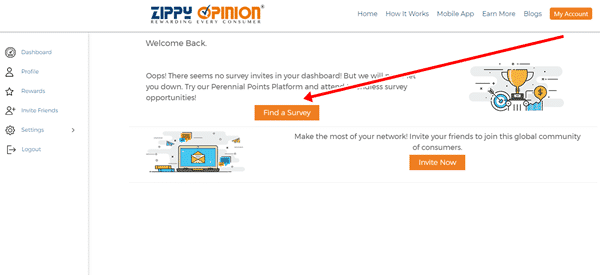 If there are available surveys, you will immediately see it when you log in. But if there aren't any, you can click the Find Surveys button to check if there are new surveys you can participate in.
When there is a survey you can answer, you will see the reward you will earn when you complete it. To answer the survey, you just have to click the "Start" button. You will then be redirected to the screening process of the survey.
You will first have to answer a couple of qualifying questions. This is done to ensure you belong to the target group the survey is intended for.
If you qualify, you will then proceed to the actual survey. If you don't qualify, then you simply move on to the next survey offer.
Once you've completed the survey, you will receive the reward promised and it will be reflected in your Zippy Opinion balance.
Option 2 – Referral program
As a member of Zippy Opinion, you can supplement your earnings from answering surveys by inviting people to join the site.
This is called a referral program and it is usually found on survey sites and other online reward sites.

The way a referral program works is, every time you invite a person by sharing your invite link with them, when they successfully register to the site, they will become your referral.
Now, Zippy Opinion will reward you once your referral completes his or her first survey. That is the condition for receiving the reward from your referrals.
The reward will range from 5 to 50 points per referral, which in my opinion, is pretty low. So, don't expect to boost your earnings significantly by inviting people to join the site.
How do you get paid?
If you were hoping to earn cash from this survey site, then, unfortunately, you will be disappointed. They only offer gift cards as a reward.

But there are some great gift cards. Getting Amazon gift cards as rewards can be almost as good as cash and so can other gift cards if you regularly shop in any of the shops they have gift cards for.
As you already know, every survey you complete, and every referral you make will earn you a certain number of points.
This is what you will use to redeem gift cards from Zippy Opinion. Once you've earned 1000 points, you can start redeeming gift cards.
But, the points you have earned form surveys cannot be used until it is approved upon validating the responses and closing the project. So, you will have to wait a certain period for the points to be approved before it can be used to redeem gift cards.
Take note that 1000 points are worth $10. So, it's a relatively low threshold, which is good because you can redeem rewards a lot quicker. However, the lack of cash rewards really affects the versatility of this site in terms of payment methods.
If you prefer to earn cash instead of gift cards, I would suggest you check out the top sites that pay via PayPal instead. PayPal, in my opinion, is the most convenient payment method available today.
How much money can you make?
On a survey site, the amount of money you can earn will mostly depend on how many surveys you can complete. Another factor is how well the survey site pays.
As for the number of surveys you can complete on this site, it will mostly depend on how many times you will receive survey invites.
There's no guarantee you will receive a fixed number of surveys every week or month. So, it's really hard to gauge the number of surveys you can answer.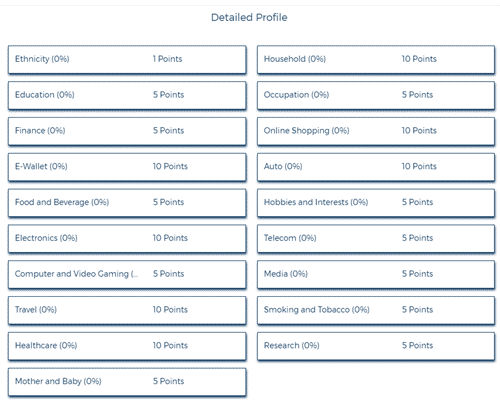 The best thing you can do to maximize your chances of receiving survey invites is by completing your profile. You will have to answer several profile questionnaires (refer to the photo above).
But the good thing is, you will earn points when you complete every section of your profile. So, it's not a total waste of time.
As for how well they pay, each survey will allow you to earn 25 to 250 points. To put it into perspective that will be between 25 cents to $2.50. It's not a great amount but it's not bad either. In my experience though, you will seldom get paid the maximum amount of $2.50.
However, Zippy Opinion does give you some bonus points for using their mobile app (which I will discuss next) and if you win their monthly Facebook and Twitter contests. Overall though, I would say that Zippy Opinion doesn't have a high earning potential.
You will need to be extra patient with this site because it doesn't have a lot of earning opportunities.
Can you use it on mobile?
Zippy Opinion does offer a bit of convenience because you can download a mobile app and install it on your mobile device so you can answer surveys even when you are not in front of your computer.
This makes it easier and more convenient for you since you can answer surveys anytime and anywhere.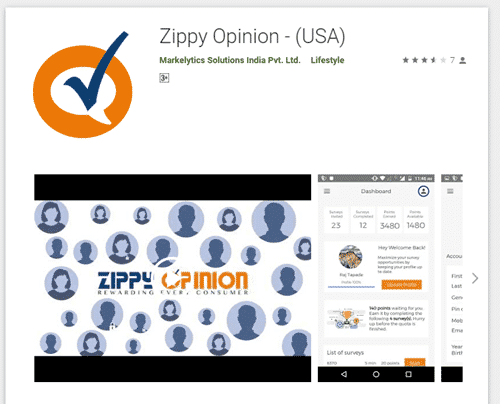 Their app is available for download on both Android and iOS app stores. Plus, it is very user-friendly. And as mentioned, you will earn a one-time 25 point bonus for simply using their app.
There are also surveys and even mini-polls that are only available on their mobile app. So, if you are interested in joining this site, using their app is definitely a must.
Who can join Zippy Opinion?
Zippy Opinion is only available in two countries, India and the United States. If you are not a resident of any of the two countries, then this site is not for you.
Simply fill out the sign-up form on the home page and make sure to put the details in all the required fields. Once you've done that, just click on the "Join" button. After your sign up, you will be sent a confirmation email to your registered email address for confirming your registration.
One thing to note when registering, if you live in India, make sure to set your country to India. The same goes if you are a US resident. You will be able to do that on their homepage where it says "Set your geography".
After you've finished the sign-up form, check your inbox and click on the link to activate your account.
Once you've done that, you can now log in to their member dashboard and start earning. You will also receive a 25 point joining bonus. It's not much, but at least, it's something.
Can you get support?
One thing I can say about how Zippy Opinion is, it does care about its members.
This is evidenced by how well they present their FAQ page. Usually, in my experience, most survey sites don't have very comprehensive FAQ pages.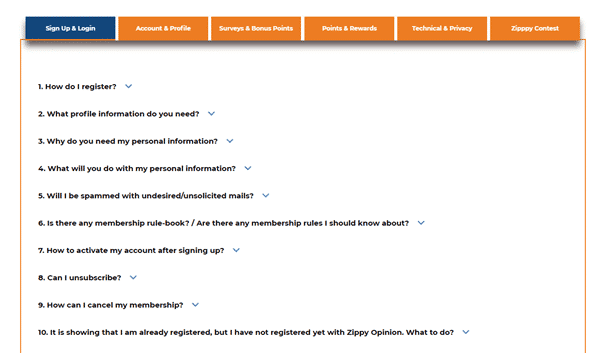 But with Zippy Opinion, they have a well-organized FAQ page that covers most, if not all, of the important topics you need to know about the site. This goes to show they give a lot of importance to the usability of the site.
Plus, if you can't find the answer you are looking for on their FAQ page, you can always submit a support ticket on their Support page.
You can access their support page when you log in to their member dashboard. Click the Settings link on the left side and you will find the link for their Support page.
Overall, I would say that they do provide a decent support system for its members.
Final Verdict
Zippy Opinion is a legit survey site that does reward you for answering surveys. But it does have a couple of drawbacks and a few advantages as well.
Let me finish this review with a summary of its pros and cons to give you a better overview of the site so you can decide if you should sign up or not.

Pros:
Relatively low payout threshold
User-friendly site
FAQ page covers most of the important topics you need to know

Cons:
Limited earning opportunities offered
Low rewards
No cash reward offered
Zippy Opinion is not a bad survey site, in my opinion. However, the fact is, there are simply better choices out there. Even though it has a relatively low payout threshold, you will still need to be very patient with this site because its reward per survey isn't that high.
Plus, the fact that it doesn't offer any cash rewards just makes it less versatile in terms of payment options. There are a lot of survey sites that will allow you to earn cash aside from gift cards.
But if you live in India or the US and you don't mind earning gift cards, then Zippy Opinion can be a decent secondary site to join. Just temper your expectations a bit.
If you prefer to earn cash though, I recommend you check out the top survey sites in your country instead.
Most of the sites on this list all offer cash rewards and have good earning potential as well. Plus, you will definitely find a site you can join regardless of where you live.
If you have any comments, questions, or have any experiences with Zippy Opinion yourself, I would love to hear from you in a comment below.