RewardBee is a survey site that claims to reward you for answering their surveys.
But is RewardBee a scam or really a legit way to earn?
This important question needs to be answered so you can decide if you will join or not.
So let me just answer it right away, yes, RewardBee is a legit survey site.
BUT there are some really important things you NEED to know to understand what you really get as a member.
I recommend you read this RewardBee review before deciding to join so you get an inside look and know exactly what to expect.
That way, you can make an informed decision on whether you want to join this survey panel or not.
What is RewardBee and what does it offer?
As mentioned, RewardBee is a survey site that will reward you for completing their surveys.
They claim their reward opportunities are fun and easy, which is a good thing because it won't be so boring.
Well, I do not necessarily agree completely about that as there are some things that are not quite as they first might seem.
But in order to truly understand what this site is all about, you need to know how you will be able to earn from this site.
So let's take a closer look at their earning opportunities so you can see and judge for yourself.
I have created a video tutorial that gives you a full inside look so you can see and judge for yourself. You can also read all the details below the video:
Option 1 – Paid Surveys
Most of the rewards you will earn from RewardBee will come from their paid surveys.
This isn't surprising because they are primarily a survey site. They do have other offers (which I will explain next), but the most prevalent one is the paid surveys.
Their process for answering surveys is pretty straightforward.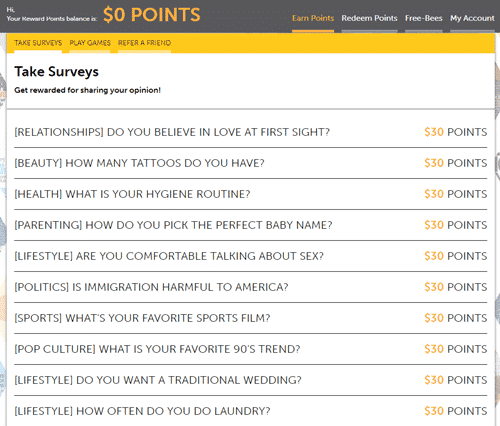 Once you finish the registration process, you will be able to log in right away to their member dashboard and see all the available surveys you can take.
What's good about RewardBee's surveys are, you don't need to answer qualifying questions.
This is a big thing because this means you will always be qualified for the surveys offered to you.
Unlike other survey sites where you will have to answer pre-qualifying questions in order to proceed to the actual survey, RewardBee's process is a lot more simple. It also guarantees you always get the reward for the survey offered.
As you can see in the photo above, you will know beforehand how many points you will receive for completing the survey. This allows you to prioritize the surveys you want to take if you are quite short on time.
And in my opinion, the topics offered are pretty general and interesting, which makes it easier for you to keep answering surveys because you won't get bored.
However, even though this at first sounds very good, there are also reasons they can do this and that you will always qualify. This is connected to the rewards they offer so we will go into that in more detail later.
Option 2 – Playing Games
Another way to earn rewards with RewardBee is to play games.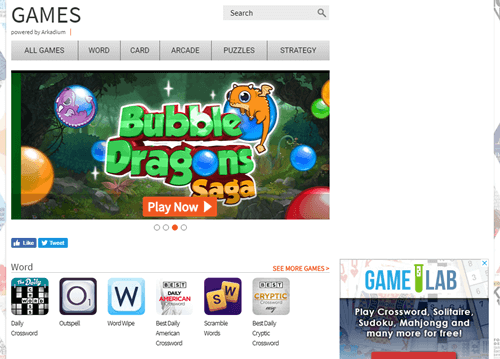 If you remember, RewardBee did promise you will have a fun time earning rewards on their site. By playing the games they offer, you will also be able to rack up points.
It's also fairly simple. Just choose a game you want to play. You will earn 10 points for every 2 minutes you spend playing the game.
What's good about this method of racking up points is, you won't really mind the time you spent because you will have fun. You will be surprised you've already earned points. I know I did when I played Scrabble.
There are also a lot of games to choose from if you get bored with one. In my opinion, this is a good way to earn points if you've already answered all the available surveys.
Option 3 – Referral Program
RewardBee also has a referral program where you can earn by inviting friends to join.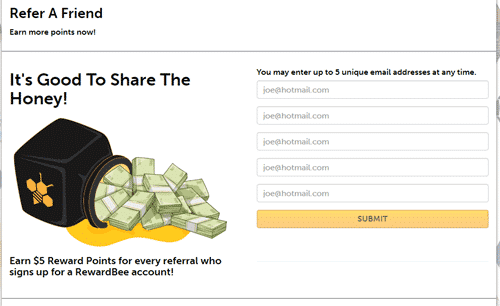 As shown in the photo above, you can earn 5 points for every friend you refer.
Just enter the email address of your referral in the corresponding field. Take note, this has to be the email address your referral use when registering to the site.
And as you can see, you can enter 5 emails at a time. This also means, there is no limit to the number of referrals you can make.
You just have to enter 5 email addresses at a time. If you have 15 referrals, you have to input the next batch once the screen refreshes (and so on and so forth).
The reward you get isn't much though, in my opinion. But at least it's something. It can be a nice supplement to the points you can earn from paid surveys and playing games if you feel RewardBee is worth recommending.
How do you get paid?
If you are looking to earn real money with RewardBee, then let me just tell you right away, it won't be possible. Let me explain.
RewardBee uses points as its currency. Every paid survey you complete and every game you play will reward you with points (as stated previously).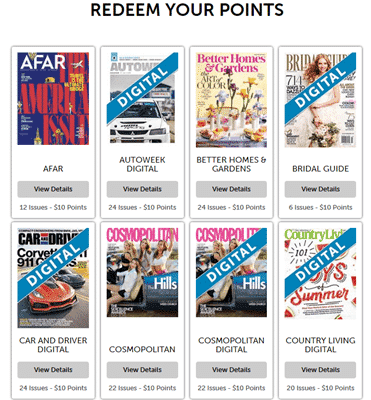 As shown in the photo above, you will be able to redeem the points you've earned for magazine subscriptions. This can either be a physical copy or a digital copy.
Aside from magazine subscriptions, you can also choose cashback rewards like vouchers from different retailers and service providers like CBS, Hulu and a lot more.
The good thing is, there are plenty of rewards to choose from. The bad thing is, none of them will be converted to real money.
One thing I noticed with their reward system though is, there seems to be no payment threshold. That means you can redeem rewards even if you only have 10 points in your account (which is what most of the rewards will cost).
To redeem a reward, just choose which one you like (provided you have enough points) and then fill out the form on the right-hand side of the page.
You will have to provide your address because some rewards will involve RewardBee shipping the physical copy of the magazine subscription to your address.
So at first, this looks very appealing but you have to understand something about their rewards.
Many of them are actually kind of promotional offers and that is why they can give them out so quickly.
Some of the rewards are for example to sign up for some free trial for different services like audiobooks.com, CBS, and Hulu.
The thing is that offers like this are what on most other sites are called paid offers where you earn by signing up for free trials.
Because the sites get paid to promote these offers and most other sites share a part of this profit with you when you sign up.
That is, however, NOT what RewardBee does. They instead make it look like you get such a great deal that you have to spend your earned points to get it as a reward.
That means more profit for them as they do not share any of the profit for these offers with you and at the same time, you use the points you have earned.
From their perspective a really clever setup but really a letdown for you as a user, in my opinion.
Therefore, the reward options are a big minus in my opinion compared to other survey sites.
How much money can you make?
As I've mentioned, you won't be able to earn real money from RewardBee. But the cashback rewards they offer can actually be a lot like real money too.
Let me paint you a picture.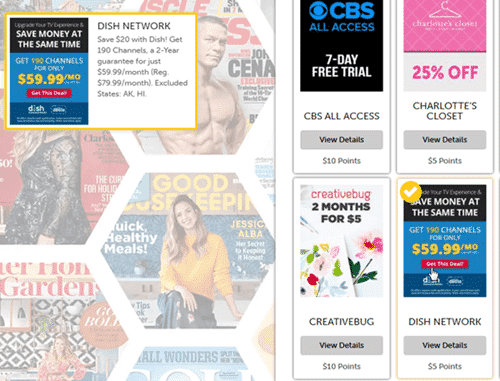 Let's say, for example, you've chosen to redeem a Dish Network voucher.
As shown in the photo above, you can save $20 per month if you wish to subscribe to them using this voucher. If you use this voucher, you will get a discounted rate on your monthly Dish Network subscription.
If you add it up, the money you can save will be quite significant over time. And it only costs 5 points.
However, as mentioned earlier on many other sites you would actually get paid for these types of offers so the rewards on RewardBee does not really make much sense in my opinion.
And nothing beats real money.
If you are looking for survey sites that will allow you to earn real money, I suggest you check out the top PayPal survey sites instead.
Can you use it on mobile?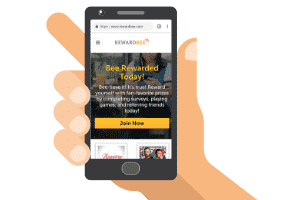 There is no mention on their website about a RewardBee app you can download and install on your mobile device.
However, you will be able to access their site using a mobile browser. The good thing is, it is also optimized for mobile use. Therefore, you won't need to scroll left or right or zoom in and out just to read the content.
This means you will be more efficient at racking up points because you can answer surveys or play games even when you are not in front of a computer.
It's things like this that can help make a site much more enticing if you are interested in becoming a member.
Who can join RewardBee?
RewardBee is only available for US residents.
So, if you live outside the US, you won't be able to join. If you are a US resident though, you have to be at least 18 years of age to join their panel.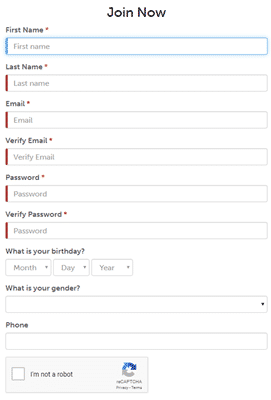 Their registration process is fairly simple. You just have to fill out the form shown in the photo above and you are all set.
You don't even need to confirm your registration. You will be redirected immediately to the member dashboard.
There is no mention on their website though on how long you need to be active on the site before they consider your account inactive and terminate it.
However, if you are looking for other survey sites in the US that will allow you to earn real money, I suggest you check out the top survey sites in the US.
Can you get support?
As far as support is concerned, RewardBee has the basic package of a FAQ section and a contact form.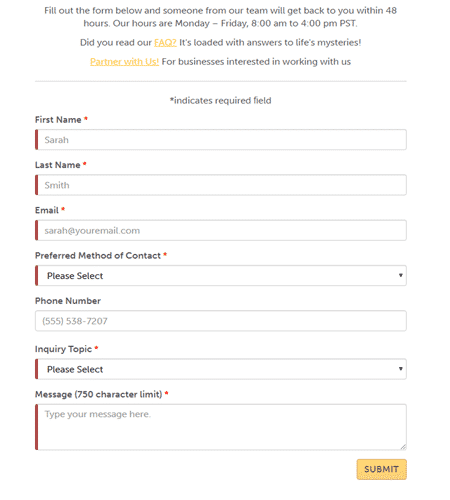 As you can see in the photo above, they guarantee someone will get back to your inquiry within 48 hours.
They do mention their business hours, which I presume will be the only time they will be replying to your message.
So, if you sent a message on Friday, expect the reply to be on the next Monday or Tuesday as the latest.
As for their FAQ section, it isn't really very comprehensive in my opinion.
There are common questions not addressed like how many survey invites you get. Normally, this type of information is readily available in other survey sites.
I also checked their social media accounts since some people also prefer to get a hold of the site using that platform.
The good news is they are pretty active on all their social media platforms. You can send them a message on those platforms and you can expect a reply.
I'm just not sure how quickly they reply though. But overall, their support seems decent enough, in my opinion.
Final Verdict
RewardBee is a legit survey site that will reward you for answering their surveys and playing the games they offer.
It's just not what you would expect from a survey site though.
To help you make a decision on whether this site is for you or not, let's finish this review with a summary of RewardBee's pros and cons.

Pros:
No payment threshold
Decent support
Plenty of surveys available

Cons:
You won't earn cash
Restricted to US residents
Some of the rewards you will get paid for on other sites
As you can see, the main issue with RewardBee is its inability to let you earn real money. If you are into magazine subscriptions this can be a decent site to join.
However, the other rewards they offer are a real letdown in my opinion. Here they try to get you to spend points on "rewards" that you can get paid to take on other platforms.
This makes it a VERY poor option compared to other sites, in my opinion.
So if you are looking for survey sites that will allow you to earn a decent amount of cash and that overall have better opportunities, I recommend you check out the top survey sites in your country instead.
This list will have plenty of surveys to choose from and all of them will allow you to earn real money. Plus, you will surely find a survey site for you no matter where you live.
If you have any comments, questions, or have any experiences with RewardBee yourself, I would love to hear from you in a comment below.