TeensEyes is a site that claims you'll be able to earn money by answering surveys. It sounds like a pretty good deal especially if you are looking for ways to earn extra cash.
But the question is, is TeensEyes a scam or is it really a legit survey site?
This is a valid question – one you should always be asking if you are interested in joining a site that offers monetary rewards.
I'm always looking for ways to earn money online, so I've decided to try this site out to see what it is all about. I will share everything I have learned from testing this site in this TeensEyes review so I can give you the full details of what it has to offer.
That way, you'll know exactly what to expect before you even sign up. Then, you can decide if joining this site is a good option or not.
What is TeensEyes and what does it offer?
TeensEyes is a survey site that will allow you to earn extra cash through the surveys it offers. It's from the same company that made KidzEyes, which is another survey site that essentially offers the same kind of earning opportunity.
It is indeed a legit site since you will really get paid to answer surveys. So, how does this site work?
Well, to understand how to earn from this site, we must take a closer look at the earning opportunity it offers. So, here's how to earn from TeensEyes.
The earning opportunity – Paid surveys
The only way to earn from TeensEyes is through the paid surveys it offers. If you've been a member of other survey sites before, then this will be very familiar to you. You answer surveys, and if you manage to complete the survey, you earn the promised reward.
But if this is your first time joining a survey site, let me explain how it works. When a survey is made available, you'll receive a notification via email. You can also just view the available surveys by logging in to the member dashboard of the site.
Every survey will tell you the reward you will receive for completing it. It will also show you the estimated time to complete the survey.
When you click the offer, you will first have to go through a qualifying process, so the questions you will be answering will just be a set of qualifying questions. It's not the actual survey. If you pass the qualification process, then you'll be able to answer the actual survey.
If you fail the qualification process, you'll just have to move on to the next survey available.
After you successfully complete the survey, you will receive the reward promised, and it will be credited to your TeensEyes account. In the next section, I will discuss how you can get paid.
The earning opportunity of TeensEyes is very straightforward that's why I would say it's one of the simplest survey sites around, in my opinion.
Most (if not all) of the surveys you will encounter will ask about things like TV shows, movies, websites, snack foods, music, clothes, sports, video games, and other things that teens are interested in. So, the surveys are also not that boring.
Recommended: Check Out the Top Survey Sites in Your Country
How do you get paid?
Every time you complete a survey you will receive a certain number of points. Then, you can convert the points into cash once you've earned at least 1,000 points (worth $10). You can request a check once you reach the threshold, which will be sent to them via postal mail.
In my experience, it can take around two weeks for the check to reach your doorstep, which is quite a bit of time, in my opinion. From time to time, however, there will be surveys that won't reward you with points.
Instead, these are what they would call sweepstakes surveys. When you successfully complete these surveys, you'll be entered into their sweepstakes draw. You can potentially win various prizes. I personally did not encounter this kind of survey when I was testing the site.
It's not a very common occurrence, so you can't really rely on it. That's why I would consider getting paid in cash as the more reliable way to get paid by the site.
Overall, I would say the payment system of TeensEyes is relatively straightforward. However, I personally don't like this kind of payment method because it takes a long time for you to receive your earnings. Once you receive it, you'll also have to go to a bank and cash in the check, which takes up more time.
I personally prefer to get paid via PayPal or bank transfer instead because it's more convenient, in my opinion. It's also faster. If you are interested in more sites that use a convenient payment method, I would suggest you check out the top sites that pay via PayPal.
How much money can you make?
The amount you can earn from TeensEyes will mostly depend on how often you are able to complete surveys. Unfortunately, you don't have control over how many surveys will be sent your way.
TeensEyes is actually a specialty survey site. As the name suggests, the surveys offered by this site are for teenagers. So, the availability of surveys will understandably be fewer compared to the availability of surveys for survey sites with a broader audience.
If you are interested in more survey sites that are suitable for teens, then I would recommend you also check out the best paid surveys for teens.
As for how much you can earn for each survey, it will usually depend on the length of the survey. Normally, you can earn around $2 to $20 per survey. It's not a bad rate, in my opinion. But again, you have to keep in mind that there won't be many surveys to answer.
You can consider yourself lucky if you get offered one survey per week. Plus, TeensEyes has a cap of 60,000 points in any given calendar year. That means you can only earn a maximum of $600 per calendar year.
Overall, I would say the earning potential of TeensEyes is relatively low. It will take a significant amount of time before you can earn a decent amount from this site.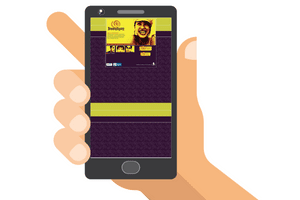 Can you use it on mobile?
TeensEyes doesn't have a mobile app you can download. Its site is also not mobile-friendly. In fact, I would even go as far as to say it's a bit outdated.
If you want to use it on your mobile device, you'll have to constantly zoom in just to read the content and click links. That is why if you want a more seamless user experience, I highly recommend you work on this site using your laptop or desktop.
Who can join TeensEyes?
As mentioned earlier, TeensEyes is a survey site exclusively for teenagers, specifically teens in the US. To join this site, you will have to be 13 to 18 years old. If you are not in that age range, or if you live outside the US, then this site is not for you.

To sign up, you just have to fill out the registration form. However, as shown in the photo above, TeensEyes doesn't always accept new members. This is probably due to the fact that there are more respondents than surveys.
So, to keep the supply of surveys and the number of respondents balanced, they close the registration from time to time. If you are really interested in joining the site, you have to keep checking if the registration is available.
Also, a thing to note if you decide to join this site is that you have to get the approval of your parents (or legal guardian).
Can you get support?
If you have questions about the site, you can check out the FAQ page of TeensEyes first. It discusses most of the basic topics you need to know about the site.
If, however, you can't find the answers you are looking for, then you can just get in touch with their support team via email. You can email them at memberinfo@teenseyes.com.
Overall, I would say the site has a decent support system for its members since it at least offers a way for you to communicate with their support team.
Final Verdict
TeensEyes is a legit survey site that will pay you for answering surveys. It has a couple of advantages, but it also has a few limitations you need to be aware of.
Let me end this review by summarizing its pros and cons to give you an overview of what the site offers. Then, you can decide if this site is for you or not.

Pros:
Offers a simple way to earn

Cons:
Limited earning opportunities offered
Doesn't use a convenient payment system
The site is outdated
In my opinion, TeensEyes can be a decent site for teens to earn extra cash. There are not a lot of sites that can allow teenagers to earn cash. So, they have that going for them, in my opinion. But, you do have to go in with the proper expectations.
It will take some time before you'll be able to earn a decent amount from this site, so you do have to be a bit patient if you decide to join this site.
Now, if you are looking for ways to earn extra cash, I suggest you check out the best paid surveys for teens instead. The sites on this list all have good earning potential, so you'll be able to earn a decent amount in no time.
Plus, they all accept new members, so you can start earning immediately.
If you have any comments, questions, or have any experience with TeensEyes yourself, I would love to hear from you in a comment below.