KidzEyes is not your ordinary survey site. They claim they will pay your kids for completing their surveys.
So as a parent, if you want your kid to earn a bit of money, naturally, you will be asking, is KidzEyes a scam?
Well, let me just tell you right away, no, KidzEyes is not a scam. It is a legit online survey site that does what it claims to do. However, I have also heard some complaints about it.
So it being a real survey site doesn't mean you should automatically let your kids join this panel. You have to fully understand first what this site has to offer before you decide whether or not it is a good idea to let your kids join.
This KidzEyes review will take an inside look to give you a clear picture of whether this is great for your kids or not.
What is KidzEyes and what does it offer?
As mentioned, KidzEyes is a pretty unique survey site because it is aimed for kids aged 6 to 12 years of age (later I will also give you a tip for sites if you have older kids).
It is owned by C+R Research, a full-service marketing research firm that helps businesses make better decisions about their marketing strategies.
You seldom find online survey sites that purely cater to kids. In my opinion, this is a great opportunity to help you teach your kid/s the value of working.
So, let's take a look at how your kid/s will be able to earn from this site so you can understand what KidzEyes brings to the table.
Option 1 – Paid KidzEyes surveys
The main method of being able to earn from KidzEyes is by completing their paid survey offers.

As you can see in the photo above, the surveys they offer are geared towards children aged 6 to 12 years old.
According to feedback from members, most of the topics covered in their surveys include clothing, TV shows, food, games, school, technology and a lot more.
Once you finish the registration process, you can simply log in to the website and see if there are any available surveys.
You can then give the login details to your kids, so they can check for themselves if there are any available surveys they can take.
You will also receive a notification email for survey invites so you can monitor if there are surveys that your kid should not answer.
You can expect though that the surveys are easier because they are, after all, for kids. After completing a survey, they will be awarded a certain number of points (which I will discuss later).
In my opinion, what makes these surveys good for your kids is, not only will these teach them the value of doing work in exchange for money, it can also be informative and help keep your child sharp.
You can even say that teaching them at a young age that doing work will always pay off, can be a much more valuable reward than any monetary reward they will get from doing these paid surveys.
So, KidzEyes actually works both for you and your kid in some regard.
However, you need to make sure you all do it with the right expectations so they will not end up feeling they are wasting their time. So make sure you also read the section later about the earning potential.
Option 2 – Prize Draws
KidzEyes also holds a prize draw every month. They call this "Super Poll".
Every month, your kid will receive an entry to join their Super Poll. During this prize draw, they will have a chance to win 10,000 points (which is equivalent to $100).
Don't rely on this opportunity though, because obviously, this will all be based on chance. But it is a nice bonus that can help make your kid become excited to keep logging in to the site.
How do you get paid?
KidzEyes uses a points system for their panel. So, every time your kid completes a survey, they will earn a certain number of points.

As shown in the photo above, the minimum number of points each survey will award your kid is 50 points. The longer and more difficult the survey, the higher the rewards will get.
Once your kid accumulates a certain number of points (1,000 points to be exact), he or she can then request for a check.
The check will be mailed to the postal address you entered during the registration process. Every 100 points are worth $1.
It is important that you make sure you entered the right mailing address during the registration process. Otherwise, your kid will never receive the rewards he or she earned.
How much money can you make?
In terms of earning potential, the amount of money your child can make from KidzEyes will actually depend on the number of survey invites they get, the number of surveys they actually complete and the reward for the survey they complete.
They do mention on their site that you can expect at least 1 to 2 survey invites per month.
It's not a lot, but then again, these surveys are for kids. So, it's a healthy number, in my opinion, because receiving too many survey invites might distract them from their school work.
They might end up prioritizing these surveys rather than their homework or school projects. You don't want that to happen. The idea here is to help them earn a bit of spending money and not actually earn a steady income.
The $10 payment threshold is also relatively low, but considering your kid will only receive invites once or twice a month, it can take quite a long time for them to actually start receiving payment.
But you might have to talk to them first so they understand what to expect and know that it will not give a lot of money.
Also, it will take some patience to receive the money once they finally reach the payout threshold as they will be mailed by check. And since I first posted this review, I have also heard someone complain in a comment below that some of the checks did not arrive.
I cannot say if this is something that happens for others as well as I have only heard this once. But I still want to mention it here as it definitely is important not to give your kids too high earning expectations.
Can you use it on mobile?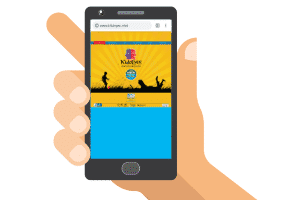 There is no mention on their website about a KidzEyes app you can download on your mobile device so your child can work on surveys even when they are not in front of a computer.
You can access their site using a mobile web browser.
The problem is, the mobile version of their site is not optimized for mobile use. This means you will have to zoom in and out or scroll left and right just to see the content clearly.
The way I think about this is, KidzEyes did not bother to optimize their site for mobile use so that your child will be forced to sit in front of the computer to answer surveys.
That way, you can easily monitor them while they are taking the survey.
You can also just sit beside them when they are answering surveys just in case they need help or ask questions. Either way, it would be best if your child answered the surveys on a computer, in my opinion.
Who can join KidzEyes?
When you sign up to become a member of KidzEyes' panel, you will be immediately notified that it is only for residents of the US, as shown in the photo below.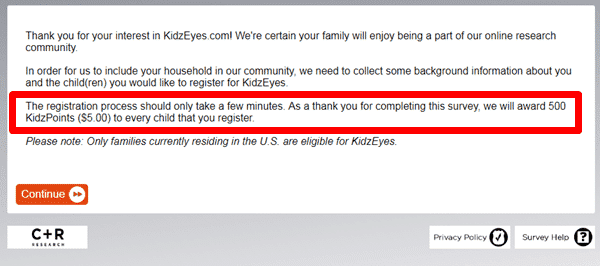 The way their site works is, you, as a parent, should be the one to register on their website.
Once you complete the registration process, you can then log in to their website and add your child as a member. So, in effect, you are just giving your child access to the account.
You can do this by logging in to their site and clicking on the "Add A Child" tab on the upper right side of the screen. You just have to input the login details of your child then give those details to them so they can log in to the website and do the surveys.
You can add a maximum of 5 child accounts in your account. Take note that the children must be between 6 to 12 years of age in order to join the panel. Once you register your child, they will also receive 500 points immediately.
So, if you have two kids you want to sign up for the panel, they will each receive 500 points once you add them to your household account.
You can also delete their account anytime you want.
And when your children turn 13, they will also automatically be enrolled into a different program called TeensEyes, which is pretty much the same platform, but for kids aged 13 to 17 years of age.
If you have children above 12 years old, you can also check out this list of survey sites for teens if you want them to have more sites to join.
Can you get support?
An issue with their website I can see is, it is pretty hard to get a hold of their support team in case you have any problems or issues you encounter.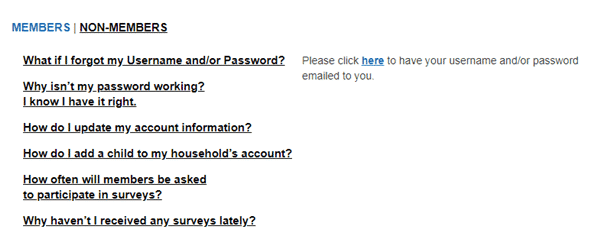 As you can see in the photo above, their FAQ section doesn't contain a lot of information.
And, they don't also have a contact form you can use if in case you have any questions regarding the site or your account.
I assume though that they will be able to give you a way to contact them once you log in to their member dashboard. Otherwise, it would be pretty bad if they didn't give you some form of support apart from the FAQ section they provided.
They do have a Facebook page you can visit, but it hasn't been active for quite some time. So, I'm not sure if they will respond to you quickly if you message them through that platform.
I did some digging though and I was able to find a phone number you can call if you wish to contact their support team.
I found this number 1-800-KIDZEYES (1-800-543-9393) in their Privacy Policy page. So if you have any questions, you can call that number.
Final Verdict
KidzEyes is a legit specialty survey site that is geared towards children aged 6 to 12 years of age. So, if you don't have any children, you won't find any value from this site.
But if you do, here's a summary of KidzEyes' pros and cons to help you decide whether this site is good for your kids or not.

Pros:
Relatively low payment threshold
Rewards your child with real money
Surveys are appropriate for your child's age

Cons:
Contact form is not readily available
Survey invite frequency is low
Will take some time to start receiving payment
As you can see, KidzEyes is not a survey site you can hope to earn a decent income from.
But, you might find it to be a valuable parenting tool you can use to help teach your kids the value of patience and hard work – but they will need A LOT of patience on this site, in my opinion. So you need to make sure they do it with the right expectations so they do not end up getting disappointed.
If you are looking for survey sites for yourself though, I recommend you check out the top survey sites in your country.
This list has plenty of survey sites you can choose from regardless of where you live. Plus, they all offer pretty good earning opportunities.
If you have any comments, questions, or have any experiences with KidzEyes yourself, I would love to hear from you in a comment below.