Want to earn money by taking surveys online?
This is what MySurvey claims to offer.
But is MySurvey legit and a great way to make some extra cash, or is it one of the survey scams that is just a waste of time?
In this MySurvey review, you will find all the details about what this survey panel has to offer, so you can see and judge for yourself whether it is worth your time or not.
Important Update – MySurvey is Closed!
MySurvey has closed – or more correctly, it has merged with another site and a new sites called LifePoints Panel has been launched instead.
So if you want to join a site similar to MySurvey but in an updated version, check out the link to LifePoints above. You can also check out MySurvey alternatives in your country through the link below:
>>Click to See MySurvey Alternatives in Your Country<<
What is MySurvey and what does the site offer?
MySurvey has existed since 2001, so it has been around for a while. It is a part of Lightspeed Research, which is a big company within digital data collection, and it is the same company that runs the popular survey site GlobalTestMarket.
The company is a part of ESOMAR, which is a not-for-profit organization that promotes the value of market, opinion and social research and data analytics.
So the foundation of MySurvey is definitely ok, and it is not a scam site. MySurvey is a legit survey panel, where you can actually get paid for the surveys you take. If the opportunities are then good enough to be worth your time depends on your preferences and expectations, so let's look more into what opportunities the platform offers.
Option 1 – Paid surveys:
MySurvey is first of all a survey site, and this is the main way to earn here. In general the advantage of sites that mainly offers surveys is that they are usually very easy to use and get started with – that also goes for MySurvey.
Once you have signed up and confirmed your email address, you will receive an email invitation, when there are available surveys.
As with any other survey site, you will not qualify for all the surveys you are offered on MySurvey. On MySurvey it can take a bit of patience to find the surveys you qualify for, but this very much depends on the country you live in and your profile.
Some countries and demographic groups just have more surveys they qualify for than others, so do not let it stop you, if you do not qualify for some of the surveys. If you find yourself never qualifying at all, it might be that MySurvey just does not have a lot of offers for your specific country and demographic group, and then you can check out some of the top survey sites in your country instead.
Option 2 – Sweepstakes:
MySurvey runs monthly sweepstakes, where you have the chance to win some nice extra rewards – usually the prizes are around $100.
You can participate just by being a member. Some surveys you take will give you entries into the sweepstakes, but you will also get entries just by being a member. But in general the more active you are, the more entries you get, and the bigger chances you have of winning.
The exact prizes and the amount of sweepstakes might vary from country to country. But if you are an active member, it is a nice extra chance to win some good rewards.
Option 3 – Product testing:
Sometimes MySurvey offers product testing for its members. It means you get to test a new product in return for giving feedback and your opinion about the product.
In most cases you get to keep the product after testing it as a reward and thanks for the help. If product testing is offered in your country, it can be a great way to get new products for free, and something definitely worth considering joining, if you get the chance.
Option 4 – Invite your friends:
You can invite your friends to join MySurvey, and as a thanks for that, MySurvey will pay you a small reward. The reward for inviting a friend will usually be around $1.50, and you will get the reward once your friend has joined and confirmed his/her membership and started taking surveys.
It is not a huge amount of money you can make like this, but if you know friends or family that would like to join the panel, it is also nice extra cash to get just for sending them an invitation link.
How do you get paid?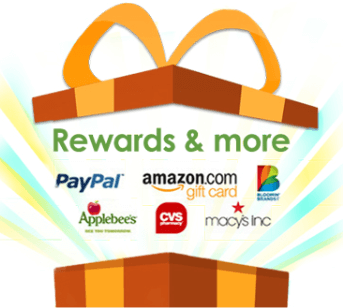 Now we have looked at what earning opportunities MySurvey offers. But another important aspect of any survey site is of course also how you get paid, once you have accumulated some cash/points.
MySurvey luckily offers some good payout methods. You get paid in points whenever you take a survey, but these points can then be exchanged into a number of different rewards like for example cash through PayPal, Amazon e-certificates, gift cards, and products.
The exact selection of rewards depends on the country you live in, but in more or less all countries you can get paid through PayPal – personally this is my favorite payout methods, when it comes to survey sites, so I am always happy to see this as a payout option on survey sites, as it is very easy and fast.
Some of the other rewards are however also really great – it all depends on your preferences, and it is always good that there are different options. You can also choose to get paid through PayPal once, and then the next time get a gift card, so in that way it is a flexible panel, when it comes to the payout methods.
When you can request a payout depends on the reward you want. For PayPal the payout threshold is around 1200 points ($10), which is an ok payout threshold for a survey site. The exact payout threshold can vary from country to country.
How much money can you make on MySurvey?
Paid surveys can in general make you some nice extra money on the side. But no matter which panel you join, it will not make you a full-time income or make you rich.
This of course also goes for MySurvey. Compared to other survey sites, MySurvey does not offer quite as many opportunities, as it only offers surveys. But it offers a decent amount of surveys, and it is very easy to use the platform.
So you can make some extra money on the side on MySurvey, but it is not one of the platform that has the most daily opportunities. It can still give you some nice extra cash, but if you want to have more opportunities, it can be a good idea to also join other top survey sites to increase the amount of surveys your are offered, as joining MySurvey as the only site will not give you a huge amount.
Can you use it on mobile?
Being able to use survey sites on mobile devices makes it a lot easier and a lot more user-friendly to use them. It gives you the opportunity to easily keep an eye on the newest opportunities and take surveys in small breaks during the day.
MySurvey has developed an app that makes it very easy to use on mobile devices.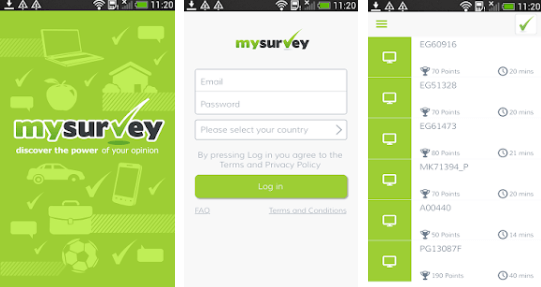 Personally, I think survey sites that has an app are great, as it gives very fast and easy access to the platform. Be aware that the MySurvey app is not available in all countries.
In the countries where the app is not available, you can however still enter the website on your phone. It is not quite as fast and as user-friendly, but it still works.
Who can join MySurvey?
MySurvey is a global site and is available in many countries, but it is not available in all countries.
It actually just recently closed down its websites in a number of countries and those sites are now instead directed toward GlobalTestMarket, as I mentioned earlier is a survey site run by the same company.
But there are still some countries where ít is available and offers decent opportunities. The countries it is available in includes: the US, UK, Canada, Australia, Ireland, Spain, France, and Germany.
In each of these countries MySurvey offers a specific platform just for that country and in the local language. So if you live in one of these countries, MySurvey is a possibility.
Can you get support?
Being able to get help, if you have an error message or something is not working is important on a survey site. Hopefully you will never need it, but it is good to know it is there in case you one day need help. And having a good support also shows a lot about a company.
If you should need help on MySurvey, you can get it in several ways. Once you are logged in there is a help center, you can use to get help.
If you are not logged in or cannot login, there is a contact form on the website. Exactly where the contact can be found varies from country to country.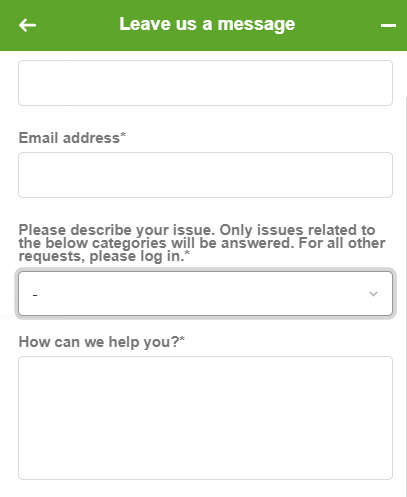 On many of the MySurvey sites, you can find the form/help button in the right bottom corner.
MySurvey also has a Facebook page, where you can contact them. It does not look like the support are very active in responding to messages written as a comment on their posts, so if you need help, this is probably not the way to go. But you can send a personal message to them on Facebook.
I have not had the need to contact the support myself, so I cannot say for sure how quickly they will get back to you. But in case it takes too long, it is always good to know there are several ways to contact them to make sure it is not because your message has been lost.
Final thoughts
MySurvey has both some good and some not so good sides. So let's sum up the pros and cons to get a better overview.

Pros:
Free to join
Good reward options
Available in local languages
Decent rewards for the time spend

Cons:
Has limited opportunities in some countries
Overall, MySurvey is a legit survey site that can make you some extra money. It is available in the local language in the countries where it is available, and it is easy to use.
It is however not the site with the biggest amount of opportunities. But as long as you are aware of this, and if join it in combination with other survey sites, it can be a good panel to join.
How to join MySurvey?
As mentioned at the beginning of this review, MySurvey has closed so it is no longer possible to join it. Youc an see other options through the link below instead:
>>Click to See MySurvey Alternatives in Your Country<<
If you have any comments, questions, or have any experiences with MySurvey yourself, I would love to hear from you in a comment below.