Are you looking to earn a few extra bucks online? That is certainly possible if you join an online rewards site. One such type of online reward site is a Paid-To-Click (PTC) site.
If this is your first time hearing this term, a PTC site will allow you to earn rewards by mainly clicking on ad offers and viewing them. GAB, which is the subject of this review, is a PTC site that claims to pay you for doing just that.
But before you join this PTC site, it is important to figure out if it is indeed worth joining. So, should you join GAB or not?
To answer this question, we have to factor in several things and this GAB review will help you do that.
After reading this review, you will be able to determine if this is a good opportunity to earn some extra cash or not.
What is GAB and what does it offer?
As mentioned above, GAB.ag is a PTC site that allows you to earn rewards by clicking ad offers and doing other activities on the site.
Since it is a PTC site, you can expect to earn rewards in several ways. And in order to truly gauge if this site has good earning potential, we have to take a closer look at the earning opportunities it offers.
So, let's take a closer look at how you will be able to earn from GAB.
Option 1 – View Ads
As I mentioned, the main way for you to earn rewards on a PTC site is by clicking on ads. GAB.ag is no different. You will be able to earn rewards by clicking on ads.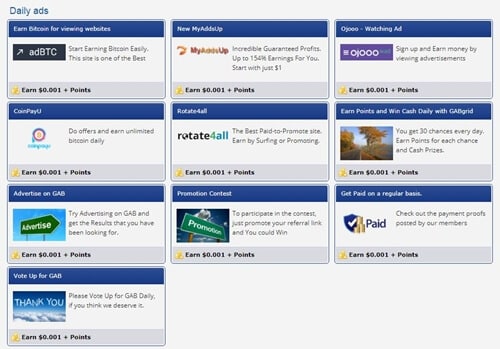 There are five types of ads you can view on GAB: daily ads, featured ads, tiny ads, fixed ads, and bonus ads. Among the five types, daily ads, featured ads and tiny ads are the ones that pay the most.
But they don't typically pay well (seeing as you will only be able to earn $0.001 per ad viewed), but it doesn't take a lot of effort to do them.
All you have to do is click an ad, wait for several seconds for the ad to load completely and then complete the captcha that will appear on the upper left-hand corner.
When it confirms you've successfully completed the ad viewing, you can close the window and click on another ad.
As you can see, even though it takes little effort to do this type of earning opportunity, it can eat up your time if you aim to earn a significant amount.
The low pay you get for each ad will mean you will have to click on A LOT in order to earn even $1. And the amount of time you will spend to accumulate a decent amount will add up significantly.
You do have to click at least 10 of these ads every day in order to earn from your referrals (I will discuss their referral program later) the next day.
Option 2 – Paid Offers
Another way you can earn rewards from GAB is by doing paid offers. The paid offers will come from other sites though.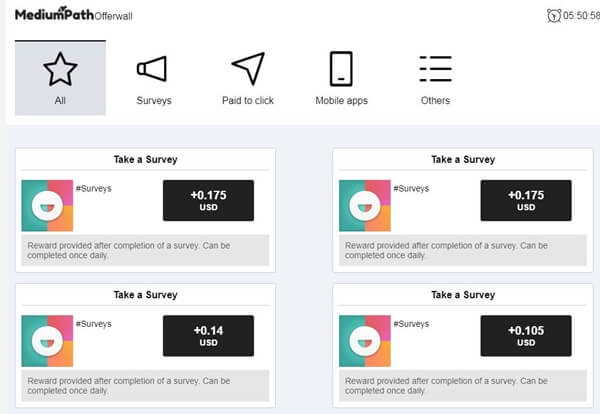 As you can see in the photo above, you will be able to see the paid offers by going into any of their offer walls.
If this is your first time encountering paid offers, they are basically tasks you can complete and in return, you will receive a reward once you complete it.
Typically, a paid offer will either ask you to answer a survey or quiz, register to a certain site, download a mobile app, play a game or watch a video. But regardless of what a paid offer will ask you to do, one thing remains constant.
You have to make sure you follow the instructions set by the paid offer. This is the only way you can make sure you will receive the reward once you complete the offer.
However, these types of offers are offered on many types of sites and, in my experience, PTC sites mostly give poor rewards compared to other sites where you can take the same offers – and that is definitely also the case for GAB.
Option 3 – GABgrid
Grid games are common on PTC sites. In this case, it is called GABgrid.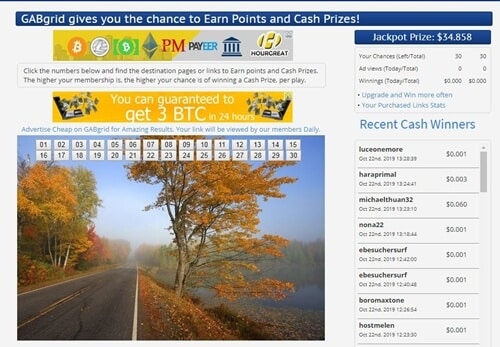 The way the game works is you just have to click any number from 1-30. Each number will then open up a new window displaying an ad. You just have to finish viewing the ad (just like in the view ads).
Once you're done viewing the ad, you will then be notified if you've won a prize or not. The typical prizes you will win in the grid game are points or cash.
Most of the cash prizes will range from what you will earn when doing the view ads earning opportunity.
However, if you get very lucky, you will win the jackpot prize which is usually worth a significant amount ($30 or more).
It's not a surefire way of earning, but if you get lucky, you can win a significant amount.
Option 4 – Earn Bitcoins
You will also be able to earn bitcoins on GAB, but they will redirect you to a different site to do so.

If you click the Earn Bitcoins tab on their member dashboard, you will be redirected to a site called adBTC. This site basically allows you to earn Bitcoins by visiting other sites.
The process involved in this is more or less the same as when you view an ad on GAB. The only difference is, you will be taken to a different site instead of viewing an ad.
The Bitcoin you will earn will not be credited to your GAB account, but will be credited to your adBTC account. So, in reality, all this earning opportunity is doing is referring you to a different site to earn Bitcoins.
You will have to sign up to adBTC to complete their offers. So, that will be added work for you, which in my opinion, is a bit unnecessary.
If you prefer earning bitcoins, check out the best survey sites to earn Bitcoins. On these sites, you can earn directly instead of just being referred to another site.
Option 5 – Referral Program
Most PTC sites have a referral program in place to allow you to earn a passive form of income.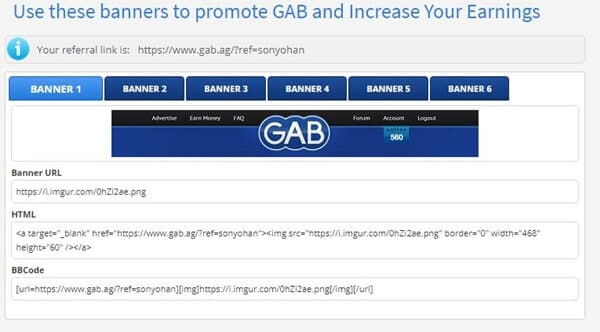 You will be able to invite people to join GAB and in return, you will earn a commission from their earnings.
You can invite people to join by sharing your referral link with them (shown in the photo above) or by embedding your referral banner on your website (if you have one).
However, there is no information on their website about how much will earn for referring a person to the site. This is just poor website design, in my opinion.
In my experience, referral programs on PTC sites will usually allow you to earn around 5 to 10% of the reward your referral will earn when completing an offer.
They do allow you to "buy" a referral to increase the amount you will be able to earn from referrals. When you buy a referral, what happens is, you will get the chance to be assigned a referral by GAB.
The members they will assign to you as a referral are those members who signed up on the site without anyone referring them.
In theory, buying a referral will allow you to earn more, but I am not really a fan of this type of mechanic. This, in my opinion, just defeats the purpose of joining the site. In the first place, you joined the site to earn extra money and not spend your own.
Also, be aware that there is no guarantee the referrals you buy will be active – if they are not, you will just waste your money.
However, they do offset this by allowing you to buy referrals using your account balance. This is the typical way that long-time members of the site buy referrals. Once they accumulate enough money in their account balance, they spend it to buy referrals.
That way, they don't actually spend their own money. It can be a good tactic to employ if you really know what you are doing, but you have to make sure you plan it all out to ensure you will earn the money you've spent back.
How do you get paid?
Every offer you complete on GAB will earn you a certain amount in US $ and some offers like the ad offers will allow you to earn points.

And as shown in the photo above, once you reach the $3 mark, you will then be able to request for payment. The payment will be processed via Payeer or PerfectMoney.
As for the points you will earn, you can convert it to cash. Every 100 points is worth $1. But the cash it will be converted to will not be reflected in your account balance but to your purchase balance instead.
You will not be able to withdraw your purchase balance. You can only use it to purchase (as the name suggests) an item on GAB. The most common use of money in your purchase balance is ad placement.
Yes, you can place your own ad on the site too. But, it is not something I recommend doing because the traffic you will be driving won't really be useful because the only people who will see it are other members of the site.
So, in a sense, that type of traffic is pretty useless, in my opinion.
How much money can you make?
The amount of money you can make on GAB will purely depend on how active you are on the site. If you've completed plenty of offers, you will be able to earn a significant amount.
The problem is, each offer available on GAB doesn't really pay well. You will have to invest a significant amount of time in order to accumulate even $1 in your account balance.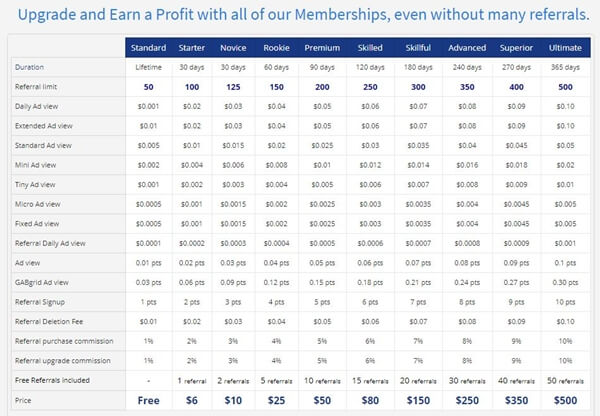 However, they do offer a way for you to boost your earnings on the site. You can upgrade your membership level to receive several benefits.
Each upgraded membership level will allow you to earn more from viewing ads and increase the commission you will get from your referrals.
That's basically the selling point of their membership upgrade. Basically, the higher the cost of the upgrade, the higher the increase in earnings.
The logic of this type of offer is that you will have to spend more to earn more. It's not totally a bad idea, in my opinion. But you do have to carefully plan out your strategy on how you will be able to earn back the money you spent on the upgrade.
If you are not careful, you might end up losing money instead of earning.
There are three ways you can pay for the upgrade. You can either pay via Payeer, PerfectMoney or using your account balance.
The latter is the most used payment method. Long-time members use the money they've accumulated to purchase the upgrade, which, in my opinion, is really the best way to go about it because you don't have to spend your own money.
All in all, the earning potential of GAB really just pales in comparison to other online rewards sites mainly because they don't pay you well.
Can you use it on mobile?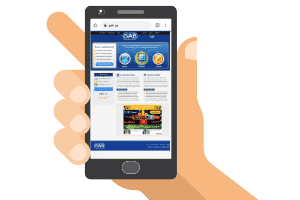 GAB doesn't have a mobile app you can download on your mobile device. So if you were hoping to work on offers using a mobile app, you will be disappointed.
However, you will be able to access their site on your mobile device using a mobile web browser.
I don't recommend you work on offers on your mobile device though because it can be rather inconvenient considering the nature of their offers.
As you can see, the offers they present will often involve opening multiple windows on your browser.
And if you do that on a mobile device, it can be quite inconvenient. Plus, the site is a bit spammy because there will be a lot of ads popping up.
In my opinion, it is best you work on GAB in front of a computer. That way, it would be much easier for you to get around the website.
Who can join GAB?
Most PTC sites are available globally, in my experience. This, in my opinion, is the one saving grace of PTC sites. GAB is no different.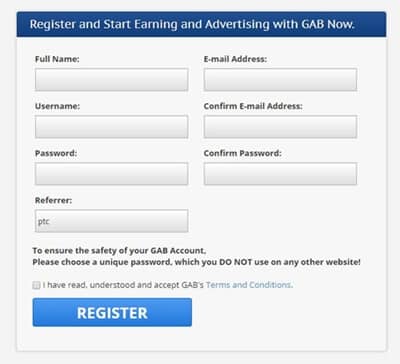 You will be able to register as a member regardless of where you live. All you have to do is fill out their registration and you are set. They also don't mention any age requirement to register as a member.
But in my experience, you usually have to be at least 13 years of age or older in order to participate.
But seeing as they will only pay you through Payeer or PerfectMoney, you will have to meet the age requirement of whichever payment gateway you choose to use.
Their registration process is actually very easy. You don't even have to activate your account. Once you've finished filling out the registration form, you can start working on offers right away.
Can you get support?
If you need to contact their support team, you can do so by using their ticketing system. You can access their support system by clicking on the support link at the bottom of their site.

You can submit a support ticket for any inquiries you might have. They also have an FAQ section, but it doesn't cover all of the basic topics of the site (especially their referral program).
They do have a forum you can check out, which can be pretty helpful at times. You can also find helpful tips in their forums.
I have actually been in contact with the owner myself and got quick replies which is definitely a good sign.
Overall, they do provide a decent way for you to get in touch with their support team, which is a good thing, in my opinion.
Final Verdict
GAB PTC is a legit site that does pay you for completing their offers and viewing their ads. However, it does have certain disadvantages.
So let's finish this review with an overview of its pros and cons so you can better decide if you should sign up as a member or not.

Pros:
Available globally
Very easy registration process
Low payout threshold

Cons:
Limited earning opportunities
Low rewards
The site doesn't show all the necessary information
Many pop-up ads that make it less user-friendly
GAB PTC does offer some nice benefits but the main drawback that makes it not a good choice though is that it simply has a low earning potential, in my opinion.
It will take quite some time for you to earn a decent amount of money because it doesn't pay you well. You will be better off joining a survey site or even a Get-Paid-To site that pays better, in my opinion.
I recommend you check out the top survey sites in your country instead if you want to earn more.
The survey and GPT sites on this list are all known to have good earning potential. Plus, you will be able to find a survey site that will fit your needs regardless of where you live.
If you have any comments, questions, or have any experiences with GAB.ag yourself, I would love to hear from you in a comment below.