If you love playing games and are looking for a way to earn some extra money, you have maybe heard of Game Tester.
Game Tester is an online rewards site that promises to reward you for testing and providing feedback about the latest games.
But is Game Tester legit and really a great way to earn by playing, or is it a waste of time?
I have tested it thoroughly myself, and in this Game Tester review, you will get an inside look and learn all the pros and cons so you know exactly what to expect.
After reading this article, you will be able to decide if Game Tester is indeed worth your time or not. So, let's go ahead and take a closer look at what the site has to offer.
What is Game Tester, and what does it offer?
Game Tester offers a unique opportunity and allows you to test games that have not been released to the market yet. In return, you will receive rewards once you complete the testing.
To fully understand what this site offers and if it is worth it, we have to take a closer look at how you will be able to earn from it.
For that, I have made a video that gives you an inside look and shows exactly how you can earn from Game Tester. You can also read all the details below the video.
Recommended: Check Out The Top GPT Sites
Option 1 – Game Testing
The main earning opportunity offered by Game Tester, as you can probably guess, is testing games.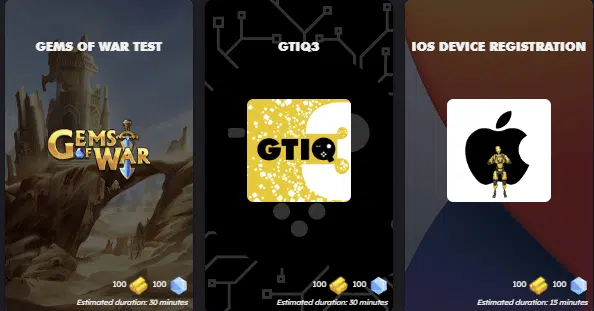 When you become a member of the platform, you can log in to the member dashboard. You can then access the games you can test by clicking the Tests tab.
Before you can test games though, you will have to complete your gamer profile.
The gamer profile is some sort of questionnaire you need to fill out. Game Tester will then use the information you've provided to qualify you for games you can test.
In short, this will be the basis of what games to send your way. So make sure you do that first before anything else.
Take note that you can only test a maximum of 3 games per day. When you click a game to test, you will then be provided with a set of instructions you need to follow.
Typically, the instructions will include some in-game requirements you need to meet. Make sure to reach the requirements needed in order to receive the reward promised.
Normally, you will also have to download and install the game on your computer or mobile device.
When you test the game, you will actually receive a notification of when you've completed the requirements for the game.
That is a nice touch, as that is not always the case for similar sites, in my experience.
When that happens, you can just close the game and click the Complete Test button on the dashboard. You will then receive the reward promised.
The process is pretty straightforward, in my opinion. This is a good sign because it will allow you to earn rewards with ease.
Option 2 – Referral Program
The other way you can earn rewards from Game Tester is by inviting people to join the site.

You can invite people to join Game Tester by giving them your referral link. You can also share your referral link via various social media platforms.
The other way to invite people to join the site is to send them your referral link via email.
All you have to do is provide the name and email address, and Game Tester will send an invitation email for you.
For every person that registers to the site through your referral link, you will receive 25 XP points and 5 GTGold. The person that joins will also get 25 XP points.
We will go into the value of these points later, but let me just reveal right away that it is not worth a lot.
In my opinion, although what you get for referring people to the site can be beneficial in the long run, it still pales in comparison to other sites that offer better referral programs.
It doesn't really give much of an incentive to invite people to join, which makes it a rather weak referral program, in my opinion.
Recommended: Check Out The Top GPT Sites
How do you get paid?
Here's where the site becomes a bit more complicated than usual. When you complete a test, you will receive gold coins and experience points.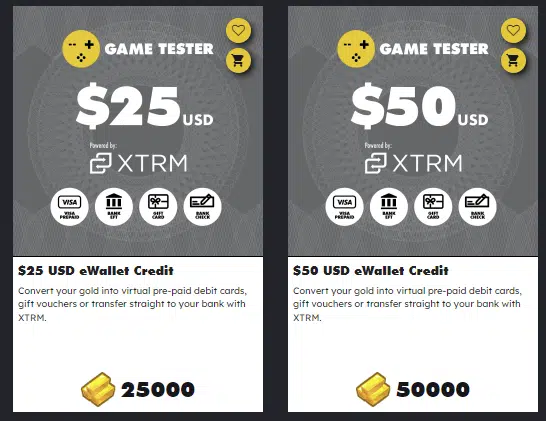 It used to be more complicated and had less flexibility when it came to payout options when I first tested it, but they have improved this, which is great to see.
The gold you earn can be used to purchase items from their shop and unlock other features of the site. Unfortunately, there isn't much info on what you can unlock.
As for the experience points you receive, they can be used to level up your account so you can receive certain benefits. There is not much information on the website about these benefits you get other than it will help you to get access to higher paying tests.
As you can see in the image above, you can use the GoldGT in prepaid Visa, get paid via bank transfer, or get gift cards.
So overall, the payout options are great, in my opinion. The problem is just the fairly high payout threshold of $25 you need to be aware of.
How much money can you make?
The amount of money you can make from Game Tester will purely depend on how many invitations you receive to test games.
And the best way to ensure you receive the most invitations possible is to complete your gamer profile.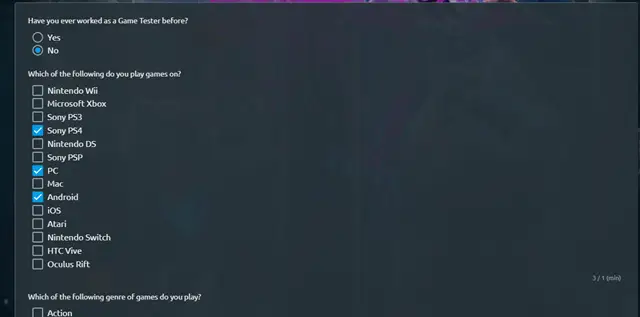 So make sure to spend a few minutes doing this first.
As for the rewards you will get for completing the game tests, feedback from long-time members indicate that they don't really pay you that well.
They say that some game tests will take a long time to complete, and you will only receive a low number of gold and XP points.
If we base our conclusion on that, it will take quite some time to accumulate a decent amount from this site.
All in all, Game Tester is not a very efficient way to earn extra income, but it can be a fun one since you get to play games.
Can you use it on mobile?
Probably the most redeeming quality of Game Tester is that it has a mobile app you can download so you can test games on your mobile device if needed.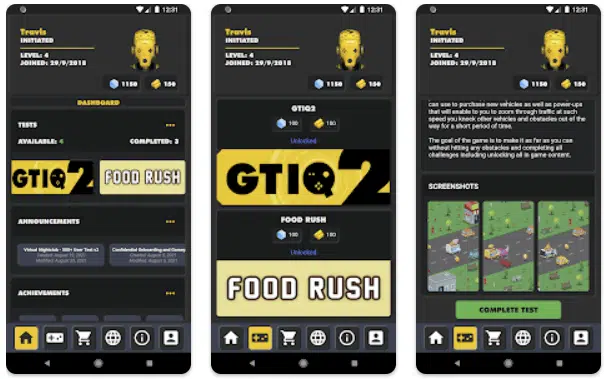 The app is available for download in Google Play and the App Store
When you install the app on your mobile device, you will be able to access the dashboard and check if there are available games you can test.
From time to time, you get to test games on your mobile device. That's the time when this app becomes useful to you. But most of the time, though, the games you will have to test will require you to be on a computer or laptop.
So, in reality, you are left with no choice but to work on your computer or laptop instead. All in all, the app is a nice touch. But it's just not that useful, in my opinion, as there are many games you cannot play through the app anyway.
If you are looking for mobile apps you can download and install on your mobile device so you can earn even when you are not in front of a computer, I recommend you check out the top paid survey apps.
Who can join Game Tester?
Game Tester is available globally, which is a good thing. That means you will be able to register as a member regardless of where you live.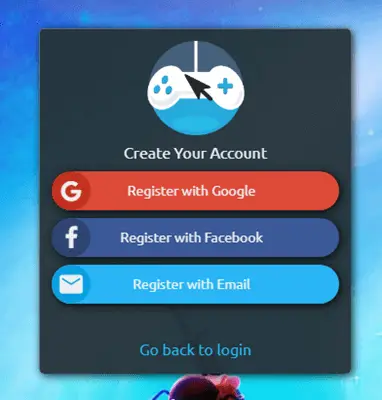 Their registration process is also very easy. In fact, you can do it with a click of a button.
You can register using your Google or Facebook account. You also have the choice to register the regular way, where you provide your email address and password.
You also have to be at least 13 years of age to use this website.
Can you get support?
If you were hoping to find answers in their FAQ section, unfortunately, you will be disappointed (refer to photo below).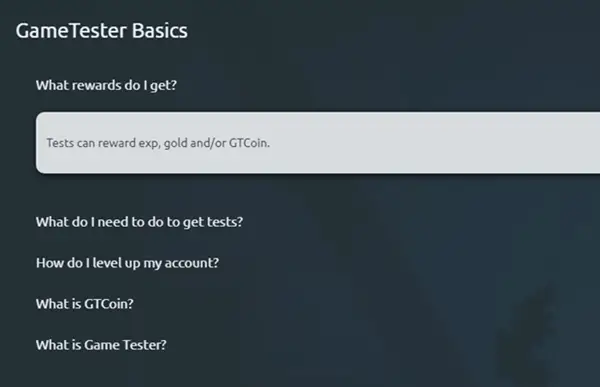 The questions tackled in their FAQ section are expected. What's unexpected is the short answers they provide.
When you look at their FAQ section, you get the feeling that they are only going through the notion of providing an FAQ section.
So, if you experience any issues or have questions to ask, you will actually have to contact their support team to get answers because their FAQ section is quite useless, in my opinion.
You can create a support ticket if you want to get in touch with their support team. You can do so by clicking the Support tab on their dashboard and going to the Tickets sub-tab.
Final Verdict
Game Tester is an online rewards site that pays you for becoming a game tester. It has a few upsides, but there are also some issues you need to be aware of.
Here's a summary of its pros and cons to give you an overview of what's good and bad about the site.

Pros:
Available globally
Simple registration process
Has a mobile app you can download

Cons:
The site is not user-friendly
Fairly low rewards
Confusing payment system
If you are purely looking for a site to earn a few extra bucks, Game Tester is not the ideal choice. That's because you won't earn a lot from this site. The only upside is that it offers a fun way to earn.
But that can only take you so far, in my opinion. In terms of earning potential, there are simply plenty of better choices out there.
If you want to earn a decent amount on a regular basis, I suggest you check out the top GPT sites instead.
The sites on this list all have decent earning potential, and you will surely find a site that will fit your needs regardless of which country you live in.
If you have any comments, questions, or have any experiences with Game Tester yourself, I would love to hear from you in a comment below.