ESearch is a survey site that claims to pay you for answering surveys they provide.
Now, the question is, is this survey site legit or scam? Let me just reveal it right away. Yes, ESearch is a legit survey site.
But before you go their website and sign up, I suggest you keep reading this ESearch review first so you'll know what to expect.
That way, you can better decide if this site is for you or not. Because this might not be the best site for you.
So let's get the ball rolling, shall we?
What is ESearch and what does it offer?
As mentioned above, ESearch is a survey site that will reward you for sharing your opinions.
This market research company started providing online research in 1995, which makes them one of the pioneers in this kind of business.
They are quite unique with how they distribute their surveys because they don't actually have a member's dashboard like most survey sites do.
You don't need to log in to their website to answer surveys. What they do is they email you if there are any available surveys that you can take.
The email will include the link to the survey. So all you have to do is check your email regularly.
It's actually pretty convenient. The downside is, if you don't like to clutter your email inbox with non-personal stuff, then this won't be the right site for you.
Since ESearch is a pure survey site, you can expect that there is really just one way for you to earn sure money. So, let's take a closer look at that earning method.
Option 1 – ESearch surveys
The only way for you to earn on ESearch is through the paid surveys they offer.
ESearch will email you a notification if there is an available survey you can take. That email will contain the link to the survey, as well as show you the reward you will get for completing it.
The rewards will vary depending on the survey offered. Some surveys will reward you with cash honorarium (which is what they call their rewards) and some will reward you with sweepstakes (which I will discuss later) entries.
According to their website, the surveys offered usually take 10-15 minutes to finish.
There is no information about getting disqualified for a survey. Normally though, for this type of survey sites the screening questions will be the first part of the survey you will answer.
That way, after you finish answering the questions, you'll know right away if you are eligible to take the survey or not.
But as with most other survey sites, you should not expect to qualify for all the surveys you are invited for.
Overall ESearch does make it possible to earn a bit of extra cash by answering surveys but it does not offer a big amount compared to many other survey sites so do not expect to receive emails with available surveys very often.
Option 2 – Sweepstakes
The other way you can earn from ESearch is by winning in the sweepstakes.
As mentioned above, one of the rewards you get for completing a survey is an entry to their sweepstakes.
The prices you can win in their sweepstakes will vary from month to month. As soon as you complete a survey that rewards you with an entry, you will be automatically entered into their sweepstakes.
In my opinion, that is a more convenient way to manage sweepstakes.
There isn't a lot of information about their sweepstakes on their website. But normally, these sweepstakes will be held once a month.
They did mention, however, that if you win in the sweepstakes that they hold, you will be notified via email.
If it is worth the time to participate in the surveys that only give you entries into the sweepstakes is something you have to decide yourself.
But make sure to read the conditions in the email invitations, so you know exactly what you will get out of taking the surveys, so you only choose the ones you feel are worth it and for a reward, you would like.
How do you get paid?
There is only one way for you to receive the payment for a survey you've completed on ESearch.

The only mode of payment available is through PayPal. That's because ESearch recognized that PayPal is the most used method of money transfer today.
The good thing is, you actually don't have to request for payment from ESearch in order to receive the money. It will be credited to your PayPal account automatically once you complete the survey.
It's a rather convenient way of receiving payment in my opinion.
You do have to keep in mind that the email you used when you registered as a member, should also be the same email linked to your PayPal account.
If you happen to use a different email from the one linked to your account, you can just log in to your Paypal account and ADD the email address you used to register.
That's the beauty of using Paypal. It can actually have multiple emails associated with it.
However, even though PayPal is one of my favorite ways to receive payments from survey sites, I must say that there definitely are better PayPal survey sites as the options are just quite limited on ESearch.
How much money can you make?
In terms of the actual amount you can earn from ESearch, that really depends on how many surveys you are able to complete.
They mention on their website that each survey you complete will reward you with $1-$5. That's actually a pretty decent amount.
But don't go expecting to earn $20 a week just yet. You will actually have to factor in the frequency of the survey invites you get.
That is really the real barometer to the earning potential of a survey site.
In this case, I have read a lot of feedback from members that the survey invite frequency is relatively low. This is more so if you live outside the US.
That's because most of the surveys they offer are actually geared towards residents of the US.
So, your potential income will be drastically reduced if you live outside the United States.
If you are looking for a survey site that isn't just focused on the US, I suggest you check out the top survey sites in your country.
There are plenty of other survey sites that offer rewards that will allow you to earn a relatively steady income.
Also, even if you live in the US, there are so many great survey sites in the US with a lot more opportunities, so it might be worth considering spending your time on some of these instead, in my opinion.
Can you use it on mobile?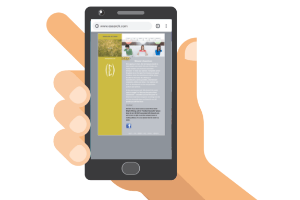 To answer this question, yes you can definitely use ESearch on mobile.
But since you don't actually need to log in to their website in order to take surveys, the way you can answer surveys on your mobile device is to make sure you have an app for your email provider installed.
For Android users, this is pretty simple since the Gmail app is practically included upon purchase. You just need to make sure you are signed in.
For iOS users, they do have their own default mail app. You can just set up your Gmail address (or any email for that matter) using that app.
Why am I mostly talking about Gmail email addresses though? Let's face it, most people nowadays use Gmail email addresses. And it is the most widely used email platform today.
So if you don't have one, I highly recommend you sign up for one.
But no matter what type of email you have, you can get access to ESearch surveys on mobile as long as you have access to your email on that device.
Who can join ESearch?
The good thing about ESearch is that anyone can become a member of their panel. So whether you live in the US or not, you can become a member.
There is no mention on their website about an age requirement, but since you will be using PayPal as the mode of payment, you will have to be at least 18 years old to participate.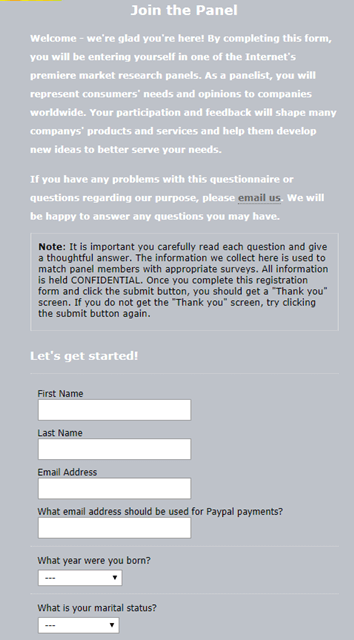 The registration process is actually quite easy. You just have to fill out the form shown on the photo above and answer the other questions as honestly as you can.
The personal questions are their way of qualifying you to a specific demographic. They will use the answers you've provided as a means to group you with other panelists.
They also guarantee that all your personal information will be kept safe.
If you are wondering how to opt out of being a member of their panel, the answer is simple. All you have to do is send a removal request to esearch@esearch.com. Removal requests are handled immediately.
Can you get support?
Since they don't actually have a dashboard for their members, you won't actually have a chance to file a support ticket if in case you encounter any issues.
Their website also doesn't have a contact form that you can use.
The only way for you to contact them is via email. Fortunately, their email is displayed right on their homepage so you easily have access to it.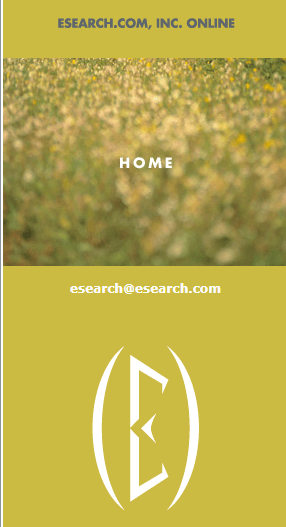 I took a quick look at their Facebook page and they post fairly regularly. Plus, they also post general opinion surveys that you can take on their page.
You can also message them there if you wish to communicate with one of their representatives. Unfortunately, there isn't any information on how long it will take for them to reply.
They do, however, provide their phone number on their Facebook page. So if you desperately need to talk to them, you can call that number.
Final Verdict
ESearch is a legit survey site that has been around for quite a long time now (more than 20 years).
They offer to reward you with real money for answering their surveys.
However, that does not necessarily mean it will be worth your time. So let's finish this review by summing up its pros and cons to help you make a decision about joining their panel or not.

Pros:
Payment via PayPal is available
Decent reward for each survey

Cons:
Low frequency of survey invites
Has only one mode of payment
Mode of support is quite limited
Although ESearch has a relatively high reward for surveys you complete, the low frequency of survey invites actually hurts your earning potential.
So in my opinion, it isn't really a good main site to earn money from. However, it can serve as a decent secondary site for you to earn, as long as you have a PayPal account.
But if you are looking for survey sites that will allow you more regular opportunities, I recommend you check out the top survey sites in your country.
There are plenty of sites on that list that offer great rewards and have a decent amount of survey invites.
If you have any comments, questions, or have any experiences with ESearch yourself, I would love to hear from you in a comment below.