If you are a new to making money online, a good starting point is to join a survey site. That's because survey sites are the simplest type of online rewards site. All you have to do is answer surveys to earn. It's as easy as that.
But you have to be careful which survey site you join because it can make or break the whole experience. YourSayPays.co.uk is one of the possible survey sites you can join. If you've been doing some research, then you must be wondering if it is a scam or a legit opportunity to earn extra cash.
Let's settle this right away so we can discuss more the site. No, YourSayPays is not a scam. It is a legit survey site that will pay you for answering surveys. But to figure out if it is a good survey site worthy of joining, we have to consider a few things first.
This YourSayPays review will tell you everything you need to know about the site so you can decide if it is worth your time or not.
That way, you can skip the trial and error part and just decide at the end of this review if you should sign up or not.
What is YourSayPays and what does it offer?
As explained above, YourSayPays.co.uk is a survey site that will pay you for answering surveys. It is owned by a company called The Leadership Factor, a UK-based customer experience research agency.
This site is a very straightforward site because it only offers one earning opportunity.
So, in order for you to determine the earning potential of this survey panel, let's take a closer look at the earning opportunity it offers.
The earning opportunity – Paid surveys
The only way you can earn from this site is by answering paid surveys. When you become a member of their panel, you will receive invitations to answers surveys from time to time.

You will be notified via email if there are available surveys you can answers. To access the survey just click the link in the email that will be sent to you. You can also log in to the site and access the available surveys from there.
Every survey will have a corresponding reward once completed.
But if you notice in the photo above, there are a couple of surveys that won't pay you anything. These are actually profile surveys. You need to answer these surveys so you can qualify for more surveys in the future.
It actually isn't even a survey but more of a profile question. It usually just asks you one question, so it's quite easy to do.
Now, speaking of answering a survey, you will have to go through a round of qualifying questions first before you get to answer the actual survey. These qualifying questions are made to identify if you are included in the demographic the survey is intended for.
After you finish answering the qualifying questions, they will let you know if you qualify or not. If you qualify, you will then proceed to answering the actual survey. If you don't qualify, then you simply have to move on to the next survey available.
Getting to the survey as quick as possible will also matter because each survey will have a maximum number of respondents allowed (usually around 1000 to 2000 respondents). That's why if you receive an email for a survey, I suggest you answer it right away to increase your chances of getting paid.
Because once the maximum number of respondents is reached, the survey will be closed. One unique thing about the surveys YourSayPays offers is that you can pause while answering it and come back to it later. There's a button at the bottom of the page that you can click to pause the survey.
Not all survey panels offer this type of convenience. So, it's a good addition on their end, in my opinion.
How do you get paid?
Every survey you answer will earn you a certain amount. Once you complete a survey the amount promised will be credited to your YourSayPays account balance. You can always see your current balance when you are logged in to their site.
When you reach £20, the cashout option will then be available. You can then request for a payout which can be paid via PayPal or Amazon gift card.
Take note that the payment will always be in the increment of £20. Any amount in excess of that increment will be left in your account balance.
For PayPal payments, it will be credited to your PayPal account within 14 business days. The same goes for Amazon gift cards. They will email it to you within 14 business days as well.
Overall, I do like the fact they offer PayPal as a payment option because it is the most convenient payment option, in my opinion.
However, their threshold is quite high and it is not the fastest processing of the payouts compared to many other sites.
So you will have to wait quite a long time before you can request a payout. If you are looking for sites that pay quickly, I suggest you check out the best sites with a low payout threshold instead.
How much money can you make?
With a survey site like this, you won't really be earning a lot of money because as you already know, it only offers one earning opportunity. So, you will really be at the mercy of the availability of surveys.
Plus, the rewards per survey on YourSayPays isn't really that high. Usually, a survey will only reward you with £1 or less. From time to time, you may find surveys that pay higher, but in my experience, this won't be too often.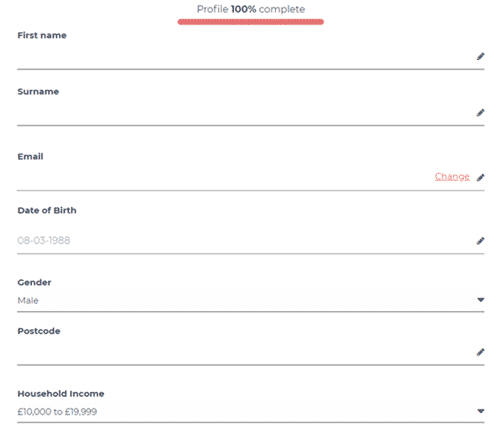 The best thing you can do to maximize your earnings from this site is to complete your profile right away. This will help increase the chances of receiving more surveys. Plus, completing your profile will earn you £0.2. It won't make a dent in the threshold you need to reach but at least, it's something.
Overall, I would say the earning potential of this survey panel is low. It's to be expected though since it only offers one earning opportunity.
Can you use it on mobile?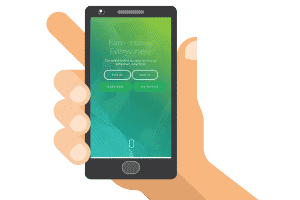 YourSayPays doesn't have a mobile app you can download. It's a bit misleading because if you look at their homepage, there's a photo of a mobile phone showing a sort of YourSayPays mobile app. But upon thorough inspection, they don't really have one.
But you can still use the site on a mobile device by accessing the site from a mobile web browser. Fortunately, their site is mobile-friendly. So, you won't have a hard time navigating through the site and reading all the content.
This can at least help you get to the surveys a lot faster because you can access the site anytime and anywhere even when you are not in front of your computer. And as you already know, getting to the surveys quickly will matter if you want to maximize your earnings.
Who can join YourSayPays?
YourSayPays is an exclusive platform for UK residents. So, if you don't live in the UK, then this site is not for you.
But if you live in the UK and are interested in more UK-based survey panels, I recommend you also check out the top survey sites in the UK.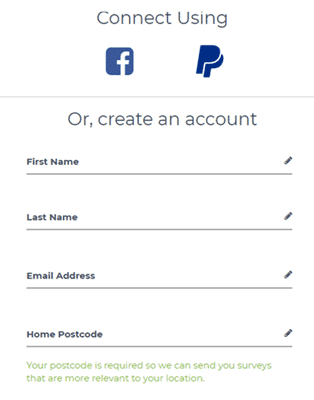 To sign up as a member of this panel, you must also be at least 18 years of age. Simply fill out their sign-up form or you can also just use your PayPal or Facebook account to sign up.
If you have a PayPal account, I suggest you sign up using that option so you don't have to set up the payment settings later. The site will automatically recognize your PayPal address and apply it right away.
Can you get support?
If you have any questions about the site, you can always check their FAQ page first to see if your question can be answered by the page. But if you can't find what you're looking for, they do provide two options for you to get in touch with their support team.
You can either email them at enquiries@yoursaypays.co.uk or you can use the contact form provided on their website. Either way, you will be able to talk to their support team.
Overall, I would say their site provides decent support for their members. In my opinion, it's good that they provide two options for you to get in touch with their support team. Usually, in my experience, most survey sites will only provide you with a contact form or an email address.
Final Verdict
YourSayPays is a legit survey panel that will pay you for answering surveys. It's a very simple survey site with a couple of good features to offer and a couple of limitations as well.
Let me end this review with a summary of its pros and cons to help you decide if you should sign up for this site or not.

Pros:
Offers a very simple way to earn
Payment via PayPal is available
Their site is very user-friendly

Cons:
Limited earning opportunities offered
Low rewards
Relatively high payout threshold
If you are a UK resident, I would say YourSayPays can be a decent secondary site to join. Earning is very simple and it offers a convenient payment method (PayPal). You just have to accept the fact that you won't earn a significant amount from this site quickly.
It has a fairly high payout threshold and offers fairly low rewards, which, in my opinion, is a bad combo for a survey site. If you are looking for better ways to earn though or if you live outside the UK, I would suggest you check out the top survey sites in your country instead.
The sites on this list all have better earning potential. Plus, you will find sites you can join regardless of where you are in the world.
If you have any comments, questions, or have any experiences with YourSayPays yourself, I would love to hear from you in a comment below.