If you are looking for an easy way to earn some extra money, using earning apps can be a great option.
Yes, there are mobile apps you can download to earn money by doing tasks or completing offers.
One such app is called CashPirate (aka CashPirate Buzz). This mobile app promises to pay you for completing offers, among other things.
But is CashPirate legit and worth it?
This CashPirate review will give you an inside look and reveal all the details so you know exactly what to expect.
After reading this article, you can decide if joining this site is indeed worth your time or not. So, let's go ahead and check out what the site is all about.
What is CashPirate and what does it offer?
As mentioned, CashPirate is a mobile app that will allow you to earn rewards when you complete the offers available.
It is also sometimes called CashPirate Buzz, but it is the same app. So whether you are looking for info about CashPirate app or CashPirate Buzz, this review will give you all the details you need.
It is similar to a Get-Paid-To (GPT) site. The only difference is that this platform is for mobile use only.
Here's a video giving a quick overview of what the platform offers:
Now, to gauge the full potential of this app as a plausible site to earn money, we have to take a closer look at how you will be able to earn from this app. So, here are its earning opportunities.
Option 1 – Paid Offers
Since CashPirate is mostly a GPT site that is exclusive to mobile users, you can expect to earn from doing paid offers.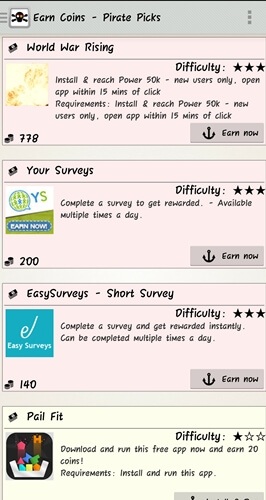 Once you've installed the app and finished the registration process, when you log in to the site, you will be able to view all the available paid offers when you go to the Earn Coins section of the app.
As shown in the photo above, paid offers will either ask you to download and install an app (usually a mobile game) and ask you to try it out. Other paid offers will ask you to answer surveys or watch videos.
Each paid offer will tell you how many coins you will earn when you complete it, as well as instructions on what you need to do to complete it.
The premise for earning from paid offers is really simple. All you have to do is follow the instructions given.
So, no matter what kind of offer you decide to do, one thing remains constant. You have to follow the instructions to the letter to receive the reward promised.
Once you complete the offer, you will be rewarded with the appropriate number of coins, which will be credited to your CashPirate account.
Option 2 – Referral Programs
The other way to earn from CashPirate is by inviting people to become a member of the mobile platform. To invite people to join CashPirate, you must share your invite code with them.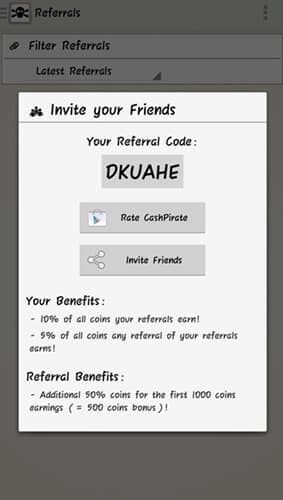 When they register to CashPirate, they must provide your invite code for them to become your referral.
Once they become your referral, you stand to earn 10% of their earnings, which will be shouldered by CashPirate.
If they invite another person to join the platform, you will also earn a 5% commission from their earnings. So, their referral system actually goes down 2 levels, which is a good structure, in my opinion.
They do have to be active on the platform in order for you to earn. But overall, multi-level referral programs are generally a good form of passive income.
Recommended: Check Out The Best Paid Survey Apps
How do you get paid?
Every paid offer you complete will reward you with coins, which, as stated above, will be credited to your CashPirate account. You can then use the coins you've accumulated to redeem rewards you like.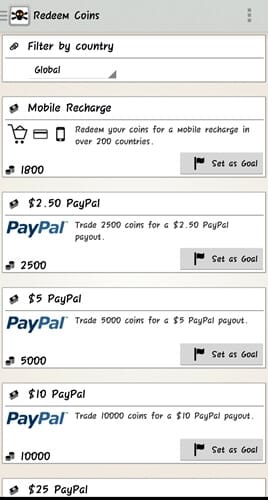 You can get paid in four ways. You can either choose to receive payment via PayPal, recharge your prepaid mobile, exchange the coins for gift cards from Amazon or exchange them for prepaid Visa cards.
If you want to get paid via PayPal, the minimum number of coins you need to accumulate will be 2500 coins. That is equivalent to $2.50. The payments are made in increments of $2.50, $5, $10, or $25.
As for mobile recharge, you will need to accumulate 1800 coins. The value will depend on the mobile carrier you are using.
The gift cards from Amazon as well as the prepaid Visa cards are only available in select countries (like the US, France, etc.).
Overall, the payment methods that CashPirate offers are fairly convenient, mainly because they offer payment via PayPal, which, in my opinion, is the most convenient payment method available today.
If you are interested in other sites that pay via PayPal, I recommend you also check out the top survey sites that pay via PayPal.
How much money can you make?
With apps like this, the amount of money you can make will mostly depend on how many paid offers you will be able to complete.
The secondary factor that will affect your earnings is how well they pay for each offer you complete.
Basically, if they pay you well, you get to earn more with less time investment.
As for the number of offers you can complete, based on feedback from long-time members, the number of paid offers available on a regular basis won't really be a lot.
So, don't expect to earn a lot of money from this app. And even though they have a relatively low payout threshold, you really can't expect to hit it quickly because of the low number of offers available.
Plus, most of the offers you can do will only reward you with around 100-200 coins. And compared to similar platforms, the rewards are quite low for the same tasks.
Overall, in my opinion, this app has a low earning potential due to the fact that there aren't as many paid offers available as you would hope, and the rewards are quite low per offer.
Can you use it on mobile?
As you already know, CashPirate is a mobile-only platform. So, yes, you can use it on a mobile device. However, CashPirate is only available for Android devices.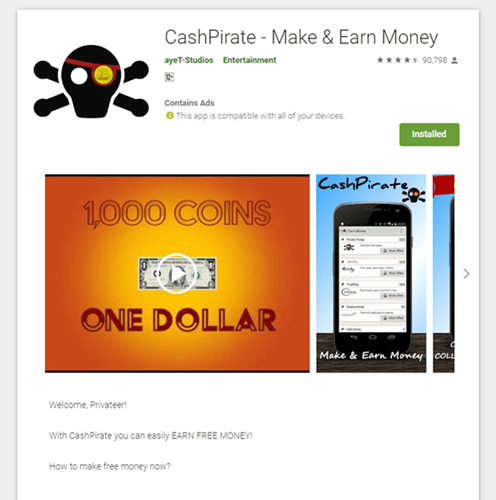 If you are using an iOS device, you will have to download their partner app called GiftPanda instead.
Their mobile app is pretty easy to use. The user interface is fairly user-friendly, so you won't have a hard time navigating through the app.
The only thing I can say, though, is that some of the offers will actually take you to a mobile web browser. So, don't be surprised if the app opens up a mobile web browser.
The good thing about CashPirate, as mentioned previously, is that you will be able to earn even if you are not in front of a computer or laptop.
It being a mobile platform makes it easier for you to earn because you can complete offers anytime and anywhere you want.
Who can join CashPirate?
Anybody can join CashPirate. This is the good thing about this mobile platform. Regardless of where you live, you will be able to sign up and become a member of the platform.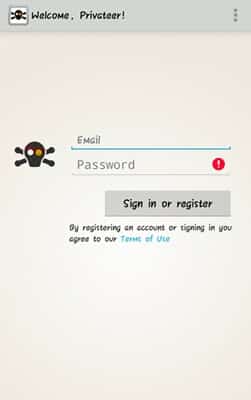 Their sign-up process is also very easy. Just install the app and run it. The first time it asks you to log in will also be the time you can register as a member.
All you have to do is provide your username and password and make sure to indicate that you are a first-time user. This will then register you as a member. You can then start earning once you've done that.
It's actually one of the simplest registration processes I've ever encountered. However, the offers that will be available will mostly depend on the region you live in. There will be countries where more paid offers are available (i.e., the US).
So, even though the app is available globally, the opportunities offered won't be the same.
Can you get support?
When you log in to the app, the only form of support you can get will be from their FAQ page.
It does cover some of the important topics, which is good. At least, it gives you a primer of what the site has to offer.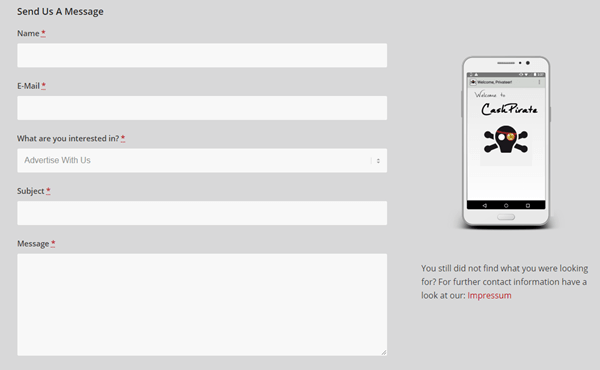 But if you need to contact their support team, you have two ways to do that. First, you can email them at cashpirate@ayetstudios.com.
The other way you can contact their support team is by visiting their website and going to their contact page. You can then fill out the contact form (shown in the photo above).
Overall, in my opinion, it would have been better if they provided a contact form in their mobile app though. That way, contacting their support can be done without having to exit out of the mobile app.
Final Verdict
CashPirate is a legit GPT mobile app that does pay you for completing their offers. However, it does have some drawbacks.
Here's a list of its pros and cons to give you an overview of what the app offers. This should help you decide if the app is truly worth your time or not.

Pros:
Available globally
Payment via PayPal is available
Low payout threshold

Cons:
Limited earning opportunities
Availability of offers will depend on the country you live in
Low rewards per task
All in all, CashPirate is a decent mobile app to earn a few bucks. The major downside is that it really has limited earning opportunities, which severely affects is earning potential.
It can be a decent secondary app to earn from since you can use it conveniently on a mobile device. Just don't expect to earn a lot from this app.
If you are looking for mobile apps with better earning potential, I suggest you check out the best paid survey apps instead.
The mobile apps on this list are all known to provide good earning potential. And you will surely find an app you can use regardless of where you live.
If you have any comments, questions, or have any experiences with CashPirate yourself, I would love to hear from you in a comment below.