If you live in Canada and you are looking to earn extra cash, there's a site called AskingCanadians that claims you can earn rewards by sharing your opinion. But is their claim legit or is it a scam?
I have joined and tested the site so I can provide you with actual information about whether it is legit or not. I will also explain everything the site has to offer so you will know exactly what to expect from it and if it is better than other survey sites.
After reading this AskingCanadians review, you will be able to make an informed decision about whether you should really join this site or not. So, let's go ahead and start examining AskingCanadians, shall we?
What is AskingCanadians and what does it offer?
AskingCanadians is a survey site that will reward you for answering their surveys. It is indeed a legit survey site since you will really receive rewards when you complete a survey. It's a fairly straightforward survey site and I will explain why next.
To fully understand what this site offers, we have to take a closer look at the earning opportunity it offers. This should give you an idea of what you need to do and if you really should invest time in it.
So, here's how to earn from AskingCanadians.
The earning opportunity – Paid surveys
AskingCanadians only offers one type of earning opportunity and that is through their paid surveys.
When you become a member of their survey panel, you will receive an invite to participate in one of their surveys from time to time.
You will receive an email if there is a survey available for you or you can just log in to their member dashboard and you will immediately see all the available surveys you can answer. If there is an available survey, just click it to start the answering process.
The first thing you have to do when you answer a survey from Asking Canadians is to go through their qualifying process. This will involve answering a few qualifying questions. This isn't the actual survey though.
Survey sites do this to find out if you are really included in the demographic that the survey is intended for. If you fail to qualify, you don't get to answer the actual survey. However, the good thing is, you will still be rewarded for your time.
Either you will receive a small reward or you will be included in the prize draw for the reward you chose during registration (more on this later). If you qualify, you will be taken to the actual survey. When you complete the survey, you will receive the reward promised.
Every survey offer will show how much you will earn as well as the estimated time it takes to complete it before you start. So, you can easily distinguish which surveys you can prioritize if ever there are multiple surveys available and you are strapped for time.
Another thing you need to remember about their surveys is, each survey will have a maximum number of respondents. If that number is met, AskingCanadians will stop accepting any members who will attempt to answer the survey. So, it's also important to answer surveys as soon as you can if you really want to maximize your earnings from this site.
That's all there is to the paid surveys AskingCanadians offer. As you can see, it's a relatively straightforward way of earning. The downside is, if there aren't any surveys available, you won't earn anything as well.
Recommended: Check Out the Top Survey Sites in Your Country
How do you get paid?
Earlier, I mentioned you have to choose the type of reward you will receive for completing surveys. That's because, with AskingCanadians, you can only choose one type of reward to receive for completing surveys.

As shown in the photo above, there are five types of rewards available in AskingCanadians. You can only choose one. During my testing, I chose to receive AC points. So, every time I complete a survey, I will receive AskingCanadians points which I can then use to redeem Amazon gift cards.
The minimum amount you can redeem will be $5. That will be worth 500 points. So, 100 points will be worth $1.
If you choose the other reward options, you will have to use their respective platforms to redeem the rewards. For example, if you choose Hudson's Bay Rewards, you will need to go to their rewards dashboard to redeem rewards.
The threshold required will also be different. I can't really say what the threshold is since I'm not a member of that platform. But if you choose that kind of reward, then you will more or less be familiar with the details on how to redeem rewards on that platform.
The same goes for the other platforms. But what if you change your mind later on and you want to switch to a different reward type? Well, you can easily do that by logging in to AskingCanadians' member dashboard and going to your account settings.
Then, you just have to choose a different reward type and hit the Submit button to save your preferences. The next time you complete any survey, you will receive the appropriate reward.
Just keep in mind that the other reward types will not be reflected immediately in your account compared to the AC points. For example, if you choose the Hudson's Bay Reward option, you can expect to receive the reward within 30 to 60 days after the completion of each survey. That's why I prefer using the AC Points option since you will receive your rewards quickly.
Their payment system is relatively simple. However, if you are looking to earn cash, then this isn't the site for you since AskingCanadians doesn't offer any cash rewards. For a list of sites that offer cash rewards, I would suggest you check out the top sites that pay via PayPal instead.
How much money can you make?
The amount you can earn from a survey site like AskingCanadians will mostly depend on how many surveys you can complete. And the number of surveys you can complete will also rely on how many surveys you will be invited to. Those things come hand in hand and unfortunately, you really have no control of the latter.
As for the amount you can earn from each survey, it will typically range from 50 to 300 points. The number of points you can earn will depend on how long it takes a survey to complete. So, if you receive an invite for a 30-minute survey, expect to receive a significant number of points.
From time to time, there will also be surveys that will be worth 2000 points or more. But I never encountered that during my testing. So, consider yourself lucky if you ever get invited to such surveys.
But overall, I would say the earning potential of AskingCanadians isn't that great even though it pays a decent amount per survey.
The reason why I say this is there simply isn't a lot of opportunities to earn from this site. If there aren't any surveys available (which happens a lot of times), then you won't earn anything. So, it's not an ideal site to get regular earnings.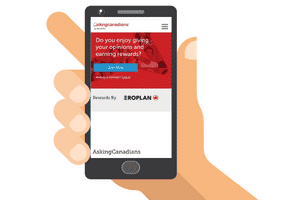 Can you use it on mobile?
AskingCanadians doesn't have a mobile app, but you can still use it on a mobile device. All you have to do is log in to their website using a mobile web browser and you will be able to access all the available surveys.
Their site is optimized for mobile use, so you can conveniently answer surveys from your mobile device. This can be quite handy since you will essentially be competing with other members of their panel for a slot in a survey due to the fact that each survey will only allow a limited number of respondents.
So, it certainly helps that you can easily answer surveys from your mobile device.
Who can join AskingCanadians?
AskingCanadians, as the name suggests, is only available to people who live in Canada. If you don't live in Canada, then this is not for you.
However, there are so many great survey sites in Canada, that AskingCanadians, in my opinion, is not really a great option, if you only want to join the best of the best.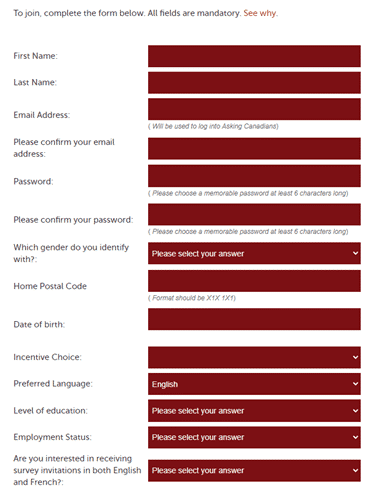 To register as a member, you must be the age of the majority of the province in which you live in. Then, you have to fill out their registration form. Once you've submitted the form, check your email inbox for the confirmation link and click it to activate your membership.
You will then have to answer a short survey to complete your profile. When you are done with that, you can now log in to the site and start answering surveys if there are surveys available.
Can you get support?
If you have any questions about the site or your account, you can check out their FAQ page first. Their FAQ page isn't quite as comprehensive as you might hope, but it does tackle most of the important questions.
Now, if you can't find the answers you are looking for, you can send your inquiries via email at shannon@askingcanadians.com. This is the email address of their survey specialist Shannon Foster. She will answer all your inquiries.
Overall, I would say the site has a decent support system in place for their members since they offer a convenient way for you to request assistance.
Final Verdict
AskingCanadians is a legit survey site that will reward you for answering their surveys. It has a couple of good features, but it also has a few limitations you need to consider.
Let me end this review with a summary of its pros and cons so you can determine if this is really worth joining or not.

Pros:
Offers a simple way to earn rewards
Low payout threshold
Their site is mobile-friendly

Cons:
Limited earning opportunities offered
Doesn't offer cash rewards
AskingCanadians isn't a bad survey site but it's not that great either. In my opinion, AskingCanadians is not a good primary site to earn from, but it is a decent supplementary site.
Therefore, I would only recommend you join this if you are looking for additional survey sites to join and you don't mind earning gift cards or rewards from other platforms that AskingCanadians partnered with, then you can join this site.
Just don't expect to earn a lot from it since there aren't really a lot of surveys available. But if you are looking to earn cash or a primary site to earn from, I would recommend you check out the top survey and GPT sites in your country instead.
The sites on this list all have good earning potential and most of them offer cash rewards. Plus, you will definitely find a site you can join regardless of where you live.
If you have any comments, questions, or have any experiences with AskingCanadians yourself, I would love to hear from you in a comment below.